Palermo

Erice Fortresses

Marsala Salt Pans

Agrigento's Temple of Concordia

Ragusa

Street Market in Syracuse

Sicilian Puppets

Mt. Etna
Tour Questions? Call 425-608-4217
Best of Sicily (Off-Season) in 11 Days Tour
Rick Steves' most popular off-season tour immerses you in the culture, cuisine and history of Sicily. On your spring or autumn ramble across the island, your Rick Steves guide will introduce you to the tasty pleasures of local fruits, pastries and traditional cooking, Italy's brightest pottery and boldest wines, Europe's most amazing ancient Greek ruins, the steamy power of Mount Etna, and picture-perfect hilltop villages. Join us for the Best of Sicily (Off-Season) in 11 Days!
You also may be interested in the late spring, summer and fall departures of our Best of Sicily in 11 Days tour.
Dates & Prices
What's Included
A small, friendly group of 24-28 people — half the size of most tour groups
Full-time services of a professional Rick Steves guide and local experts who will make the fascinating history, art and culture of Sicily come alive for you
All tours and admissions — at no extra cost — covering at least 19 group sightseeing events • Palermo walking tour • Palazzo Federico tour • Monreale Cathedral tour • Sicilian pastry lesson • Erice orientation walk • Segesta • Marsala Salt Flats boat cruise (weather permitting) • Valley of the Temples tour • Agrigento Archeological Museum tour • Villa Romana del Casale • Ragusa orientation walk • Sicilian cooking class • Syracuse Ortygia island neighborhood walk • Syracuse Neapolis Archaeological Park tour • Sanctuary of the Madonna of Tears • Puppet Theatre performance • Museo dello Sbarco tour (WWII) • Tour of Catania fish market • Wine tasting at Sicilian winery… and more
All group transportation from Palermo to Catania
10 nights accommodations in memorable, centrally-located hotels
All breakfasts and half your dinners
All tips for guides and driver
Free stuff including a Sicily guidebook, Italian phrase book, map, moneybelt and earplugs
Guaranteed tour price, locked in the moment you make your deposit
Optional single supplements — this tour has a limited number of private rooms for solo travelers for an additional fee
Tour alum discount of $50 for each tour you've taken prior to 2015
50% discount on a consulting appointment with our in-house experts to assist with your pre- or post-tour travel plans
Flexibility should you need to transfer, or cancel/interrupt your tour
Fine print: You are responsible for the cost of your drinks and free-time sightseeing. See our Tour Conditions Agreement for important details regarding everything listed above
Itinerary
Daily Activity Key
Light = 2-4 miles of mostly level walking throughout the day.
Moderate = 2-6 miles walking throughout the day with some hills and stairs.
Strenuous = 2-8 miles walking throughout the day with lots of hills, stairs and uneven terrain.
Day 1: Welcome to Sicily
We'll gather at our hotel in Palermo at 3 p.m. for a welcome meeting. Then we'll begin our Sicilian adventure together by joining a contessa for a personal tour of her family's home, the Palazzo Federico. We'll end our evening getting to know one another at a "Welcome to Sicily" dinner together. Sleep in Palermo (2 nights). No bus. Walking: moderate.
Day 2: Palermo and Monreale
Let's meet our coach and driver, and head up to the hill-topping town of Monreale, renowned for its Arab-flavored cathedral. We'll tour the cathedral's interior of glittering, golden mosaics as well as the story-telling columns of the cloister. Then we'll return to Palermo, where we'll take a walking tour of Palermo's back streets, churches and colorful Capo street market — all spiced with an evocative whiff of Africa. Then we'll set you free to explore more of this exciting, energetic city, and discover that perfect trattoria for dinner on your own. Bus: 1 hr. Walking: strenuous.
Day 3: Ancient Segesta and Mountaintop Erice
This morning we'll head toward the island's western coast, stopping at the ancient Greek site of Segesta to meander through its magnificent Doric temple and hilltop theatre. Then we'll continue to the enchanting medieval mountaintop town of Erice. Believed by Romans to be the home of Venus, Erice eventually evolved into a center for Christian convents and home to heavenly pastries (which we'll learn about and taste). Then we'll drive down to the bustling port town of Trapani and check into our hotel. After an evening orientation walk, we'll set you free for dinner. Sleep in Trapani (2 nights). Bus: 3 hrs. Walking: moderate.
Day 4: Salt Harvesting and Seaside Trapani
Today we'll drive down to the Trapani "salt-pans" — a coastal wetland and nature reserve where sea salt has been harvested for nearly 3,000 years. We'll learn about the history and process of salt harvesting as we tour the area by boat. Then we'll have a tasty lunch that includes the region's specialties: sun-dried tomatoes, Castelvetrano olives and Marsala wine. You'll be free to spend the rest of your day exploring the seaside town of Trapani. This evening find that perfect terrace, savor your favorite apertivo, and watch the sun dip below the horizon. Boat: 1 hr. Bus: 2 hrs. Walking: light to strenuous (your choice).
Day 5: Ancient Agrigento and Country Living
This morning we'll take a magical history tour through the ruins of Agrigento, one of the richest of the Greek colonies and a thriving democracy 2,500 years ago. We'll also tour the vast collection of artifacts at Agrigento's Archaeological Museum. This afternoon we'll head to our tranquil countryside hotel. You'll have plenty of time to soak in the scenery before tonight's hearty dinner together. Sleep near Agrigento (1 night). Bus: 3 hrs. Walking: moderate.
Day 6: Colorful Mosaics and a Hill Town
The Romans also colonized Sicily, which we'll learn about at today's first destination, the Villa Romana del Casale. Here we'll spend much of our morning surrounded by the world's most rich and colorful collection of Roman mosaics — including the time-bending "bikini girls" mosaic, discovered less than 60 years ago. On the road again, we'll head to the hilltop town of Ragusa. After we check into our hotel, we'll take an orientation walk through Ragusa, where you'll be free for dinner. Sleep in Ragusa (2 nights). Bus: 4 hrs. Walking: moderate.
Day 7: Charming Ragusa
The day is yours to wander along Ragusa's narrow streets and soak in the simple pace and traditions of everyday Sicilian life. Enjoy the sights, sounds and tastes of this delectable hill town. Tonight we'll gather for a Sicilian cooking lesson featuring the region's traditional recipes. No bus. Walking: light to strenuous (your choice).
Day 8: Sicilian Baroque and Ortygia
We'll begin our day with a short drive to Noto, where we'll see a perfect example of Sicilian Baroque on our tour of the Cathedral of St. Nicholas. After free time for lunch, it's on to Syracuse, in ancient times "the greatest Greek city and the most beautiful of them all." This evening we'll take a walk through the city's historic old town on the island of Ortygia, ending with a lively performance of Sicily's traditional puppet theatre, where language is no barrier to entertainment. Sleep in Syracuse (2 nights). Bus: 3 hrs. Walking: moderate.
Day 9: Syracuse, Past and Present
This morning we'll experience the roots of modern drama at Syracuse's impressive Neapolis Archaeological Park, where an ancient Greek theatre is carved into the rock. Next we'll see past meet present in the unusual Sanctuary of the Madonna of Tears, a modern church that houses a miraculous statue. Then the afternoon is yours to wander through Syracuse's delightful jumble of Greek, Roman, Medieval and Baroque layers — or settle on a quiet park bench with a harbor view. No bus. Walking: strenuous.
Day 10: War, Wine and Catania
After breakfast, we'll head north to Catania, where we'll tour the Museum of the 1943 Landings in Sicily (Museo dello Sbarco). We'll learn how, nearly a year before D-Day, Allied troops found themselves fighting against — and at the same time liberating — their Italian adversaries. Then, after a tour of Catania's famous fish market, we'll take a drive up the slopes of Mount Etna to a local winery. We'll gather tonight back in Catania for a farewell dinner, to say arrivederci, share travel memories and toast to new friends. Salute! Sleep in Catania (1 night). Bus: 2 hrs. Walking: moderate.
Day 11: Tour Over After Breakfast
Breakfast is provided, but there are no group activities today. It's a breeze to reach Catania's airport by shuttle bus or taxi. Your guide will help you with any post-tour planning, leaving you well prepared for the road ahead. Grazie e ciao!
Itinerary specifics subject to change.
Activity Level
Our tours are physically active! It's an essential part of the Rick Steves tour experience. On our Best of Sicily (Off-Season) in 11 Days tour — among other things — you'll need to happily...
Carry/roll your luggage over uneven pavement (several blocks possible) and up stairways to reach your hotel; then up several flights of stairs to reach your room.
Be on your feet, walking and standing for up to three hours, indoors and outdoors, in all weather conditions.
Sleep with street noise and no (or weak) air conditioning.
After orientation and transportation lessons, be able to navigate towns and cities on your own.
Scramble around ancient sites with rocky paths and slippery stairs.
Reviews
Jordan
Boston, MA
Tour: 03/11/15
Overall rating:
The trip was very interesting covering a wise variety of history, culture and people mixed with fun activities.
Favorite "WOW" moment
"Syracusa amphitheater"
Annette
Raleigh, NC
Tour: 03/11/15
Overall rating:
This is our 6th Rick Steves tour -- and probably our best -- despite 2 days of rain. Going off-season was phenomenal: we had most of the sites to ourselves.
Favorite "WOW" moment
"We started off with a big bang with a tour of a lived-in palazzo in Palermo. The Contessa, our hostess, was electrifying. I needed bubble wrap in Siracusa. I just had a sweet interaction with the store owner who didn't know the phrase - but after I explained why I wanted it -- he understood. I loved it when he held the item, his fingers went back and forth on it and he said "ah - that is why they call it "bubble wrap." I wrote down the phrase and told him it was his phrase for the day."
Nancy
Austin, TX
Tour: 03/09/15
Overall rating:
Alfio was outstanding as a guide and just a great person to be with! He took such good care of us, and always was on top of every detail. His knowledge of the complicated history, culture, sites, everything about Sicily was amazing. His background as a food expert got us into some very special places with every dish a taste delight. I have never had a better tour learning so much, seeing so many interesting places, and meeting so many local people who were all so gracious to us.
Favorite "WOW" moment
"*Meeting Sra. Maria Grammatico in her kitchen in Erice (and walking even in the cold rain to see this jewel of a town), Learning about the Mothia on the island of San Pantaleo The Byzantine Monastery near Palermo The Greek temples at Segesta and Agrigento The cooking school in Ragusa where we learned to make "arancii" The Roman villa Casale, The convent in Ortigia and ruins Going to the winery on the slopes of Mt. Etna with a talk on the volcano and having a superb dinner with the owners."
Sandi
Naperville, IL
Tour: 03/09/15
Overall rating:
We had a great time on the Sicily tour. The food and wine were spectacular! We particularly enjoyed the blend of history and everyday life in the Sicily of today. Another great experience on a Rick Steves tour!!
Favorite "WOW" moment
"The meals were what really delighted us! From dinner in a former convent to a lovely lunch high atop a hill to a scrumptious meal at Benanti Winery - each place that was chosen was outstanding for both the ambience and the food. Excellent seafood!"
Gregory
St Louis, MO
Tour: 02/27/15
Overall rating:
We have been on a few Rick Steve's tours and once again this was a very enjoyable experience. The guides were great, the food and wine outstanding, and a wonderful group of people.One big reason we like these tours is that they take us places we probably wouldn't find on our own. I only have one regret. The Lonely Planet Guide book was better than nothing, but Rick really needs to do a Sicily book of his own. His guide books stand head and shoulders above the rest and I missed having one.
Favorite "WOW" moment
"The food and wine provided many. Especially our last (extra)night in Cantania when we went to a restaurant right in the fish market and had one of the best seafood meals I have ever had. Unfortunately, I now need to spend more time at the gym.I did a lot of walking but I guess it wasn't enough to offset all the great food provided by the tour and the restaurants of Sicily."
Susan
Tallahassee, FL
Tour: 02/27/15
Overall rating:
O ur guide Tomasso was the absolute best. He was really keyed into everyone of us and showed a sincere concern that we have a great time. As a Sicilian native, he provided a genuine feel for what it is like being a Sicilian. The destinations were absolutely wonderful. Loved the ancient Geeek ruins. I felt like a Greek maiden experiencing the temples. I can't think of any destination I would omit other than the modern church in Syracuse. Everything was so ancient and so wonderful.
Favorite "WOW" moment
"Wow, there were so many! Monreale Cathedral was awesome. The Roman mosaics in Villa de Casale were unrivaled. But the Valley of the Temples In Agriento was the absolute best. What a dream! And the ride at night with the music really invoked that Grecian feeling!!"
Ann
Lindale, TX
Tour: 02/27/15
Overall rating:
It was fabulous!! We have used rick steves books to travel on our own a number of times nd a tour was a dream for us. And it met all my expectations. The locations were great, the bus driver was great, the meals fabulous and the hotels were the best I have ever stayed in. The guide could not have been better. Tomaso was wonderful! It was an off season tour so the price was right for us. Please have more off season tours!
Favorite "WOW" moment
"Loved Ragusa and erice. Loved walking around those hill top towns. Also the mount etna trip and winery were a treat. And the group dinners."
Pam
San Diego, CA
Tour: 02/27/15
Overall rating:
It was wonderful! We covered a lot of Sicily in a short time. The weather was good and the crowds minimal. Guides were fabulous. It was interesting for me to compare the sights I saw on an October 2004 tour of Southern Italy and Sicily. I joined this tour because it covered some locations not visited on that tour. I liked the idea of an entire tour spent in Sicily. I induced two friends to join the tour who had not been a an RS tour. They too loved it.
Favorite "WOW" moment
"I had several "wow" moments: seeing the exquisite mosaics in the cathedral of Monreale, the Villa Romana del Casale and (before tour) Capella Pallatine in Palermo. The Museo dello Sbarco in Catania made a big impression on me; the way the Greek temple in Segesta appears out of nowhere as we ascended the hill; the views from Segesta and Erice."
Cynthia
Birmingham`, MI
Tour: 02/27/15
Overall rating:
The tour was jam packed with everything Sicily has to offer -- monuments, art, cities on the coast, a hill town, great food, cooking classes, a visit to a winery, Mt. Etna, museums, etc. The pace of this trip was more frenetic than other RS tours I have taken. I would have preferred longer stays in the main cities and more free time to explore them, and no single night stays. Everyone received a Lonely Planet guide to Sicily, but we really wished for a Rick Steves book.
Favorite "WOW" moment
"The nighttime drive past the lighted monuments in Agrigento was really lovely."
David
Tallahassee, FL
Tour: 02/27/15
Overall rating:
This was an excellent tour. I loved the pace, the varied sights, the quirky hotels, the food, and the included activities. If you have been to Italy before, you need to see Sicily, the other Italy.
Favorite "WOW" moment
"As in all the tours we have taken, there are several wow moments. The tours are full of wow moments. Probably the Cathedral in Monreale and its mosaics was the biggest wow. But, from seeing the ruins at Segesta to our first glimpse of Ragusa Ibla or Agrigento or the Villa del Casale mosaics, each day brought a new wow moment."
Elizabeth
Brewster, MA
Tour: 02/27/15
Overall rating:
My comments are brief because I am so happy about the whole experience. Tomasso is knowledgeable, has developed a charming personna, was flexible when weather or other circumstances required schedule [INVALID]ations, was helpful with our post-tour plans. The tour included so many types of experiences that if someone tired of churches, there was archaeology; too much walking? - a long bus ride; a room with no view followed by a room with a glorious view. You warned us about stairs!
Favorite "WOW" moment
"Mafia information from different sites."
Ken
Lindale, TX
Tour: 02/27/15
Overall rating:
I have never been on a commercial tour before and this tour certainly exceeded my expectations. Met some great people on the tour and had a lot of fun.
Favorite "WOW" moment
"The Roman Villa, Erice and the meals were the highlights for me."
Jane
Sapulpa, OK
Tour: 02/25/15
Overall rating:
The tour was great, as we've come to expect from RS tours (this was our ninth!) I do have a comment about the off-season aspect: The biggest advantage was there were no crowds; in some cases we had a venue to ourselves. The disadvantage: many places were closed for the season. In Ragusa, for example, we had trouble one day finding a place for lunch. I think we tried five different trattorias or restaurants near the main square before we found one that was open. Noto as well.
Favorite "WOW" moment
"The mosaics at Piazza Armerina (Villa Romana del Cassale) were amazing. I could have spent several more hours there, marvelling at the intricate, elaborate mosaics. Wonderful."
Daniel
Denison, TX
Tour: 02/25/15
Overall rating:
Our tour of Sicily was a very good combination of sight-seeing, short lectures, cooking classes and dining with the moderate amount of physical activity I was looking for. My Fitbit step count ranged from 7 to 17 thousand steps during the tour. With a couple more food and wine oriented activities the tour name could be "a taste of Italy". The tour guides (Don and Riccardo) were both excellent and added greatly to the experience. The hotels ranged from "ok" to good - never shared a bathroom.
Favorite "WOW" moment
"Seeing the greek temples was awe inspiring. Maria Grammatico's food up in Eriche was fantastic."
Linda
Harrisburg, PA
Tour: 02/25/15
Overall rating:
Great food. Enjoyed seeing almost the whole island and learning the history. Loved Maria and cooking (and eating) mazaponi. Great added stop at the chocolate shop in Modeno. Did I mention how good the food was? Great group of traveling companions. Could have done without the museum on the salt flats island and the arancini cooking class, but overall enjoyed the activities. Would like less bus time, more bathroom stops and more walking. Add a couple more days. Excellent value for the cost.
Favorite "WOW" moment
"The tour of the Mt. Etna family winery with dinner and wine tasting was my favorite activity. I've done a lot of private tours of wineries and vineyards and this ranks with the best in all respects. The family was so gracious and hospitable."
Patrick
Franconia, VA
Tour: 02/25/15
Overall rating:
This was my 6th RS tour and it measured up to and exceeded the standards that I expect and appreciate while traveling with RS. Simply put, it was first rate.
Favorite "WOW" moment
"Agrigento and the hotel courtyard view in the evening of the illuminated ancient temples on the nearby hilltops. There are, of course, many other contenders for the "wow moment" on this trip."
Joan
Canton, GA
Tour: 02/25/15
Overall rating:
All events worked out as scheduled and there were additional surprises that just added to the overall Outstanding quality. Owe a thank you to our guide of last year, Tommaso, who recommended that we take the tour of Sicily in February -for his advice. It was wonderful to visit the UNESCO sites with little to no other visitors but our group. The weather was great and the scenery so green and lush with the new spring growth. We loved driving across the country surrounded in natures beauty.
Favorite "WOW" moment
"Just one, there were many! Opening the gates to the Countessa's bright garden in Palermo- the country hotel courtyard & beautiful gardens overlooking the valley of kings- Greek Segesta temple and theatre & the views & Syracuse Catheral supported by the Greek ruins of Godess Athena's"
Gregory
Mt Hood Parkdale, OR
Tour: 02/25/15
Overall rating:
Great time of year to go without crowds and good weather.Guide leader very good and brought alot of historical perspective. Ricardo contributed a lot with his humor and his bon ami. Having time to explore on our own was appreciated. Exposure to culture thru local food was wonderful. Two nights in the same location eased wear and tear. The lunches were all wonderful without taking a substanial amount of time. More info about olives,groves and continuing importance to their culture.
Favorite "WOW" moment
"Actually there were two moments: The arrival at Segesta and appreciating what a beautful site the Greeks had chosen.Perhaps a little more discussion about this site would have been in order. Allowing us to walk the ground between the theater and the temple was great. The two night sleep in old Regusa was a highlight with the free time to explore on our own. The walk west through the valley of temples will never be forgotten."
Shelley
Mt Hood Parkdale, OR
Tour: 02/25/15
Overall rating:
We had a good compatible group and able guides. Rooms, meals, itinerary, and pace were fine. Better than fine. I got to do and see things I would have missed traveling on our own. I had better meals and accommodations than I would have on my own. Local guides were informative and I enjoyed the layers of history coming together as the trip progressed. Food was fabulous. Just a wonderful experience with variety and interest.
Favorite "WOW" moment
"I was interested in Sicily because of the Greek ruins there. Segesta was my wow moment. Absolutely a stunning setting, we were the only group there so we had the temple to ourselves. The weather was somewhat dramatic as well, with intermittent sprinkles and blue sky. Then we shuttled to the theater which is perched on a vantage point over the valley and Mediterranean in the distance. Those Greeks knew how to choose location. We walked back down catching views of the temple below. Fantastic."
Susan
Salt Lake City, UT
Tour: 02/25/15
Overall rating:
Our trip to Sicily was an excellent experience as we expected it would be! All of our guides were very professional, friendly, knowledgeable, eager to educate us and enrich our tour experience. Sicily is such and interesting place, the landscape, the history, the culture and the influences through the years ... we really got an education. And of course our compatriots were choice - people to visit with, learn with, share food and wine with!
Favorite "WOW" moment
"What surprised me and honestly took my breath away was the Palentine Chapel and Montreale Catherdral from the Norman era. The mosaics were beautiful and amazing!!"
Kathleen
Lexington, KY
Tour: 02/25/15
Overall rating:
Wonderful! We loved getting to know the sights, sounds and tastes of Sicily. We traveled with a group of congenial people and heard interesting stories from our guides. We saw a lot of Greek ruins and cathedrals. We also did several unusual things [INVALID] a cooking class to make Sicilian meatballs, a boat ride to view how sea salt is harvested, watching a Sicilian puppet show, visiting a winery on the slopes of Mt. Etna.
Favorite "WOW" moment
"I loved the food [INVALID] from its bounty displayed at open air markets (such color!) to its appearance on our table (and now, unfortunately, around my waistline...) We also made an unscheduled stop at Modica to see their chocolate shops and I was really glad!"
Paul
Lexington, KY
Tour: 02/25/15
Overall rating:
Great food, great guides, great wine! The only reason I did not check outstanding is that the motel at Syracusa was a big disappointment. The bed was a double, their was no shower and most disturbing was that our water was yellow. Bathing in yellow water is not of Rick Steve quality.
Favorite "WOW" moment
"The food and wine were the best and exceeded my expectations. The citrus fruit was really good too!"
Kathy
Claremont, CA
Tour: 02/23/15
Overall rating:
The tour (my first) was very well organized and efficiently run. I was very impressed with the quality of the various tour activities, the dining and most of the hotels.
Favorite "WOW" moment
"I had read the book "Bitter Almonds" and was thrilled to be able to meet and participate in a cooking activity with the subject of the biography, Maria Grammatico."
Victor
Cleveland Heights, OH
Tour: 02/23/15
Overall rating:
In addition to the marvelous visual eye candy of Sicily, there were multiple personal exposures to Italians/Sicilians whose personal warmth in the scheduled as well as the unscheduled events made this into one of the most delightful and personal trips that my wife and I have ever had.
Favorite "WOW" moment
"No doubt this was a "Pistons, Passions, and Sicilian pleasures" travel adventure.In Palermo, upon being greeted by Contessa Ferderico on our entry into Plazzo Federico, my gaze fell upon a 1930's Siata Balilla Mille Miglia Spyder racing car and instantly knew that this would be a WOW. After a gracious tour of the Palazzo by the Contessa, Count Federico, the racer, shared Mille Meglia and Targa Florio racing stories & his photos with me. Wow, FORZA SIATA, FORZA LANCIA, FORZA ALFA, FORZA FERRARI!"
Larry
South San Francisco, CA
Tour: 02/23/15
Overall rating:
Wondrous and joyous because of the uniqueness and diversity of the cities, towns and their people, especially for an island. I have travelled many of the north, central and south mainland Italy areas in previous years. This Sicilian journey has comprehensively added to my education of one of the most fascinating cultures in the world.
Favorite "WOW" moment
"Difficult question to answer as all the included activities were all "wows". It will have to be Giorgio, the most enthusiastic and optimistic proprietor of Hotel dell'Orologio in Ragusa. He hopes his business will spark an economic revival that will encourage locals to stay and preserve their traditional way of life but with an outlook and flexibility to accommodate modern changes. The hotel's units are scattered in a section of the old town with locals homes right next door, above or below you."
Steve
Monticello, FL
Tour: 02/23/15
Overall rating:
"Off-Season" worked out great in spite of rain and chilly winds the first few days. I only needed a slight variation in clothing from the three "in-season" trips I've been on. Next trip will be "off-season".
Favorite "WOW" moment
"The Roman Vila. It was a true delight touring the ground without mass crowds."
Sandy
Victoria, BC
Tour: 02/23/15
Overall rating:
This was my first Rick Steve's tour so I did not know exactly what to expect. I was pleasantly surprised to find the tour exceptionally well organized, expertly guided and my fellow travelers a lot of fun! I found it to be a good balance of sightseeing and historical information, good food and wine and hands on activities like cooking classes. Every hotel was very good, with friendly and helpful people.
Favorite "WOW" moment
"Taking the short boat ride to the small island of Mozia near Marsala and seeing the excavation findings of Phoenician civilization. The salt flats and windmills on the way were beautiful too."
Susan
Monticello, FL
Tour: 02/23/15
Overall rating:
This was my sixth RS tour[INVALID]my husband and I are knowledgeable RS "groupies". We would not choose another tour company. First off-season tour[INVALID]and we loved no one else at the attractions and the attentiveness of the local folks. Twas rainy and windy the few two days and then turned gorgeous. LOVED Nina Bernardo as our Il Duce/La Dolca[INVALID]superlative guide with an amazing laugh. Also, LOVED being the guinea pigs for 1/3 new tour destinations at the end. Local tour guides excellent.
Favorite "WOW" moment
"The recently "improved" Villa Romana del Casale with its ancient mosaics. Even in such a large comlex, we were the only tourists "in the House" sble to get up close and personal with the amazing mosaics. The benefit of taking an off-season tour."
Rowe
Newton, IA
Tour: 02/16/15
Overall rating:
Wonderful experience in learning about this island with an incredible history and diverse cultures. Tommaso is a great guide with his own unique history and detailed knowledge of Sicily which he shares with enthusiasm. The food and wine are exquisite in their favors, freshness, styles and varieties.
Favorite "WOW" moment
"My "wow" lasted the entire 11 days as I learned of the incredible history of this island and all of the cultures and peoples who have lived in and contributed to Sicily's story"
James
Mt Vernon, IL
Tour: 02/16/15
Overall rating:
After 3 of these tours, we maintain our avid support of the way in which they are run. From the sites visited to the guides, they are always exciting and jam packed with interesting and fun things. The [INVALID]ion of hotels are always where you would want to be in the locales, right in the middle of it all. This is our first tour that has been hampered by rain, and we still had a great time.
Favorite "WOW" moment
"I actually had two. The first was the Contessa's villa in Palermo. What a taste of how the other half lives. Their courtesy and hospitality were just marvelous. The second Wow was the winery on Mt. Etna. Again, the courtesy and hospitality of these folks was beyond compare."
Mary
Chicago, IL
Tour: 02/16/15
Overall rating:
Tommaso was a great guide. We had a great deal of rain, yet he kept us going so we wouldn't miss anything. He is very knowledgeable and loves Sicily
Favorite "WOW" moment
"I believe Agrigento was one of many highlights. It is just beautiful and the guest guide made it come to life. The archaeological museum was wonderful."
Steven
North Quincy, MA
Tour: 02/16/15
Overall rating:
Tommaso did a great job organizing and implementing an outstanding tour; he created a positive atmosphere among participants and his sense of humor and thoughtfulness was contagious. Good balance of structured and unstructured time. Delicious food and wine. Well done!
Favorite "WOW" moment
"Enjoyed and appreciated the archeological site visits across Sicily as well as learning about the merging of cultures. Visit to WWII museum in Catania was something I didn't expect to find as fascinating as I did."
Lynne
Chester, NS
Tour: 02/16/15
Overall rating:
Pace was perfect. Great blend of history, cultural, social and culinary experiences. Liked staying in locations for 2 nights. Enjoyed variety of accommodations and their generally central locations. Liked small group size. 11 days covered the itinerary well. Added value of wine and water included greatly appreciated. Could not have wished for a better guide or driver. Overall excellent value for price.
Favorite "WOW" moment
"Two moments stand out. Valley of the Temples, and Roman Villa with stunning mosaics"
John
Lacey, WA
Tour: 02/16/15
Overall rating:
Sicily combines great food, beautiful vistas and incredible history. Going during the off-season allowed us to spend quiet time in areas like the Villa Romana del Casale without waiting in long lines and being pushed along by hordes of other tourists. Although it rained some, that was a small price to pay for the better access off-season.
Favorite "WOW" moment
"The ancient Greek site of Segesta stood out because of its almost intact temple and beautiful mountain site with a great view to the coast."
Adria
Forest Hills, NY
Tour: 02/16/15
Overall rating:
Sicily is a traveler's feast of breathtaking sites, delicious food and sumptuous wine. A region where people see themselves as Sicilian first, Italian second; they set themselves apart with a warm, intense, gregarious nature you immediately fall in love with it. I'm grateful to have been part of this off-season itinerary giving me the opportunity to get so much closer to this wonderful place with little to no crowds. This was my first venture into Italy and I'm glad I went to Sicily.
Favorite "WOW" moment
"The night we learned pasta making at Hotel dell'Orologio in Ragusa. I discovered I was a natural at pasta making and I got a real kick out of the instructor so sweetly telling me so. Also, it was my birthday that evening, and I was surprised with a beautiful and delicious cake (Buon Compleanno Adria written upon it) and overwhelmed by the warmth and hugs I got not only from my tour friends but from the class instructor and staff, as well. It will be a birthday I remember for a long time."
Anita
Montebello, CA
Tour: 02/16/15
Overall rating:
I LOVED this trip! This tour of Sicily was perfect in every way. I enjoyed the "off-season" schedule because we missed all the crowds and had full access to the sights. The weather was cool and, even though it rained, it was still pleasant. There was a great balance between sight seeing and free time.
Favorite "WOW" moment
"It would be hard to pick one "wow" moment because each new city that we arrived in became my "new favorite." Every experience was authentic and not staged for the tourists. I enjoyed seeing the Contessa's palazzo, making desserts with Maria Grammatico, seeing the temple and castle in Sagesta and Erice, the mosaics of Villa Romana del Casale, streets of Ragusa, the Archaeological Park, and the WWII Museum in Catania. I loved everything!"
Susan
Ames, IA
Tour: 02/16/15
Overall rating:
This was a very interesting tour.. Our guide was enthusiastic and knowledgable. The tour group was full of interesting and friendly people. Our hotels were interesting and the owners and/or workers were very kind and accommodating. The weather did not cooperate, but who can control that?
Favorite "WOW" moment
"The Valley of the Temples was wonderful. We got to see it at night as well. Our local guide was wonderful."
Sharon
Lacey, WA
Tour: 02/16/15
Overall rating:
Had never been to Sicily and have always heard so much. Wonderful time exploring the island. Really enjoyed seeing the agricultural side.
Favorite "WOW" moment
"After experimenting with it here at home, I think the lemon risotto is a hit. Lots of wonderful sights from Greek/Roman ruins and the lush countryside. But....food is always a comfort and I won't turn down risotto"
Louanne
Anacortes, WA
Tour: 02/09/15
Overall rating:
Sicily was amazing! There is a so much history packed into this relatively small island. The tour leader was born and has lived in Sicily most of his life so he offered insights into social and historical background. The tour was 'off-season' which I especially enjoyed. No crowds! I hope Rick can include more of these in the future.
Favorite "WOW" moment
"There were many. The hotel in Agrigento with hotel overlooking night lit ruins. Also, touring the contessa's home in Palermo which is the only property continually occupied by the same family. The contessa served wine and snacks before entertaining us with her beautiful soprano's voice."
Marcia
Kewadin, MI
Tour: 02/09/15
Overall rating:
This skillful tour weaves together the complex history and cultures that have invaded and occupied this island to create the Sicily of today. Every aspect was beyond my expectations including the lodging, food, beauty, history, museums etc.
Favorite "WOW" moment
"There were so many. The cathedral in Monreale. Mosaics at the Villa Romana del Casale. Cooking lesson in Ragusa Greek ruins at night (lighted)The giant in the museum. Lunch at the agriturismo T"
Ross
Kewadin, MI
Tour: 02/09/15
Overall rating:
Was wonderful. So pleased that we joined this one.
Favorite "WOW" moment
"The mosaics at Monreale The mosaics at Villa Romana del Casale"
Maureen
East Greenwich, RI
Tour: 02/09/15
Overall rating:
Off Season Sicily was an ideal winter escape. While snow was pilling up in the northeast, we were walking through Greek temples surrounded by almond blossoms and gaping at Norman architecture. Many times we are the only 18 people at a jaw dropping site. Alfio and Jamie were intelligent, humorous, thoughtful and enthusiastic about the addition of this tour.
Donna
Lucca,
Tour: 02/09/15
Overall rating:
This was our first organized tour of any kind, and we hoped that a Rick Steves tour would be our kind of travel. We were right! We saw many of the traditional sights in each stop, but we were treated to places and activities that I'm sure are not common on other types of tours.
Favorite "WOW" moment
"The cathedral in Ortygia, Siracusa. The 2500-year-old ancient columns of a Doric temple are incorporated into the walls of the Christian church."
Christine
Greenland, NH
Tour: 02/09/15
Overall rating:
The tour was amazing and far exceeded our expectations. Each day was better than the day before and we thought it couldn't get better and then it did! The guides were eager to make our trip one of a lifetime and eagerly answered our questions and were amazing fonts of information. It was like taking a three credit college course. It was obviously carefully planned and yet there was flexibility to include new things. We were so lucky to have both Alfio and Jamie as our guides.
Favorite "WOW" moment
"There was a visual wow moment when we were in Agrigento and were treated to an amazing tour of the ruins as well as the viewing of the archaeological museum. Our guide was extraordinary and we were spent by the end of the day with all of the things we saw and the information that we tried to absorb. Our hotel for that evening was trully lovely and the dinner we all enjoyed together was extraordinary."
Dane
Greenland, NH
Tour: 02/09/15
Overall rating:
This was my first RS tour, and it was beyond my wildest expectations. Probably the best part was having two exceptional guides -- two individuals who took care of us in so many ways -- tour content, excellent logistics, lots of humor, and general care and thoughtfulness.
Favorite "WOW" moment
"Seeing the ruins and having at hand an exceptional guide expertise that supplemented all that we saw. I had so many questions and each were answered with much care."
Michael
Anacortes, WA
Tour: 02/09/15
Overall rating:
I have been on four Rick Steves tours and this was the best so far. Alfio is an excellent guide and the addition of Jamie as his assistant made for an informative and fun experience.
Favorite "WOW" moment
"Sicily offered much more than I expected. The scenery, historical sights, and fine dining would be hard to beat."
Weather
Sicily/ Palermo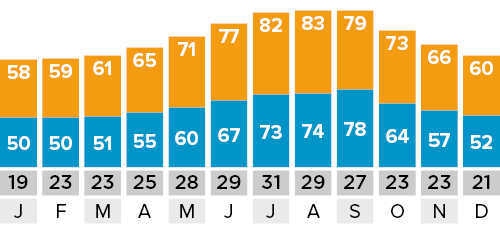 Pre-Tour
We've put together some specific information on what you should know about this tour before you go. You'll also find more general information about "Getting Ready for Your Tour" on our Tour FAQ.
Trip Resources
Learn more about Italy: Check out a collection of Rick's TV shows, radio interviews and articles, plus find a list of recommended books and movies.
Transportation
Prior to your tour departure, you will receive detailed directions on how to get from the airport to your first tour hotel, as well as contact information for your first and last hotels in case you wish to book pre- or post-tour hotel accommodations.
Many tour members arrive a day or two before the tour begins — and those who don't, wish they had. This allows you ample time to get over jet lag and make the most of the first few days of the tour.
There is more than one way to get to and from your tour. Meridiana (www.meridiana.it) is the only airline that operates a non-stop flight from the US (JFK) to Palermo. All other flights to Sicily require at least one connection, typically through Rome, Milan, London, Amsterdam or Naples.
Most tour members will arrange to fly into Palermo and out of Catania ("multi-city" on flight booking websites). Booking round-trip to one city will require a connecting flight, a train or bus trip, and possibly additional overnight stay in Sicily.
For information about flying within Europe, ask your travel agent or check Rick's list of European budget airlines.
For information about traveling by train, read Rick's train travel and rail pass tips and decide if your travel plans merit a rail pass.
If you have additional European travel or tour questions, contact the Tour Department at 425-608-4217 or email tour@ricksteves.com.
Sightseeing On Your Own
If you arrive in Sicily before your tour begins, use your Sicily guidebook to get oriented. Ride the public transportation, try out a few words of Italian, and get over your jet lag with lots of fresh air and exercise.
Here are suggestions for sightseeing in Palermo that we do not do as a group: Cappella Palatina; Teatro Massimo (closed Mondays); Marionette Museum; Museo Archeologico Regionale A. Salinas; Palazzo Abatellis; Capuchin Crypt; Palazzo Mirto; Galleria D'Arte Moderna (GAM).
Packing
For advice on what (and what not!) to pack, see Rick's packing tips.