Rialto Bridge in Venice

Venetian Carnival Masks

Florence

Michelangelo's David in Florence

Wine Tasting in Umbria

St. Peter's Basilica

Rome's Piazza Navona

Colosseum in Rome
Tour Questions? See our FAQ | Call 425-608-4217
Best of Venice, Florence & Rome in 10 Days Tour
The Rick Steves Best of Venice, Florence & Rome tour begins with Venice's timeless St. Mark's Square and Basilica, continues on to Michelangelo's stunning David and the Uffizi Gallery in Florence, and ends with Rome's ancient Forum, Colosseum, Pantheon, Vatican Museums, and Sistine Chapel. You'll also enjoy guided neighborhood walks, memorable meals, and full-bodied Italian wines. Italy's three greatest cities are like fine gelato — why settle for just one flavor if you can get three scoops at once? Join us for the Best of Venice, Florence & Rome in 10 Days!
Dates & Prices
What's Included
You'll get at least 20 group sightseeing events — at no extra cost!
Here's what you'll see and do on our Best of Venice, Florence & Rome tour:
Venice backstreets walking tour
St. Mark's Square and Basilica
Venice lagoon excursion
Venice's Accademia art museum
Gondola ride
Renaissance Florence walking tour
Florence's Accademia Gallery (Michelangelo's David)
Uffizi Gallery
Florence backstreets walking tour
Cooking class and lunch
Bargello Museum
Umbrian wine-tasting lunch
Rome orientation
Roman Forum
Colosseum
Church of San Clemente
Pantheon
Vatican Museums and Sistine Chapel
St. Peter's Basilica
Evening walk through Rome including Trevi Fountain
Plus you'll get all this, too.
A small, friendly group of 24–28 people — half the size of most tour groups
Full-time services of a professional Rick Steves guide and local experts who will make the fascinating history, art, and culture of Venice, Florence, and Rome come alive for you
All group transportation between Venice, Florence, and Rome
9 nights' accommodations (3 nights at each hotel) in memorable, centrally located hotels
All breakfasts and half your dinners
All tips for guides and driver
A tour kit including a guidebook (when available) and a moneybelt
Guaranteed tour price, locked in the moment you make your deposit
Tour alum discount of $50 for each tour you've taken prior to 2022
50% discount on a consulting appointment with our in-house experts to assist with your pre- or post-tour travel plans
Flexibility should you need to transfer or cancel your tour
Fine print: You are responsible for the cost of your drinks and free-time sightseeing. See our Tour Conditions for important details regarding everything listed above.
Group sightseeing events subject to change.
Itinerary
Day 1: Welcome to Venice
We'll meet at 4 p.m. at our Venice hotel, deeply nestled amidst the canals, bridges, and alleyways of this magical, preserved-in-amber city. After introductions, we'll set off on an orientation walk and then enjoy getting acquainted over a traditional Venetian dinner together.
Light walking: 2–4 miles throughout the day on mostly level terrain. No bus. Sleep in Venice.
Day 2: Historic Venice
Our local guide will join us this morning for a historical walking tour — with a modern Venetian's-eye view — through the backstreets of Venice, ending in St. Mark's Square and the shimmering, mosaic-filled Basilica. Along the way, we'll learn about the city's remarkable past and its challenging future. The afternoon and evening are free to explore the imposing Doge's Palace, take in a church concert, waltz on St. Mark's Square, or pub-crawl your way through this unique city.
Strenuous walking: 2–8 miles throughout the day with lots of hills, stairs, and uneven terrain. No bus. Sleep in Venice.
Day 3: Venice's Accademia Gallery and Lagoon
This morning we'll have our first real brush with the Renaissance — Venetian style — with a tour of the Accademia's treasure trove of great Venetian art, starring Titian, Veronese, Bellini, Tintoretto…and every shade of color imaginable. Then it's all aboard for a cruise into Venice's lagoon on our private boat. We'll visit your guide's favorite island, where you'll have free time to explore and enjoy lunch on your own. After returning, we'll set you free to discover Venice's other famous sights and find dinner on your own in the tangled maze of alleys and trattorias. Tonight, we'll regroup for a classic, romantic gondola ride through Venice's moonlit canals.
Moderate walking: 2–6 miles throughout the day with some hills and stairs. Boat: 1 hour. No bus. Sleep in Venice.
Day 4: Wonders of Renaissance Florence
We'll drive straight to Florence this morning and hit the ground walking with a Renaissance tour of the city's historic center. We'll learn about Brunelleschi's magnificent cathedral dome, Ghiberti's Baptistery doors, and other creations that helped define this world-changing era. Tonight we'll share a hearty Tuscan dinner together.
Moderate walking: 2–6 miles throughout the day with some hills and stairs. Boat: ½ hour. Bus: 4 hours. Sleep in Florence.
Day 5: The Backstreets of Florence
A local scholar will join us this morning as we take a walking tour of the backstreets of Florence, with some fascinating peeks into Roman, medieval, and 19th-century Florentine life along the way. After exploring the highlights of the Bargello Museum, we'll continue our tour across the river, where we'll create today's tasty lunch during a fun and informative cooking class. Your afternoon will be free to see more of the city's museums.
Strenuous walking: 2–8 miles throughout the day with lots of hills, stairs, and uneven terrain. No bus. Sleep in Florence.
Day 6: The Uffizi and David
This morning we'll devote our time to the breathtaking Renaissance art of the Uffizi — home to the finest collection of Italian paintings anywhere — including works by Leonardo, Botticelli, Michelangelo, and more. After some free time to make your own Florentine discoveries, we'll gather again this evening at the Accademia Gallery to marvel at the power of Michelangelo's rough-hewn Prisoners and his greatest masterpiece, David.
Moderate walking: 2–6 miles throughout the day with some hills and stairs. No bus. Sleep in Florence.
Day 7: Wine Tasting, Rome at Night
This morning we'll drive into the rolling hills of Umbria, stopping for a wine tasting lunch at a family-run winery. We'll then make a beeline for Rome, where we'll take a neighborhood orientation walk on our way to tonight's dinner together. We'll end our day as any good Roman would — with a stroll through the historic heart of the city, lacing together the classy Piazza Navona, splashy Trevi Fountain, and the remarkably preserved, 2,000-year-old Pantheon.
Moderate walking: 2–6 miles throughout the day with some hills and stairs. Bus: 4 hours. Sleep in Rome.
Day 8: The Vatican Museums and St. Peter's
Today we'll focus on Renaissance (Catholic) Rome. At the sprawling Vatican Museums, we'll visit what seems like a limitless collection of treasures as you make your way to one of the world's most famous works of art: Michelangelo's Sistine Chapel. We'll then be introduced to the greatest church in Christendom: the awe-inspiring St. Peter's Basilica, home to Michelangelo's sublime Pietà. The rest of your day is free to wander through this immense church and explore more of the Eternal City on your own.
Strenuous walking: 2–8 miles throughout the day with lots of hills, stairs, and uneven terrain. No bus. Sleep in Rome.
Day 9: Monuments of Ancient Rome
We'll spend our morning uncovering ancient Rome, starting with a tour of multi-layered San Clemente — a 12th-century church sitting atop a fourth-century basilica and a previous Roman temple. Then we'll tour and hear vivid tales of the larger-than-life Colosseum and the birthplace of ancient Rome: the Forum. You'll be free this afternoon to wander through the nearby Palatine ruins, visit St. Peter-in-Chains Church (home to Michelangelo's Moses), or climb to the top of the Victor Emmanuel Monument to enjoy a panoramic city view. Tonight we'll feast together at our farewell dinner, sharing travel memories and toasting new friends. Salute!
Strenuous walking: 2–8 miles throughout the day with lots of hills, stairs, and uneven terrain. No bus. Sleep in Rome.
Day 10: Tour Over After Breakfast
Breakfast is provided, but there are no group activities today. It's a breeze to reach Rome's airports by taxi or train. Your guide will help you with any post-tour planning, leaving you well prepared for the road ahead. Arrivederci!
Itinerary specifics subject to change.
Physical Demands
Our tours are physically active! It's an essential part of the Rick Steves tour experience. On our Best of Venice, Florence & Rome in 10 Days tour — among other things — you'll need to happily…
Carry/roll your luggage over uneven pavement (possibly several blocks) and up stairways to reach your hotel, then up several flights of stairs to reach your room.
Be on your feet, walking and standing, for up to three hours, indoors and outdoors, in all weather conditions.
Sleep with street noise and no (or weak) air conditioning.
After orientation and transportation lessons, be able to navigate cities on your own.
Reviews
Gerald
Millsboro, DE
Tour: 02/17/20
Overall rating:
Incredible feeling of being a part of the culture because of Lisa's personal way of intertwining us all into every facet of what we were experiencing. Each hotel gave us a "living" connection with not only the past but with what the present is also. We experienced the energetic personalities of the other guides, all of which were excellent, happy and thoroughly knowledgeable of their respective locales. Very complete enjoyment of our trip because of Lisa and all of them.
Favorite "WOW" moment
"Venice with the canals, bridges and general ease of living. Rome with the buildings, roads, art and immensity of everything they accomplished."
Anthony
Chandler, AZ
Tour: 02/17/20
Overall rating:
I had an incredible, unforgettable experience on my first Rick Steves tour. Lisa, our guide, was a perfect mix of fun, knowledgeable, accommodating and understanding of each person's personality, what they wanted to see, if they needed any help, etc. Along with Lisa, the local guides were knowledgeable and made things I would not have normally found interesting, interesting. Italy may have been the perfect spot for my first tour, as there are so many unbelievable attractions and restaurants.
Favorite "WOW" moment
"The Colosseum is hard to beat. Just walking down the street and watching it get larger and larger as you get closer was unforgettable. As a sports fan, that is kind of the ultimate stadium, a 2,000-year-old sports house."
Rande
Flemington, NJ
Tour: 02/17/20
Overall rating:
We had a great tour guide in Lisa. Because she grew up in the US and has lived in Italy for many years, she was able to see Italy through our eyes. She understood what we needed to see and know about Italy. The trip was strenuous, we expected that. There was a lot of walking, particularly in Venice and Florence. There was free time though, most afternoons, for those of us who needed to slow down and take a break from the busy schedule. The tour was intense, but we saw all of the must sees.
Favorite "WOW" moment
"The winery stop in Ovierto. The great group dinners. The uniqueness of Venice"
Tom
Narberth, PA
Tour: 02/17/20
Overall rating:
We were thrilled to see Venice, Florence and Rome with Lisa as our guide. She took great care of us and filled our days with wonderful and amazing experiences. She was very organized and our excursions were always on time which we really appreciated. At the same time Lisa gave us a personal view of Italy through her own stories about becoming an "Italian" herself which enriched our whole experience. We've been to Europe several times and this was definitely our best trip.
Favorite "WOW" moment
"My favorite wow moment was climbing up the top of Duomo in Florence. I've wanted to climb up there for years to see how Brunelleschi figured out how to build such a huge unsupported dome. That was a really a thrill for me."
Dawn
Ventura, CA
Tour: 02/17/20
Overall rating:
Our group on this tour was friendly & fun. The sights we saw and experiences we had were great.
Favorite "WOW" moment
"I think it was Venice. The whole city looks like a movie set and was beautiful."
Lyn
Mckinney, TX
Tour: 02/17/20
Overall rating:
This tour went way beyond our greatest expectations. So happy we chose Rick Steves as our first tour. We are already looking for our next adventure.
Favorite "WOW" moment
"Basilica of San Clemente - Rome. 2000 years of history. Surface level is dated from the 4th century then you descend into the 1st century. There is nothing quite like touching history."
Donald
Doha, DA
Tour: 12/13/19
Overall rating:
I really enjoyed the tour because the focus was on art, architecture and history. The [INVALID]ion of sites was very good and exposed the traveler to the best venues while also creating enough free to allow individuals to pursue their own interests. I used my time to see other museums. The group of people were great and everyone got along very well and had fun. In addition the group diners were great and so was the cooking class and wine tasting. This exposed us to other aspects of the culture.
Favorite "WOW" moment
"This is kind of a silly question since a tour of Italy provides many great moments. I will use this box to point out that while I am Canadian I am a resident of Doha Qatar not "DA". I also asked to go by Don."
Monica
Lakewood, WA
Tour: 12/13/19
Overall rating:
Saw all the highlights of Venice, Florence and Rome! Nothing was overlooked.
Favorite "WOW" moment
"Wine Tasting in Tuscany/Florence at a centuries old winery. Lots of history in the underground cellar that was dug by monks. Tree roots grew through the ceiling which was very cool."
Dina
Clackamas, OR
Tour: 12/13/19
Overall rating:
Overall experience was wonderful- we saw everything we hoped to and it was all easy and very well organized.
Favorite "WOW" moment
"Venice boat rides - gondola as well as trip to Burano and Torcell Island. We liked the quietness, the beauty of the water, the outdoor feeling of "living on the water.""
Tom
Galveston, TX
Tour: 12/13/19
Overall rating:
nice balance between time on my own and on tours dinners could not have been better.
Melinda
Gibsonton, FL
Tour: 12/13/19
Overall rating:
This was my first Rick Steves tour. I booked for 2 reasons: 1) Because my son and I always watched the Rick Steves PBS episodes & loved the way he presents the places he visits. 2) I was a little afraid to tour Europe solely on our own. The level of enjoyment we experienced with Rick Steves' program has me wanting to book another tour ASAP.(I would choose cities we'd not covered with RS Tours before.)
Favorite "WOW" moment
"Arriving in Venice that very first moment! Surreal beauty in a place I'd always dreamt of visiting... and Venice felt so comfortable after the first walking tour!"
Casey
Philadelphia, PA
Tour: 11/18/19
Overall rating:
Our tour guide was Patricia and she was absolutely incredible!! She was so fun, and was always looking out for all of us, as well as giving suggestions on local places to visit and explore. She made our experience even more memorable. We have never been to Italy before, and this tour was a great experience. I'm glad that it's not a hop on/hop off bus tour and that you can actually walk around and explore the cities.
Favorite "WOW" moment
"Visiting the Church in stone with Francesca and seeing the 2000+ streets of Rome underground. That was so so neat and she gave such interesting information! I highly recommend her as well!!!"
Lorna
Denver, CO
Tour: 11/18/19
Overall rating:
wonderful guides: art historians,architectural, archeological and local color. interesting dinner choices nice assortment of 'attractions" I know you pride yourself on quirky hotels, but I could have used a few sanitary upgrades.
Favorite "WOW" moment
"Rome: from the church of St. Clements to the collosium David in Florence Sistene chapel"
Tim
Ooltewah, TN
Tour: 11/18/19
Overall rating:
My wife and I are new to traveling with a tour and I don't know if it was good luck but this was the best trip we've ever had. The main tour guide was wonderful and the local ones were very knowledgeable which made the whole trip exciting and fun. I would definitely do it again. Thanks to Patricia who made the whole trip worth it.
Favorite "WOW" moment
"There were several wow moments but if I had to pick one, I would say that the cooking class and wine tasting were the best."
Jonathan
Binghamton, NY
Tour: 11/18/19
Overall rating:
The "very good" rating by no means indicates dissatisfaction, just a personal belief that there is always room for improvement. The tour did as advertised and more. Our tour guide, Patricia, was outstanding, as were the additional guides at specific sites. They made it possible to begin to absorb the significance and history of what we were seeing. The group was great, everyone seemed to get along and have fun together. The meals together were a blast. The buddy system is a very good idea.
Favorite "WOW" moment
"Several "wow" moments: winery stop between Florence and Rome; managing the flooding in Venice (we got there 2 nights early and saw more flooding on those days); climbing the Duomo in Florence; listening to excellent street music near the Duomo; walking through the Forum; Church of San Clemente and related history lesson; meals with the group."
Julie
Richmond, VA
Tour: 11/18/19
Overall rating:
As I expected, it was a wonderful introduction to three great cities, and a good mix of art, history, culture, food, and just plain fun. It was my first time in Italy, and I hope will not be my last.
Favorite "WOW" moment
"I can't stop thinking about the stunning creation that is the Sistine Chapel, and the immense world that is St. Peter's. Walking on the ancient lanes of the Forum was pretty great too."
Frank
Ames, IA
Tour: 11/18/19
Overall rating:
Patricia was a wonderful guide and exceptionally helpful. The value in this tour is in: (1) The highly educated and skilled local guides who provide a deep understanding of the history and culture of the place and of the art or architecture that would not be had by visiting on one's own; and (2) the well planned, timed, and orchestrated visits to museums and other places of interest where there is no time lost to waiting in lines or ticket-buying or other problems.
Favorite "WOW" moment
"There were two "wow" moments: One was standing on the floor of the Collosseum and in the middle of the Forum as our wonderful guide, Franseca, painted an oral picture of scenes from across the centuries. Another was the simple pleasure of the company and the meal we made with our new friends at our Italian cooking class in Florence."
Sandra
Chino Hills, CA
Tour: 11/18/19
Overall rating:
I loved every moment of the tour.
Favorite "WOW" moment
"Every moment was a "wow" moment. Two highlights for me were the cooking class and wine tasting in the Toscana region. They were fantastico!"
Bruce
Carmel, IN
Tour: 11/15/19
Overall rating:
The high tides in Venice were quite amazing! The lessons in Italian history, the Renaissance, and the contrasts between North and South made me feel I had really gotten a sense of Italy. I know it was only a quick skim of the high points, but I loved the experience.
Favorite "WOW" moment
"Touring in Venice during Acqua Alta was quite the experience! We felt part of a historic time there. All went very well during the very high tides. However, when we first heard about the record (187 cm) tide, the day before we were scheduled to depart, we were freaked out! We called the Hotel, and they said come on, that they could provide boots. It would have been better if you had contacted us to give some help with the situation."
John
Richmond, BC
Tour: 11/15/19
Overall rating:
We arrived at the start of the second highest flood in Venice history. Our guide had to make many adjustments and did so seamlessly. Some events were cancelled (hard to view a church or island under water), others added. Our overall experience in Venice was first rate. To see the resilience of the people of Venice was an amazing experience. Rome and Florence were all we expected from a RS tour - and more. Our guide was knowledgeable on Italian history and culture. Very enjoyable.
Favorite "WOW" moment
"While there were many, to me the best moments were during the well prepped for free time in each city. Rainer spent the time to make us comfortable in our explorations, helped with great suggestions and directions, and set us free. I also thought the local guides were brilliant. The cooking lesson in Florence was fun and interesting and the wine drinking at the winery was educational."
Theresa
Richmond, BC
Tour: 11/15/19
Overall rating:
I was quite worried about our arrival in Venice as I heard just the night before about the terrible flood. I was surprised to see the sun shining and the city dry and full of life. With the rubber boots that the hotel provided, and a bit of an education about the tides that come and go each day we had an unforgettable vacation and a greater understanding of the life of the robust, persevering Venetians.
Favorite "WOW" moment
"I had wow moments daily when I saw buildings that were over a thousand years old and stayed in hotels that were built in 13th century. Fantastic. We also enjoyed our tour group very much. We've been on 4 Rick Steves tours and have only experienced friendly and open minded people that are up for a bit of adventure on each tour."
Cecelia
Carmel, IN
Tour: 11/15/19
Overall rating:
Venice, Florence, and Rome are each filled to the brim with charm, art, architecture, incredible cuisine, shopping, and unique neighborhoods to explore. The tour provides balance between structured group activities and time to explore independently. Spending 3 nights in each city gave us time to understand each city's unique offerings, as well as it's historical significance. We traveled in November. Yes, it rained, but the payoff was easy access to view art and historical sites that we visited
Favorite "WOW" moment
"Each day was a gem, but entering the Galleria dell'Accademia in Florence and seeing Michelangelo's David was sublime. Our November tour meant that our visit was off-season. That evening, we were the only tour group in the museum. I took a whole series for photographs from all angles. It was one of those moments when I thought, "Wow! How many people have the opportunity to be in the presence of this spellbinding statue without feeling crowded or rushed?""
Paul
Happy Valley, OR
Tour: 11/01/19
Overall rating:
It was an excellent experience. Stephanie did a wonderful job of organizing everything!
Favorite "WOW" moment
"There were so many!! The David. The Vatican. Venice (on a sunny day!)"
Thomas
Madison, WI
Tour: 11/01/19
Overall rating:
Our trip was amazing. Sure, the weather was not perfect but our Guide, Stephanie, was always taking that into consideration and had many options for our group that helped make the trip special. We learned so much about the culture and history of Italy. Skipping long lines, dining with locals, having local guides, and eating and drinking Italian food never gets old!
Favorite "WOW" moment
"I think my favorite wow moment was visiting an amazing winery in the hills of Tuscany, it was awesome! The local winery sat in the hills and had a picturesque view, combine that with a wine tasting and you have an amazing experience you'll never forget!"
Louis
Peabody, MA
Tour: 11/01/19
Overall rating:
The tour was great and was a wonderful itinerary for a first trip to Italy. Stephanie our tour guide was wonderful and did a great job of keeping us informed and on schedule. She truly knew the country and its history and also provided some great info and tips for our free time. She made everyone feel welcome
Favorite "WOW" moment
"As far as the sites and activities there were too many to narrow it down, the biggest surprise for me was how many friends we made on the tour. I thought my wife and I and our two children (ages 24 and 25) would stick to ourselves for the 10 days, not the case at all. We even spent some of our free time with our new friends."
Cheryl
Eugene, OR
Tour: 11/01/19
Overall rating:
It was wonderful! Stephanie was a great guide and more than that, a host, through these enchanting cities. Each city had its own flavor that was fun to experience sometimes just by casually walking the streets. I appreciated the fact that we stayed three nights in each location. It gave us to settle in to each hotel a little and overall made it more restful.
Favorite "WOW" moment
"There were several. The magnificence of St. Mark's Basicilica, standing in front of the Pantheon at nighttime. We had a nice room in Florence presenting a nice view and when we opened the window, some operatic music floated through the air. Then the experience of watching an artist at work and having the opportunity to work with her to create a painting of my own."
Walter
Vero Beach, FL
Tour: 11/01/19
Overall rating:
The elements of the tour, followed closely if not literally, the tour description described in the Rick Steves (RS) promotional material. Substitutions to the stated agenda were at times necessary and appropriate. That said, there is always an opportunity to improve. Hotels: The Venice and the Florence hotels did not meet my expectations. Both were cramped and did not meet the standards of furnishing and electronic access as the we have experienced with other tour companies (VBT).
Favorite "WOW" moment
"The entire Venice experience."
Susan
Peabody, MA
Tour: 11/01/19
Overall rating:
This was my family's first tour experience and it exceeded our expectations. We saw tourist highlights as well as hidden gems. Our tour guide, Stephanie, did an outstanding job with our diverse group; making sure each person was comfortable and offering alternate options for those looking for something different to do.
Favorite "WOW" moment
"There were so many 'wow' moments. Venice was an absolute favorite. The tour guides Elisabetta & Corrine were outstanding. I loved visiting Burrano. The winery, cooking class and art studio were highlights too."
Miranda
Madison, WI
Tour: 11/01/19
Overall rating:
Wonderful tour with a magnificent guide. We saw so much more than expected thanks to Stephanie. We loved her!
Margaret
Portland, OR
Tour: 10/28/19
Overall rating:
The tour was beyond any expectations I thought about visiting Italy. Most impressive was the focus on local sites with their culture and history Our tour guide was professional,knowledgeable, and very supportive of all our needs. I learned much about the cities and origins. The recommendations given to us concerning food,places to visit and how to get there were complete and personal.I am visually disable . The in depth descriptions of art made me feel as though I was actually seeing the work.
Favorite "WOW" moment
"Visiting Umbria and the olive tasting."
Kedre
Wichita, KS
Tour: 10/28/19
Overall rating:
Our guide, Patricia was exceptional as were the local guides! The members of our group got along well, looked out for each other, and there were no complainers or "me first" types - really a lovely group. We appreciated that it was small so that we could all know each other by name. The group meals were very delicious and enjoyable, and people could join in the group activities or consult with Patricia and the hotel staff if they wanted to venture-out on their own.
Favorite "WOW" moment
"Patricia acquired tickets so my husband and I could have a seat in St Peters square for a Papal mass on Wednesday morning. We are not Catholic, but it was a remarkable experience to be within 30 feet of The Pope and to share in the service with thousands of people from all over the world - we had toured the Vatican museums and St Peter's two days before."
Anne
Monterey, CA
Tour: 10/28/19
Overall rating:
We had a marvelous time in Venice, Florence and Roma thanks to our wonderful guide Patricia. She I always made sure our needs and concerns were met with her personal touch! Bellisima
Favorite "WOW" moment
"Upon arrival to Venice and being in a "picturesque " city! People, art, food, architecture, canals...were breathtaking! Am still having beautiful flashbacks??"
Janice
Winter Springs, FL
Tour: 10/28/19
Overall rating:
The trip experience was excellent in all ways: the itinerary, was a perfect balance of museum, walking the cities, guided/free time. I am always impressed on a RS tour with the outstanding attention to being prepared but then being able to adjust with unknowns; for example of the planned, the ticketed sites always go without a hitch - tour guides (local and RS)are well coordinated and make it look easy. For the unexpected, had a bit of heavy rain on some occasion and our leader got us taxis.
Favorite "WOW" moment
"Its difficult to pick one "wow" moment, but the stop in Umbria at the olive grove/ vineyard for lunch was fabulous. The hosts, Marco and his wife were absolutely charming, gracious, and provided an exceptional lunch and wine exploration experience. The ambience and beauty of the Umbria vista from the house was something I will always remember. Also, a "shout out" for their dog, whom everyone seemed to love."
Maria
Oak Forest, IL
Tour: 10/22/19
Overall rating:
This was our first trip to Europe and we both were excited, my husband a bit more anxious than I about everything. I can say, it was a wonderful experience. Not only the fact that we saw the beautiful country, but Nina and all the tour guides made it what is was. Our tour group was an eclectic blend of people that also added so much to our tour. We couldn't have asked for anything better, except maybe better feet to see it all.
Favorite "WOW" moment
"Personally, I loved Venice. The charm was overwhelming to me. Just the fact that it is so different from the states with cars, trucks and every form of transportation you can imagine. The calming waters just made me feel like I was in another world."
Patrick
Oak Forest, IL
Tour: 10/22/19
Overall rating:
This was our "dream' trip of a lifetime and it exceeded our expectations.The 3 cities that we visited were magnificent homes to Italian history and culture, all of which was greatly enhanced by the knowledge and passion of our outstanding guides.The tour itinerary was well thought out and had a good balance between planned group excursions and also free time for us to explore these cities on our own. The hotels were comfortable and charming, and their staffs very gracious.
Favorite "WOW" moment
"As charming as Venice was, and as magnificent as the churches, basilicas, and museums certainly were, the overwhelming view of the countryside in Umbria as the morning fog lifted at the winery was spectacular."
Judith
Tucson, AZ
Tour: 10/22/19
Overall rating:
Overall I enjoyed this trip. However, there were quite a number of issues with it. For one, this is the first escorted tour I have ever taken that did not include airport transfers. I realize that many people do arrive or depart after the scheduled tour dates, but for those that do not, airport transfers should be included. I left the tour on the designated end date and it cost be $50 euro to get to the airport. I do not consider this a "budget" tour. I have more to say, but no space.
Favorite "WOW" moment
"I would say the cooking class was my "wow" moment."
Susanna
Novato, CA
Tour: 10/22/19
Overall rating:
Our 2nd RS Tour did not disappoint! We did not have time to research much before arriving, but the expert tour guides provided pertinent background every step of the way. Loved all the walking! 8 miles/day on most days! Lovely group of people to journey with; much better accommodations than I would have arranged had I planned this on my own; a very rich "menu" of sights and experiences; and free time to wander. Loved being there in October with fewer crowds and mid-70's weather.
Favorite "WOW" moment
"3 highlights: the relaxing, delicious and informative Umbrian winery wine-pairing lunch on the way to Rome; comparing a Florence Michelangelo wooden crucifix carved at age 17 to a Pieta he carved at age 80; and going down through the centuries to see 3 different levels of a church at St. Clemente in Rome. Those experiences provided a foundation to appreciate what we were seeing throughout our tour - and all 3 were away from big crowds!"
William
New Paltz, NY
Tour: 10/22/19
Overall rating:
3 days in each city is just enough to get a feel for the place and learn what else there is to explore in a return trip. This was a congenial group of folks, and Nina graciously helped us come together as a group.
Favorite "WOW" moment
"When the fog lifted and we could see the hill town of Orvieto in the distance, from the winery we were visiting. (That visit to the winery was a delight.)"
Barbara
Boise, ID
Tour: 10/22/19
Overall rating:
I enjoyed Nina and my co-travelers! They made the trip more memorable! It was so nice to spend time with my lovely sister Teresa and meeting so many new friends! I enjoyed the Gondola ride in Venice. There is so much history in every place we visited.
Favorite "WOW" moment
"My Favorite moment was going to St. Clement's Church in Rome! Here you could actually experience the layers of Rome! Our local guide was excellent and it was a true surprise to visit this church!"
Teresa
Chattaroy, WA
Tour: 10/22/19
Overall rating:
Having been to all 3 cities on a previous tour, I wanted to explore more in depth. I was not disappointed, had a wonderful guide in Nina., as well as very knowledgeable, entertaining local guides. I enjoyed the Umbrian winery visit, where we learned about the proper pairing of wines and foods. I would definitely recommend a gondola ride, ours was lovely, even if I didn't get to share it with my husband! I know that we are all saddened by the tragedy that is Venice right now.
Favorite "WOW" moment
"Even though I have experienced the Vatican and Sistine Chapel on a previous tour, it still amazes me! The art, the wealth, the beauty, the (not so perfect) history surrounding the Roman Catholic Church overwhelms someone who grew up attending Catholic school and Church."
Linda
Lincoln, NE
Tour: 10/21/19
Overall rating:
Loved all the cities and covered all the great places and then some
Favorite "WOW" moment
"David"
Michael
North Bellmore, NY
Tour: 10/21/19
Overall rating:
Favorite "WOW" moment
"Elizabeta! In Venice. She was fantastic! Her knowledge she imparted was just awesome. I really enjoyed hearing all the details and back ground stories about Venice. I learned so much that day."
Margaret
Austin, TX
Tour: 10/21/19
Overall rating:
This is the first tour that I've been on in decades and it was the best decision I've made traveling in a long time. Stacy was an outstanding ambassador for both Italy and Rick Steves. The local guides were all great and the opportunity to have group meals that were local meals that highlighted the food of the region helped guide us to look for certain foods while in the region.
Favorite "WOW" moment
"For me it was the Sistine Chapel. The reason is because I was there in 1985 before it was cleaned and the vivid colors now were mind boggling. I wish I'd pulled out my 1985 pictures before the trip, but showing them to my travel partners when I returned was eye opening."
Leonard
Little Egg Harbor, NJ
Tour: 10/21/19
Overall rating:
Stacy was an excellent tour guide as were all the local guides. Everything we saw and experienced was outstanding I especially enjoyed the stop in Umbria for lunch at Marco's home and the stop at the WWII cemetery on the way to Florence. All the members on the trip were great, a real diversed group of individuals.
Favorite "WOW" moment
"The view of Florence on the way into the city,San Clemente Church and the Sistine Chapel."
Sam
Wilmington, DE
Tour: 10/21/19
Overall rating:
My wife and I had been wanting to go to Italy for a long time. After researching, we decided on Rick Steves' Best of Venice, Florence, and Rome tour, and boy we are glad we did. We had a fantastic experience. Our group was great, and we became friends quickly. The art, history, architecture and food were amazing. Stacy and our local guides were excellent and helped us really get to know the history and culture of these special cities.
Favorite "WOW" moment
"My favorite WOW moment was when we stopped at the vineyard and olive grove in Umbria. Marco and his wife welcomed us and provided a delicious light lunch and great wine from his vineyard. This relaxing stop among rows of grapes and olive trees was just what we needed after the busy cities we had visited. Marco was very informative about how his delicious olive oil is made. We even bought a can of his extra virgin olive oil to bring home."
Saeid
Bellevue, WA
Tour: 10/21/19
Overall rating:
My wife and I had a great time. We walked a lot, learned a lot, made some very special friends and in the process we made some good memeories.
Favorite "WOW" moment
"There were many "wow" moments in this trip, but perhaps our favorit "wow" moment was in San Peter's church."
Ann
Little Egg Harbor, NJ
Tour: 10/21/19
Overall rating:
Great tour! Our guide Stacy was wonderful. She kept us on schedule and is so knowledgeable. Ilove the special things you add to the tours like our stop in Umbria for a wine tasting or being serenaded on the gondola ride to get a real fell for the culture. The hotels were all great.
Favorite "WOW" moment
"The trip to Umbria was beautiful and the American & Italian WWII cemetery was very emotional and definitely worth the stop. Of course St. Marks's Square,the Vatican museum and Sistine Chapel are breath taking.I loved Venice! Like no where else in the world, it's magical!"
Kelly
North Bend, WA
Tour: 10/21/19
Overall rating:
We had an excellent tour family, and our guide Stacy was fantastic. She gave us wonderful insights to local customs and food and culture. We walked a TON but got so see so many fantastic sights!
Favorite "WOW" moment
"I think St. Peters Basilica as well as walking around the corner in Florence to see the Duomo."
Howard
Lake City, CO
Tour: 10/18/19
Overall rating:
We visited so many wonderful places. Overall, it was a great experience.
Favorite "WOW" moment
"The wine tasting venue was amazing and the event itself was memorable. A second place wow was the cooking class. Both were wonderful memories."
Roxanne
Kirkland, WA
Tour: 10/18/19
Overall rating:
We had an amazing time!! We loved Martin, our main guide, the local guides, the ease of getting everywhere, the itinerary, and our group of people.
Favorite "WOW" moment
"I had several "Wow" moments!! Marco Polo's house, St. Marks Basilica, seeing the statue of David, the Uffizi, and The Vatican with the Sistine Chapel."
Deborah
Lenox, MA
Tour: 10/18/19
Overall rating:
My husband and I have been watching Rick Steves' on TV for years and couldn't wait to visit Italy. The tour was basically explained accurately. We did see everything we expected and more. The pace of getting up so early was very tireing but to avoid lines we could see why. This running constantly to fit in everything did wear on me so this made the tour not as enjoyable as I had hoped.
Favorite "WOW" moment
"The boat ride to visit the Venice Islands in the Lagoon was very enjoyable and a real pleasure."
Julie
Lake City, CO
Tour: 10/18/19
Overall rating:
A woman on our tour said (because of the guide) she would never attend another RS tour. I told her about our approachable, positive, kind RS 2017 Paris guide He acted like the professor who has tenure & doesn't have to care or be kind because he's so valued by the organization He was passionate about the pubs This is our expensive vacation. He doesn't need to keep going for laughs at other people's expense. If he was too ill to do his job he should have gotten a replacement.
Favorite "WOW" moment
"Passionate, informative, kind, Roman guide Francesca Michelangelo's David the history we experienced, the art, Burano early mornings with nearly empty streets picturesque countryside wine tasting setting, beautiful lunch, interesting guide old woman in Roman asking my husband to help her open her shop discovering Cornetteria Caffetteria Bar Bistrot on our own in Rome"
Heather
Seattle, WA
Tour: 10/15/19
Overall rating:
Great mix of scheduled and free time. Scheduled time well-focussed on priorities. Tina's connections with locals enriched our journey.
Favorite "WOW" moment
"Great stop at Orvieto winery and amazing local guide in Florence."
Sambhab
Camden, DE
Tour: 10/15/19
Overall rating:
Very well organized and caring team. It was a pleasure field vacation. Tina must be congratulated for sincere hard work and keeping the tour punctual. I wish the entire active team good luck And success
Favorite "WOW" moment
"Multiple wows for me. Starting in Venice Saint Mark's illuminated with LED lights, David, Leonardo's painting description by tour guide in the Ufizzy gallery. Rome Colosseum and underground church in Rome showing three levels of Roman history"
Terri
Bemidji, MN
Tour: 10/15/19
Overall rating:
This tour was fantastic and exceeded my expectations. I didn't expect the depth of cultural, artistic and historical education we received from our excellent tour guides, and I was so delighted that the focus of the tour was on art history and architecture. But I also enjoyed the lunch at the winery and the cooking class. Overall an excellent tour experience.
Favorite "WOW" moment
"There were too many wows to pick just one. Venice and St. Mark's was stunningly beautiful; The tour guide in Florence was outstanding in his presentations; the Uffizi gallery; David, the Gallerie dell Accademia; and the Colosseum and Forum were stand outs."
Donald
Benson, MN
Tour: 10/15/19
Overall rating:
The tour was everything that we had hoped for and more. For us it was the perfect blend of stuctured tours and free time. We got to see all of the sites that each city had to offer and still have plenty of time to explore on our own. The organization of the entire tour was the best I have ever seen.
Favorite "WOW" moment
"There were several to choose from but I think that my favorite "wow" moment was my first looks at Venice. It is such a unique city that it left a real impression on me. I am particularly aware of that now, a month later, when I read about the severe flooding that is taking place there. The weather during our stay could not have been better and now I really see how lucky we were."
Brian
Oak Creek, WI
Tour: 10/15/19
Overall rating:
Great mix of tours and having time to ourselves with plenty of info on things to do and eat on our own time
Stephanie
Renton, WA
Tour: 10/14/19
Overall rating:
This tour was amazing! I had the absolute best time! I didn't want to leave. Julian was fantastic, his disorientation on WWII was absolutely fascinating. I could have listened all day to him.
Favorite "WOW" moment
"We were in St. Mark's Basilica in Venice and Julian had just released us for the rest of the day but recommended hanging out on the balcony overlooking all the gold mosaic when they turned on the flood lights. Watching those flood lights come on and the walls glitter was the most incredible thing I've witnessed. Absolutely awe-inspiring."
Carolyn
Dallas, TX
Tour: 10/14/19
Overall rating:
First time I have been on a tour. I visited Florence & Venice years ago as a college student, on the $5 day budget. I wanted to go back as an adult & enjoy proper hotels. The guides sharing all the history made the tour fascinating & brought it alive. Not speaking Italian & being handicapped gave me a feeling of being an easy target. That was resolved once I decided to do your tour. You made my traveling easy & fun by taking all the work out. I have been planning a visit once I retired!
Favorite "WOW" moment
"My favorite Wow! moment was visiting the prison next to the Doge's palace & walking over The Bridge of Sighs. I have read historical fiction & history books & wanted to visit it for years. Perhaps a strange wow but I have been fascinated for years. The wow moment I missed was seeing the Duomo due to being unwell in Florence. My only consolation was I had been to Florence before - arriving at 3am at train station & sleeping on a bench there til I could get student rate rooms."
Sue Anne
Gibsons, BC
Tour: 10/14/19
Overall rating:
Our first tour with Rick Steves: our expectations were exceeded in every respect! The calibre of the guides and the contextual history, art, and cultural perspectives of each city they provided were without parallel. We loved the immersion in our guided segments, then being 'set free' to explore other areas of interest.The group we travelled with were compatible, yet each added a layer of 'surprise' throughout the tour.
Favorite "WOW" moment
"A combination: Venice is decaying because stringent policies prevent reparation of its buildings in a vain attempt to remain true to its (long gone) heyday. Florence has remained vital because it has revitalized its historic grandeur and envelops the visitor in a comforting pastiche of old and new graciousness. Rome is the eternal city because it continues to build up and over what went before: using the rubble of previous civilizations to build a new and vital growth."
Teresa
Watkinsville, GA
Tour: 10/14/19
Overall rating:
I could not have asked for a better tour, My Italy trip was everything I had hoped for.
Favorite "WOW" moment
"St. Peter's Basilica. It was amazing!"
Maribeth
Carmel, IN
Tour: 10/14/19
Overall rating:
This tour exceeded my very high expectations! Italy has been on my 'must see' travel list for a long time. Everything about the trip was incredible, the history, the art, the tour guides, the fellow travelers, the food, the accommodations, the list is long! We have never traveled with a group before and were a bit hesitant. This tour felt more like your best friend hosting you in there home town, and enjoyed with a great group of friends. It was definitely the BEST of Italy!
Favorite "WOW" moment
"The entire trip! Each city was so different in its own way. I especially loved the storytelling ability of all of our guides that really brought to life the culture and history of all of our activities. I am not a huge history and art fan, yet I learned so much and got so much more out of museums and churches thanks to each of our guides. They all helped us immerse ourselves in the rich culture of Italy."
Ron
Kenmore, WA
Tour: 10/14/19
Overall rating:
Everything was done in an excellent and professional way. The guides were amazing in their knowledge and ability to communicate that knowledge.
Favorite "WOW" moment
"Probably when I first saw David sculpture"
Linda
Berkeley, CA
Tour: 10/08/19
Overall rating:
My daughter and I had a wonderful time on our Best of Italy tour. The tour combined historical perspective as well as the opportunity to see and experience many landmarks that one hears so much about. The tour was enhanced by very knowledgable guides who provide information on art, architecture and history, sometimes with unexpected and delightful humor. Ample free time to explore "on your own" (or rest) balanced a rigorous tour schedule each day. Much walking, and the pace was fast.
Favorite "WOW" moment
"When I got home and thought about the tour as a whole, I realized how well-organized it was, and how varied the activities were. The tour provided prompt easy access to many must-see sights. And our tour guide along with local guides provided historical perspectives that truly made the trip richer and more enjoyable."
Audrey
Laguna Woods, CA
Tour: 10/07/19
Overall rating:
Our trip was very good and we would travel with you again.
Favorite "WOW" moment
"Bill and I and had two moments. The gondola group in the evening with music and the group was Audrey's Bill thought St. Peters and the Sistine was his."
Mark
Bakersfield, CA
Tour: 10/04/19
Overall rating:
Enjoyed every day! Arrived 3 days early and was very glad to hand off the logistics to Julian. Easy to follow his instructions and appreciated all the insider tips that made the trip efficient.
Favorite "WOW" moment
"Vatican Museum and Sistine Chapel."
Carl
Indianapolis, IN
Tour: 10/01/19
Overall rating:
We have traveled to Venice, Florence and Rome before. Often with Rick Steves Tours. The history, the cuisine, the people, the churches, the vistas, the countryside have so much to offer those who want to enjoy and soak up the culture. You can never spend too much time in Italy. Just when you think you have seen so much, you are surprised by how much you haven't. We will travel back again (hopefully many times)
Favorite "WOW" moment
"It was a warm, cloudless Autumn day. We had just left Le Velette Winery and the Bus was winding thru the hills outside of Orvieto. Jesse was playing Andreas Bocellis' "Time to Say Goodbye" on the Bus intercom. Memories of a wonderful trip and great group of travel companions was etched into our minds."
Donna
Portland, OR
Tour: 09/30/19
Overall rating:
A wonderful experience from beginning to end! The Venice-Florence-Rome tour offers a wide variety of experiences that makes it appealing to both the art and architecture lovers as well as those interested in regional cooking, interacting with locals, learning about farming and wineries, etc. The other plus is having a lot of independent time almost every day of the tour to explore on your own or to rest up for the next tour activity.
Favorite "WOW" moment
"We were standing on the upper balcony of St. Mark's Basilica in Venice looking at the magnificent domes and listening to our local guide. Suddenly, the choir began rehearsing and we just stood there listening quietly to a truly heavenly sound. We all had goosebumps and our guide said this was truly a special moment."
David
Portland, OR
Tour: 09/30/19
Overall rating:
Outstanding! From start to finish the tour intertwined the fine arts with interactions with locals. Exceptional organization and communication skills carried out by our guide Dave clearly demonstrated the preparation that took place prior to the tour.
Favorite "WOW" moment
"Viewing the Vatican statuary up close -- especially the Pieta and the collection of Greek amphorae."
Colleen
Waukesha, WI
Tour: 09/27/19
Overall rating:
This tour exceeded all expectations. There was the perfect amount of tour time and personal time alloted. The guides, both local and through RS, were fantastic. The history (2/3 of it I've probably already forgotten!); the food; art; music; wine; etc... was all overwhelming, unimaginable, and wholy enjoyed.
Favorite "WOW" moment
"Too many WOW moments to mention, however, the one that I will remember forever is visiting Basilica San Clemente in Rome. Our local guide Francesca made us cry with her story telling and love of Rome. Touring the "underground' church and homes I could imagine myself back in Rome thousands of years ago. It is just unimaginable to be in a place with such history. I had the feeling of life all around me when we were many stories below our 2019 ground level sitting on Roman 'sofas'."
Susan
Lakeville, MN
Tour: 09/27/19
Overall rating:
This was a phenomenal experience! The cities and places visited were exactly what we wanted to see and needed to experience. In each city, we had an orientation walk and dinner to help us understand better where we were and what the expectations were. Our guides were passionate and knowledgeable, helpful and kind. This trip provided the perfect blend of organized activities and free time, while also providing support and suggestions for whatever we wanted to do. The amount of walking expected.
Favorite "WOW" moment
"While I cannot define a moment, I will say that the huge amount of history presented and the significance of the art and culture of this area continued to provide daily "wow" moments. Michelangelo's Pieta was a spiritual experience. The food was delicious wherever we went. The people were kind and helpful even when there was a language issue. San Clemente church was a complete surprise! The people on our tour were fun and interesting to get to know, which, of course made the experience special."
Frances
La Canada Flintridge, CA
Tour: 09/27/19
Overall rating:
Nice people to travel with, everyone helping everyone, relaxed, nice hotel, liked our tour girl, Stacy, she is fun, able to make split second decision, able to guide all of us through the crowd, and we all different people!! so happy there is no flood in Venice. So appreciated that we got in last in the Vatican museum, less crowd, able to see more. Thank you for the wonderful planning.
Favorite "WOW" moment
"loved the evening at the St Mark square, relaxed with the music and food, I can stay there all night! David's stature is striking in person, saw the picture many times, just not the same in the museum, different feeling when I saw the real deal."
Cheryl
Mt Zion, IL
Tour: 09/23/19
Overall rating:
It was wonderful. It was my second time in these cities but I got to see things I didn't before.
Favorite "WOW" moment
"There were so many but seeing Michelangelo's David certainly was a highlight."
Leslie
Dayton, OH
Tour: 09/23/19
Overall rating:
From the moment we met our tour guide (the amazing Patricia) and our travel companions to end of our time together, our journey was everything we could have possibly hoped for. We saw all the top sites, enjoyed wonderful food (especially gelato) and activities, had seamless travel from place to place, and enjoyed every minute of it.
Favorite "WOW" moment
"I was unexpectedly "wowed" when I first saw the statue of David. Of course I had seen pictures but nothing compared to turning the corner and seeing this timeless sculpture at the end of the room. The other "wow" experience was our time at the Le Velette vineyards. I felt like an honored guest, even though there were 25+ people on our tour."
Christopher
Dayton, OH
Tour: 09/23/19
Overall rating:
Overall a great experience. We arrived two days early in Venice and left two days after the tour ended in Rome. So we hexperienced traveling on our own and with the group. It was great to have someone take care of hotels, museum tickets, and getting from site to site. Patricia also helped us with booking tickets after the end of the tour and encouraged side tours (say to Pompeii).The hotels were excellent, with some fantastic. Side tours (cooking class and wine tasting) were also fantrtic.
Favorite "WOW" moment
"Wine tasting tour was on a stunning site with a very articulate host, and a finger food feast."
Michael
Northport, NY
Tour: 09/20/19
Overall rating:
The Heart is Italy Tour was well designed to give the traveler the maximum experience in 10 days with enough unique stops along the way to recharge from riggers of site seeing.
Favorite "WOW" moment
"The history of Venice and Ancient Rome."
Christine
Lincoln, RI
Tour: 08/30/19
Overall rating:
See comments from Kevin Sullivan
Kevin
Lincoln, RI
Tour: 08/30/19
Overall rating:
Overall,the trip exceeded our expectations. We will definitely be taking another Rick Steve's tour.
Favorite "WOW" moment
"Each city on the tour had outstanding moments. Elena was great at keeping the group organized and on plan. The side trip to Orveito on the trip to Florence to Rome was also a great extra. Local guides at each site with outstanding."
When To Go & Weather
Italy's three greatest cities are a delight to visit any time of year. However, the months of April, May, September, and October are best for combining the convenience of peak season with the most pleasant weather. Visiting between November and March offers the benefit of missing out on the sweat, stress, and crowds of the tourist season, along with cool and crisp weather.
Italy / Venice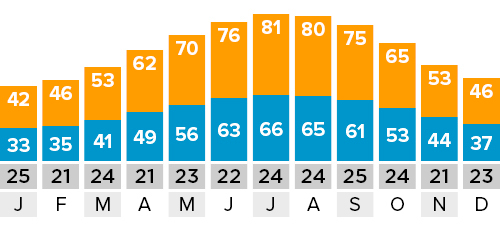 ---
Italy / Florence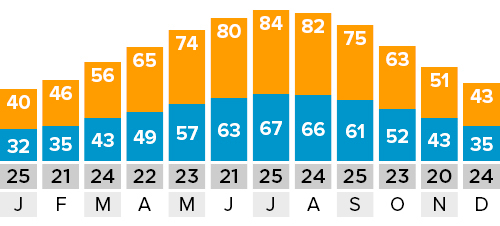 ---
Italy / Rome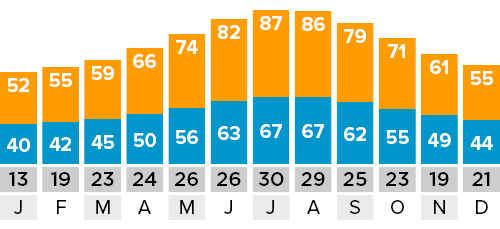 Hotels & Flights
Tour Hotels
In case you wish to book pre- or post-tour hotel accommodations, the contact information for the tour's first and last hotels is included in your tour confirmation email as well as in the Itinerary section of your tour account. One month prior to the tour departure, you'll find the directions to your first tour hotel and a complete list of hotels where we'll be staying while on tour in the Documents section of your tour account.
Flights
Our tours don't include airfare, so your flight arrangements and transfers are completely up to you.
Most tour members arrange to fly into Venice (VCE) and out of Rome (FCO) — choose "multicity" on flight-booking websites. Booking round-trip to one city will require a connecting flight, train trip, or additional overnight stay in Italy.
We suggest arriving a day or two before your tour begins to allow ample time to get over jet lag and be well-rested for the first few days of your tour. For more information about transportation options for getting to and from your tour, see your Rick Steves Italy guidebook.