Stockholm, Sweden

Stockholm's Stortorget Square

Kalmar Castle in Sweden

Nyhavn in Copenhagen, Denmark

Ærø Island, Denmark

Oslo, Norway

Norway's Sognefjord

Bergen, Norway
Tour Questions? See our FAQ | Call 425-608-4217
Best of Scandinavia in 14 Days Tour
Scandinavia is Western Europe's most prosperous, pristine, and progressive corner. Starting in Sweden, this tour will treat you to Scandinavia's top sights, including Stockholm's impressive Vasa Ship Museum, historic Kalmar Castle, Copenhagen's fun-loving pedestrian center, Denmark's charming Ærø Island, Oslo's proud maritime museums and whimsical Frogner Park sculpture garden, a nostalgic Norwegian open-air museum, and a waterfall-filled fjord cruise — all ending with a harborside walking tour of ruddy-cheeked Bergen. Join us for the Best of Scandinavia in 14 Days!
Dates & Prices
What's Included
You'll get at least 20 group sightseeing events — at no extra cost!
Here's what you'll see and do on our Best of Scandinavia tour:
Walking tour of Stockholm including historic Gamla Stan
Vasa Ship Museum
Stockholm City Hall
Kalmar Castle
Copenhagen walking tour
Roskilde Cathedral
Roskilde Viking Ship Museum
Ærø Island bus tour
Ærøskøbing Old Merchants' Court
Oslo walking tour
24-hour Oslo Pass covering transportation and entry to nearly every major sight, including the Norwegian Resistance Museum
Frogner Park sculpture garden
Norwegian Maritime Museum
Kon-Tiki Museum
Fram Museum
Maihaugen Open-Air Folk Museum
Jotunheimen scenic drive
Sognefjord cruise
Bergen walking tour
Fløibanen funicular to Mount Fløyen
Plus you'll get all this, too.
A small, friendly group of 24–28 people — half the size of most tour groups
Full-time services of a professional Rick Steves guide and local experts who will make the fascinating history, art, and culture of Scandinavia come alive for you
All group transportation from Stockholm to Bergen
13 nights' accommodations in memorable, centrally located hotels (and two-bunk cabins on the overnight cruise)
All breakfasts and half your dinners
All tips for guides and driver
A tour kit including a guidebook (when available) and a moneybelt
Guaranteed tour price, locked in the moment you make your deposit
Tour alum discount of $50 for each tour you've taken prior to 2022
50% discount on a consulting appointment with our in-house experts to assist with your pre- or post-tour travel plans
Flexibility should you need to transfer or cancel your tour
Fine print: You are responsible for the cost of your drinks and free-time sightseeing. See our Tour Conditions for important details regarding everything listed above.
Group sightseeing events subject to change.
Itinerary
Day 1: Welcome to Sweden
We'll meet at our Stockholm hotel at 4 p.m. for a "Välkomna till Skandinavia" get-together, followed by dinner and an orientation walk around our neighborhood.
Light walking: 2–4 miles throughout the day on mostly level terrain. No bus. Sleep in Stockholm.
Day 2: Stockholm's Old City and the Vasa
This morning we'll enjoy a walking tour through the cobbled alleyways of Stockholm's Gamla Stan (Old City), learning about its historic Stortorget Square, cathedral, and Royal Palace. After free time for lunch, we'll board a boat and cross the harbor to visit the Vasa Museum, where we'll marvel at the remains of the 200-foot warship Vasa, which sank here on her maiden voyage nearly 400 years ago. Your late afternoon is free to explore more of this cosmopolitan city.
Strenuous walking: 2–8 miles throughout the day with lots of hills, stairs, and uneven terrain. No bus. Boat: ½ hour. Sleep in Stockholm.
Day 3: Modern Stockholm and Cozy Kalmar
This morning we'll tour Stockholm's City Hall, home of the Nobel Prize banquet and striking mosaic murals celebrating humanism and the ideal of people working together in community. Then, after stopping along the Göta Canal for a lunch break, we'll drive through beautiful birch forests on our way to the seafaring, bridge-and-water-laced town of Kalmar.
Light walking: 2–4 miles throughout the day on mostly level terrain. Bus: 6 hours. Sleep in Kalmar.
Day 4: Kalmar Castle and Copenhagen
Today we'll explore what may be Sweden's most striking, historically significant building: bay-and-moat-ringed Kalmar Castle. As we tour the castle's interior and beautiful grounds, we'll learn about Sweden's 16th-century struggle for independence from the Danes. Then, to reach Copenhagen, we'll drive across the awe-inspiring five-mile Öresund bridge and tunnel connecting Sweden and Denmark. We'll get to know our neighborhood by strolling up to the lively Strøget pedestrian center, followed by dinner together.
Moderate walking: 2–6 miles throughout the day with some hills and stairs. Bus: 5 hours. Sleep in Copenhagen.
Day 5: Playful and Progressive Copenhagen
This morning we'll dive into the sights and sounds of Copenhagen's historical center on a walking tour with a local guide. The rest of your day is free to enjoy Europe's best people-watching on the Strøget, tour the National Museum, visit the fanciful Tivoli Gardens, or experience the counterculture of Christiania.
Moderate walking: 2–6 miles throughout the day with some hills and stairs. No bus. Sleep in Copenhagen.
Day 6: Viking Ships and Ærø Island Charms
After breakfast we'll drive to Roskilde to prowl through the evocative Viking Ship Museum, where we'll learn about the rough-and-tumble, yet surprisingly sophisticated Viking culture of a thousand years ago. We'll also visit Denmark's venerable Roskilde Cathedral, the resting place of 38 kings and queens of Denmark and the first Gothic church ever built of brick. Then a scenic ferry ride will take us to the nostalgic little island of Ærø and the old windjammer port of Ærøskøbing. Tonight we'll enjoy a tour of the Old Merchants' Court and a traditional Danish feast together.
Light walking: 2–4 miles throughout the day on mostly level terrain. Bus: 4 hours. Boat: 1½ hours. Sleep on the island of Ærø (groups may be split between two B&Bs).
Day 7: All Day to Explore Ærø Island
You'll have the morning free to relax and savor this epitome of small-town Denmark, or get Ærø-dynamic and pedal a rented bike past thatched cottages, tidy farms, and windswept bluffs. We'll regroup just before noon for a bus tour of the island, stopping en route to enjoy a tasty smørrebrød lunch together. We'll return to Ærøskøbing, where you'll be free for dinner and the rest of the evening. The pub by the harbor is a fun place to meet the locals.
Walking light to strenuous: your choice. Bus: 3 hours. Sleep on the island of Ærø.
Day 8: Ferry to Oslo
Today we'll drive back to Copenhagen, where you'll have some free time for lunch before we hop aboard our overnight ferry to Oslo. It's a big boat; choose to dine at a buffet fit for a Viking or grab something smaller at the ship's café. After dinner, you can dance the night away in the nightclub, linger in the tax-free shop, or enjoy the scenery as we cruise to Norway in style.
Light walking: 2–4 miles throughout the day on mostly level terrain. Bus: 3 hours. Boat: 18 hours. Sleep on the ferry.
Day 9: Historic and Artistic Oslo
We'll greet the sun as we glide up the Oslofjord — one of the most scenic parts of our tour — and into Norway's capital. Once ashore, we'll take a walking tour around the harbor and through the heart of Oslo, learning about Norway's history and politics along the way. With your Oslo Pass (giving you free admission to most museums and public transportation), you'll have plenty of free time to visit the Norwegian Resistance Museum or your choice of the city's other fine museums. Before tonight's dinner, we'll gather for a visit to Frogner Park, home to Gustav Vigeland's whimsical, lifelike sculptures.
Moderate walking: 2–6 miles throughout the day with some hills and stairs. Bus: 1 hour. Sleep in Oslo.
Day 10: Norway's Seafaring Past
Today we'll cruise across the harbor to Bygdøy peninsula for a treasure trove of nautical history. After the short ferry ride, we'll visit the captivating Fram Museum to marvel at the ship that took modern-day Vikings Roald Amundsen and Fridtjof Nansen farther north and south than any vessel had gone before. Nearby, you'll also have time to see the impressive Maritime Museum and the Kon-Tiki Museum featuring the ocean-crossing rafts of adventurer Thor Heyerdahl (Kon-Tiki and Ra II). Inspired by Norway's seafaring history, you'll be free to sail back to Oslo's harbor. From there, armed with your Oslo Pass, you'll have the rest of your afternoon and evening free in this vibrant city to explore more of the many museums it has to offer.
Moderate walking: 2–6 miles throughout the day with some hills and stairs. No bus. Boat: ½ hour. Sleep in Oslo.
Day 11: Maihaugen and Giant's Country
Driving northwest from Oslo, today we'll learn about daily Norwegian life and traditions. We'll tour the beautifully situated Maihaugen Open-Air Folk Museum, including its array of sod-roofed houses and remarkable 12th-century stave church, constructed entirely from wood. After a scenic afternoon drive through farmland and forests, we'll settle into our rustic, creaky mountain hotel, located in the heart of Giant's Country, and share a traditional dinner together.
Light walking: 2–4 miles throughout the day on mostly level terrain. Bus: 6 hours. Sleep in the Jotunheimen Mountains.
Day 12: Fjord Country and Bergen
Make sure your camera is ready: Today is scenery day! After breakfast, our bus will climb the highest road in northern Europe (4,600 ft.) to the windswept Jotunheimen for a panorama of glittering snow and 8,100-foot peaks. We'll then take a dramatic corkscrew drive down to sea level and hop aboard a ferry for a 2½-hour scenic Sognefjord cruise between cliffs and waterfalls (replicating the fjord cruise portion of the "Norway in a Nutshell" route). We'll enjoy lunch on the ferry, then we're back aboard our bus for one more scenic stretch of highway before you're free for dinner and the rest of the evening in Bergen.
Light walking: 2–4 miles throughout the day on mostly level terrain. Bus: 6 hours. Boat: 2½ hours. Sleep in Bergen.
Day 13: All Day in Charming Bergen
This morning our guide will walk us through the salty history of this seafaring town, including the enchanting old Hanseatic wharf area, where wooden warehouses lean together and recall their glory days as a center of North Atlantic trade. To cap off our morning, we'll ride the funicular to the top of Mount Fløyen for thrilling views of Bergen, islands, and fjords. The rest of your afternoon is free to do some hiking, explore more of Bergen, or buy one of those hand-knit wool sweaters that caught your eye back at the wharf. This evening we'll gather for a hearty Norwegian feast to share travel memories and toast new friends. Skål!
Moderate walking: 2–6 miles throughout the day with some hills and stairs. No bus. Sleep in Bergen.
Day 14: Tour Over After Breakfast
Breakfast is provided, but there are no group activities today. Those returning home can catch a short flight from Bergen to Copenhagen, London, or other European cities for your direct flight home. Farvel!
Itinerary specifics subject to change.
Physical Demands
Our tours are physically active! It's an essential part of the Rick Steves tour experience. On our Best of Scandinavia in 14 Days tour — among other things — you'll need to happily…
Carry/roll your luggage over uneven pavement (possibly several blocks) and up stairways to reach your hotel, then up several flights of stairs to reach your room.
Be on your feet, walking and standing for up to three hours, indoors and outdoors, in all weather conditions.
Sleep with street noise and no (or weak) air conditioning.
After orientation and transportation lessons, be able to navigate towns and cities on your own.
Sleep in a cabin with no window on the overnight ferry from Copenhagen to Oslo.
Be content with sharing bathroom facilities at your Ærø B&B.
Reviews
Barbara
Oakland, CA
Tour: 09/03/19
Overall rating:
I loved the Scandinavia tour! I learned so much about history, architecture, current events and system of government, current social programs, all about trade and shipping past and present, and just enjoyed the beauty of grand cities, islands, ferries, canals, countryside, and rural and rustic surroundings. All the countries are similar and yet distinctly their own too.
Favorite "WOW" moment
"I was just blown away at how magnificent and well-constructed the Viking ships were and that they traveled @ 15 knots with sails and oars and our Oslo overnight ferry traveled at 16.5 knots--roughly the same speed 1300 years later!"
Wei
Madison, WI
Tour: 09/03/19
Overall rating:
I enjoyed this tour very much. The tour was well arranged with good balance of guided tours and free time. The tour guides were very knowledgeable. Our bus driver was excellent, very helpful and pleasant. The hotel locations were excellent. It would be better if all hotels could provide an electric kettle to make coffee or tea in the rooms.
Favorite "WOW" moment
"My favorite "wow" moment was Oslo. The city landscape was simply gorgeous. The city tour was memorable. The breakfast at Thorn hotel in Oslo was wonderful, with plenty of options of quality food. In fact, breakfast in all Thorn hotels we stayed was fabulous. I also enjoyed our stay at the mountain hotel at Boverdal, particularly the wooden bath tub and food ( breakfast, packed lunch and 5-course dinner)."
Carrie
Fargo, ND
Tour: 09/03/19
Overall rating:
This was my sixth Rick Steves tour and it was wonderful. Our guide Ylva was fun, very knowledgeable and engaging. I loved Stockholm, the island of Aero, Copenhagen and beauty of Norway. All of the tour members and our driver made this trip one to remember.
Favorite "WOW" moment
"Wow moments include the Fram Ship and the view from our room in Copenhagen."
Feliza
Seal Beach, CA
Tour: 09/03/19
Overall rating:
This was my 5th RS tour. Ylva was a great guide. Obviously a proud Swede but a wonderful guide in Denmark and Norway too. I am 68 and her pace was just right for me. I appreciated all of the history and information she shared with us during bus travel time. She offered us a mid tour evaluation so she could make adjustments if needed which I thought was a nice idea.
Favorite "WOW" moment
"Sorry but for me there were three Wow moments: Seeing the Vasa Viking ship was the most incredible moment but I enjoyed seeing the polar ship Fram, the Oslo burial ships, the Kon Tiki and Ra II. I loved visiting Ylva and Hakan's home. It was very special to spend a generous amount of time in their home to see how locals live. Staying on Aero Island in Susanna's Pension 44 and just experiencing the Island was definintely a favorite "moment"."
Jen
San Leandro, CA
Tour: 09/03/19
Overall rating:
really loved it so much, and think it may be one we repeat when the weather will be less wet. Probably my favorite trip of the 6 taken with Rick Steves.
Favorite "WOW" moment
"3 WOWs ....The Viking ship museums. The beautiful scenery through my great-grandmothers farming area. Oslo sparkling after the rainstorm"
Christine
Scarborough, ME
Tour: 09/03/19
Overall rating:
Well organized, fun, varied. Great people, great guide, wonderful bus driver.
Favorite "WOW" moment
"Standing on the deck of the "Fram", a polar expedition boat used in the early 1900's. The Fram museum was the highlight of my Scandinavian tour."
Cathy
Seattle, WA
Tour: 09/03/19
Overall rating:
We enjoyed the tour experience. The only thing i would change would be to have two days in the Norway mountains, My husband and I would have liked to spend more time exploring that area. I don't know how that could be manage if you did not want to add another day to the tour. Maybe only one day on the island?
Favorite "WOW" moment
"Hiking in the mountains in Norway."
Thomas
Greenwood Village, CO
Tour: 09/03/19
Overall rating:
We had a terrific time. Ylva was an outstanding tour director. Always upbeat, helpful,self-sacrificing and very accessible. We enjoyed the hotels, food, scenery, and learning about the history and culture of Scandinavia. We had a very nice group of folks on our tour. No drama at all. Kudos also to Pena, the bus driver who always had a great attitude and went above and beyond every day.
Favorite "WOW" moment
"We went for a hike in Boverdalen, Norway before a late dinner at The Roisheim Hotel. It was drizzling rain and we felt like we could have been in a scene from "The Hobbit." The forest and mountain views were breath-taking and we glimpsed Norwegian snow capped peaks for the first time."
Kathleen
Sebastopol, CA
Tour: 09/03/19
Overall rating:
This was my third Rick Steve's tour and probably my favorite. Ylva, our guide, was knowledgable, fun and adapted to our group. The itinerary was full but not exhausting. Our fellow tour participants were the nicest group you could ask for.
Favorite "WOW" moment
"I enjoyed all of the tour but really thought the night staying at the Roisheim Hotel, eating dinner together, staying in a converted (but beautiful) cow stable and then driving over the snowy mountains listening to Norwegian music was my favorite experience."
Paul
Thousand Oaks, CA
Tour: 09/03/19
Overall rating:
I had a wonderful time. Our tour leader, Ilva was fantastic. She was kind, helpful, friendly, efficient and provided wonderful information about history, culture, politics, religion and so much more. The group was great. I loved the way Ilva handles the Name Game, so much better than my last Rick Steves tour. We all learned each others names, developed connections with and helped each other along the journey.
Favorite "WOW" moment
"Lots of mini wow moments but the big one was standing on the deck of the ferry across the fjord on our way to Bergen in the pouring rain and watching the hundreds of waterfalls cascading down the mountain sides into the fjords. I literally had my mouth open and saying Wow!"
Jeanine
Oakland, CA
Tour: 09/03/19
Overall rating:
Well-organized, very nice hotels, knowledgeable tour leader and local guides. Great bus driver. Interesting to visit countries where the government actually works for the people, a great contrast to the U.S.A. Didn't know much about Scandinavian history, and was very interested to learn.
Favorite "WOW" moment
"The beauty of the Norwegian mountains, fjords, and crashing waterfalls was unsurpassed."
Christine
Thousand Oaks, CA
Tour: 09/03/19
Overall rating:
This was a wonderful tour! There was a variety of places (small towns, large cities, old and new buildings), strange and delicious foods, lovely tour members to get to know, knowledgeable tour guides. Our primary guide, Ilva Gunillasdotter, was fabulous! It was so much fun!
Favorite "WOW" moment
"In Stockholm, when we climbed up to the view point high above the city, at night after our first evening together and looked out at the beautiful city."
William
Sebastopol, CA
Tour: 09/03/19
Overall rating:
Tour was exceptionally good in both conception and execution. Tour mates were fun and interesting. I learned a lot about some incredible countries.
Favorite "WOW" moment
"I was most impressed with the scenery on the bus ride over the mountains of Norway and the stay in the hotel at Rosheim where we stayed in a remodeled stable."
Shirley
Medford, OR
Tour: 09/01/19
Overall rating:
This was a wonderful tour. The guide, driver, and felow travelers were awesome!
Favorite "WOW" moment
"Nina and Bea took those of us who wanted to on a morning bike ride along a coastal trail on the isle of Aero. The stubbly post-harvest fields of grain, paired with a murder of crows circling in a beutiful blus sky looked straight from a Van Gogh painting. It was magical!"
Loren
Duvall, WA
Tour: 09/01/19
Overall rating:
(continued from wow moments below) Also, Aero, the twenty seven new friends we made (our group was thirty one with the guides and driver, but we knew two of the tour members already.) The ferry boats. I love ferries. The overnight trip to Oslo especially the night club dancing. Th breakfast food! Oh my! Learning to pose for photos while assuming the "Kingly Stance!" Overall experience: Very highly recomended. I am going to need much more time to assimliate it all
Favorite "WOW" moment
"So many wow moments. I'm not sure I can pick one or even five without feeling like I'm leaving out so many more that are worthy of the wow label. Of course, the big ones were the Vasa museum, the Thor Heyerdal musem, the Fram museum, the fjords, Skansen, The Army museum, the kayak soccer game, the dance party (dance mass!) in the church in Stockholm, the street scenes in Stockholm, the architecture, our guided tour in Old Town especially being invited up into Hokum(?)'s home. see more above"
John
Eagan, MN
Tour: 09/01/19
Overall rating:
We had a wonderfully friendly group shepherded by two trusted guides, Nina and her side kick, Bea. The tour alternated between guided group activities and blocks of time on our own. The balance between the two was about right. We also struck a balance between visiting urban, old town areas and more park-like natural areas.
Favorite "WOW" moment
"I'd have to say our ferry ride on Norway's largest fjord, Sognefjord, was stunningly spectacular. But so were the Jotunheimen Mountains we crossed and the sod-roofed Roisheim Hotel in which we stayed the day before. I also loved the canal in Copenhagen's Nyhavn Street at which we stayed, and our exploration of beautiful Aero Island with its strip of tiny beach front huts was outstanding."
Jay
Redmond, WA
Tour: 09/01/19
Overall rating:
overall tour well thought out with logistics/timing and knowledgeable guides. really enjoyed in city tour guides and learning of interesting history of each city/church/castle etc. Disappointed in lodging/rooms as in most cities, (exception Copenhagen Denmark) were small, beds too small and very noisy, only so much crammed in ear plugs to cancel out. Feedback on group meals more frequent during start of tour to get to meet new members, most of meals +60% were on own during this tour +14 days.
Favorite "WOW" moment
"engaged locals throughout tour providing help, wanting to get to know/understand a visitor from US. Spent +1 hour with local art gallery owner who shared his home town best spots to eat, tour, relax. Ferry ride thru Fjord was spectacular even on a grey rainy day."
Jan
Madison, WI
Tour: 09/01/19
Overall rating:
We enjoyed the entire trip. We were struck with the geographical similarity between southern Sweden/Denmark and home--no wonder there are so many Scandinavians in the upper Midwest! Nina, our guide, told us that Norway would be dessert and it was--the scenery, especially within the fjords, is spectacular.
Favorite "WOW" moment
"We had many, including the VASA Ship Museum, the Kon-Tiki raft, and FRAM ship. Other wows were the incredible bridge/tunnel between Sweden and Denmark, and the expression "Be kind to others," the phrase that our city guide Haakan told us is used in Stockholm instead of the usual "good-bye.""
James
Fairfield, IA
Tour: 09/01/19
Overall rating:
It was a well-run, interesting, scenic tour. The group was really wonderful to travel with, everyone!
Favorite "WOW" moment
"The Jotunheim national park. I was grateful we got to make frequent viewing stops."
Ruth
Ocala, FL
Tour: 09/01/19
Overall rating:
While the beauty of this region is amazing, the differences and the similarity of the cultures of the three countries we visited was fascinating. Our understanding was enhanced by all the local guides who seemed to come from diverse backgrounds with interesting perspectives.
Favorite "WOW" moment
"Hearing the story of Raoul Wallenberg at his thoughtful memorial in Stockholm."
Eileen
Madison, WI
Tour: 09/01/19
Overall rating:
This was my first Rick Steve's tour and the first time in Europe. I had an amazing time. It was a nice mix of sightseeing and educational opportunities. The mass of bicycles was a little disconcerting given they had the right of way. The three countries were unique but had a very Scandinavian 'socialist ' appeal which I found refreshing. I love the mix of the modern and past especially in Copenhagen. Just seeing buildings and objects everywhere that were 100's of years old was mind blowing.
Favorite "WOW" moment
"The ferry through the fjords is on the top of my list. But I will also say seeing the Vassa ship was also mind blowing. When I saw it on the itinerary I thought a boring ship? But walking into the museum was definitely a wow moment."
Joseph
Medford, OR
Tour: 09/01/19
Overall rating:
I found the Scandanavian tour to be a fantastic introduction to the region. I enjoyed the tour's pace and the hotel accomodations were better than I'd expected. Nina was a great guide who knew Scandanavia well and loved sharing her knowledge of the history and the sights.
Favorite "WOW" moment
"The most unexpected was our Stockholm city guide, Haaken, who not only showed us the Old Town, he brought the whole group into his Old Twwn apartment where he described city life and was open to questions. A second was the relaxing Danish isle of Aero, where the pace was slow and a chance to slowly unwind from a busy trip. A third was the Norwegian Malhaugen open air museum - what a delight!"
Diane
Wadsworth, IL
Tour: 08/27/19
Overall rating:
This was an amazing tour - wonderful locations to visit, great logistics for hotels and travel, excellent guide and bus driver, fun travel companions. Such a wonderful experience.
Favorite "WOW" moment
"The natural settings were my favorite - Jotunheimen was my "wow". So beautiful, clear and stunning. Aero was my second favorite."
Jay
Scappoose, OR
Tour: 08/27/19
Overall rating:
Very well planned out! Laurel made the trip very enjoyable! The bus driver, Motts, did a great job of getting us from place to place safely. The meals and accommodations were very satisfactory! The cities were interesting to explore and the country side was beautiful!! I would highly recommend the tour!
Favorite "WOW" moment
"The trip from Oslo up through the Fjords was the highlight for me and to cap off the trip with 2 nights in Bergen made it all very special!!"
Avis
Oak Harbor, WA
Tour: 08/27/19
Overall rating:
Am Swedish by heritage, so this was a special trip. Loved the itinerary and the big cities except for Copenhagen. Too many people and bikes. Have been there twice before so this was different. Great location, though, for the hotel. Supplied coach was comfortable with plenty of room. Hotel rooms were comfortable, if a little crowded for two people. Loved the team of Laurel and Mats and my traveling companions who made this experience richer.. Everyone was well educated and well traveled.
Favorite "WOW" moment
"For city sites: the City Hall where Nobel Prizes are awarded. The cellar of the Royal Palace in Stockholm with Hakan as our tour guide - wonderful. Another was the Van Gough presentation in Castle Kalmar. For country sights, the wow came in going to Aeroskobing on the ferry and the fjords of Norway. We also had special moments when Mats and Gunnar played and sang for us at Pa Torvet, and when Mats, Hank, and Jay played at Elvester Hotel. There were so many other times of wow moments."
Elisabeth
Malvern, OH
Tour: 08/27/19
Overall rating:
Our trip was amazing! The accommodations were eclectic with a mixture of hotels and charming small lodgings. This is what we like when traveling on a Rick Steves tour. The group meals were excellent and gave us a taste of the country. This was our second tour with RS and in both tours we liked the rural stops every bit as much or more than the hustle of the cities. We always come home with new friends and a better understanding of other cultures.
Favorite "WOW" moment
"The trip through the Norway mountains and the trip up the fiord had to be one of my favorite days. But saying that, the day spent on Aero was a day in paradise."
Bruce
Hillsboro, OR
Tour: 08/20/19
Overall rating:
I usually do not select the highest ratings on surveys but this tour [even the weather] deserves it. Another day each in Oslo and on Ærø would be worth it, much to see and learn, making this a 16 day tour. Good itinerary, well organized, efficient travel between stops. We started the tour not knowing a lot about Scandinavia, learned so much about the history and culture, and left wanting to return - a perfect result.
Favorite "WOW" moment
"Not any one moment, but the Resistance Museum in Oslo would be a highlight. Very well done and broader in scope than you might expect. On a practical point, no cash needed. We never had to hit an ATM; we only used credit cards throughout the three countries. And it seems to work. Each country has its own currency – no Euros – so cashless is very easy for tourists and handy; not sure how the residents like it though."
Joni
Vancouver, WA
Tour: 08/20/19
Overall rating:
I really felt like I saw everything there was to see in each of the countries I visited. If I had done my own tour created from the book, I can't imagine what else I would have done. And since we had free time, we could explore everything we wanted. I really loved having breakfast available every day. It was fun to sit with new friends and in almost every case, the variety was outstanding. Gabby made everything so pleasant and so easy.
Favorite "WOW" moment
"At Kalmar Castle there happen to be a Van Gogh exhibit that was outstanding. I wish we had more time there to watch the whole thing. It was magical. Learning about Viking history was so interesting and seeing ships from so long ago also amazing. Gabby's stories were the best part of all. Hearing about local customs and trying local foods (candy, cinnamon buns, etc) made it so much more meaningful."
Debra
Hillsboro, OR
Tour: 08/20/19
Overall rating:
This tour was such a surprise. I had an image of Scandinavia in my mind and it was pretty vague and stereotypical. Some images held true (sleek design and high taxes) but, with both Gabriella's and all our local guides' help I was able to understand and appreciate the distinctions between countries, their part in world history that I didn't know or had forgotten, while making me think more about what it means to be a citizen of any country.
Favorite "WOW" moment
"Even though I live amid the powerful beauty of the Cascade mountain range and the Columbia River Gorge, the drive through the Jotunheimen was jaw dropping. My pictures could not capture the experience of glacier and mountain panoramic views coupled with the thundering sound of water and crisp air. With the sound track from Secret Garden playing in the bus, it was one of the most uplifting, immersive experiences I've ever had."
Marcia
Marana, AZ
Tour: 08/18/19
Overall rating:
Enjoyed learning about a totally different culture. Saw many gorgeous buildings, palaces, museums. Beautiful scenery, especially on the fjord ferry ride.
Favorite "WOW" moment
"Loved the ferry ride through the fjord, with all the waterfalls. Also Aero Island was such a quaint, fun little place."
Goolpranee
Avondale, AZ
Tour: 08/13/19
Overall rating:
Without this tour I wouldn't have a chance to learn about Scandinavian cultures, folklores, history or food. Our tour guide, Asa is one of the best. She's willingly to share her love and passion of Scandinavia. One thing caught me off guard is how Sweden has very few toilets for different genders, men, women and children often use same public toilets. In that case toilets are unclean. My summaries of three countries are Sweden is enjoyable. Denmark is most vibrant. Norway is most beautiful,
Favorite "WOW" moment
"Experiences in Aero island Denmark is my most wow moment. We rented bicycles and explored beach houses and villages on our own. That island is so lovely and breathtaking. Thank you Rick Steves for these encounters. Second wow moment is sitting at a lounge of Elveseter hotel, Boverdalen town, Norway and looking out at the glaciers on the top of the mountain. I will never forget that moment. That hotel has very nice decor inside and outside. Wish we could stay there for one more night."
James
Mukilteo, WA
Tour: 08/13/19
Overall rating:
The Best of Scandinavia was a wonderful group adventure tour. Our leader, Asa, was knowledgeable, well-organized, and enthusiastic. She was adept at responding to our individual needs while maintaining harmony, punctuality and joy within the group. The walkings tours of Scandinavian cities and villages, castles, and museums were informative and interesting. The expertise of the local guides and use of the "whisper" audio system were flawless. A great time!
Favorite "WOW" moment
"My "wow" moment was Asa's surprise stop at the Stave Church in Lom, Norway. Lom was the birthplace of my grandfather Eilev Nyoygard. The stop was for a docent tour of the church built in 1158 and time to stretch and take photos. My grandfather Eilev had emigrated at age 16 from Lom to America. Suspecting we might have relatives buried here, I walked the church graveyard and found the graves of Eilev's siblings Imbert, Anne and Ole. I was thrilled to my Nordic soul, as was my sister, Mary."
Cynthia
Ramona, CA
Tour: 08/13/19
Overall rating:
The Best of Scandinavia tour was great! The planned time and free time was just right. Asa was a wonderful tour guide! She was always doing little things for the group that made that moment really special.
Favorite "WOW" moment
"The fjords; so pretty and more than I expected."
Anne
Woodside, NY
Tour: 08/11/19
Overall rating:
I so enjoyed this tour and experiencing each of the countries - from the cities to the charming island of Aero to the majestic fjords. While the pace was not always relaxing, the excellent coffee in all three countries helped keep me going, and it was a great adventure. It also makes me want to go back and explore more of northern Norway (hint, hint, in case RS wants to add a tour).
Favorite "WOW" moment
"I really loved visiting the 1,000-year-old Lom Stave church. The graffiti is written in runes! But, during the trip I was posting on Instagram about my unserious attempts to meet a member of one of Scandinavia's royal families. I like royalty, so why not? Walking home from dinner in Oslo, we ran into a taping of "God Sommer Norge" and suddenly I'm mere feet away the Crown Princess. Hard to beat that!"
Stephanie
The Villages, FL
Tour: 08/06/19
Overall rating:
It was great. Tour guide was outstanding. Every city and all stops along the way she played music, Funny monologues, read revenant and interesting points about city or country. Purchased candy , buns, cookies, pastries, fruit, and any food items that would put us in the mood for where we were. She was attentive and kind. Also thoughtful and understanding. The most helpful guide I've ever known. She was extremely knowledgeable
Favorite "WOW" moment
"Aeros island and Norway Fiords"
Brad
Kingsport, TN
Tour: 08/06/19
Overall rating:
This tour had all of the best features of Rick Steve tours - good mix of large city and smaller locales, excellent RS guide and local guides, good balance of scheduled and free time, great group of traveling companions and good mechanisms for promoting interaction. It was good to experience the 3 Scandinavian countries but that also added some complexities in terms of different currencies, understanding the uniqueness of each of the countries and getting a grasp on their respective histories.
Favorite "WOW" moment
"Oslo sights (Viking Ship Museum, Vigeland Park). Conversations with a "local" Dane at breakfast in Copenhagen and with Susanna at her B&B in Aeroskobing."
Nikolaos
Astoria, NY
Tour: 08/04/19
Overall rating:
The overall tour was mind-blowing, I loved the Scandinavia tour and I swear Sweden and Norway need to become my second homes. The tour was well planned. This was my first tour period as well as my first Rick Steves tour and the tour expectations bar has been set high. I love the Rick Steve rules and most of all I love the Rick Steves secret/hidden gems throughout the tour. Everything was laid out for use lovely. I can't wait for my next tour!
Favorite "WOW" moment
"My favorite "wow" moment was Stockholm as a whole. I loved how the tour allowed us to roam around on our own and do things outside the tour without the added expenses. Other "wow" moments was Kalmer castle, I was waiting on this Castle the whole tour and I loved it. I know this to people shouldn't be a "wow" moment, but the provided transportation tickets/pass that the tour gave us was a fantastic bonus. We used those passes to see everything we needed and much, much more!"
Heather
Portland, OR
Tour: 07/30/19
Overall rating:
I enjoy the Rick Steves format, mixing of guided tours and free time, and busy cities alternating with rural experiences. This particular tour is one of the best I've been on.
Favorite "WOW" moment
"Bike trip on Aero was beautiful and relaxing, great scenery."
Kim
El Dorado Hills, CA
Tour: 07/16/19
Overall rating:
Excellent Guide, gréât trip !
Favorite "WOW" moment
"Viking ship museum"
Gail
Redmond, WA
Tour: 07/14/19
Overall rating:
I haven't done a Rick Steve's tour in about 14 yrs. Life just got in the way. I am so glad we picked Norway. Pal our tour guide was Awesome. He made the whole trip enjoyable. From sharing the history of our different cities, music, poetry, food, pictures and many more. With the food he would treat us with berries, dry fish, chocolates etc. Those trips on the bus were very memorable and fun. We had our own personal teacher!
James
Bend, OR
Tour: 06/11/19
Overall rating:
Great variety of experiences, wonderful local guides and a fabulous tour guide in Paul. Accommodations were comfortable and well located. Perfect amount of "free time. Tour covered the essential Scandanavia!
Favorite "WOW" moment
"The island of Aero."
Cynthia
Lincoln, NE
Tour: 05/21/19
Overall rating:
Is there a level higher than "Outstanding?"
Favorite "WOW" moment
"Loved seeing the four maritime museums and the Gustav Vigeland Park in Oslo. The mountain resort and AERO island hotels were superb treats. Learning about the progressive, and humane governments in Scandinavia was enlightening and inspiring."
When To Go & Weather
Any time between May and September is a good time to visit Scandinavia. However, the summer months, while the most crowded, offer the best weather and long days. The months of May and September are best for combining minimal crowds and mild weather.

Sweden / Stockholm
---
Denmark / Copenhagen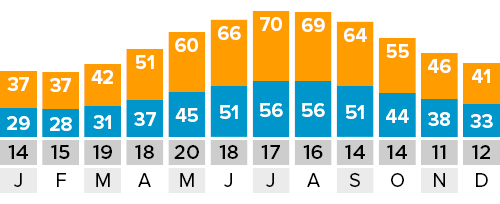 ---
Norway / Oslo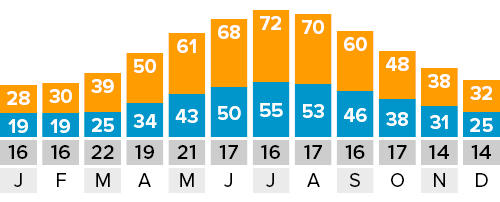 Hotels & Flights
Tour Hotels
In case you wish to book pre- or post-tour hotel accommodations, the contact information for the tour's first and last hotels is included in your tour confirmation email as well as in the Itinerary section of your tour account. One month prior to the tour departure, you'll find the directions to your first tour hotel and a complete list of hotels where we'll be staying while on tour in the Documents section of your tour account.
Flights
Our tours don't include airfare, so your flight arrangements and transfers are completely up to you.
Most tour members arrange to fly into Stockholm (ARN) and out of Bergen (BGO) — choose "multicity" on flight-booking websites. Booking round-trip to one city will require a connecting flight, train trip, or additional overnight stay in Scandinavia.
We suggest arriving a day or two before your tour begins to allow ample time to get over jet lag and be well-rested for the first few days of your tour. For more information about transportation options for getting to and from your tour, see your Rick Steves Scandinavia guidebook.