Bayonne

St-Jean-Pied-de-Port

The Pyrenees

Pamplona

Navarre Wine Tasting

Camino de Santiago

San Sebastián

Guernica

Basque Sheep Farm

Guggenheim Bilbao
Tour Questions? See our FAQ | Call 425-608-4217
Basque Country of Spain & France in 9 Days Tour
Straddling the modern-day borders of Spain and France is one of Europe's most ancient, independent-thinking regions: the Basque Country. Starting in Bayonne and ending in Bilbao, this tour happily immerses you in the rich art, history, and culture of Europe's Basque Country — including the distinctive towns of St-Jean-Pied-de-Port, Pamplona, San Sebastián, and Guernica. You'll also enjoy the region's gourmet cooking and full-bodied wines, a working sheep farm, and a time-tripping hike along the centuries-old Camino de Santiago pilgrimage trail. Join us for the Basque Country of Spain & France in 9 Days!
Dates & Prices
What's Included
You'll get at least 13 group sightseeing events — at no extra cost!
Here's what you'll see and do on our Basque Country tour:
Bayonne walking tour
Bayonne Museum of Basque Culture
St-Jean-Pied-de-Port
Drive through the Pyrenees
Pamplona walking tour
Pamplona Private Dining Society (sociedad) dinner
Pilgrimage walk along the Camino de Santiago trail
Wine tasting and lunch
San Sebastián walking tour
Basque sheep farm
Guernica
Bilbao walking tour
Guggenheim Museum
Plus you'll get all this, too.
A small, friendly group of 24–28 people — half the size of most tour groups
Full-time services of a professional Rick Steves guide and local experts who will make the fascinating history, art, and culture of the Basque Country come alive for you
All group transportation from Bayonne, France, to Bilbao, Spain
8 nights' accommodations in memorable, centrally located hotels
All breakfasts and half your dinners
All tips for guides and driver
A tour kit including a guidebook (when available) and a moneybelt
Guaranteed tour price, locked in the moment you make your deposit
Tour alum discount of $50 for each tour you've taken prior to 2022
50% discount on a consulting appointment with our in-house experts to assist with your pre- or post-tour travel plans
Flexibility should you need to transfer or cancel your tour
Fine print: You are responsible for the cost of your drinks and free-time sightseeing. See our Tour Conditions for important details regarding everything listed above.
Group sightseeing events subject to change.
Itinerary
Day 1: Welcome to Basque Country
We'll gather at our hotel in Bayonne, France, at 5 p.m. for an introductory meeting. Then we'll take a neighborhood orientation stroll and start getting to know one another over dinner together.
Light walking: 2–4 miles throughout the day on mostly level terrain. No bus. Sleep in or near Bayonne.
Day 2: Basque Bayonne
This morning we'll take a walking tour through half-timbered Bayonne, the capital of the French Pays Basque. After getting to know the cobbled-street ambience of the city's Old Town, we'll take a tour of Bayonne's superb Museum of Basque Culture — setting the foundation for all we'll learn about Basque culture and history. This afternoon you'll have free time to enjoy Bayonne or take a short train or bus ride (20 minutes) to the seaside towns of St-Jean-de-Luz or Biarritz.
Moderate walking: 2–6 miles throughout the day with some hills and stairs. No bus. Sleep in or near Bayonne.
Day 3: St-Jean-Pied-de-Port and Pamplona
Today we'll say au revoir (agur in Basque) to France, but not before we make one last stop for a visit to the walled French town of St-Jean-Pied-de-Port, a traditional starting point for hiking the 500-mile Camino de Santiago pilgrimage trail. Here we'll learn about the humble pilgrims who have trekked across the north of Spain since the Middle Ages to pay homage to the remains of St. James. This afternoon our bus will take the scenic route, crossing over the impressive Pyrenees mountains to Pamplona. After a short orientation walk, our guide will introduce us to the unique culture of eating tapas.
Moderate walking: 2–6 miles throughout the day with some hills and stairs. Bus: 3 hours. Sleep in Pamplona.
Day 4: Proud Pamplona
Let's run with the bulls today — figuratively speaking, of course — as we take a walking tour through the historic heart of Pamplona ("Iruña" in Basque), including its cathedral and ramparts. We'll learn about Pamplona's importance as the capital of Spain's Navarra region and as a key stop along the Camino de Santiago. We'll also learn about Pamplona's association with author Ernest Hemingway — who hailed from Illinois but is celebrated here as a native son. Tonight we'll be invited to dine like the locals at a traditional sociedad private dining club.
Moderate walking: 2–6 miles throughout the day with some hills and stairs. No bus. Sleep in Pamplona.
Day 5: All Day on the Camino de Santiago
Today we'll board our bus and drive deeper into El País Vasco — the Spanish Basque Country. But we'll also make our way to San Sebastián as pilgrims, hiking along a stretch of the famous Camino de Santiago. We'll stop for a well-deserved lunch and tasting of regional vintages at a local winery, arriving in San Sebastián in time to get oriented to our new neighborhood. The evening is all yours to simply soak in the sights of the beautiful Bay of Biscay surrounding you.
Strenuous walking: 2–8 miles throughout the day with lots of hills, stairs, and uneven terrain. Bus: 2 hours. Sleep in San Sebastián.
Day 6: Savoring San Sebastián
We'll begin our day with a walking tour of elegant San Sebastián ("Donostia" in Basque). Our guide will give us a view of Spanish Basque life and culture as we tour the lively Old Town, step inside the Cathedral of the Good Shepherd, and walk the promenade down to the town's beautiful beach. You'll be free this afternoon and evening to spend more time in the Old Town or at the beach, ride the funicular up to Monte Igueldo's viewpoint, or hike around Monte Urgull. Tonight, you'll be ready to make your own San Sebastián dining discoveries.
Moderate walking: 2–6 miles throughout the day with some hills and stairs. No bus. Sleep in San Sebastián.
Day 7: Guernica and Bilbao
We'll start our day driving along the rugged coastline of the Bay of Biscay as we make our way to a family-run sheep farm. After learning firsthand the importance of sheep to the Basque culture, we'll make our own yogurt before continuing on to the town of Guernica (Gernika). We'll dive further into the independent Basque spirit as we visit the town made infamous by the 1937 air raid that inspired Picasso's anti-war masterpiece (now housed in Madrid). Today, Guernica is considered the very heart of the Basque nation. We'll learn more about the Spanish Civil War and current political issues as we tour the Assembly House and its symbolic Oak Tree, where Basque leaders have met since medieval times. Then we'll make a beeline for our final destination — bustling Bilbao.
Moderate walking: 2–6 miles throughout the day with some hills and stairs. Bus: 3 hours. Sleep in Bilbao.
Day 8: Bilbao and the Guggenheim
This morning we'll devote our time to Frank Gehry's dazzling temple of modern art: the Guggenheim Bilbao. We'll take a tour of the museum's best architectural and artistic attractions, then set you free for more museum meandering — or to explore more of Bilbao's Old Town maze, its Fine Arts Museum, and other sights. Tonight, we'll rendezvous for a farewell dinner together, where we'll share travel memories and toast new friends. Topa!
Moderate walking: 2–6 miles throughout the day with some hills and stairs. No bus. Sleep in Bilbao.
Day 9: Tour Over After Breakfast
Breakfast is provided, but there are no group activities today. Bilbao's airport can be easily reached by taxi or bus and provides easy connections to Madrid and all major European airline hubs. Your guide will help you get pointed in the right direction for home, or to continue your travels in Europe. Agur!
Itinerary specifics subject to change.
Physical Demands
Our tours are physically active! It's an essential part of the Rick Steves tour experience. On our Basque Country of Spain & France in 9 Days tour — among other things — you'll need to happily…
Carry/roll your luggage over uneven pavement (possibly several blocks) and up stairways to reach your hotel, then up several flights of stairs to reach your room.
Be on your feet, walking and standing, for up to three hours, indoors and outdoors, in all weather conditions.
Sleep with street noise and no (or weak) air conditioning.
After orientation and transportation lessons, be able to navigate towns and cities on your own.
Eat group dinners as late as 9 p.m.
Reviews
Suzanne
Shreveport, LA
Tour: 10/11/19
Overall rating:
We had a wonderful trip in a beautiful part of the world. We learned a lot about the Basque people and where they live.
Favorite "WOW" moment
"Walking the Camino trail. It was beautiful and we passed many pilgrims."
Sanders
Shreveport, LA
Tour: 10/11/19
Overall rating:
We wanted to see the Basque Country, its food, its wine, its people and its culture. We accomplished it all. This was an active tour, which is what we like. We had plenty of free time which is important for people to know who tend to avoid tours because of regimentation. Another Rick Steves wonderful tour.
Favorite "WOW" moment
"There were many, but, loved the beautiful views in San Sebastian. Loved our walk on the Camino. Felt like a real insider when we went to the private bullfighting museum in Pamplona! Lots of wow moments."
Carolyn
Olympia, WA
Tour: 10/11/19
Overall rating:
This was may first Rick Steves tour and it was delightful! The tour was well-balanced with group learning and free time for ourselves to explore on our own. I really appreciated that aspect. I loved the guided city orientation walks. The fact that we spent at least two nights in every town where we stayed was a plus, I never felt rushed. The tour was a fun and informative experience.
Favorite "WOW" moment
"This is a hard question to answer, as there were many. But I'm going to have to say the sheep farm was probably my biggest wow. It was in the most idyllic setting, first of all, and then we had an enthusiastic (and quite adorable) workshop lead who taught us how they make their cheese. We all got to experience the sheep, goats and dogs first hand. And then enjoy some cheese and wine while taking in the scenery. This place was really special to me."
Charles
Washington, DC
Tour: 10/11/19
Overall rating:
The Basque country tour was my first experience with Rick Steves' travel although I had been on tours with other companies. Without hesitation I can say the Rick Steves was by far the best. The guide was very knowledgeable, and paid close attention to details (I have an allergy to walnuts and he was very careful about protecting me from possible encounters). The accommodations were consistently in high end hotels. The daily events were a correct mixture of guided tours followed by free time.
Favorite "WOW" moment
"Milking a sheep on a farm high in the mountains."
Charles
Thornhill, ON
Tour: 10/11/19
Overall rating:
The tour delivered what was advertised plus more thanks to Augustin and the local guides. Our limited knowledge of the Basque culture and the impact of the Civil War was greatly enhanced by their passionate input.
Favorite "WOW" moment
"The coastal vistas and the Guggenheim."
Gary
Cornwall, VT
Tour: 10/11/19
Overall rating:
Superb.
Favorite "WOW" moment
"Walking on the Camino with others and alone. Surrounded by the Pyrenees mountains above, and the red pepper fields below."
Frances
San Diego, CA
Tour: 10/11/19
Overall rating:
Thu tour was a very comprehensive immersion into Basque Country, history and culture. I am amazed that so much was included in the experience. Every day brought new and interesting experiences both big and small. As the only single traveler it was a huge disappointment. Never once did anyone on the trip reach out to me to tag along during free time or share a meal. Any attempt by me was discouraged. By the end of the trip one couldn't help feeling shunned. Shocking. Very lonely and NOT fun.
Favorite "WOW" moment
"Walking the Camino."
Janet
Bend, OR
Tour: 10/11/19
Overall rating:
Loved the format of group guided parts and on your own parts. This trip was super educational; we learned so much about the Basque culture, history, politics,...
Favorite "WOW" moment
"Too many - I just can't pick one."
Wendy
Cornwall, VT
Tour: 10/11/19
Overall rating:
I loved the balance and variety of the tour. Good information about each new place, guided tours of the highlights and enough free time to spend on your own. I also like the balance of meals together and meals on your own. I liked that this tour was a culture within a culture.
Favorite "WOW" moment
"The El Camino de Santiago. The information, the towns, and our actual 2 mornings of hiking."
Jeff
Sturgis, SD
Tour: 10/11/19
Overall rating:
Really enjoyed everything about this tour. The sights food and culture where all outstanding. Great guides
Favorite "WOW" moment
"Really enjoyed the private home (Bull fighting museum.) in Pamplona"
Pamela
Los Altos, CA
Tour: 10/04/19
Overall rating:
Educational, interesting, eye opening. Guernica was heart wrenching. There was too much time spent at the sheep farm. One hour would have adequate. I had to wash my travel pants because they smelled and were covered with sheep nibbles.
Favorite "WOW" moment
"Pamploma walking the way of the running of the bulls. The home visit was so special and standing on the balcony I could visualize the running of the bulls."
Richard
Henrico, VA
Tour: 10/04/19
Overall rating:
This was my tenth RS tour and was definately one of the very best because of our guide, the group, the food, the hotels, and, of course, the Basque Country and its people.
Favorite "WOW" moment
"Waliking into the Guggenheim Bilbao and looking up - WOW! Standing on Monte Igueldo and looking down on San Sebastion - WOW! Listening to Francisco describe Picasso's masterpiece while standing in Guernica's market square - WOW! Praying the rosary while walking the in the solitude of the Camino - WOW!"
Susan
Flat Rock, NC
Tour: 10/04/19
Overall rating:
Great - Particularly loved the cohesiveness of this group
Favorite "WOW" moment
"arriving at the Il camino de Santiago and walking the first part, stopping and taking in the view and soaking in the experience. Loved the sheep farm and the visit Francisco arranged at this friends home in Pamplaco - the bull fighting displays."
Mary
Claremont, CA
Tour: 10/04/19
Overall rating:
This was among the best trips I've taken, whether with Rick Steves tours or others: a fairly in-depth experience of a culturally and historically rich part of the world--the Basque Country. I learned so much. Our guide, Francisco, was incredibly knowledgeable as well as funny and warm and very well-organized. The fellow travelers were lovely.
Favorite "WOW" moment
"My favorite moments were probably not the same as for others, since my two main reasons for taking this trip were to get to 1) St. Jean Pied de Port to walk in the place where the Camino starts for so many people and 2)to visit the place where Charlemagne crossed the Pyrenees and the tragic death of Roland occurred near Roncesvalles. Being able to do these things were very fulfilling for me. Francisco's heartfelt presentation at Guernica was so impressive."
Russell
Canton, MI
Tour: 10/04/19
Overall rating:
This tour was great in that it had a significant cultural learning content in addition to some neat places to visit. The Basque culture is one that only gets a footnote in our US knowledge and much of that has been negative due to incidents in modern times. I found the food in this region to be really good.
Favorite "WOW" moment
"Probably visiting the Guggenheim in Bilbao. I found the structure to be amazing."
Barbara
Canton, MI
Tour: 10/04/19
Overall rating:
This was an outstanding tour, I enjoyed everything about it
Favorite "WOW" moment
"As a land locked midwesterner I loved the seacoast at San Sebastian. The Guggenheim museum was also a Wow. Actually, there were quite a few wow moments!"
Douglas
Battle Ground, WA
Tour: 10/04/19
Overall rating:
My "overall" tour began in Paris and ended in Barcelona. Sandwiched in the center of this 21 day adventure was the RS "Basque Country" tour. This tour portion of my adventure was memorable for the dedication I felt from the RS team. This is a marvelous tour. Francisco (our tour guide) Claire (our local guide in Bayonne) and Agustin (our local guide in San Sebastian) provided excellent leadership and quality decisions regarding our tour's content. I greatly admire all three.
Favorite "WOW" moment
""Becoming Basque" for a week. I felt a strong identification with the locals of this region and I sincerely appreciated the opportunity to walk among them.The Basques are noble people - and that nobility is infectious. I feel like I'm a better person for having known them."
Roger
Lake Oswego, OR
Tour: 09/27/19
Overall rating:
This was my 6th (of 7) RSE tour, and one of the best. The site selections, hotels, transportation arrangements and guide services were first class.
Favorite "WOW" moment
"The Guggenheim Bilbao museum was an exceptional experience."
Roblin
Seattle, WA
Tour: 09/25/19
Overall rating:
I was hesitant to do a group tour altho my wife had done two. On this tour, however, the fellow travelers were fun, interesting and supportive so establishing new relations became a major part of the positive experience. Our guide was Wonderful; can't imagine anyone better for any tour.
Favorite "WOW" moment
"Too many: The goat farm, Bilboa and the Guggenheim, view from the hills as we approached San Sebastion, the discovery of the Basque."
Marie
Brooklyn, NY
Tour: 09/25/19
Overall rating:
From start to finish the Basque Country Tour showed its travelers the highlights of the region through the backdoor. The tour was filled with beauty,history , culture and all that makes this area what it is today. When visiting a region for the first time the tour/tour guide are key to a great trip. Our guide & tour were excellent.Francisco's knowledge of the region is outstanding.He is filled with a passion and energy that he uses to move and guide his group through an amazing tour.
Favorite "WOW" moment
"As with all of RS tours there is never one "wow" moment. The first would be The Guggenheim Bilboa. It is an amazing piece of architecture filled with a very diverse collection of art. Second, the coastal town of San Sebastian is beautiful with all of the pedestrian crosswalks that allow you to cross from one part of town to another. Third, walking part of Camino de Santiago. We walked alot on the tour but walking this Pilgrimage trail will never be forgotten. Ohhh such a memorable trip."WOW""
Richard
Chicago, IL
Tour: 09/20/19
Overall rating:
This trip was fabulous and I did not expect it be so enjoyable. A combination of history, culture, everyday living experiences, cuisine, scenery and surprises that made for a memorable total experience.
Favorite "WOW" moment
"WOW, this is a hard one. While doing laundry is San Sebastian in a tiny laundromat adjacent to a workingman's tapas I met I film producer who was exhibiting at the local film festival. Discussed life in Spain and New York (where he now lives). A slice of life!! A close runner up is the glorious walk down the Camino; made me feel a part of history."
Margaret
Pewaukee, WI
Tour: 09/18/19
Overall rating:
Wonderful to learn and experience so much about an area of the world we had never been to before
Favorite "WOW" moment
"all of San Sebastian"
Glenda
Beaverton, OR
Tour: 09/11/19
Overall rating:
Overall, we (Lloyd, my husband and myself) enjoyed the tour activities, scenery, architecture, cultural and historical experience. We liked learning about the Basque people and their history.
Favorite "WOW" moment
"Going swimming at the beautiful beach in San Sebastian and the puppies and goats at the cheese far."
Linda
Seattle, WA
Tour: 06/07/19
Overall rating:
Loved, loved, loved this tour! I only wish it could have been longer. There was such a wonderful variety of places from the cities like Bilbao to the villages in the Pyrenees, as has been true of all the Rick Steves tours that we have taken. I especially loved getting acquainted with the Basque culture and history. The whole experience was fascinating and wonderful.
Favorite "WOW" moment
"I think my favorite experience was the day on the Camino. Francisco did such a fantastic job of introducing the day while we were on the bus and recommended we walk alone to get as much out of the experience as possible. His explanation of why people, religious and non religious, come from all over the world to walk as pilgrims was very moving, and his suggestion that we view the cairns that others have left as unshed tears really hit me and made the day very meaningful for me."
When To Go & Weather
Any time between May and October is a good time to visit the Basque Country. However, the months of May, September, and October offer the best combination of good weather and lighter crowds. September and October don't have long days.

Spain / San Sebastián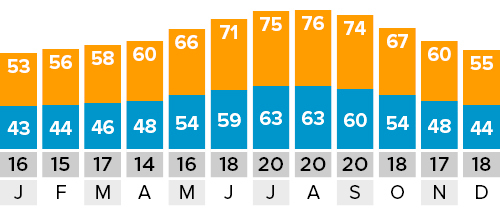 Hotels & Flights
Tour Hotels
In case you wish to book pre- or post-tour hotel accommodations, the contact information for the tour's first and last hotels is included in your tour confirmation email as well as in the Itinerary section of your tour account. One month prior to the tour departure, you'll find the directions to your first tour hotel and a complete list of hotels where we'll be staying while on tour in the Documents section of your tour account.
Flights
Our tours don't include airfare, so your flight arrangements and transfers are completely up to you.
Most tour members arrange to fly into Biarritz, France (BIQ), and out of Bilbao, Spain (BIO) — choose "multicity" on flight-booking websites. The Biarritz airport is a 20-minute bus ride from Bayonne, where the tour begins. Booking round-trip to one city will require a connecting flight, train trip, or additional overnight stay in Europe.
We suggest arriving a day or two before your tour begins to allow ample time to get over jet lag and be well-rested for the first few days of your tour. For more information about transportation options for getting to and from your tour, see your Rick Steves Snapshot: Basque Country guide.