La Pedrera in Barcelona

Plaza Mayor in Madrid

Toledo

Granada

Bullring in Ronda

Flamenco Dancer in Sevilla
Tour Questions? See our FAQ | Call 425-608-4217
My Way® Spain in 11 Days Tour
Beginning in beautiful Barcelona and ending in sensual Sevilla — with the cultural delights of Madrid, Ronda, and Granada laced together in between — Rick Steves' money-saving "My Way" tour gives you the freedom to decide your own daily sightseeing priorities and pace. We cut the stress by providing comfortable rooms in centrally located hotels, private bus transportation from city to city, and a travel-savvy tour manager to help advise you along the way. Join us for My Way® Spain in 11 Days!
Dates & Prices
What's Included
This is an "un-guided" tour — giving you the freedom (and responsibility) to manage your daily sightseeing schedule and meals
A small, friendly group of 24–28 people will share our big, comfy bus during the trip, but not do organized sightseeing together
A Rick Steves tour manager will coordinate the group's transportation and hotels and provide advice for sightseeing, meals, etc.
All group transportation from Barcelona to Sevilla
10 nights accommodations in memorable, centrally located hotels
All breakfasts are included
All tips for tour manager and driver
Free Audio Europe™ app for Apple and Android (or get free podcast/mp3 files) featuring Rick's radio interviews with experts on destinations covered in this itinerary
Rick Steves Travel Store credit to use toward guidebooks for your trip
Guaranteed tour price, locked in the moment you make your deposit
Optional single supplements — this tour has a limited number of private rooms for solo travelers for an additional fee
Tour alum discount of $50 for each tour you've taken prior to 2016
50% discount on a consulting appointment with our in-house experts to assist with your pre- or post-tour travel plans
Flexibility should you need to transfer, or cancel/interrupt your tour
Fine print: You are responsible for the cost of your drinks and free-time sightseeing. See our Tour Conditions Agreement for important details regarding everything listed above.
Itinerary
Sightseeing notes
(r) = reserve a time before you leave the USA
Day 1: Welcome to Spain
Welcome to Barcelona, one of Europe's most dynamic and diverse cities. Depending on when you arrive, today is a great day to wander through the maze-like Gothic Quarter, medieval cathedral, and refurbished harbor area. We'll rendezvous at our Barcelona hotel at 5 p.m. for a group get-together. Your tour manager will give an overview of the days ahead, answer your questions, and offer a quick orientation to our neighborhood and Barcelona's public transportation system. Then you're free for dinner on your own, and maybe an evening stroll up and down the Ramblas. Sleep in Barcelona (2 nights). No bus today.
Day 2: Lively, Artistic Barcelona
You have the entire day and evening free to explore this remarkable city. Armed with a guidebook, you could hop the subway to see Gaudí's towering, dizzying Sagrada Família church (r) and his colorful, playful Park Güell (r). Closer to the center, you can check out the Modernisme-themed Avenue of Discord, and a museum dedicated to another artistic visionary: Pablo Picasso (r). No bus today.
Day 3: A Speedy Train to Madrid
All aboard! After breakfast we'll take one of Europe's speediest trains (the AVE) to Madrid. By mid-afternoon you'll be settled in your Madrid hotel, and free for the rest of the afternoon and evening, maybe to explore the lively streets around the Puerta del Sol and Plaza Mayor, or the majestic Retiro Gardens. Sleep in Madrid (3 nights). Train: 3 hrs. Bus: 1 hr.
Day 4: Masterpieces of Madrid
Today and this evening are entirely free to cover the best of Madrid. For many, that means the masterpiece-packed Prado (r) — featuring paintings by Velázquez, Goya, El Greco, and others. The Royal Palace is another great place to wander and soak up the opulence of Spain's capital city. Tonight, use your guidebook to put together a tapas crawl, and use your phrase book to connect with the locals (and to figure out what you're eating)! No bus today.
Day 5: Day Trip from Madrid
Your day and evening are free. It's cheap and easy to hop on a Spanish bus for a day trip to the old capital city of Toledo (for its magnificent cathedral, the Synagogue Santa Maria la Blanca and Santo Tomé Chapel) — or to Segovia (for its thrilling Roman aqueduct, Gothic cathedral, and imposing Alcázar). No bus today.
Day 6: La Mancha and Granada
Today we'll drive through windswept "Don Quixote country," stopping to sniff the saffron. At about 4 p.m. we'll reach our destination of Granada. Once you've checked into the hotel, you might head up the Albayzín hill, find an interesting place for dinner, and enjoy a sunset view of tomorrow's treat — the Alhambra. Sleep in Granada (2 nights). Bus: 5 hrs.
Day 7: Moorish Treasures of Granada
Your entire day and evening are on your own, and there's no better way to start than with a visit to the sprawling palace and garden complex of the Alhambra (r) — the last and greatest of Europe's Moorish palaces. Afterward, you might explore the colorful streets and alleyways of Granada's Old Town, and ponder the course of history at the ornate tombs of world-changing Ferdinand and Isabella, who reigned over a new age of religious zeal at home and exploration of the "new" Americas. No bus today.
Day 8: Ronda
This morning we'll drive to the hill town of Ronda, home to Spain's oldest bullring and its most breathtaking gorge. The afternoon and evening are yours to explore Ronda's Moorish and Mercadillo Quarters, linked together by the famous gravity-defying stone bridge (towering over the rubble of an earlier one that wasn't). Sleep in Ronda (1 night). Bus: 3 hrs.
Day 9: Sevilla's Barrio Santa Cruz
Today we'll wind our way between olive groves and pueblos blancos on our way to the flamboyant and atmospheric city of Sevilla. Our hotel's central location makes it easy to spend this afternoon and evening marveling at the world's largest Gothic cathedral — and window-shopping along the narrow whitewashed lanes of Sevilla's Barrio Santa Cruz. Tonight, you might look for a performance of sultry, swirling flamenco. Sleep in Sevilla (2 nights). Bus: 2.5 hrs.
Day 10: Sevilla's Royal Alcazar
Your entire day and evening are free to do as you please. You could start with a visit to the beautifully Moorish-style Alcazar palace, the Sevilla home of the Spanish Royal Family for the past 500 years. Afterward, you can walk in the footsteps of Carmen and Don Juan, linger in Sevilla's charming squares, or stroll along the romantic Guadalquivir River. This evening, consider capping off your My Way Spain adventure with a carriage ride through the streets of Sevilla. Salud! No bus today.
Day 11: Tour Over After Breakfast
Sevilla's airport is a bus or taxi ride away with easy connections throughout Europe. Alternately there is an AVE train to Madrid to continue your Iberian adventures on your own. Hasta luego!
Itinerary specifics subject to change.
Physical Demands
Our tours are physically active! It's an essential part of the Rick Steves tour experience. On our My Way® Spain in 11 Days tour — among other things — you'll need to happily…
Carry/roll your luggage over uneven pavement (several blocks possible) and up stairways to reach your hotel; then up several flights of stairs to reach your room.
Sleep with street noise and no (or weak) air conditioning.
Be able to navigate towns and cities on your own.
Be responsible for your own daily sightseeing, admissions, meals (except breakfasts), and non-group transportation.
Travel on a bus without a toilet (rest stops every two hours).
Reviews
Vicki
Canby, OR
Tour: 10/15/15
Overall rating:
It is nice to be relaxed since the transportation and hotels have been taken care of. The hotels were all in good locations for getting to the sights and comfortable. The choice of cities to visit was a good sampling of Spain's top sights. We like the freedom to visit the sights we want to see when we want to see them.
Favorite "WOW" moment
"I enjoyed all the Gaudi sights in Barcelona. Sagrada Familia is outstanding. However, Alhambra really stands out in my memory. The gardens were beautiful and the Palacios Nazaries was awesome! I have never seen anything like it with the tiles, the stucco, the wood ceilings. Viewing it at sunset from the viewpoint was an unforgettable experience."
Lewis
Aurora, OR
Tour: 10/15/15
Overall rating:
Everything seemed to go off without a hitch. No problems with schedule or logistics. The escort was very helpful and enthusiastic. Travel details were anticipated and handled very well.
Favorite "WOW" moment
"The Alhambra in Grenada was probably the biggest "wow". One thing I would recommend is that tour information stress more the need for making reservations at the Alhambra EARLY. The "white" town of Ronda was also a delight. Maybe a close second."
Linda
Aurora, OR
Tour: 10/15/15
Overall rating:
Greatly enjoyed the tour. It was a good mix of faster paced cities (Barcelona, Madrid), slower paced places (Sevilla)) and special sites with their unique attributes (Toledo, Ronda). I am glad we arrived in Barcelona 2 nights early to see more sights and get some rest prior to the tour proper. I am finding that as I get older (age 61) I have a harder time adjusting to sleeping in different beds and also I need more down time than I used to, to enjoy the experience of traveling.
Favorite "WOW" moment
"The Alhambra was amazing. We had trouble getting tickets and actually we splurged on a private tour to get them and I am so glad we did because it was a leisurely and informative 3.5 hour tour and we could have even gone longer with this guide, a tour service recommended in Rick's book. The guide explained so much and answered questions. The flamenco dance we attended as a group was second. This was arranged by our guides Pal and Asa because almost everyone in our group wanted to go."
Steven
Newtonville, MA
Tour: 10/15/15
Overall rating:
Nice overview of Spain, especially for travelers who haven't been there before. For us, though, we would have preferred more time in Madrid. We spent five days in Barcelona because we arrived before the tour, so that worked. WE added on a day in Madrid at the end, after the tour, but would have had better time staying there an extra day or two during the tour itself.
Favorite "WOW" moment
"Everything about Ronda...from the distinct geology to the quaintness and calm of the town to the wonderful hotel filled with art and antiques."
Steven
Kalama, WA
Tour: 10/15/15
Overall rating:
We liked the "My Way Format" because it fits our travel style.
Janet
Yakima, WA
Tour: 10/15/15
Overall rating:
Our overall experience was very very good. Our escorts were excellent - very competent and helpful. Our hotels were great. I did a regular RS tour last year, so was interested to see the differences. The main thing I missed with the My Way tour was the group meals and camaraderie that developed on the regular tours. But I loved having so much free time and not having to worry about making all the arrangements.
Favorite "WOW" moment
"Barcelona - the interior of the Sagrada Familia... WOW! The colors cast by those gorgeous stained glass windows was so beautiful! Toledo - the view of the old town bathed in morning light from the viewpoint across the river (thank you for making that part of the bus ride) Granada - the Alhambra, of course. The detail EVERYWHERE... I just didn't know how to absorb it all. Ronda - our hotel! So unique, so special."
Ellen
Spring, TX
Tour: 10/15/15
Overall rating:
Pal and Asa both did a great job. Everything was on time. Really enjoyed the 303 kph AVE ride. Excellent hotel locations making them walkable to some of the major sights or to transportation to get around. Enjoyed being in the old, historic parts of the cities. 'My Way' was just what we expected and wanted. The important stuff like transportation and hotels were taken care of and we had the freedom to come and go when and where we liked. As always, a great bunch of fellow tour goers.
Favorite "WOW" moment
"The natural beauty of Ronda - breathtaking."
Nicholas
Anchorage, AK
Tour: 10/15/15
Overall rating:
The "My Way" tour felt like the right tour for me. Not once was I stressed about reservations or figuring out the right train, etc. It was all seamless and easy, which made seeing all the attractions all that much better.
Favorite "WOW" moment
"The "new" bridge in Ronda. I was able to hike around and see it from many different points. It was a beautiful day and just the age of it all was mind-blowing."
Carolyn
Cincinnati, OH
Tour: 10/15/15
Overall rating:
It was the right combination for our travel needs. No hassles with transportation and lodging and lots of time to explore some beautiful places in Spain. Paul was helpful with providing an orientation to the cities to get us started, but then we were on our own.
Favorite "WOW" moment
"The differences between the various cities we visited was the wow for me. In the US there is certain sameness between cities. One of the magical parts of Spain is that each city has a very distinct personality and feel. Toledo is completely different from Barcelona which is different from Madrid or Granada or Ronda. The best part of traveling outside the US is experiences the things that are similar to life here and things that are totally unique to, in this case, Spain."
Robert
Essex, CT
Tour: 10/08/15
Overall rating:
We have always traveled to Europe independently but thought the "My Way Spain" tour would be a great option for our first visit to Spain. We were right. William our Tour Manager was outstanding. Knowledgable, helpful and fun to be around. Our fellow like minded travelers were great companions. Hotels were immaculate and well located. Over all a great experience and we are considering the "My Way France" tour for next year.
Favorite "WOW" moment
"Too many "wow" moments to single out one. Most impressed by Spain and its people. The country is beautiful, its cities are clean and its people very friendly. Great food and drink as well."
Lori
Zionsville, IN
Tour: 10/08/15
Overall rating:
My tour experience was incredible! The lodging was superb and centrally located to most major sights within the cities we visited. The tour schedule was put together really well, especially as we built in extra time in Barcelona before and after the tour. William was a great guide. He was knowledgable about things like where to get your laundry done, how to find those elusive Alhambra tickets and which shop has the best chocolate.
Favorite "WOW" moment
"Seeing the interior of La Sagrada Familia, looking at the view to Toledo from the high road outside the city and looking at the Alhambra from St. Nicholas Square in Grenada. Also, being in Madrid during a national holiday with celebrating Spaniards was pretty "wow" as well."
Mary Ann
West Linn, OR
Tour: 10/08/15
Overall rating:
My overall experience was absolutely delightful. The sights, the people, the countryside, the history, the food. Everything! I completely fell in love with Spain and would go back in a heartbeat. In fact I plan on it!
Favorite "WOW" moment
"As an architect, standing in Sagrada Familia was without a doubt my most fabulous, inspiring moment of my tour. Wow! It was one of the main reasons I had travelled to Spain and it did not disappoint. Not one bit."
Nichole
Minneapolis, MN
Tour: 10/08/15
Overall rating:
It was the perfect mix. I loved being able to do the things I wanted for the length of time I wanted. But it was also fun running into members of the "group" while out and about.
Favorite "WOW" moment
"Alhambra in Granada"
Peggy
Eureka, IL
Tour: 10/08/15
Overall rating:
Loved the idea of My Way - hotels and transportation provided but getting to choose what sites to visit in each location. Spain has so many sites; it was impossible to see everything I wanted to see, but we were able to choose to visit the ones most important to us.
Favorite "WOW" moment
"The Sacrada Famillia was the most awe inspiring site. The end of tour dinner was the most fun."
Crystal
Washington, DC
Tour: 10/08/15
Overall rating:
I came in expecting something very different than I experienced with the My Way tour. I expected someone to make my travel arrangements and ensure that I had made it safely to each destination. I didn't expect group activities. I didn't expect to be continually asked if I needed anything. I didn't expect to feel pressured to be a part of a group or engage in certain activities at certain times. I honestly was very disappointed with the experience.
Favorite "WOW" moment
"Being left alone to do my own thing was the best part of the trip. I wish that there wasn't so much social pressure to join the group and do things with them. That was very uncomfortable."
Karen
Eureka, IL
Tour: 10/08/15
Overall rating:
The tour was wonderful and exhausting, perhaps wonderfully exhausting. It was a whirlwind of adventure and fun, and I loved it.
Favorite "WOW" moment
"The Sagrada Familia. It was one of the few things on the tour I hadn't been to before. I've seen a lot of churches, and I love them, but it takes a lot to have that awe inspiring moment anymore. When I walked into Sagrada Familia, though, my jaw dropped."
Catherine
Minneapolis, MN
Tour: 10/08/15
Overall rating:
My Way Spain in 11 days was amazing! I thoroughly enjoyed each of the 6 cities we visited. The length of the trip was also perfect - we added one day before and after the tour dates and were ready to go home by the end of our stay. I was glad the tour focused on Spain. I really felt like we got to experience the country, culture and all it has to offer. I would highly recommend Rick Steve's tours to all of my friends!
Favorite "WOW" moment
"Too many wow moments to just select one so here are a few - walking along the Mediterranean with our feet in the water in Barcelona, seeing the Sagrada Familia, the Alhambra was amazing, and our paella cooking class and the flamenco show in Seville were definitely high-lights of the trip."
Thomas
Westfield, NJ
Tour: 10/08/15
Overall rating:
The flexibility to book the sites we wanted to see on our schedule without having to worry about the logistics of hotels and transportation between cities worked our perfectly for us. We liked the suggestions that were made to us before the tour began and we booked our sites accordingly. Once in the cities the "insiders" information provided by our escort saved us a lot of "trial and error" that we would have to experienced if we didn't have our well-infomed escort.
Favorite "WOW" moment
"There was not just one "wow" moment. We loved seeing the Sangra Famila, the Alhambra, the beauty of Ronda and the small timeless narrow streets with beloved shops and cafes that were present in all the cities."
Cynthia
Fairfield, CA
Tour: 10/01/15
Overall rating:
This was my first Rick Steves tour and I absolutely loved it! The "My Way Tour" is definitely the way to go for me. Just having our transportation and hotels arranged was a great relief! Having the luxury to go where we wanted and spend as much time as we wanted was ideal for me. The hotels we stayed in were great and centrally located to everything. Pal Johansen-our escort was THE BEST EVER. Pal was so helpful and friendly! WE WANT HIM AGAIN!
Favorite "WOW" moment
"I had so many it is hard to think of a favorite. If I had to pick, I would have to say Sagrada Famillia and the Alhambra Palace. Wow, the food, we had so mangy wonderful meals on our trip. We also found the people to be very friendly. We loved our whole experience."
Joan
Hudson, QC
Tour: 10/01/15
Overall rating:
The My Way tour definitely met expectations. It was a wonderful way to experience multiple cities without worrying about logistics of transportation or lodging - and having a guide available for advice. The best part was having the flexibility to choose the sites we wanted to see on our own schedule. The hotels were very well-located for seeing most of the main sites within each city. Pal was terrific and his orientation walks in new cities were great. We've already booked My Way France 2016!
Favorite "WOW" moment
"Walking into the Sagrada Familia, with the light coming in through the beautiful stained-glass windows casting colors on the pillars, was spectacular. There were many "wow" moments throughout the trip - the Alhambra (and its view from St. Nicholas), the beauty of the palaces, Ronda. It was hard to take it all in."
Roseanne
Berkeley, CA
Tour: 10/01/15
Overall rating:
Taking a My Way tour was a wonderful experience! Great itinerary, hotels were very nice, transportation was smooth and comfortable, and our tour escort was friendly and extremely helpful.
Favorite "WOW" moment
"Visiting the spectacular Alhambra in Granada was a memorable experience!"
Jeff
Carnation, WA
Tour: 10/01/15
Overall rating:
Our overall experience was good and we are glad we did it. It was nice to meet new people and we really appreciated the guidance, preplanning, and travel tips! The only negative for me was that it was a little too fast paced; I would have preferred staying in each location a day or two longer. There were several of us that were just worn out about halfway through. It is hard though accommodating all ages and energy levels and longer stays result in more costs which makes it less affordable.
Favorite "WOW" moment
"The architecture is spectacular and always floors me. Also, enjoyed the Flamenco dancing."
Frank
Edmonds, WA
Tour: 10/01/15
Overall rating:
The tour was well organized, well thought out and very well guided/lead/assisted by Pal Johansen. The group as a whole was interesting and enjoyable.
Favorite "WOW" moment
"For me it was experiencing the Synagogue Santa Maria la Blanca in Toledo. I've seen many, many churches throughout Europe but this is a special place. Or, maybe it was the special neighborhood tapas bar we found just below the Plaza Mayor, or the performers in the ........ it was all pretty great."
Ellen
Chicago, IL
Tour: 10/01/15
Overall rating:
This was our first Rick Steves tour and it did not disappoint. The pre-tour planning was easy to follow, and the tour was fantastic. We planned most of our excursions (Alhambra, Picasso Museum, Arabian Baths) in advance, and left enough time to explore and "get lost". We enjoyed all the members of the tour group; hearing about their travels and experiences made our tour even richer.
Favorite "WOW" moment
"My "wow" moment was visiting the Alcazar Palace in Seville. We were prepared to be "wowed" by the Alhambra, but the Alcazar was not on our radar. We were blown away by the palace and the grounds. We booked a walking tour with Conception, ("City Walks by Concepcion", through the RS guidebook) who made it an even more fabulous experience through her explanations of the history and craftsmanship of the building and grounds."
Del
Athens, GA
Tour: 10/01/15
Overall rating:
This was the first time I had traveled with a tour. Usually I am a solo traveler. I can't say enough good things about the experience. The "my way" tour was perfect. I did not have to spend time finding hotels or transportation to my next destination. Our tour guide Pal was available for consultation but did not push any agenda other than to tell us the highlights of each destination. Our group was a good collection of people who respected one another.
Favorite "WOW" moment
"Going back to the Alhambra after 56 years and seeing how its tiles and interior were no longer as bright and vivid as I remembered as a child. Not seeing donkeys being used as beast of burden as was common when I lived there. Loved Toledo. Really enjoyed that walled city, its different cultures, the tiny streets and friendly people."
Marilyn
Porland, OR
Tour: 10/01/15
Overall rating:
I love the my way tours, and hope you add many more options in the future. I'm planning on the "my way" France for next year. Would like some "my ways" in the British Isles (Scotland, England, Ireland)
Favorite "WOW" moment
"The flamenco show was amazing. The alhambra at night from the viewpoint across the valley"
Maribeth
Dearing, GA
Tour: 10/01/15
Overall rating:
Before the tour I was thinking that it would be better the end the tour in a city with better connections to the US. As it turns out we took the AVE back to Madrid on Sunday and managed to see the Reina Sofia that we missed during our stay in Madrid. Since it is right across from the train station the logistics were perfect and we took a taxi to our hotel near the airport for our flight out the next day.
Favorite "WOW" moment
"The Sagrada Familia was something else! Even with the crowds and construction noise there was a sense of calm with the play on colors inside. Spectacular!"
Wesley
Fairfield, CA
Tour: 10/01/15
Overall rating:
The tour lived up to our past experiences of Rick Steves. Our escort, Pal, was excellent, professional and very warm to us. Having the transportation and lodging issues covered by you allowed us to focus on the attractions. We probably saved at least $1,000 pp and were able to tailor our "excursions". Generally the accommodations were fine with the two "chain" lodgings the least desirable.
Favorite "WOW" moment
"Barcelona's architecture, culture and food scene made it our favorite. The Sagrada Familia was our Wow and from what we heard, was a group favorite. One left there very uplifted without the gothic heaviness of most other cathedrals."
Lori
Pleasant Hill, CA
Tour: 10/01/15
Overall rating:
The "My Way" concept was exactly what we were looking for. It attracted other experienced travelers who followed suggestions, packed light and made travel and transfers simple and easy. We spent just enough time in each city to hit the highlights, which are different for everyone. We never felt like we were wasting our time visiting a site or museum that we were not interested in.
Favorite "WOW" moment
"It is hard to pick just one, but I think I would have to say La Sagrada Familia in Barcelona. Even though I had seen it in photos and on "60 Minutes", the scope and detail of the entire project was beyond my expectations."
Mary
Edmonds, WA
Tour: 10/01/15
Overall rating:
I have traveled in Europe independently several times in past using Rick' s guidebooks and itinerary recommendations. When planing this years trip to Spain I noticed the MY WAY options and was intrigued because I am not ready for a formal tour. The tour met all my expectations and it was nice not to have to plan all the transportation and lodging. Just planning the add on to the tour was enough.
Favorite "WOW" moment
"The Alahambra and the armor at the Royal palace in Madrid."
Robert
Middletown, MD
Tour: 09/24/15
Overall rating:
Our first experience with the "MY Way" model and I'm certain we'll do it again. Great balance between meeting new friends via the group interaction and having the freedom to do what you want away from the crowd. William was an excellent Guide. Accommodations were at very good.
Gordon
West Allis, WI
Tour: 09/24/15
Overall rating:
Wonderful time. Well-organized. Important cities and sites included.
Favorite "WOW" moment
"Sunset dinner at Restaurante Etrellas de San Nicolas overlooking the Alhambra followed by luckily catching "on the run" at 10:45PM the last C-1 bus from Albayzin Hill. We were the only and last two passengers of the day on the small van-bus and the driver gave us an unsolicited, unexpected non-stop rock and roll ride down hill on the steep, mostly cobblestone winding streets into city center. We hung onto our seats, bouncing,smiling,laughing all the way.It was like a roller coaster ride."
Annette
Middletown, MD
Tour: 09/24/15
Overall rating:
I've done a lot of group travel (albeit with quirky bird watchers) and I've never been among a more fun and congenial group than this one. We had no prior expectations of Spain since this was our friends' idea, but we were pleasantly surprised and delighted with every city and experience
Favorite "WOW" moment
"Don't make me choose.....We were wowed by the absolute genius of Gaudi's natural rainbow light show through the stained glass of Sagrada Familia. The Alhambra at night from our table at Mirador de Aixa. First views of Toledo and Ronda. The incredibly detailed altars and choir lofts of cathedrals in Toledo and Sevilla"
Jo Ann
Spring Valley, CA
Tour: 09/24/15
Overall rating:
Our My Way: Spain trip exceeded my expectations. Our time in Spain and on the tour went perfectly. The AVE train went 180 mph in comfort. Our hotels were unique and close to the sites we wanted to see. The Orange Bus was clean, worked well and the driver was excellent.
Favorite "WOW" moment
"Too many to choose just one. The big ones were the Sagrada Familia, The Alhambra, the Prado and the Puerto del Sol, but I was overwhelmed when I realized that I saw the Mediterranean for the first time in my life."
Christine
Rochester, NY
Tour: 09/24/15
Overall rating:
Our tour manager William was knowledgible,helpful especially about directions to our points of interest. When he did not know where to obtain Flamenco tickets in Granada he referred us to Stephanie at the hotel desk. She was much help.
Favorite "WOW" moment
"There were too many to count. The Sagrata Familia,Ahambra,Alcazar, the overlook the bus stopped at above Toledo,the classical guitar performances in Barcelona and Rhonda."
Grace
San Ramon, CA
Tour: 09/24/15
Overall rating:
I loved my overall experience of Spain. It's
Favorite "WOW" moment
"Seeing the Familia Segrada for the first time. Pictures doesn't do it justice."
Annette
Duncan, BC
Tour: 09/24/15
Overall rating:
Loved every minute of the tour! I'm very glad we arrived 2 days before the start of the tour as the jet lag took more out of us than expected. The fact that our travel and accommodation arrangements in Spain were taken care of made our experience a lot more enjoyable and stress-free. It was wonderful to sit in an outdoor cafe in the late afternoon, enjoy a beer, some tapas and people watch. We enjoyed meeting and socializing with all the members of our tour group.
Favorite "WOW" moment
"The Sagrada Familia in Barcelona. It is truly an amazing piece of architecture. The Alhambra in Granada comes in as a close second."
Judith
West Allis, WI
Tour: 09/24/15
Overall rating:
Spain is wonderful to visit.
Favorite "WOW" moment
"just small towns between Toledo and Granda"
Ana
Macungie, PA
Tour: 09/24/15
Overall rating:
Loves all locations of hotels. Our guide, William, was excellent, knowledgeable, informative, great personality. Train and Bus travel where great, no complaints. Places visited where also a must, all awesome cities to visit.
Favorite "WOW" moment
"Lahambra and seeing all the fields of olive trees on the road."
Keith
Macungie, PA
Tour: 09/24/15
Overall rating:
We loved the "my way" Spain tour! Having the logistics of hotel/travel between cities handled by Rick Steves' was perfect for us. We also had a very friendly group of travelers that we really bonded with, and our guide William was very friendly, helpful, and informative. All hotel locations were excellent...close to the action and many sites we wanted to visit.
Favorite "WOW" moment
"My wow moment was La Alhaambra Palace in Granada and the cathedrals in each city we visited. Amazing history and architecture!"
Gerry
Duncan, BC
Tour: 09/24/15
Overall rating:
As an experienced traveller - including many trips as team leader and planner for an international charitable organization - I particularly enjoyed having the basic logistics taken care of in a very professional manner. It was great that we did not have to worry about hotels or transportation. We enjoyed the freedom to explore and to select our own places of interest to visit. The tour manager who accompanied us was very good and stayed in the background except when asked for suggestions.
Favorite "WOW" moment
"Our visit to the Alhambra in Granada was simply outstanding. The gardens and the restored Alhambra itself were awe-inspiring. There were many other "wow moments" in each city that was visited!"
Juliet
Portland, OR
Tour: 09/24/15
Overall rating:
We had a great time. The freedom to go where we wanted and for as long as we wanted was a real plus. One couple rode bikes while another did want a guide to the Prado and so hired one. We didn't need to waste time fiddling around looking for the hotel when we arrived or looking for transportation.
Favorite "WOW" moment
"The bull fight in Madrid. I hadn't appreciated what a precise ritual it is. Strolling around the pedestrian malls after dinner (early by Spanish standards) was great."
William
Albany, NY
Tour: 09/24/15
Overall rating:
This was our first tour experience of any kind. Going in We liked the concept of the My Way tour but were not sure how it would work for us. We were very pleasantly surprised. MY WAy gave us the flexibility we wanted while dealing with the logistics for us. But beyond this, we were extremely pleased with William as our gude. His advice, assistance and knowledge provided added value that we, frankly, weren't expecting. We look forward to future tours with Rick Steves company.
Favorite "WOW" moment
"There were so many it is impossible to select just one but clealy Sagrada Familia and the Alhambra stand out as extraordinary. Beyond these two iconic sites we greatly enjoyed Barcelona as a city as well as Toledo and Ronda, which we knew very little about."
Lucinda
Redwood City, CA
Tour: 09/17/15
Overall rating:
It was all very enjoyable. We did all that we wanted to. Our guide was excellent!
Favorite "WOW" moment
"I couldn't name just one."
Agnes
Renton, WA
Tour: 09/17/15
Overall rating:
First time taking part in a my way tour. Amazed at the bonding taking place among participants. Our guide Pal was terrific, giving us a lot of guidance and opportunities to get to know the rest of the group better.
Favorite "WOW" moment
"Spain was full of wow moments, but Sagrada Familia in Barcelona stands out definitely, as well as Ronda, which was probably our favorite smaller town."
John
Sherborn, MA
Tour: 09/17/15
Overall rating:
Well chosen cities and hotels. Starting in Barcelona allowed us to add a day on the front end. Madrid, Toledo, Granada, Ronda and Sevilla were also well chosen. Ending in Sevilla allowed us to continue to Gibraltar and Lisbon.
Favorite "WOW" moment
"1. Artwork in Madrid - Prado/Las Meninas and Reina Sofia/Guernica. 2. Dinner at a carmen at sunset in Granada (with view of the Alhambra). 3. (for us) Standing on the top of the Rock of Gibraltar (an easy day trip on a third day staying in Sevilla.)"
Mollie
Everett, WA
Tour: 09/17/15
Overall rating:
We really enjoyed the My Way tour. I liked not having to plan the most tedious part of our trip - the hotels and transportation. I felt we saw a nice balance of cities and towns.
Favorite "WOW" moment
"There were several...the Sagrada Familia, our private tour of the Alhambra, eating tapas and watching Real Madrid play with several men at the back of a restaurant in Grenada, Flamenco in Sevilla, all the food and wine...I could go on!"
Tom
Richland Center, WI
Tour: 09/17/15
Overall rating:
Very enjoyable. The choice of cities and towns and time spent there was just right. The hotels were a good mix and very well located. The My Way tour with the guide book is the way to go.
Favorite "WOW" moment
"The Alhambra and the Prado were were great."
Brenda
Hernando, FL
Tour: 09/17/15
Overall rating:
This My Way Spain in 11 days met all the criteria stated and was very well planned. The hotels, as with other hotels listed in Rick's Guidebooks where I have stayed, were centrally located. Pal was an excellent escort. It was a great experience. It would have been better to have received the Tourpack and guidebooks, etc., earlier to have provided more time to prepare. All the materials provided were very helpful. Arrived a day early & stayed on 3 additional-nights-I recommend.
Favorite "WOW" moment
"I enjoyed the Flamingo dancing Pal had set up for us one evening. It was authentic and close up. It provided a close-up view of the talent and excellent condition of the dancers. Also enjoyed the dinner at close of tour."
Richard
Montgomery Village, MD
Tour: 09/10/15
Overall rating:
Our trip to Mallorca and Barcelona in 2001 was my first to Europe since living there 56-60 and it was my wife's first. We always wanted to come back but had to do Italy and Greece and a few non-European places first. They say that Spain is the country that people save for later, but they shouldn't. We thoroughly enjoyed our time there. We have evolved from museums and monuments to people. We make an effort to slow down and see the people and talk with them. It s easier because we speak Spanish.
Favorite "WOW" moment
"I hate to say it, but it was the mushroom tapa from Meson de Champinon in Madrid. I never in my life imagined that a mushroom could be THAT good! The other great moment was reuniting with friends from 2001 at Can Lluis in Barcelona. Do you sense a food thing? Oh yeah, re-visiting Sagrada Familia almost 15 years later and seeing the great progress made and really starting to visualize what it will ultimately become. I hope to see it again in another 15 years."
Jeanne
Baton Rouge, LA
Tour: 09/10/15
Overall rating:
We had a great time and the "My Way" format was perfect for us. We were able to see the things of primary interests to us and spend as much time as we wanted. It was great having William available to answer questions and offer advice. The hotels were all conveniently located for seeing the major sights.
Favorite "WOW" moment
"The most "Wow" moment for me was having a wonderful meal in Granada watching the sunset on the Alhambra and then finishing the meal with the unobstructed view of the night-lighted Alhambra."
Paul
Bettendorf, IA
Tour: 09/10/15
Overall rating:
To be honest -wasn't sure how much 'guide support' was provided with a My Way tour. Was pleasantly suprised. William was great - providing Orientation Walks when arriving in City , arranged optional Paella cooking class , answering questions , helping tour member with medical problem. ( He was NOT able to turn off the rain 1st afternoon - oh well ) I don't consider any of the places we visited a waste of time - but if I got to decide, would trade another day in Madrid for the stop in Ronda.
Favorite "WOW" moment
"We visited many wonderful sites - but looking back, I would say the Paella Cooking class in Seville was favorite activity."
Isabelle
North Vancouver, BC
Tour: 09/10/15
Overall rating:
I really enjoyed the 'my way' tour. Having the opportunity to pick & choose what I wanted to see suited me.
Favorite "WOW" moment
"There were many WOW moments such as Sagrada Familiga and the Alhambra but the cooking class in Seville was extra special."
Candace
Sacramento, CA
Tour: 09/10/15
Overall rating:
I didn't expect to love this My Way tour of Spain in 11 days, but I did. And I would have loved to have spent more time in each place. But what mattered the most was that I got a taste of what each city had to offer while we were there. Each hotel was comfortably near the heart of the main attractions. Our tour guide, William was warms and sincere and had a fabulous sense of humor. He offered us so much more than what was on our itinerary. Because of him, I'd to return to Spain.
Favorite "WOW" moment
"I'd have to say that for me, the Alhambra was an unexpectedly enchanting place. It was truly my trip highlight. The Moorish artists and architects succeeded in making the palace feel like the closest thing to paradise."
Sandrajean
Langley, WA
Tour: 09/10/15
Overall rating:
I liked the overall design of the My Way Tour since we ate on our own, and did things at our own pace. William was wonderful to have as a "guide" and he helped us all the time with suggestions, and tour guides and tickets and cooking lessons! He is a delightful person and added so much to the whole experience. Always in great humor, and shuttled us from here to there without a hitch. Always had time for everyone.
Favorite "WOW" moment
"Gaudi's Church in Barcelona. We opted for the tour guide, and it was fascinating to hear about how involved the whole architecture and decorative design is in his religious statement of FAMILY. All the artists that have participated and interpreted his ideas add to the complexity and beauty of the building. The stain glass was magical with the Eastern side and the Western side reflecting colors of the sunrise and sunset respectively. Brilliant!"
Dana
Alexandria, VA
Tour: 09/10/15
Overall rating:
Love the My Way concept. Did it more for financial reasons initially, but would do another one in a heartbeat. Loved the idea that I never felt I was missing something cause I wanted to sleep in or have a sangria lunch.
Favorite "WOW" moment
"Our guide set us up with a local cooking school. As an avid cook, I still learned things and feel like I took home more than a souvenir to put on a shelf. Sitting at an outdoor patio watching the sun set at the foot of the Alhambra with local musicians serenading us. Made for an amazing night and anniversary dinner."
Charles
Riverton, WY
Tour: 09/10/15
Overall rating:
Well organized,adequate to excellent lodging,all with excellent locations. William was simply outstanding; pay him whatever you must to keep him happy!
Favorite "WOW" moment
"Having dinner at St. Nicolas plaza and viewing Alhambra at dusk. ,Also, watching the Flamenco performance in Seville."
Sue
Langley, WA
Tour: 09/10/15
Overall rating:
This was our second tour with Rick Steves, but our first "My Way" tour [INVALID] and now that's the way we will always go. For those not familiar with this new tour concept, what is provided is transportation and accommodations. But the rest of the time, you're on the own [INVALID] perfect for the indy traveler. A great new product from Rick Steves. Bravo!
Favorite "WOW" moment
"It was having dinner alfresco in Granada, looking across to the Alhambra. The sun was setting and the Alhambra changed colors throughout the evening. It was magical -- matched by the wonderful food, wine and service. a Most memorable meal/experience of the trip!"
Kathy
Bettendorf, IA
Tour: 09/10/15
Overall rating:
We have never been on a guided tour and have been using Rick Steve's books for over 20 years. We felt that the "My Way" tour would make things a little less stressful on a fast paced trip through Spain where we did not know anyone. The trip truly exceeded our expectations. William our tour manager was fantastic. This kind of group made it feel like you had friends in every town, not like you were a member of a herd. I would highly recommend this travel experience.
Favorite "WOW" moment
"I loved being the first one in the Alhambra and feeling like we had the palace almost to ourselves for a little while."
Bob
Langley, WA
Tour: 09/10/15
Overall rating:
This was our first My Tour. Very good concept. This fits our travel style perfectly.
Favorite "WOW" moment
"The Sagrada Familia. Had not seen it since 2002. Fantastic progress. We'll be going back in 10 years to see the finished product...fingers crossed."
Myriam
Montgomery Village, MD
Tour: 09/10/15
Overall rating:
Pleasant, friendly, relaxed, unique, informative and fun
Favorite "WOW" moment
"Keeping our independent time and making new friends"
Thomas
Sacramento, CA
Tour: 09/10/15
Overall rating:
The tour was eye opening for me. I did not appreciate or understand the complexity of Spanish culture before this experience. How the tour increased my understanding will take some time to sink in. The itinerary certainly contributed to the experience with its variety of locations. I find that daily interaction with the society is the most valuable part of the tour experience. That is the beauty of a do it yourself tour! One can avoid the blockbuster sights with their enormous crowds.
Favorite "WOW" moment
"Spending time in the Macarena district of Seville! Seeing some of Raphaell's paintings despite the crowds of the. Prado!"
Allyson
Phoenix, AZ
Tour: 06/25/15
Overall rating:
We loved the my-way format. It made it easy to venture out and explore on our own, but to do so as well-informed travelers.
Favorite "WOW" moment
"Ronda's gorge. Simply gorgeous."
Peter
Monkton, VT
Tour: 06/25/15
Overall rating:
Generally, it was a wonderful, memorable experience. The itinerary was varied and interesting, the transportation was excellent, and the tour group bonded really well. The heat wave necessitated siesta time, and while this was fine, I felt the down time somewhat limited my daytime touring abilities.
Favorite "WOW" moment
"The "tesoro" (treasure room)at the Santa Iglesia Catedral in Toledo holds an astonishing display of large elaborate, bejeweled religious objects. At least one of these was ordered by Queen Isabella to be crafted from the first gold extracted (presumably by slaves) from the "new" world. This vividly put important Western world history into perspective for me. Otherwise: Barecelon: Sagrada Familia, Granada:street flamenco and excellent tapas y vinos everywhere, were among the big hits for me."
Daniel
Greenville, SC
Tour: 06/25/15
Overall rating:
A wonderful experience! I would definitely go again.
Favorite "WOW" moment
"The light from the stained glass in Sagrada Familia in the early morning. Sunset and sangria at the Plaza San Nicholas in Granada overlooking the Alhambra. Spontaneous flamenco in a dive bar in Sevilla. Pimientos de Padron! It's so difficult to choose."
Mary
Ardmore, PA
Tour: 06/18/15
Overall rating:
While I was unsure about how the My Way concept would work out, I couldn't be more pleased with the results. All the details were managed flawlessly by our tour manager, William. The hotels were clean and comfortable with breakfast offerings that started each day off right. Traveling was comfortable and easy.
Favorite "WOW" moment
"While it is hard to choose a single moment I would have to say the cooking class in Seville. I learned a great deal amid the laughter and conversation. Not having been to Spain before, there were many eye-opening moments. I look forward to see more of Spain, thanks to Rick Steves."
Susan
Van Nuys, CA
Tour: 06/18/15
Overall rating:
It met my expectations: a nice blend of the convenience of having hotel and travel arranged with the freedom to move about at my own pace during the days. I knew going in that I wouldn't be thrilled about having two one-night stays and I wasn't. I found those days very tiring and allowing insufficient time to explore both Toledo and Ronda. Added to that, arriving at midday and having only the hot afternoon hours to explore made for a less than optimal experience in those two places.
Favorite "WOW" moment
"Visually, arriving in Toledo, seeing it from afar. Magical! A close second was walking up the Albazin in Granada and viewing the Alhambra from across the valley in the setting sun. Pretty much all of Barcelona, Granada, and Toledo"
Michael
Vancouver, WA
Tour: 06/18/15
Overall rating:
Sorry to be so long in answering this request Michael was the ultimate tour guide: good advice for sights, fluent in the language and an obvious love for what he is doing The sights and smells and flavor of Spain were phenomenal Great group of fellow travelers as well
Favorite "WOW" moment
"Could have been the Flamenco in Sevilla"
Kevin
Folsom, CA
Tour: 06/18/15
Overall rating:
My wife and I decided to take the Spain My Way tour instead of a fully guided tour because we wanted to experience the culture first hand but not worry about logistics. The tour provided exactly what we wanted - the freedom to arrange our days as we wanted without worrying about hotels or transportation. Our guide, William, was essential to our experience as he took care of all the details and provided enthusiastic and cheerful overviews of each of the cities with suggestions and helpful advic
Favorite "WOW" moment
"Visiting the Al Hambra in Grenada during the day was a marvelous experience."
Mae
Vancouver, WA
Tour: 06/18/15
Overall rating:
We had a wonderful small group of 19 people, plus an outstanding guide, William Rosendin, who provided us with plenty of helpful advice and lots of enthusiasm. Everything ran smoothly, buses and trains were on time, and no one got pick pocketed! Money belts worked great.
Favorite "WOW" moment
"We celebrated our 40th anniversary on this trip, and we were in Madrid on that day, seeing the Prado museum, and our favorite: the Thyssen Museum! It has an outstanding collection, wasn't crowded, and had a great gift shop too. We also loved the Ahlambra."
Jearl
Cleveland Heights, OH
Tour: 06/18/15
Overall rating:
Great!
Favorite "WOW" moment
"My favorite "wow" moment was probably the Miro Museum in Barcelona. It was fascinating to see a large body of work covering the artist's lifetime. I found it more interesting than the Picasso Museum."
Mary
Cleveland Heights, OH
Tour: 06/18/15
Overall rating:
The "My Way Spain Tour" was the perfect way to travel. The tour handled the transportation and the hotels. The tour escort was available for advice & in case of emergencies – which is reassuring in a country where we didn't speak the language. I have always planned our trips. I previously avoided tours because we didn't want to be scheduled nor have the sights or restaurants dictated to us. But with the freedom of a My Way tour, we will gladly take another tour.
Favorite "WOW" moment
"My favorite wow moment occurred while standing in Gaudi's Cathedral. The morning light was streaming through the stained glass windows filling the immense space with light and color, and I looked upward to see the columns that branched out like trees to support the ceiling. Stunning!"
Mary Ellen
East Hampton, CT
Tour: 05/21/15
Overall rating:
Loved Spain - for the beauty and variety and incredible Moorish art. Wasn't sure I would like the larger cities but each one had something unique that made it worth a visit. The my-way protocol worked perfectly for us. Having Amanda as our tour "manager" provided a comfort level that made it easy to travel around.
Favorite "WOW" moment
"So many incredible things to see but perhaps the Alhambra guided tour that we took."
Herbert
Aptos, CA
Tour: 05/21/15
Overall rating:
Every stop was unique. Enjoyed it all. However, we added Bilbao on or own & that was an amazing surprise. You should exclude that stop next year.
Favorite "WOW" moment
"Our directions to the Sangria cathedral were not that clear so when we got off at the last stop we were told it was another 10 minute walk. When we started to walk, we asked a local for directions; she laughed & said turn around. The huge building was just across the street!"
Robert
Lynnwood, WA
Tour: 05/21/15
Overall rating:
This tour was a perfect blend of support from the wonderful Amanda and independence. We walked our feet off, met locals, sipped wine not usually poured for "normal" tourists and ate food that makes us ache for Spain! The tragedy is there are no tapas for me mid-day and I have to get up too early to eat as late as we did on vacation. Seamless organization for transport and lodging!
Favorite "WOW" moment
"Our independently arranged trip to Cordoba where we saw the Alcazar - a stunning expression of ancient architecture. Every place we went, we had a ball. Ronda, the gorge and the owl that flew over our table as we supped by starlight. The Alhambra by night. The stunning sense of adventure at every turn."
Michelle
Lynnwood, WA
Tour: 05/21/15
Overall rating:
Our Spain tour was so much fun! We had a great group of people who all seemed to get along well. We would often see each other in our individual walkabouts and often joined each other for lunch or dinner. My husband thought he would get tired of churches but changed his opinion after viewing the wonderful historic and beautiful buildings. I found that most Spaniards were friendly and welcoming. The Spain book was very reflective of what we experienced.
Favorite "WOW" moment
"My favorite "wow" moment was my first view of the Sagrada Familia. Nothing can prepare a person for such a spectacular site; it's almost like something out of a child's fairytale book."
Kim
Seattle, WA
Tour: 05/21/15
Overall rating:
We are independent. We like to go where we want when we want and have our own taste, I am not likely to enjoy a prolonged group event, but that freedom brings with it some inherent restrictions. Things such as accommodations and transportation will always be restrictive. Rick Steves' My Way Tour was a very, very good solution, with a really nice benefit: an attached guide to provide guidance, assist with local connections and offer suggestions to maximize each location. We loved Amanda!
Favorite "WOW" moment
"Arriving in Ronda and our stay there. The hotel was a magical place as was the town. That is saying a lot because Sevilla and the Alcazar (#2) and La Alhambra (#3) were next on the list. Barcelona was given extra time and was amazing also. I would return to any of those places happily! Spain was wonderful!"
Rhiannon
Santa Rosa, CA
Tour: 05/21/15
Overall rating:
Amanda was a fantastic tour guide and everyone really clicked on our tour. It was such an incredible experience that I would recommend to everyone! I loved being able to pursue my own interests during the days and meet up with other tour members at night to discuss our adventures of the day. It was a wonderful group of people and I'm absolutely thrilled with the whole experience.
Favorite "WOW" moment
"I have to say, as much as I loved the cities, Toledo was a purely magical experience. As was Granada. Do NOT miss the Alhambra, The Real Alcazar in Sevilla, and the ancient grandeur of Toledo."
Joanie
Santa Rosa, CA
Tour: 05/21/15
Overall rating:
Amazing, my daughter and I took this trip to Spain to celebrate her earning her master's degree and we were reluctant to sign up for a tour, but the My Way caught our attention. So we made all of our own sightseeing plans in advance, but what a joy to meet up with a wonderful bunch of tour companions, an awesome guide - Amanda - and to have all of our traveling and accommodations planned for us. The hotels were delightful and the locations perfect for experiencing each new city and for walking.
Favorite "WOW" moment
"A - Z - I don't think there was only one favorite. Toledo was like opening a fairytale and we were the characters. The Alhambra was a wow, as were the amazing cathedrals. Walking by day and crossing paths with fellow My Way tourists, and ending up dining and tapas hopping together also a joy. Our final dinner together - well, that was a highlight for sure."
Christine
Kitchener, ON
Tour: 05/21/15
Overall rating:
We had a wonderful time on the tour- it exceeded our expectations. The hotels were centrally located and most destinations could be reached on foot. It was well organized and all the vexing problems with travel were avoided as they were taken care of for us.
Favorite "WOW" moment
"My wow moment was standing before Velazquez's Las meninas at the Prado in Madrid- a transcendent moment."
Theresa
Gatineau, QC
Tour: 05/21/15
Overall rating:
I enjoyed my way tour, it was an excellent way to take the stress off of having to plan ur hotels and transportation and just concentrate on the sites to be valued in each city travelled.
Favorite "WOW" moment
"I had a few wow factors on this trip, each city provided me with a wow!!!!!!!!"
Eva
Kitchener, ON
Tour: 05/21/15
Overall rating:
It was my first Rick Steves Tour and I enjoyed it a tremendously. It met my expectations and beyond. The Tour was perfectly set up with the Hotels being central and typically European as I prefer them to be. The rooms were clean and comfortable and staff very accommodating and friendly. If I had any small suggestion is that a few hotels could certainly improve on the breakfast. One in particular was very poor. Amanda our tour guide was excellent. She was knowledgeable, helpful and sweet.
Favorite "WOW" moment
"I actually had quite a few "WOW" moments. It seemed I was saying WOW quite a lot! The Sagrada Familia was one of them and I will never forget it."
John
Camarillo, CA
Tour: 05/21/15
Overall rating:
An excellent introduction to Spain. I really like the My Way format where we could do our own exploring. I also really appreciated our guide's (or escort's)advice and suggestions.
Howard
East Hampton, CT
Tour: 05/21/15
Overall rating:
The My Way experience provided the right balance of structure and free time. Some consideration should be given to expanding these kinds of trips
Favorite "WOW" moment
"Alhambra by far"
Weather

Spain / Barcelona
---
Spain / Madrid
---
Spain / Sevilla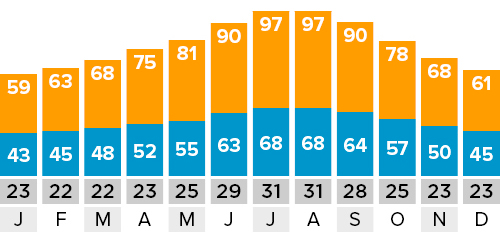 Planning Tips
We've put together some specific information on what you should know about this tour before you go. You'll also find more general information about "Getting Ready for Your Tour" on our Tour FAQ.
Trip Resources
Learn more about Spain: Check out a collection of Rick's TV shows, radio interviews, and articles, plus recommended books and movies.
Transportation
Prior to your tour departure, you will receive detailed directions on how to get from the airport to your first tour hotel, as well as contact information for your first and last hotels in case you wish to book pre- or post-tour hotel accommodations.
Many tour members arrive a day or two before the tour begins — and those who don't, wish they had. This allows you ample time to get over jet lag and make the most of the first few days of the tour.
There is more than one way to get to and from your tour. Most tour members will arrange to fly into Barcelona and out of Sevilla ("multi-city" on flight-booking websites). Booking round-trip to one city will require a connecting flight, train trip, or additional overnight stay in Spain.
For information about flying within Europe, ask your travel agent or check Rick's list of European budget airlines.
Read Rick's train travel and rail pass tips to decide if your travel plans merit a rail pass.
If you have additional European travel or tour questions, contact the Tour Department at 425-608-4217 or email tour@ricksteves.com.
Sightseeing on Your Own
If you arrive in Barcelona before your tour begins, use the Rick Steves Spain guidebook to get oriented. Ride the public transportation, try out a few words of Spanish and get over your jet lag with lots of fresh air and exercise. Check the guidebook for museum hours (some are closed one day per week; some stay open late one day per week).
Remember, you will be in charge of your own sightseeing for ALL destinations on this trip. We strongly suggest you begin planning well before you fly to Spain! To guarantee entrance, make reservations for the Alhambra in Granada in advance from home. We also recommend reserving the Sagrada Família Church and Prado Museum a few days in advance. See the Rick Steves Spain guidebook for details on how to reserve.
If you are interested in attending zarzuela, the Spanish light opera in Madrid, you may want to check the schedule and buy tickets before leaving home. Find more information in the Rick Steves Spain guidebook; schedules and booking information are at http://teatrodelazarzuela.mcu.es.
Packing
We recommend that you bring a smart phone, tablet or other device to assist in planning your activities, and to access Rick's Audio Europe app.
For more advice on what (and what not!) to pack, see Rick's packing tips.