La Pedrera in Barcelona

Plaza Mayor in Madrid

Toledo

Granada

Bullring in Ronda

Flamenco Dancer in Sevilla
Tour Questions? See our FAQ | Call 425-608-4217
My Way® Spain in 11 Days
Your vacation to Spain begins in beautiful Barcelona and ends in sensual Sevilla — with the cultural delights of Madrid, Ronda, and Granada laced together in between. Rick Steves' money-saving My Way vacation package gives you the freedom to decide your own daily sightseeing priorities and pace. We cut the stress by providing comfortable rooms in centrally located hotels, private bus transportation from city to city, and a travel-savvy tour manager to advise you along the way. Join us for My Way® Spain in 11 Days!
Dates & Prices
What's Included
This is an "un-guided" tour — giving you the freedom (and responsibility) to manage your daily sightseeing schedule and meals
A small, friendly group of 24–28 people will share our big, comfy bus during the trip, but not do organized sightseeing together
A Rick Steves tour manager will coordinate the group's transportation and hotels and provide advice for sightseeing, meals, etc.
All group transportation from Barcelona to Sevilla
10 nights' accommodations in memorable, centrally located hotels
All breakfasts are included
All tips for tour manager and driver
Free Audio Europe™ app for Apple and Android (or get free podcast/mp3 files) featuring Rick's audio walking tours of neighborhoods in Barcelona and Madrid. Also includes radio interviews with experts on destinations covered in this itinerary
A tour kit including a guidebook (when available) and a moneybelt
Guaranteed tour price, locked in the moment you make your deposit
Tour alum discount of $50 for each tour you've taken prior to 2022
50% discount on a consulting appointment with our in-house experts to assist with your pre- or post-tour travel plans
Flexibility should you need to transfer or cancel your tour
Costs not covered: As this is not a guided tour, you will be responsible for the cost of all your lunches, dinners, drinks, admissions, sightseeing, and non-group transportation. Be sure to plan and budget accordingly.
Itinerary
Day 1: Welcome to Spain
Welcome to Barcelona, one of Europe's most dynamic and diverse cities. Depending on when you arrive, today is a great day to wander through the maze-like Gothic Quarter, medieval cathedral, and refurbished harbor area. We'll rendezvous at our Barcelona hotel at 5 p.m. for a group get-together. Your tour manager will give an overview of the days ahead, answer your questions, and offer a quick orientation to our neighborhood and Barcelona's public transportation system. Then you're free for dinner on your own, and maybe an evening stroll up and down the Ramblas.
No bus. Sleep in Barcelona.
Day 2: Lively, Artistic Barcelona
You have the entire day and evening free to explore this remarkable city. Armed with a guidebook and Rick's Barcelona City Walk audio tour*, you could hop the subway to see Gaudí's towering, dizzying Sagrada Família (r) and his colorful, playful Park Güell (r). Closer to the center, you can check out the Modernisme-themed Block of Discord and a museum dedicated to another artistic visionary: Pablo Picasso (r).
No bus. Sleep in Barcelona.
Day 3: Speedy Train to Madrid
All aboard! After breakfast we'll take one of Europe's speediest trains (the AVE) to Madrid. By mid-afternoon, you'll be settled in your Madrid hotel and free for the rest of the afternoon and evening, maybe to explore the lively streets around the Puerta del Sol and Plaza Mayor or the majestic Retiro Gardens.
Train: 3 hours. Bus: 1½ hours. Sleep in Madrid.
Day 4: Masterpieces of Madrid
Today is entirely free to cover the best of Madrid with Rick's Madrid City Walk audio tour*. For many, that means the masterpiece-packed Prado (r) — featuring paintings by Velázquez, Goya, El Greco, and others. The Royal Palace (r) is another great place to wander and soak up the opulence of Spain's capital city. Tonight, use your guidebook to put together a tapas crawl and use your phrase book to connect with the locals (and to figure out what you're eating)!
No bus. Sleep in Madrid.
Day 5: Day Trip from Madrid
Your day is free. It's cheap and easy to hop on a Spanish bus for a day trip to the old capital city of Toledo for its magnificent cathedral, the Synagogue Santa Maria la Blanca, and Santo Tomé Chapel — or to Segovia for its thrilling Roman aqueduct, Gothic cathedral, and imposing Alcázar (r).
No bus. Sleep in Madrid.
Day 6: La Mancha and Granada
Today we'll drive through windswept "Don Quixote country" on the way to our destination of Granada, arriving at about 4 p.m. Once you've checked into the hotel, you might head up the Albayzín hill, find an interesting place for dinner, and enjoy a sunset view of the Alhambra.
Bus: 5 hours. Sleep in Granada.
Day 7: Moorish Treasures of Granada
Your entire day is on your own, and there's no better way to start than with a visit to the sprawling palace and garden complex of the Alhambra (r) — the last and greatest of Europe's Moorish palaces. Afterward, you might explore the colorful streets and alleyways of Granada's Old Town and ponder the course of history at the ornate tombs of world-changing Ferdinand and Isabel, who reigned over a new age of religious zeal at home and exploration of the "new" Americas.
No bus. Sleep in Granada.
Day 8: Ronda
This morning we'll drive to the hill town of Ronda, home to Spain's oldest bullring and its most breathtaking gorge. The afternoon and evening are yours to explore Ronda's Moorish and Mercadillo Quarters, linked together by the famous gravity-defying stone bridge (towering over the rubble of an earlier one that wasn't).
Bus: 3 hours. Sleep in Ronda.
Day 9: Sevilla's Barrio Santa Cruz
Today we'll wind our way between olive groves and pueblos blancos on our way to the flamboyant and atmospheric city of Sevilla. Our hotel's central location makes it easy to spend this afternoon and evening marveling at the world's largest Gothic cathedral — and window-shopping along the narrow, whitewashed lanes of Sevilla's Barrio Santa Cruz. Tonight, you might enjoy a performance of sultry, swirling flamenco.
Bus: 2½ hours. Sleep in Sevilla.
Day 10: Sevilla's Royal Alcázar
Your entire day is free to do as you please. You could start with a visit to the beautifully Moorish-style Alcázar palace (r), the Sevilla home of the Spanish Royal Family for the past 500 years. Afterward, you can walk in the footsteps of Carmen and Don Juan, linger in Sevilla's charming squares, or stroll along the romantic Guadalquivir River. This evening, consider capping off your My Way Spain adventure with a carriage ride through the streets of Sevilla. Salud!
No bus. Sleep in Sevilla.
Day 11: Tour Over After Breakfast
Sevilla's airport is a bus or taxi ride away with easy connections throughout Europe. Alternatively, you can hop on the AVE train to Madrid to continue your Iberian adventures on your own. Hasta luego!
Itinerary specifics subject to change.
Sightseeing notes
(r) = reserve a time before you leave the US
* = included in Rick's Audio Europe™ app
Physical Demands
Our tours are physically active! It's an essential part of the Rick Steves tour experience. On our My Way® Spain in 11 Days tour — among other things — you'll need to happily…
Carry/roll your luggage over uneven pavement (possibly several blocks) and up stairways to reach your hotel, then up several flights of stairs to reach your room.
Sleep with street noise and no (or weak) air conditioning.
Be able to navigate towns and cities on your own.
Be responsible for your own daily sightseeing, admissions, meals (except breakfasts), and non-group transportation.
Travel on a bus without a toilet (rest stops every two hours).
Eat dinners as late as 9 p.m.
Reviews
Howard
Monson, MA
Tour: 10/17/19
Overall rating:
We were very pleased with the experience. This was our first time in Spain and letting someone else make the where to stay and how to get around decisions made things very easy. While those details were taken care of we could make plans or not as to what to do with our time there. We did not want to be locked into a tour where you follow, ducking like, a pennant on a pole in a group of twenty plus. Might as well just rent a (insert country of choice) video. We would do a My Way tour to a
Favorite "WOW" moment
"Two moments: 1. Figuring how to make it back to our hotel with demonstrators burning trash in the streets of Barcelona while they were being fired on by police. 2. A night walking tour through Grenada up to the Plaza San Nicholas and the even higher and less trodden Sacromonte. Great views even in the rain."
Joan
Monson, MA
Tour: 10/17/19
Overall rating:
Taking the guess work out of the process was priceless. To walk out of our first hotel, catch a bus that was waiting for us, bringing us to the train station, having our tour manager walk us to the train, no stress, no language barrier, like I said, priceless. The remainder of the tour warranted this sentiment. Our tour manager Pal was knowledgeable, and very accommodating. His short but thorough walking tour overview of each city was greatly appreciated and utilized.
Favorite "WOW" moment
"This is a difficult question as so many activities were awesome, but I think our night tour in Grenada, though it was a chilly, rainy evening, was so much fun. We saw areas of Grenada that we wouldn't have known to explore. For an extra euro we had the opportunity to tour a cave inhabited by a Gypsy family.Also,in Madrid,my husband and I went on a Flamenco tour. It was just ourselves and the tour guide. Phenomenal experience."
Dale
Edmonton, AB
Tour: 10/17/19
Overall rating:
Great tour! The 'My Way' option suited our style very well. Even though we could set our own pace, we found that we were stuck in 'non-stop exploration' mode. The ground transportation was excellent and the choice of the hotels could be rated from good to great.
Favorite "WOW" moment
"There were several moments that could qualify as "wow" but the Alhambra Palace and gardens has to take the prize."
Margit
Edmonton, AB
Tour: 10/17/19
Overall rating:
I've been on 2 other Rick Steves tours and this one was every bit as good as I expected it to be.
Favorite "WOW" moment
"Seville was a fabulous city, I wish I could have spent more time there."
Robert
Columbus, OH
Tour: 10/17/19
Overall rating:
My Way Spain is perfect for headstrong explorers (me). RS is always professional with their hotel and transit connections, and their excellent, knowledgeable guides. But what is truly outstanding about this version, is that it gives you freedom to explore, while ensuring you have the basics for an amazing experience. I was able to immerse myself, not just in the museums and cathedrals (which are all worth seeing), but in the markets, parks, nature, and people!
Favorite "WOW" moment
"If I have to pick one 'wow" moment, it would be hiking into the gorge in Granada, to experience this ancient beautiful city from below! The sunset was stunning. But I also got to walk shoulder-to-shoulder with Catalonian independence demonstrators (peaceful families), channeling my inner Hemingway, and get a different world view, during a day trip to Morocco!"
Ronald
Lancaster, NY
Tour: 10/17/19
Overall rating:
This is my second RS tour and my first My Way adventure. The standards for tour guide are exceptional and out guide, Pal was absolutely wonderful! The itinerary was well planned and included all the places in Spain that an initial tour should visit.
Favorite "WOW" moment
"RONDA! Civil unrest in Barcelona FOOD! My fellow travellers"
Mary Ellen
Beaverton, OR
Tour: 10/17/19
Overall rating:
My husband and I are not typically "group tour" people, but this completely changed our minds. Having hotels and transportation taken care through Rick Steves of gave us so much more time to plan the things we wanted to do in Spain. We loved the daily independence, but it was so much fun to compare notes and share recommendations with our travel group friends over breakfast or an evening glass of wine.
Favorite "WOW" moment
"Probably watching the sunrise over Ronda, standing above the 13th Century Puerta de Almocabar, one of the main Moorish entrances to the city."
Bradford Joseph
Beaverton, OR
Tour: 10/17/19
Overall rating:
My wife and I had a fabulous time on this My Way tour of España! We loved all of the cities we visited and the hotels and various transportation modes were great. Pål was a superb tour manager. He was knowledgeable,approachable, thoughtful and humorous at all times. We will be recommending this trip to friends and strangers! And we hope to take another My Way tour in the near future.
Favorite "WOW" moment
"For me it was rounding a street corner and seeing the Sagrada Familia for the 1st time. It almost took my breath away!"
Mireya
Miami, FL
Tour: 10/17/19
Overall rating:
What a great experience in beautiful Spain! From the wonderful architecture to the beautiful iconic sites, delicious food and it's passionate people, Spain surpassed everyone of my expectations!
Favorite "WOW" moment
"Without a doubt, La Sagrada Familia in beautiful Barcelona gets my #1 wow spot!"
Sara
Felton, DE
Tour: 10/10/19
Overall rating:
I loved seeing the five cities in Spain. The hotel choices overall were fantastic. I especially loved the hotel in Ronda. I was pleasantly surprised at the touches that Andrew provided (guitar concert, last night dinner, samples of food). Since it was a My Way I expected nothing except transportation especially compared to regular tours. He talked about what we were going to see on the bus. It was a pleasant surprise.
Favorite "WOW" moment
"Sagrada Familia. We were so impressed we are planning on returning in 2026 to celebrate its completion. I loved the columns and the colors reflected off of them. The intricate detail on all the facades was amazing. A must see"
Edward
Chattanooga, TN
Tour: 10/10/19
Overall rating:
We appreciated the "My Way" option. Our tour guide, Andrew, was very pleasant, and was eager to help when needed. The brief tours were helpful and instructive, and he did a fine job. We were very pleased with the lodging that had been arranged--the locations were great.
Favorite "WOW" moment
"There were several, almost one a day! From the Sagrada Familia, to the Prado, to the tapas tour, to the cathedral and the special dinner with the view of Alhambra in Granada, to the lovely San Gabriel Hotel with the Spanish Guitar concert, and the flamenco in Saville, as well as the final group dinner with several courses."
Mary
Lookout Mountain, GA
Tour: 10/10/19
Overall rating:
My husband and I have taken student groups to central Europe frequently and had to arrange all transportation, lodging, and touring details. This tour in Spain was a welcome respite from that! We found the pace of the My Way tour to be just right for us.
Favorite "WOW" moment
"There was one each day! Favorite was being seated for dinner at Restaurante Las Tomasas Granada El Albaycin after months of unsuccessful attempts to visit Alhambra. We said, "This ain't a bad substitute!" The view was perfect. Dinner was delicious."
Megan
El Cerrito, CA
Tour: 10/10/19
Overall rating:
Loved our guide Andrew who was personable, respectful, patient and humorous. Loved the Spanish Guitar concert at our hotel in Rinda (LOVED our hotel there! and LOVED Ronda!) and the Tapas Tour with Ramon was GREAT - delicious, informative, and Ramon is a gem. Personally, I would have been happier skipping Madrid altogether, and honestly, our hotel in Madrid kind of sucked and smelled of mold and mildew and was a bit TOO central for my taste. But Great Tour.Thank you.
Favorite "WOW" moment
"I loved Andrew sharing his personal story with the group (towards end of tour), and Segrada Familia was truly spiritual (I am agnostic). and the moments in Ronda and Tapas Tour in Granada. Also: Everyone should go to the Miro museum."
Howard
Spokane, WA
Tour: 10/10/19
Overall rating:
Absolutely incredible. Really more than I expected in terms of accommodations and organization. We selected the My Way tour because the full Spain tour sounded rather strenuous and I am 76 and have COPD. Doing it this way allowed us to see everything we wanted to but at our pace, which seemed to be the norm for a good part of our amazing travel partners. All of the great information from the book and literature we received made it a snap to pre-book everything.
Favorite "WOW" moment
"Way too many to count; from the first amazing tapas and glass of vino tinto. The Sagrada and Picasso museum The wonderful smaller towns of Ronda and Toledo and Segovia. Octopus and Spanish vermouth. Way too much to describe in 500 characters."
Alfred
Yardley, PA
Tour: 10/10/19
Overall rating:
The Rick Steves Guide book helped greatly in planning our "on your own itinerary". Our host also helped fill in any local information needed in each city. He skillfully guided the group from the cities and hotels on the tour.
Favorite "WOW" moment
"The Sagrada Família in Barcelona was beautiful."
Robert
Kirkland, WA
Tour: 10/10/19
Overall rating:
This was our second RS tour and our first "My Way" version. We already had our own list of must-see attractions in Barcelona, Madrid, Seville, Granada (points in the tour) as well as a couple that weren't (e.g., a Dali day in Figueres and Portlligat) so we didn't think we needed a full guided tour. Things worked out fine. We were able to focus on planning and seeing the sights and enjoyed the fine RS logistics on travel and housing. I don't think would have found the same hotels on our own.
Favorite "WOW" moment
"The final night dinner all together was a nice event, and again, in a great place we probably wouldn't have been aware of."
Leanne
Bloomington, IN
Tour: 10/10/19
Overall rating:
It was such an eye opening experience. I did not go with any preconceived notions because I am an inexperienced traveler. Spain was so beautiful, our group was great and our tour guide was amazing.
Favorite "WOW" moment
"Visually my wow moment was Alhambra, and all of Granada. I thought that the Spaniards were lovely people."
Rebecca
Spokane, WA
Tour: 10/10/19
Overall rating:
This was the perfect tour plan for us. All of our travel between cities and hotels was taken care of. We didn't have to struggle to find the right metro stop to our hotel or figure out how to navigate the train stations to find our next stop. But then we had each day totally free to set up and do as much or as little as we liked. It was the help we needed to make it a smooth trip but not someone telling us what we would do each day.
Favorite "WOW" moment
"Two of them. 1. Sagrada Familia cathedral in Barcelona. Just an amazing building. Seeing it from the towers and watching the workmen was interesting. 2. Alhambra in Granada. What an amazing complex. Loved the gardens."
Diane
Yardley, PA
Tour: 10/10/19
Overall rating:
Great venues, hotels. Liked that Andrew emphasized the choice of bus company as based on safety and reliability record. Other tour groups don't mention this important point. Love the "no grumps" tour ethic and smaller size of tours. Loved the my way option, allowing independence but providing an orientation walk at each new city.
Favorite "WOW" moment
"Gaudi architecture: Sagrada Familia and early home he built for a patron In Barcelona. Also Segovia, Toledo - particularly the cathedral and Alcazar. Guitar concert Ronda. Countryside of southern Spain. Churros."
Mary
New Lenox, IL
Tour: 10/10/19
Overall rating:
The tour was fabulous! We loved the way our guide helped orient us to each new destination and were able to explore easily from the landmarks we were shown. Travel connections for day trips were very helpful -in our case a day trip from Madrid to Toledo. Our tapas guide in Granada was a highlight as was everything about Grandada. Our guide provided superior assistance to me in terms of accessing medical care in Grandada for bronchitis that was complicated by asthma.
Favorite "WOW" moment
"Rolling into Toledo was an absolute "wow" moment of unbelievable beauty as was the sight of the Alhmambra lit up at night!"
Ryan
Bloomington, IN
Tour: 10/10/19
Overall rating:
We weren't familiar with RS tours before seeing Rick speak in our town. The My Way tours sounded great because of the flexibility and independence they offered, but our tour exceeded our expectations. What an amazing experience. Our tour guide Andrew was a total professional, taking care of the logistics of our trip and providing us with information about every place we stopped, and left the rest for us to plan and enjoy. We fell in love with Spain thanks to My Way tours.
Favorite "WOW" moment
"Dinner at the carmen in Granada and the professional flamenco dancers in Seville. Also just the beauty and vibe of Andalusia. I loved the way hundreds of years of diverse cultures surrounded us."
Wayne
Victoria, BC
Tour: 10/10/19
Overall rating:
Andrew was an excellent tour manager who kept us focused and provided many useful insights into the cities and cultures that we visited. After nearly 3 weeks in Spain (we came early and stayed longer that the tour) I feel as though I have a small window into Spanish culture. I knew quite a bit about Barcelona and Madrid before hand but Ronda and Seville were interesting, partly because I had no preconceptions. Alhambra was great as well.
Favorite "WOW" moment
"There were lots of moments that could qualify as 'wow' moments, from time in the Prado or Sagrada Familia or Alhambra, but the memorable times for me are smaller and more personal connection with people. Specific tour related moments would include the fabulous guitar performance in our hotel in Ronda, or our Tapas tour with Gabi in Granada. The hotel in Ronda was fabulous."
Mark
Felton, DE
Tour: 10/10/19
Overall rating:
Well organized. First My Way tour we had taken and experience was excellent. The tour guide had arranged two (2) events, one of which conflicted with an event we had scheduled on our own 60 days prior. So, only negative from trip was that we wished we would have known that the tour guide had arranged the event (it was a flamenco guitar duo who came to the hotel as opposed to we had booked to go to flamenco guitar venue, so we didn't miss anything we had planned to do, per se).
Robert
Uncasville, CT
Tour: 10/03/19
Overall rating:
This was my third Rick Steves tour and my second My Way tour. I prefer the My Way tours since it allows me to better utilize my time to see and experience the tour at my pace and to do what I want when I want. The tour manager was very helpful in suggesting activities and transportation options for the day trip from Madrid. Our tour companions were excellent and fun to travel with and to share stories.
Favorite "WOW" moment
"Segovia. The Roman aqueduct and the Alcazar of Segovia were wonderful to experience, especially after the large crowds in Madrid the day before. Oh, and the suckling pig was delicious!"
Patricia
Merrimack, NH
Tour: 10/03/19
Overall rating:
Although my husband and I have been great fans of Rick Steves' travel books and PBS travel shows for many years, the "My Way Spain in 11 Days" was our first Rick Steves' tour experience. It exceeded all our expectations! Our escort, Richard, was great - very knowledgeable and helpful and friendly. We LOVED the cultural and dining experiences he arranged for us. We were very happy with our hotels and with the well-organized transportation between the locations we visited.
Favorite "WOW" moment
"So many to choose from! I think it's a tie between watching the moon rise over Alhambra in Granada as we enjoyed a fabulous gourmet dinner or watching the sun rise across the gorge and over the mountains in Ronda!"
Donna
Antioch, CA
Tour: 10/03/19
Overall rating:
My husband and I went on the Prague-Budapest tour last year and wanted more freedom to do things we were interested in. The Spain My Way tour fit the bill. I was happy that we met other people on the tour, but we were free to see what we wanted but also the comfort of knowing we didn't have to worry about transportation and dealing with hotels, etc. All in all, it was a good experience and we found that we much prefer the My Way tour then the guided ones.
Favorite "WOW" moment
"Walking around Madrid with all the beautiful buildings."
Susan
Bristol, NH
Tour: 10/03/19
Overall rating:
This wa a perfect hybrid tour experience--lots of guidance in advance for pre-booking tickets to places of interest, and the ability to do our own thing in each of the cities. Wonderful to have the hotels chosen and booked in advance, and to have the tour manager, Rich, onsite to provide daily advice or guidance when needed. Special to have Rich book dinner for those who wanted at Alhambra in Granada, and House of guitar and flamenco performances were fantastic opportunities!
Favorite "WOW" moment
"Moonlit dinner with views of the lighted Alhambra in Granada was spectacular for both the view and the food! Also loved being exposed to all things Gaudi in Barcelona & appreciated his linking of nature and spirituality to his architecture. Also, the incomparable restaurant Blavis, in Barcelona. Needs to be added to Rick Steves guidebook as an outstanding eating experience & owner Paco delivers personalized experience to each of the guests at his 7-table restaurant. High speed train!"
Heidi
Edmonds, WA
Tour: 10/03/19
Overall rating:
Our overall experience on the tour was very good. The travel all went smoothly and the hotel locations were all great, in areas good for walking and seeing sights nearby. The organization and communication were both well executed and helpful.
Favorite "WOW" moment
"I think all of us would say being at Ronda was a favorite. A few others: La Sagrada Familia The Alhambra The Archeological Museum in Madrid Some of the restaurants we went to: Tickets, Bar Mut, Street XO"
Denise
Birmingham, AL
Tour: 10/03/19
Overall rating:
The My Way Spain tour was a terrific experience overall with the logistical planning for where to stay and how to get from city to city already done; we planned the fun part - what to see and do! Our tour manager Rich gave us excellent information to be able to navigate Spain's transportation on our own as we took a day trip from Madrid to El Escorial via the regional train and then on to Valley of the Fallen via taxi where we negotiated an hour's wait and return taxi pickup.
Favorite "WOW" moment
"We had several "wow" moments including stepping into the Sagrada Familia in Barcelona and looking up into the forest of stone 'trees'. The view from San Nicolas viewpoint overlooking Granada and the Alhambra at sunset and from the terrace viewpoint over the Bridge in Ronda at dawn were both gorgeous. The flamenco dance program in Seville and the classical guitar performance in Ronda were unique experiences. And The Burial of the Count of Orgaz by El Greco in situ in the small chapel - amazing."
Luann
Chico, CA
Tour: 10/03/19
Overall rating:
The My Way option was perfect for us, especially in Spain where day to day living is very different from the U.S We stayed out later in the evenings and enjoyed the ambiance of each city, with no pressure to get out early the next day to start touring. Hotels were in the heart of the tourist areas so very easy to access sites by walking, a few metro stops, or inexpensive taxi. Added a few nights in Barcelona and Seville, to fully experience these cities.
Favorite "WOW" moment
"Touring the Palau de la Musica in Barcelona, and attending a guitar/flamenco concert. A "must see" for anyone who appreciates performing arts and architecture. Wonderful acoustics in a beautiful setting."
Barbara
Seattle, WA
Tour: 09/26/19
Overall rating:
It was overall a great experience. The fact that the accommodations and transportation was taken care of was exactly what we were looking for. Our guide provided us with background on where we were going and provided help where we needed it.
William
Port Orange, FL
Tour: 09/26/19
Overall rating:
Well done and enjoyable from start to finish. Andrew was a thoroughly prepared, readily available and extremely resourceful guide. Everyone in the tour group bonded well, no drama and great camaraderie. The real star was Spain, its people, vibrant cities and towns, beautiful buildings, art and culture. On top of that we had 10 days of perfect weather and the smaller crowds that go with traveling in the fall.
Favorite "WOW" moment
"Great cultural moments - in Granada as a local tried to point out the buildings of the Alhambra from our vantage point at San Nicolas and a Spanish Guitar concert Andrew arranged at our incredible hotel in Ronda. Visual wow moments too numerous to count, but with a tip of the hat to Sagrada Família, the Alhambra, Alcazar and Porto Nuevo."
Carol
Havre De Grace, MD
Tour: 09/26/19
Overall rating:
The tour was well run from start to finish and met our expectations. Not having to worry about lodging and transportation combined with the freedom of "doing our own thing" was a great combination for us. While we enjoyed the opportunity to visit several parts of Spain, the pace sometimes felt too fast. For example, another day in Granada and perhaps Ronda would have enabled us to experience those cities at a slower pace or given us some downtime a week and a half into our itinerary.
Favorite "WOW" moment
"Two "wow" moments standout: the Gaudi architecture in Barcelona and the Alhambra in Sevilla. Both were breathtaking in their own way."
Mary Pat
Seattle, WA
Tour: 09/26/19
Overall rating:
The hotels were good and the transportation was well organized and Andrew knew his stuff and was very helpful for the tour member who had her passport stolen. I agree with what one of our waiters said....I loved everything about Spain but the weather. It was a bit more moving around than I prefer. Which is why it wasn't outstanding for me. I hope you'll consider doing tours that visit fewer places and spend more time in each place.
Favorite "WOW" moment
"It was seeing Guernica again. I saw it in the early 70s at the Metropolitan Museum of Art in NYC. It was such a powerful piece of art it stuck with me; the best anti-war art I've ever seen. I never thought I'd see it again especially after the Met correctly returned it to Spain. When my friends and I decided to go to Spain it was top on my list of things I had to see. It literally brought tears to my eyes to see it again. I could have stood in front of it for hours. It is just as powerful"
Jon
Los Angeles, CA
Tour: 09/26/19
Overall rating:
The tour was great. I never thought I'd go on a tour, because I'm a pretty self-sufficient traveler, but when I read about the My Way tours, I thought they sounded promising, removing the burden of some of the logistics planning. It was definitely a good choice. I got to see and do everything I wanted to, at my own pace, and yet still enjoy the group experience. Spain is a wonderful country, and I've already been thinking about what I want to see when I return.
Favorite "WOW" moment
"Stepping out of a Metro station in Barcelona and turning to see the architect Gaudi's "Sagrada Familia (Sacred Family)" church, a project that has been in progress for decades (he died in 1928!) and is due to be completed in 2026. This was a wow moment because the structure is literally so enormous, and so complex and striking to look at, that the very sight of it just took my breath away. Just seeing it in the morning light, after emerging from the Metro, was a visceral experience."
Kristine
Lodi, CA
Tour: 09/26/19
Overall rating:
Although I've been on many Rick Steves tours, this was my first experience on a My Way tour so I wasn't sure what to expect. One thing that surprised me was that I got acquainted with my fellow travelers more than I thought I would, since we wouldn't be spending the days together. I loved the combination of having all of the travel details taken care of and just being able to focus on what I wanted to do in each city we visited.
Favorite "WOW" moment
"The Alhambra in Granada. Although I'd seen many pictures of it, nothing could prepare me for actually seeing it firsthand. I've traveled extensively and this is one of the most spectacular man-made sites I have ever seen."
James
Vancouver, WA
Tour: 09/26/19
Overall rating:
This was my first RS tour. Enjoyed the flexibility & self-directed opportunities My Way provides, but it was difficult to get to know other members because of the few times we were together as a group. When traveling & at breakfast, members tended to sit with people they were traveling with. Exceptions were the tapas crawl & farewell dinner. Wish more My Way tours were offered.
Favorite "WOW" moment
"Seeing the Roman Aquaduct in Segovia & it's Alcazar. Also hiking into the gorge in Ronda."
Kathryn
Vancouver, WA
Tour: 09/26/19
Overall rating:
I enjoyed our Our Way tour of Spanish cities very much. It was nice to have lodgings and transportation between destinations all taken care of. The orientation walks Andrew lead helped me to get oriented and were informative. I liked being able to focus my sightseeing on things that interested me and enjoyed my own pacing. Two optional, for an extra charge, experiences added to my trip. The tapas experience in particular have us more confidence to explore this dining style in our own.
Favorite "WOW" moment
"My jaw dropped and I almost fell to the floor when I walked into Familia Sagrada in Barcelona. It was 6:00 p.m. the reflected light on interior surfaces was astonishing, like walking into a rainbow. I also loved the Alhambra and could have stayed another day in Granada. Ronda was accessible and fun."
Kathleen
Folsom, CA
Tour: 09/26/19
Overall rating:
Loved the convenience of letting you take care of the transportation and lodging and the freedom to do what we wished at each destination.
Favorite "WOW" moment
"There were two: The Alhambra, on my bucket list for decades, surpassed all of my expectations - just magnificent and so fascinating. And Ronda - what a lovely surprise! I had no expectations at all, and it was such a charming, clean and welcoming small town; a perfect respite from the big cities."
April
Arlington, TX
Tour: 09/26/19
Overall rating:
I was surprised that we had an orientation tour of the cities near our hotels which was very helpful.
Favorite "WOW" moment
"Ronda was great and the hike into the canyon there in the morning was amazing but needed more time at that location. The architecture of many buildings in Barcelona was amazing. Especially liked the Palau de La Musica Catalana. Recommend going on a tour there and going to a concert at night."
Adrian
Arlington, TX
Tour: 09/26/19
Overall rating:
Great!
Favorite "WOW" moment
"Ronda! The Alhambra was great but the smaller town atmosphere in Ronda along with hiking opportunities there were the best."
Brian
Chicago, IL
Tour: 09/19/19
Overall rating:
The choice of cities to visit was excellent. It allowed us to get to see many different parts of Spanish culture. The hotels were nice in Barcelona, Sevilla and Ronda. They were so-so in Granada and Madrid. The optional group dinner in Grenada was great. The final night dinner could have been better. Rich, our Tour Manager was enthusiastic and personable. The train was excellent, the bus between Madrid and Grenada not so much. Overall, a nice experience.
Favorite "WOW" moment
"While dining on tapas one night in Barcelona in a small restaurant from the 1700's on a narrow lane, an absolutely crazy parade of hundreds of revelers walked by for about an hour. There must have been 50 different groups representing different organizations (churches, clubs, neighborhoods, we never found out), each with their own "monster" and drum band, composed of people all ages, from children to senior citizens. They danced, played music, tossed candy, squirted water, lit fireworks. WOW!"
Jenny
Milford, OH
Tour: 09/19/19
Overall rating:
Our My Way tour of Spain was outstanding. Spain is such a beautiful country! Taking the train from Barcelona to Madrid, instead of the bus, made efficient use of our time and made it possible to visit all the other cities. The activities we had scheduled for each stop and the beautiful weather only enhanced our experience. This was our 6th RS tour, and our 4th My Way tour. Please offer more My Way tours as we have taken all of them! For us, it's the way to travel.
Favorite "WOW" moment
"Each stop on the tour had a "wow" moment or two. At the top of the list would have to be Barcelona's Sagrada Familia with the afternoon sunlight shining through the stained glass windows. Another high point would be seeing the Alhambra lit up at night while our group dined at a restaurant on a hillside directly across the valley."
Jean
Westerville, OH
Tour: 09/19/19
Overall rating:
This is our first tour; usually we travel as a group with family or friends and make all of our own plans. It was nice to have someone else worry about the hotel and travel arrangements, but still leave the daily schedule pretty much up to ourselves. We did enjoy some of the impromptu group events that Rich arranged.
Favorite "WOW" moment
"Eating dinner across from the Alhambra was pretty cool. Also, we really enjoyed Sagrada Familia."
Walt
Aurora, OR
Tour: 09/19/19
Overall rating:
A great experience with a very nice group of people. Our tour manager, Rich, was wonderful. The "My Way" tour fit us perfectly, saving us the hassle of booking hotels and transportation ourselves, while still giving us the flexibility to craft our own daily itinerary and do things at our own speed. The choice of different cities and towns visited by the tour and the amount of time spent at each was just about perfect.
Favorite "WOW" moment
"Every day had a new "wow" moment. From cathedrals, to castles, to shopping, to art and museums, to wandering medieval streets, dining at street cafes, to just experiencing the culture, there were so many awesome experiences that there is no way I can choose one over another. We had the bonus of almost picture-perfect weather for the entire trip."
Randy
Issaquah, WA
Tour: 09/19/19
Overall rating:
My wife & I simply love the My Way tours. We've been on both types of RS tours now. Our most recent trip to Spain was one of our favorites. I don't know if we didn't know what to expect beforehand or just didn't know that much about Spain, but this trip surprised and pleased us very much. We experienced much of Spain's vast history, of course, but I found myself being repeatedly impressed by the overall culture. The sights, sounds, smells & tastes were all wonderful, as are the Spanish people.
Favorite "WOW" moment
"Really hard to pick just one, but I think it is probably visiting the Sagrada Familia cathedral in Barcelona. My "wow" moment came from just standing there, looking at the way the outside light coming through the stained glass totally floods the interior corridors to immerse you in two different color schemes, depending on time of day and where you are standing. The photos I took of this simply don't capture our being there, experiencing the real thing. That is something I will remember always."
Doug
Milford, OH
Tour: 09/19/19
Overall rating:
Well organized and Rich Earl was a great tour leader.
Favorite "WOW" moment
"Alhambra tour. Also, Rich organized an optional group dinner looking across the valley at the Alhambra which was beautiful at night with lights."
Linda
Oviedo, FL
Tour: 09/19/19
Overall rating:
. Excellent "Introductory Meeting" on the first evening of the tour . Efficient organization and flow of the entire group when leaving/entering a new city . Comfortable buses and plenty of room to relax . Excellent seating on the trains
Favorite "WOW" moment
"Rich did add his special flair in every city that we visited. However, the "Wow" moment was in Granada. Rich planned an optional dinner for anyone interested at Carmen de las Tomasas. Everyone in our group signed-up to attend. It was outstanding. The view of the Alhambra from the outside balcony where we were seated for dinner was absolutely awesome! It was a remarkably perfect weather day which transitioned into a glorious sunset and evening."
Dan
Oviedo, FL
Tour: 09/19/19
Overall rating:
Overall this "do it yourself tour" gave us timely transportation with a really great guide-Rich. We supplied our own tickets to the attractions, but we went to a city (Ronda) that we would have missed had it not been for this tour. We were not familiar with Ronda prior to our tour. The only reason for not scoring "Outstanding" in question 1 is because the assigned hotel rooms in Madrid, Granada, and Seville were very depressing and annoying to be in.
Favorite "WOW" moment
"The dinner that Rich planned in Granada across from the Alhambra (Carmen de las Tomasas) was outstanding!"
Robert
Sacramento, CA
Tour: 09/19/19
Overall rating:
Everything was very well organized - the "Buddy System", time frames for the buses and train. Rich threw in some extra sight visits that were optional attendance - guitar show, tapas bar, dinner with the Alhambra view. All in all my wife and I were very impressed.
Favorite "WOW" moment
"Dinner with the view of the nighttime Alhambra."
David
Rice Lake, WI
Tour: 09/12/19
Overall rating:
We love to travel on our own normally but liked to have great hotels in the heart of the places we visited picked for us and of course transportation helps too. The My Way concept is perfect for us in this respect. We got to know some of the tour members but did our own thing during the days. We met one couple whom we will probably visit in the future.
Favorite "WOW" moment
"Sagrada Familia was my favorite moment on the tour. Enjoyed the AVE train ride also!"
Robert
La Canada, CA
Tour: 09/12/19
Overall rating:
This was our first "My Way" tour, and we were nervous about it, but it was fantastic. My biggest "complaint" is that I would have liked a more detailed schedule far in advance. Because we're responsible for booking our own tickets to everything, it would have been helpful to know when we'd arrive in each town and if there was an event like an orientation tour. Those orientation tours were a great surprise and really helped us in every city.
Favorite "WOW" moment
"* The interior of the Sagrada Familia. The lighting, the colors, and enormity of the space was breathtaking and moved me immensely. Photos do not do it justice. * Picasso's Guernica: I had wanted to see this for a long time, but the size of it is overwhelming, and the sheer terror of the bombing is captured in a way that a realistic painting would not have. * Ronda - the gorge and views were more spectacular than I had imagined. * Tapas and wine! We had about 25 different kinds of tapas!"
Richard
Middlebury, VT
Tour: 09/12/19
Overall rating:
I enjoyed it. The "my Way" tour was a good mix of self and tour direction. The "orientation walk in each town was good and made you fell you could navigate a place you had never been I liked the restaurant recommendations, didn't always agree but wanted the personal account. Walking in "old town" part felt stimulating- hotel placement was excellent.
Favorite "WOW" moment
"Going to the Alhambraand understanding history go Granada"
Stanley
Millbrae, CA
Tour: 09/12/19
Overall rating:
We've always used Rick Steves books and videos as guides in the past and travelled on our own. This was the first group tour we've ever tried. The MyWay approach fit us very well as we like to be independent. The My Way tour took care of hotel and transportation, the stuff that's takes time and energy (and occasional hassle); allowed us to use our time for the good stuffs. Andrew our tour manager was awesome, made the tour great!
Favorite "WOW" moment
"Ronda! The Alhambra."
Robert
Prior Lake, MN
Tour: 09/12/19
Overall rating:
Tried the MY Way Tour for the first time and it exceeded our expectations. Our guide Andrew was exceptional and just the right amount of guidance. Not only were the Hotels very nice, Andrew was with us on all the connections between the different cities providing background information on what we would be seeing at the next stop. Additionally we met many wonderful people that would be life time friends if we lived closer.
Favorite "WOW" moment
"I enjoyed all the cities, sites, and the people were friendly. I would say I was surprised at how very European Spain is and impressed with their Culture. Many wow moments but one that stood out was when Andrew arranged for two guitarists to play for one hour for our tour group in the hotel. They were both incredible."
Ronald
Albuquerque, NM
Tour: 09/12/19
Overall rating:
The format of the my My Way tour was perfect for us! Having our Hotels and transportation booked for us was ideal. Our tour guide Andrew Lyons was excellent at giving us the information we needed to navigate in each city, as well as highlighting the areas of interest. We loved that we were not all herded around the city, and that we had the freedom to go see what we wanted on our own. Andrew always made himself available for any questions that we might have.
Favorite "WOW" moment
"Gosh there were so many that it is hard to choose just one. Probably the small town of Ronda, and all that it had to offer. It was our first trip to Spain, so seeing various cities, and the sights in each city, was a great introduction to Spain. We will definitely go back to Spain, as now we have some favorite areas we would like to spend more time at."
Karla
Prior Lake, MN
Tour: 09/12/19
Overall rating:
Andrew was amazing. He was very knowledgeable and gave a wonderful overview of each city. We really enjoyed the My Way Tour experience. The tour provided the independence we wanted but also gave us the opportunity to meet the other members of our tour. The pre-planning information for the tour was very helpful. We would not recommend the hop on hop off bus in Barcelona. The audio was terrible and the map # didn't match the stops. Waste of money.
Favorite "WOW" moment
"Andrew had arranged for two individuals to play their guitars in Rondo at our beautiful boutique hotel. They were amazing. Andrew had also arranged for a happy hour with cheeses,crackers,wines. Great time to get to know members of our tour. Our last meal together was in Sevilla at a culinary school. My husband turned 70 on the 23rd. Surprise, a special treat with a candle. Andrew was amazing."
When To Go & Weather
Spring and fall are the best times to take a My Way Spain tour, with good weather, lighter crowds, long days, and plenty of tourist and cultural activities.

Spain / Barcelona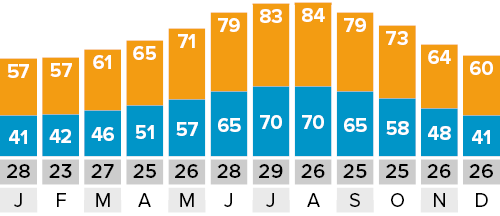 ---
Spain / Madrid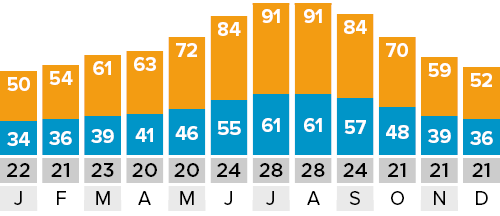 ---
Spain / Sevilla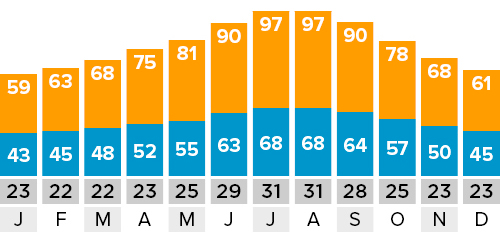 Hotels & Flights
Tour Hotels
In case you wish to book pre- or post-tour hotel accommodations, the contact information for the tour's first and last hotels is included in your tour confirmation email, as well as in the Itinerary section of your tour account. One month prior to the tour departure, you'll find the directions to your first tour hotel and a complete list of hotels where we'll be staying in the Documents section of your tour account.
Flights
Our tours don't include airfare, so your flight arrangements are completely up to you.
Most tour members arrange to fly into Barcelona (BCN) and out of Sevilla (SVQ) — choose "multicity" on flight-booking websites. Booking round-trip to one city will require a connecting flight, train trip, or additional overnight stay in Spain.
We suggest arriving a day or two before your tour begins to allow ample time to get over jet lag and be well-rested for the first few days of your tour. For more information about transportation options for getting to and from your tour, see your Rick Steves Spain guidebook.