Sagrada Família

Alcázar of Segovia

Madrid's Puerta del Sol

Tapas in Madrid

Toledo

La Mancha

Alhambra Palace

Arcos de la Frontera

Bullring in Ronda

Sevilla
Tour Questions? See our FAQ | Call 425-608-4217
Best of Spain in 14 Days Tour
From Gaudí and El Greco to tapas and flamenco, this tour captures the energetic diversity of Spain. Beginning in beautiful Barcelona and ending in sensual Sevilla, your Rick Steves guide will treat you to a sumptuous, two-week cultural buffet — with rich helpings of Catalunya's Gaudí, Toledo's El Greco, masterpieces of Madrid's Prado, and the Moorish and royal treasures of Granada and Sevilla. You'll also experience the delights of whitewashed Andalusian hill towns, prancing horses, tasty tapas, and fine sherry. Join us for the Best of Spain in 14 Days!
Dates & Prices
What's Included
You'll get at least 25 group sightseeing events — at no extra cost!
Here's what you'll see and do on our Best of Spain tour:
Barcelona walking tour
Sagrada Família
Prado Museum
Royal Palace
Madrid walking tour
Segovia day trip
Segovia walking tour
Toledo walking tour
Santo Tomé Chapel (El Greco's The Burial of the Count of Orgaz)
Toledo Cathedral
Tránsito Synagogue
Consuegra windmills
Granada Royal Chapel
Alhambra palace (when available)
Ronda bullring
Bull farm
Olive oil tasting
Andalusian horse farm
Andalusian excursion
Sherry tasting
Sevilla walking tour
Sevilla Cathedral
Sevilla Alcázar
Sevilla carriage ride (weather permitting)
Flamenco performance
Plus you'll get all this, too.
A small, friendly group of 24–28 people — half the size of most tour groups
Full-time services of a professional Rick Steves guide and local experts who will make the fascinating history, art, and culture of Spain come alive for you
All group transportation from Barcelona to Sevilla
13 nights' accommodations in memorable, centrally located hotels
All breakfasts and half your dinners
All tips for guides and driver
A tour kit including a guidebook (when available) and a moneybelt
Guaranteed tour price, locked in the moment you make your deposit
Tour alum discount of $50 for each tour you've taken prior to 2022
50% discount on a consulting appointment with our in-house experts to assist with your pre- or post-tour travel plans
Flexibility should you need to transfer or cancel your tour
Fine print: You are responsible for the cost of your drinks and free-time sightseeing. See our Tour Conditions for important details regarding everything listed above.
Group sightseeing events subject to change.
Itinerary
Day 1: Welcome to Spain
We'll gather at our Barcelona hotel at 5 p.m. for a "Welcome to Spain" get-together. Then we'll join the locals in their nightly ritual and head out for an orientation paseo (stroll) through our neighborhood. We'll finish by getting acquainted over a tapas-style dinner together.
Light walking: 2–4 miles throughout the day on mostly level terrain. No bus. Sleep in Barcelona.
Day 2: Lively, Artistic Barcelona
This morning we'll explore Barcelona's maze-like Barri Gòtic, from its Roman foundations to the spires of its elaborate, Gothic cathedral. Then we'll hop the subway to Gaudí's towering, dizzying Sagrada Família. Afterward you'll be free to experience more of this magnificent city on your own, from the Picasso Museum to Gaudí's playful Park Güell.
Moderate walking: 2–6 miles throughout the day with some hills and stairs. No bus. Sleep in Barcelona.
Day 3: Masterpieces of Madrid
All aboard! After breakfast we'll take one of Europe's speediest trains (the AVE) to Madrid. We'll tour one of Europe's premier art museums — the masterpiece-packed Prado — where you'll see paintings by Velázquez, Goya, El Greco, and others. Later we'll stroll the lively streets of our neighborhood and enjoy dinner together.
Moderate walking: 2–6 miles throughout the day with some hills and stairs. Train: 3 hours. Bus: 2 hours. Sleep in Madrid.
Day 4: Madrid and the Royal Palace
This morning we'll meet our local guide for a tour through the sumptuously decorated Royal Palace. With 2,000 rooms, acres of luxurious tapestries, and a king's ransom of chandeliers, this is truly one of the great palaces of Europe. Our walking tour will continue through Madrid's bustling Puerta del Sol to its elegant Plaza Mayor. Your afternoon and evening are free to visit the Reina Sofía modern art museum, stroll through the majestic Retiro Gardens (Madrid's most popular park), and maybe even catch a performance of zarzuela, Spain's delightfully light opera.
Strenuous walking: 2–8 miles throughout the day with lots of hills, stairs, and uneven terrain. No bus. Sleep in Madrid.
Day 5: Day Trip to Segovia
We'll venture out of the city by bus to the history-rich town of Segovia and its beautifully preserved Roman aqueduct. After a walking tour of the aqueduct and town, you'll have free time to wander and visit Segovia's medieval Alcázar fortress. We'll regroup this afternoon for lunch to savor a Segovian specialty together — roast suckling pig. Then we'll return to Madrid in time for you to enjoy dinner on your own.
Moderate walking: 2–6 miles throughout the day with some hills and stairs. Bus: 3 hours. Sleep in Madrid.
Day 6: Historic Toledo
It's a short bus ride to Spain's old capital city of Toledo (and back in time about 500 years). We'll take a morning walking tour that includes Toledo's magnificent cathedral, the medieval Tránsito Synagogue, and El Greco's The Burial of the Count of Orgaz at the Santo Tomé Chapel. This afternoon and evening, you'll have plenty of free time to enjoy the winding streets and varied sights.
Strenuous walking: 2–8 miles throughout the day with lots of hills, stairs, and uneven terrain. Bus: 1 hour. Sleep in Toledo.
Day 7: La Mancha and Granada
This morning we'll drive through windswept "Don Quixote country," stopping to sniff the saffron and admire a whitewashed windmill or two. Our destination is Granada, where we'll begin with a visit to the ornate tombs of world-changing Ferdinand and Isabel, who reigned over a new age of religious zeal at home and exploration of the "new" Americas. Then we'll head up the Albayzín hill for dinner together and enjoy a sunset view of the Alhambra.
Moderate walking: 2–6 miles throughout the day with some hills and stairs. Bus: 5 hours. Sleep in Granada.
Day 8: Moorish Treasures of Granada
Today you'll learn about Spain's Islamic legacy with a visit to the sprawling palace and garden complex of the Alhambra (when available). This last and greatest of Europe's Moorish palaces will awe you with its grace and artistry. You'll also have free time to make your own discoveries along the colorful streets and alleyways of Granada's Old Town.
Moderate walking: 2–6 miles throughout the day with some hills and stairs. No bus. Sleep in Granada.
Day 9: Ronda
Today's destination is the hill town of Ronda, home to Spain's oldest bullring and its most breathtaking gorge. This afternoon, we'll visit the 5,000-seat bullring and have free time to explore Ronda's Moorish and Mercadillo Quarters, linked together by the famous gravity-defying stone bridge (towering over the rubble of an earlier one that wasn't). Then we'll enjoy dinner together at our hotel.
Light to strenuous walking (your choice). Bus: 3 hours. Sleep near Ronda.
Day 10: Spain's Pueblos Blancos
Today we'll wind our way between the olive groves and whitewashed villages of Spain's pueblos blancos. We'll head into the countryside to visit a bull farm and learn about Spain's most controversial pastime. Then we'll tour an olive oil mill, where we'll discover the traditional methods of producing this extra-virgin export. After a rustic lunch together, we'll press on to the quintessential Spanish hill town — Arcos de la Frontera — where we'll share dinner together.
Moderate walking: 2–6 miles throughout the day with some hills and stairs. Bus: 2 hours. Sleep in Arcos (group may be split between two hotels).
Day 11: Sherry and Horses
We'll start our day with a visit to a local Andalusian horse farm. After learning all about these magnificent creatures and their connection to the local culture, we'll take a short drive to your guide's favorite Andalusian town. You'll be set free to explore and find a tasty tapas lunch before we regroup to sample the region's other famous specialty, sherry. This evening, we'll return to lovely Arcos with time to relax and enjoy dinner on your own.
Moderate walking: 2–6 miles throughout the day with some hills and stairs. Bus: 2 hours. Sleep in Arcos.
Day 12: Sevilla's Barrio Santa Cruz
This morning we'll drive directly to Sevilla, Spain's most flamboyant and atmospheric city. We'll begin our visit with a guided tour that takes us from the famous La Macarena (Weeping Virgin) statue to the world's largest Gothic cathedral. You'll have time to do more exploring on your own before we regroup tonight for a performance of sultry, swirling flamenco.
Moderate walking: 2–6 miles throughout the day with some hills and stairs. Bus: 2 hours. Sleep in Sevilla.
Day 13: Sevilla's Royal Alcázar
Today we'll start with a tour of the beautifully Moorish-style Alcázar palace, the Sevilla home of the Spanish royal family for the past 500 years. Afterward, you're free to walk in the footsteps of Carmen and Don Juan, linger in Sevilla's charming squares, or stroll along the romantic Guadalquivir River. This evening we'll share travel memories and toast new friends at our final dinner together, capped off with a carriage ride through the streets of Sevilla. Salud!
Moderate walking: 2–6 miles throughout the day with some hills and stairs. No bus. Sleep in Sevilla.
Day 14: Tour Over After Breakfast
Breakfast is provided, but there are no group activities today. Sevilla's airport is a bus or taxi ride away, with easy connections throughout Europe. Alternatively, you can hop on an AVE train to Madrid to continue your Iberian adventures. Hasta luego!
Itinerary specifics subject to change.
Please note: We may not be able to visit the Alhambra as a group or guarantee admission due to their new restrictive ticketing policy.
Physical Demands
Our tours are physically active! It's an essential part of the Rick Steves tour experience. On our Best of Spain in 14 Days tour — among other things — you'll need to happily…
Carry/roll your luggage over uneven pavement (possibly several blocks) and up stairways to reach your hotel, then up several flights of stairs to reach your room.
Be on your feet, walking and standing, for up to four hours, indoors and outdoors, in all weather conditions.
Sleep with street noise and no (or weak) air conditioning.
After orientation and transportation lessons, be able to navigate towns and cities on your own.
In Arcos de la Frontera, walk 15 minutes up a steep street to the hotel (while bags are sent by minivan).
Travel on a bus without a toilet (rest stops every two hours).
Eat group dinners as late as 9 p.m.
Reviews
Janis
Mount Vernon, WA
Tour: 10/26/19
Overall rating:
This tour far exceeded my expectations.
Favorite "WOW" moment
"This is an impossible question there were so very many moments. Walking into the Sangria Familia was breathtaking. Seeing the Picasso piece, Guernica is an experiences I will not forget. I specifically traveled to Spain to see the Moorish art and architecture so perhaps the Alhambra and Alcazar were my big WOWs."
Michael
Salem, OR
Tour: 10/26/19
Overall rating:
Helen made everybody feel included in daily events and encouraged interactions.
Favorite "WOW" moment
"Traveling on the bus and seeing the unending olive groves of olive trees. Truly a seemingly unending sea of olive trees. Brought home the agricultural roots of Spain. Then visiting the olive oil factory where local farmers brought their crops for processing."
Matt
Santa Clara, CA
Tour: 10/26/19
Overall rating:
Our first RS tour and overall really enjoyed it. We have been spoiled a bit in past tours that were smaller in size (12 or so), but our guide, Helen, really did a fantastic job to manage our group of 27.
Favorite "WOW" moment
"Hard to single out just one, but entering Gaudi's Sagrada Familia was breathtaking. I had never seen a structure quite like it."
Gail
Helena, MT
Tour: 10/26/19
Overall rating:
Tours involving 27 people only run smoothly, even seemingly effortlessly, if there is a lot of careful planning and coordination behind the scenes. Our Spain tour had this effortless feeling in abundance. I especially enjoyed the variety of urban and rural experiences, the emphasis on meeting "real" Spaniards and opportunities to interact with them, and of course, the FOOD!! I came home feeling I must return to Spain again.
Favorite "WOW" moment
"My two "wows" were the Alhambra and the Sagrada Familia because both are unique and historic. However, I loved the rural and small town parts of the tour almost as much for providing ways to authentically experience the landscape and its people."
Sue
Salem, OR
Tour: 10/26/19
Overall rating:
Helen is such a good guide. Her humor and knowledge was amazing. The Spain tour was well balanced with activity, free time and travel time. We took a RS tour 15 years ago to Turkey and loved it. We have decided this is the best way to travel after many iself guided trips and river cruises.
Favorite "WOW" moment
"The aquaduct in Segovia"
Jane
San Francisco, CA
Tour: 10/26/19
Overall rating:
What a wonderful tour! Excellent logistics, great guide, lots of country as well as urban experiences. First rate food!
Favorite "WOW" moment
"Severa Wows: Sagrada Familia, Opera in Madrid, Royal Palace (Madrid)l, visit to Olive Oil mill, Andalusian Horse Farm, and carriage ride in Seville."
Janice
Hillsboro, OR
Tour: 10/21/19
Overall rating:
I had a great time in a country I had never been to, Spain. Even after living in Europe years ago, I realized my knowledge of Spain's history was limited. Where was I during high school World History Class? It surprised me how interesting the whole tour was and I was blown away by all the places we saw and the history we were presented.
Favorite "WOW" moment
"It's crazy, but I loved the food in Spain. Tapas blew me away and the type of eating is so different and enjoyable--and fabulous! I also loved the variety of experiences/places we went to complete our experience. I had a great time with fellow travelers--who were just like me--curious, fun and interested in learning."
Linda
Portland, OR
Tour: 10/21/19
Overall rating:
I have been traveling to Europe since 1990 and I have almost always done my own planning. But I'm a little older now and felt it was time to have someone else manage the details. This was a very well planned tour with opportunities for big cities and countryside. Agustin was a thorough and kind guide with a sense of humor that defused any potential misunderstandings. Thank you for an unforgettable experience.
Favorite "WOW" moment
"In Arcos de la Frontera our room had an unexpected terrace which looked over a gorge, birds were flying in great swoops making a huge racket, the sun was setting, the lights were coming on in the cathedral above our hotel. Then the sun set, it was dark and the birds in one motion flew into a huge crack in the side of the gorge and there was silence. No one could have predicted that moment. it was perfect."
Linda
Mission Viejo, CA
Tour: 10/21/19
Overall rating:
It was another wonderful trip with RS (our 5th). Agustin was a great guide - smoothly herding the cats (us) while effectively educating and providing insight to our tour group on the history, politics, food and culture of Spain. We also enjoyed and took advantage of the optional activities of the wine and sherry tastings. Again, there was a nice balance of group and free-time.
Favorite "WOW" moment
"The high-speed train from Barcelona to Madrid; Toledo's cathedral; the bull and horse breeding farms; and Sevilla (my favorite city). Sangria and tapas were my favorite drink and food from Spain."
John
Olympia, WA
Tour: 10/21/19
Overall rating:
If you are looking for criticism, sorry to disappoint you. This tour was excellent start to finish and I'm not sure how you could improve it.
Favorite "WOW" moment
"The alcazar in Seville was pretty nice"
Marilyn
Portland, OR
Tour: 10/21/19
Overall rating:
The tour exceeded my expectations, in terms of planning and execution of complex experiences in many cities. The tour guide was terrific -knowledgable, friendly and supportive, and flexible enough to deal with navigating large crowds in some cities. Sevilla was especially crowded due to the international MTV Awards going on the weekend we were there.
Favorite "WOW" moment
"Staying at the hotel in Arcos de la Frontera, where we had a balcony with an amazing view. We were right next door to the Rick Steves room! Also, the incredible Alhambra and all the Arab-influenced architecture and design that still remains in so many places."
Don
Portland, OR
Tour: 10/21/19
Overall rating:
Fantastic experience, we really got a great overview of Spain. Agustin was excellent both in terms of his overall knowledge and ability to explain things.
Favorite "WOW" moment
"I really enjoyed Ronda-- the gorge was spectacular and the bull ring was fascinating. Seeing the bull farm and meeting the matador was really fantastic."
Richard
Lacey, WA
Tour: 10/19/19
Overall rating:
I learned a great deal about Spain and had a lot of fun with my fellow travelers. I appreciated the guides' professionalism and good humor, and the many "extras" they came up with along the way. Bus travel was excellent, plenty of room, plenty of breaks, good balance of narration and down-time. I was tired every night, but rested enough to tackle each new day.
Favorite "WOW" moment
"Probably the aqueduct at Segovia, which blew me away. I knew it was there but I hadn't realized how big and impressive it was. It made me appreciate the Romans' accomplishments more than anything else I've seen, I think -- including in Italy."
Elizabeth
Shoreview, MN
Tour: 10/19/19
Overall rating:
as expected, our tour was well organized, well executed, and Javier was a great leader. we especially enjoyed his love of Spain - a proud Spaniard who took very good care of us. David was great, too. our 5th RS tour and 14 days of new experiences.
Favorite "WOW" moment
"the Sangria Familia is #1, our guided tour of the Prada was superb, Brunch with Loli was very personal, Andalusian horse farm was #2, the bull farm changed how I will think of bull fighting - the big surprise was La Macarena which was an unexpected shock of beauty. cant forget the grand finale of a evening carriage ride in beautiful Seville while drinking champagne. Javier and David pleased us well"
Nancy
Lansing, MI
Tour: 10/19/19
Overall rating:
Lots of really great things to see and experience. Well planned trip, excellent hotels and outstanding local guides. Really liked the meetings with "locals" at brunch in their houses, olive grove owner, horse and bull ranch managers.
Favorite "WOW" moment
"Alhamnbra - even though I had researched this I was overwhelmed."
Julie
Redding, CA
Tour: 10/19/19
Overall rating:
Our tour was an incredible life experience. My husband and I have traveled many times o our own, but a Rick Steve's tour gets you so much more. No time is wasted and the stresses of travel are eliminated. I'm sold. Our only dilemma is choosing which one to do next!
Favorite "WOW" moment
"The Alhambra in Granada was breathtaking."
Karen
Carson City, NV
Tour: 10/19/19
Overall rating:
The overall tour experience was very positive. The guide was very experienced, and the tour ran pretty smoothly. The beginning of the tour was a bit shaky because of the riots occurring in Barcelona while we were there. Travel was disrupted, and our activities were pared down after dark because of the tear gas, fire bombing, etc.
Favorite "WOW" moment
"For me, the favorite "wow" moment was viewing the Alhambra in Granada, from across the ravine at our restaurant terrace, while the sun was setting. Later in the evening, after darkness fell, I enjoyed viewing the Alhambra with beautiful golden lighting."
Jeffrey
Lewisburg, PA
Tour: 10/19/19
Overall rating:
We had an excellent time. It was a very cohesive group, we all got along well and the trip was well planned.I enjoyed every visit point and every hotel.Free time allowed us to explore on our own. It was the first tour we'd taken where we'd arrived early and stayed on after the end and having the hotel contact information early allowed us to make good arrangements.
Favorite "WOW" moment
"We saw many great things and Barcelona was my favorite place. The Sagrada familia was certainly the wow of the trip and the principal reason we first looked at traveling to Spain. It did not disappoint. I think the Alhambra was next in wow factor."
Martin
York, PA
Tour: 10/19/19
Overall rating:
We learned a lot about Spain, and acquired valuable experience in international travel. We Appreciated the small group experience.
Favorite "WOW" moment
"We enjoyed the Sagrada Familia and the opportunity to have breakfast in the homes of local people."
Mark
Laingsburg, MI
Tour: 10/19/19
Overall rating:
I had a fantastic time on the tour. I felt there was a good balance between our experiences in the BIG cities (Barcelona, Madrid, Granada, Sevilla) and smaller ones (Segovia, Toledo, Arcos). I especially liked the hotels we stayed in, although I wish we had been able to stay for two nights in the countryside hotel near Ronda. They were all located near the old town centers. Our guides were exceptional!
Favorite "WOW" moment
"While touring "The Alhambra" was a highlight of the tour, my favorite moment was having breakfast in the home of a family after we left Granada for Ronda. This gave me a chance to practice my limited Spanish with our hosts. They enjoyed the fact that they could communicate with us through my questions and translations, as did the five other members of my party (one of whom also spoke some Spanish). It was a good-feeling experience for all of us. I'm really glad we had this opportunity."
Debra
Fort Collins, CO
Tour: 10/14/19
Overall rating:
The reason I chose this tour was the fast paced trek through Spain. I very much enjoyed the taste of all the cities. I was not impressed with the hotels after we left Barcelona. I know that one of Rick's philosophies is to stay in small boutique hotels at city center...however, there are plenty of 3-4 star hotels in equal numbers in those very same locations. I thought the local guides were very good. Inez was particularly engaging.
Favorite "WOW" moment
"Barcelona and the Gaudi sites---Sagrada Familia was AMAZING!"
Stephanie
Minneapolis, MN
Tour: 10/14/19
Overall rating:
The tour achieved my goal, introducing me to Spain, a country I'd never visited before. It was also my first time traveling as a solo on a tour. Our tour group was friendly, welcoming, and helpful - I always felt part of the group. Whenever I needed a bit of help navigating slick stone stairways with no handrails (most of them!), there was always an arm cheerfully offered to help. I especially enjoyed the surprise experiences on the tour (bullring, county inn) I'd never have found on my own
Favorite "WOW" moment
"Seeing the Alhambra lit up at night, from a beautiful restaurant on the Albaizin. I note it's on the cover of the 2020 tour book! And a second "wow": Hotel Molino del Arco, the country inn outside Ronda, which felt like an offshoot of the Alhambra."
Brenda
Corte Madera, CA
Tour: 10/14/19
Overall rating:
Our tour experience was extraordinary in many ways. Our tour leader James was experienced, articulate, caring, creative. His organization was superb; perfect timing getting to see places like the Prado, Alhambra, and Alcazar; each time we hit a site, we were able to go in almost immediately. City guides were excellent, all of them warm, knowledgeable, and passionate about their cities/ towns and pertinent cultures. Accommodations were also excellent; creature comforts galore!
Favorite "WOW" moment
"Seville was our favorite city because it seemed to combine all the facets of Spain that we grew to love: music, art, food, spectacular sites like the Alcazar, ease of getting around the old city from our hotel. The Macarena and Alcazar tours plus the flamenco performance were especially fascinating! Our last evening was topped by a carriage tour and dinner at Carmen restaurant; we couldn't imagine a better, more memorable ending to our Spain tour."
Damon
San Anselmo, CA
Tour: 10/14/19
Overall rating:
A beautiful tour through Spain, learning (and eating!) a great deal about culture, history, animal husbandry (bulls for the ring and Andalusian horses), olive oil making, and Spanish everyday life. A very helpful guide, James, and a very convivial group made the trip a pleasure.
Favorite "WOW" moment
"The country side in the south was exquisite: more olive trees than stars in the sky. Another wow moment: the Cathedral in Toledo, which was opulent and exquisite."
Cynthia
Woodinville, WA
Tour: 10/14/19
Overall rating:
My first Rick Steves tour was all I expected and more. The activities were a good blend of planned events and free time. Hotels were mostly local establishments and always located right in town and perfect for exploring on foot. Of course its always nice to get a cab back to the hotel, when you have taken the local guide's advice to "get lost and enjoy the city".
Favorite "WOW" moment
"Sagrada Famillia - it is a fantastical building inside and out. Gaudi must have been an genius time traveler. His designs were so advanced that construction techniques to complete his masterpiece were not even available in his lifetime. But now, with adequate funding, building is progressing rapidlly. I would love to see Sagrada Familia again when it is completed in 2026."
Herbert
Salem, VA
Tour: 10/14/19
Overall rating:
Excellent tour. The hotels were fine and well located. The locations were well [INVALID]ed and the tour pacing was good for me. We had an excellent guide, and the local tour guides were very good and knowledgeable. The small group of people we traveled with were a great group of people, and were very congenial and looked out for each other. I don't have any negative aspects of the trip
Favorite "WOW" moment
"My favorite wow moment was seeing the Alhambra and walking around inside that. Another wow moment was seeing the Sagrada Familia in Barcelona, which was truly an amazing experience."
Patricia
Salem, VA
Tour: 10/14/19
Overall rating:
This was a wonderful trip with a group of fun travelers. A problem developed with my walking ability and that made some days difficult though.
Favorite "WOW" moment
"The "wow" was daily when we had a new adventure. We learned something new every day"
Robert
Aurora, CO
Tour: 10/14/19
Overall rating:
The tour was marvelous; the included sights were a good representation of the Spanish culture and included a good mix of both large and small cities / towns. Our primary guide, James, was fantastic; he always afforded individuals attention when needed, and kept a pace that all members of the group could maintain, while covering a lot of territory. James was very knowledgeable of customs, the culture, and the history of Spain. The local guides were a wealth of detailed information.
Favorite "WOW" moment
"The carriage ride around Seville, taking us to a local park and then on to dinner was fantastic; what a way to see a city!"
Ellen
Township Of Washington, NJ
Tour: 10/14/19
Overall rating:
This was my first Rick Steves tour. I really enjoyed the combination of flexibility that the tour gave along with the scheduled tours in each city. Our guide James was amazing, making it very interesting. The individual guides in each city were very knowledgeable about the sites and the history and made each place special, along with giving the color of the city.
Favorite "WOW" moment
"I thought the La Sagrada Familia was amazing. The outside is so different from the modern inside and learning about Gaudi from our guide made it so meaningful. I also loved the Alhambra in Granada. The Moorish influence was just awesome."
Donal
Corte Madera, CA
Tour: 10/14/19
Overall rating:
James our guide was excellent as were the local guides. The itinerary was also varied and interesting, the cities and churches, government building and historical monuments great to visit.
Favorite "WOW" moment
"Seville was probably outside Paris the greatest spectacle of a city I have ever seen for its layout and the numbers of fine historic buildings, parks and churches."
Mark
Onalaska, WI
Tour: 10/12/19
Overall rating:
Last year we went to Greece. This year is was Spain..... It only got better. This is the only way to discover the world. Thank you for having everything planned out so well.
Favorite "WOW" moment
"Dinner the night before our tour of the castle which we viewed across the valley in Granada. As far, as I'm concerned...my ticket was 'punched' that night!"
Kathleen
Richmond, VA
Tour: 10/12/19
Overall rating:
This was a very good tour. There was a nice mix of large cities and smaller towns. I especially liked the small hill towns. Felt like we had gone back in time.
Favorite "WOW" moment
"Hard to pick just one. Having dinner opposite the Alhambra and seeing it at night was awesome. The Segrada Familia blew me away! Really enjoyed our visit to the olive oil farm/plant. Wish we had spent more time in Segovia. The people of Spain were very friendly."
David
Land O Lakes, FL
Tour: 10/12/19
Overall rating:
The Best of Spain in 14 days tour has to be my favorite of my 8 tours. It was a good mix of museums and historical sites along with large and small cities. The speciality guides as always provide extra content whether in a museum or exploring a neighborhood. This gives context to what one has seen. Our guide Robert was a font of information and background which added meaning to what we were seeing and experiencing. What also impressed me was the improvement in food quality at the group
Favorite "WOW" moment
"The WOW moment had to be Alhambra. Having read about it and having Robert give in depth historical prospective and meaning made it a treasured moment."
Rene
Newark, OH
Tour: 10/12/19
Overall rating:
Favorite "WOW" moment
"the aquaduct and the alhambra"
Mary
Indianola, WA
Tour: 10/12/19
Overall rating:
Great tour - learned an amazing amount! Robert was stellar!! So of course we're all the other city and site guides.
Favorite "WOW" moment
"I loved the tour of the Yequada de la Cartuja - government owned horse ranch - so informative- great guide! Also - really enjoyed the olive oil farm production plant tour in Zahara. The lunch was fabulous - plus we bought olive to have sent home. Oleum Veride. Great olive oil! I also really enjoyed the Flamenco performance in Sevilla and our dinner in Granada overlooking the Alhambra was out of this world!"
Elena
Wilmington, DE
Tour: 10/12/19
Overall rating:
Best of Spain in 14 days was my 9th tour with Rick Steves. And it did not fail the expectations. Spain is a beautiful country, full of rich culture, history and traditions. The tour design helps with exposure to all with abundance. Although the tour includes mostly southern part of the country, there is no doubt it's one of the most gorgeous part of the country and Europe. The hotels, transportation, meals and activities were well organized, well chosen.
Favorite "WOW" moment
"Gorgeous night in Granada, delicious dinner and absolutely outstanding view of Alhambra was a great prelude to the visit of Alhambra itself next morning. View of Andalusia hills and planes from the balcony of the hotel in Arcos De la Frontera, climbing up and down the narrow streets of this picturesque pueblo de blanco, and eating tapas with locals at tiny bar. Visiting Sevilla Basilica la Macarena and watching locals decorating the floats for the next celebration of the beloved Lady of Hope."
Shirley
Redmond, WA
Tour: 10/07/19
Overall rating:
Rich in varied experiences, we hit the top tourist spots in the major cities and discovered many wonderful people and places that we never knew existed. Long bus rides were broken up by visits to very interesting places such as the olive oil growing and production facility between Ronda and Arcos. I am still smiling about this tour!
Favorite "WOW" moment
"Favorite was petting the gentle Andalucian stallions at the breeding farm near Jerez. I have loved horses all my life, and this was a treat beyond my imagining. Plus the bonus of petting "baby horses" in their stable. So friendly and sweet."
James
Renton, WA
Tour: 10/07/19
Overall rating:
I really enjoyed the tour. Spain has been on our bucket list for some time now. So glad we were able to finally check it off to some degree. We saw and learned so much but there is so much more still. This was able to occur in spite of having a tour member that did not meet the Rick Steves guidelines.
Favorite "WOW" moment
"Quite a few but I was blown away by the Sagrada Familia!"
Michael
Sisters, OR
Tour: 10/07/19
Overall rating:
Wonderful time.
Favorite "WOW" moment
"I liked visiting the grave of Christopher Columbus. The windmills were very cool and the drive through the country seeing miles and miles of olive groves."
Carol
Renton, WA
Tour: 10/07/19
Overall rating:
Very well organized, great guide, beautiful cities and towns. Could have skipped the Franco Bar - though it was considered a rest stop. Too many group dinners / lunches. Would have liked to experience local restaurants and food on our own. Didin't like the day trip to Jarez at all. There was simply nothing to do. Not enough down time as individuals. Seemed we only had a few hours here or there.
Favorite "WOW" moment
"The Alahambra was fantastic but I think my wow moment was Rhonda. Just a beautiful place. Would have loved to have more time to explore. Arco's had beautiful views from all rooms. Loved the Alcazar in Seville."
Ricardo
Redmond, WA
Tour: 10/07/19
Overall rating:
This was a very special tour for me. I experience the sights and places that my wife had previously visited. I enjoyed the varied regions and landscape. Even though the churches, museums art, music, food and culture were welcoming sites and outstanding I felt Spaniards to be standoffs, wit a superiority complex. Nothing Rick Steves Europe can do about this.
Favorite "WOW" moment
"The Alhambra site was so remarkable. So much culture and beauty left by the Arab world in Spain."
David
Shohola, PA
Tour: 10/07/19
Overall rating:
Favorite "WOW" moment
"I liked the Alhambra tour which I thought was the greatest"
Susan
Dallas, TX
Tour: 10/07/19
Overall rating:
I had so much fun on this trip. Great group of tour members. Great weather.
Favorite "WOW" moment
"How much I had forgotten about Spain's history from high school history class and the reality of Spain's history not taught in a complete and honest basis."
Bonnie
Everett, WA
Tour: 10/05/19
Overall rating:
Our 14 day Best of Spain Tour (family & friends) led by William was a wonderful way to experience Spain, meet its people, learn about their customs, history and culture. William did an outstanding job. The itinerary, hotels, tours, tour bus & driver were all excellent, making it a most memorable trip. The small group size (approx. 27) was perfect, everyone was very fun and friendly and that made the trip that much more enjoyable.
Favorite "WOW" moment
"There were so many 'wow' moments being in Spain! Gaudi's home and Sagrada Familia were magnificent, I was truly fascinated with Gaudi's out-of-the box architectural designs. Madrid's Royal Palace and the Roman aqueduct in Segovia was a thrill. The hill town of Ronda with its breathtaking gorge, the fascinating Alcazar palace in Sevilla, Alhambra, and so many more.....the wow moments just kept coming!"
Catherine
Covington, WA
Tour: 10/05/19
Overall rating:
A wonderful experience with a fantastic group of people. I loved the mixture of the grand attractions (cathedrals, etc.) and the smaller intimate experiences such as the home visit. Each day brought a new adventure. The sights, sounds and tastes of Spain will be with me forever.
Favorite "WOW" moment
"I can't even begin to pick just one."
Michael
Covington, WA
Tour: 10/05/19
Overall rating:
Wonderful introduction to Spain! Outstanding tour leader (William), Always displayed a high energy enthusiasm and expert on Spain culture/history. Great hotel locations and tour events. Good balance of scheduled events and free time.
Favorite "WOW" moment
"Difficult to single out one. I had at least one per city/town visited. Our brunch with local family stands out as a favorite."
Emily
Seattle, WA
Tour: 10/05/19
Overall rating:
This was my first Rick Steves' tour and I hope it will not be my last. The overall experience was top notch. The group was a great mix of people, and all very nice and welcoming. Our guide, William, was excellent and you could see his delight in sharing his love of Spain with us. I cannot think of any moments throughout the trip that I did not find thoroughly enjoyable and worth the visit.
Favorite "WOW" moment
"Hard to pick just one wow moment, but my top three - the beautiful aqueduct in Segovia, the view from my room at El Convento in Arcos de la Frontera, and La Sagrada Familia."
Steven
Tigard, OR
Tour: 10/05/19
Overall rating:
Personal preference, but would prefer the words "superior" or "excellent" over the word "outstanding" for ratings. Exceeded my expectations, which were admittedly pretty high, considering the tour reputation. Could title it "a Taste of Spain", literally and figuratively. Great advice on/at venues by tour director William added to enjoyment and safety.
Favorite "WOW" moment
"probably meeting the bullfighter."
Bonita
Tigard, OR
Tour: 10/05/19
Overall rating:
Well planned, great hotels, pre-arranged group entrances were much appreciated as the crowds were large waiting for entrance to the most popular sites
Favorite "WOW" moment
"Bull farm and olive oil tour and lunch"
Ralph
Seattle, WA
Tour: 10/05/19
Overall rating:
William is a terrific guide. His knowledge and enthusiasm for the culture and people of Spain is contagious. He is someone who can make jamming onto an overcrowded local bus (because protesters were blocking access to taxi cabs) all part of the fun.
Favorite "WOW" moment
"The Palace of Catalan Music was a "wow" for me. I was impressed with what the architect and builders with able to accomplish with materials and techniques available at the time. As with many of the tours, the overall experience shared with fellow travelers is what I enjoy most these days."
Sheryl
Everett, WA
Tour: 10/05/19
Overall rating:
This was my first Rick Steves' tour and it was amazing. I loved each day, what we were able to experience, the food, the local city tour guides and the tour participants. My tour experience ended up being much more than I expected.
Favorite "WOW" moment
"There were so many "wow" moments to choose from, but I especially liked the view from the Hotel El Convento. Arcos de la Frontera was a very fun community. So quite, yet so much to see and experience. One of my favorite dinners was the one that evening which was not on the itinerary, but everyone wanted to go. Was great."
Nadine
Covington, WA
Tour: 10/05/19
Overall rating:
I am a little biased, but this is a great tour. It gives a very comprehensive view of Spain and our guide, William, brings it to life with his fantastic explanations of history and culture.
Favorite "WOW" moment
"My favorite "wow" moments: Visiting the bull farm and learning about how bulls are raised and the beautiful relationship between the bull and the bullfighter. Also the times we were able to speak with local people - like the saffron farmer and his family and the families that invited us into their homes for brunch."
Barbara
Englewood, CO
Tour: 10/05/19
Overall rating:
While the normal experiences of a tour, the food, camaraderie, site visits with art and architecture, etc. were absolutely excellent, on this tour I also experienced something profoundly new. I found myself falling in love with the spirit of the people of Spain! I learned so much of cultural traditions and motivation that spring from that spirit that I have a new appreciation for so much I barely knew or understood -- including the complexity of Catalunya's separatist movement and bullfighting!
Favorite "WOW" moment
"This was originally a private tour for family and friends with William. I taught him in high school, and for the 35 years since he studied in Granada in college, I said I would never go to the Alhambra until I could go with him. So seeing the Alhambra for the first time over a spectacular dinner, and then visiting the next day, made for a 35 year dream come beautifully true!!"
Todd
Auburn, WA
Tour: 10/05/19
Overall rating:
First time out of the country and the family like attitude of the group, and the connections of our tour guide to the local people made it more of a trip home to see friends and family. Made it very comfortable to venture out and meet people.
Favorite "WOW" moment
"The History and age of everything was a wow moment, but much more was the connection with the local people.. The Saffron Farmer, the Breakfast with the towns ladies, and the engineering connection with the olive farmer with his mechanical engineering experience and excitement of sharing it all with me."
Carol
Lake Stevens, WA
Tour: 09/30/19
Overall rating:
It was another great Europe experience with a wonderful guide, Amanda, and a group that got along well and was a cohesive group. It was fun to see Barcelona and Madrid again. I hadn't been to Madrid in over 50 years so I got to see it with adult eyes verses a twenty year old. The cultural experiences were memorable with the brunch in a family home and the small olive processing plant....of course both involved food! The Alhambra was amazing. Sevilla was a favorite!
Gary
Duncan, BC
Tour: 09/30/19
Overall rating:
Really enjoyed learning about the history of The Iberian Peninsula beginning with the Romans various Arab and Muslim periods and finally the Catholic Kingdom.Touring Cathedrals that once were mosques,was surprising to me. Was amazed by the high speed rail and the wonderful highways. The areas we visited the landscape was olive trees for as far as the eye could see.
Favorite "WOW" moment
"In Sergovia we had a lunch of the roast suckling pig which was cut with a plate.Did not think this would be possible."
Carmine
Duncan, BC
Tour: 09/30/19
Overall rating:
There was so much to see and do in Portugal!! Being wine drinkers we loved the Douro Valley and seeing the hundreds of vineyards on all manner of hills and valleys. Enjoyed all the in depth tours such as the Porcelain Factory, Cork Farm,Roman Ruins and many others. The many small and large towns with their quaint narrow streets and cobble stone roads were very interesting to us.
Favorite "WOW" moment
"We had at least 3 WOW moments!! #1- was Stomping grapes in the Douro Valley!! What a fun way to bring people together!! #2- The very interesting tour of the Cork Farm, riding in a tractor pulled farm trailer and a lovely lunch afterwards. #3 - Our stay in Obidos in the "Wedding Suite" in a very old and quaint hotel and then touring the interesting little town, and sampling "ginja"."
Eric
Santa Rosa, CA
Tour: 09/30/19
Overall rating:
Our tour was a great mix of urban cultural exposure, along with agricultural centers and hillside towns. In our tour from Barcelona to Sevilla, we took in as much historical, architectural and artistic splendor as we could mentally handle, presented by incredibly knowledgeable and passionate guides. And the food! Amanda's restaurant and food choices gave us great gustatory adventures into the food culture, which we would likely have missed without her guidance.
Favorite "WOW" moment
"I've got to list four: the glamorous moonlit dinner across from the Alhambra in Granada, followed by our visit to the Alhambra; the gorge in Ronda; and, of course Goudi's Sagrada Famjlia. And, Hotel Molino del Arco offered a pleasant, relaxing luxury in the gardens and swimming pool. Two more bonus highlights; the gorge down to the waterfall in Ronda, and the street musicians at Plaza Del Sol in Madrid, after 10pm. Amazing cultural transitions at each block!"
Marianne
Portland, OR
Tour: 09/28/19
Overall rating:
Spain was a wonderful trip! So many things to see, so much culture I learned. I thoroughly enjoyed the trip.
Favorite "WOW" moment
"Walking into the Sagrada Familia. I had been warned it was nothing like i had ever seen, but it took my breath away....the most amazing house of worship I have ever seen...."
Edward
Seattle, WA
Tour: 09/28/19
Overall rating:
Enjoyed learning about Spanish history and seeing the influence of the Catholic church on that history. Liked seeing famous places, visiting museums, gaining a better understanding of bull fighting, particularly visiting the "bull farm" and learning about the breeding and selection of bulls. Meals were very good especially since I checked the vegetarian box - always had great alternate meals.
Favorite "WOW" moment
"The Alhambra and the Alcazar in Sevella were great. The Sagrada Familia and the Cathedral in Sevella were both awesome."
Terry
Golden, CO
Tour: 09/28/19
Overall rating:
Had a great time. Jorge was an entertaining guide. He had the skills to instruct, share personal histories/points of interest, and treat us each as individuals - noticing our particular preferences and meeting them. A genuine asset to the enterprise. Itinerary ensured we would experience a good portion of the different aspects of Spain, the geographic, cultural and historical significance of each unique region.
Favorite "WOW" moment
"Simply Jorge and the interesting group that accompanied our tour."
Glenda
Beaverton, OR
Tour: 09/23/19
Overall rating:
We enjoyed the locations we visited and the scenery. We learned a lot about the culture and history of Spain. Dispite being careful, pickpocketing and personal security issuses took some of the pleasure out of the tour. There were several incidents including us having a cell phone pickpocketed.
Favorite "WOW" moment
"Walking into the Sagrada Familia Cathedral was spectacular."
Ken
Bloomington, IN
Tour: 09/16/19
Overall rating:
I enjoyed the tour as this was a country we had not explored much previously. The Moorish influence recognizable in the architecture, food and vocabulary was very interesting to me. The illness of our scheduled guide right before the start of the tour resulted in some discontinuity the first few days, but with what must have been some heroic efforts by the Edmunds staff along with similar efforts by Nigel and Amanda things went much smoother than it could have been. RS tour members are flexible.
Favorite "WOW" moment
"Clearly, it has to be at the restaurant on the Granada hillside looking across the valley at the Alhambra as daylight turned to dusk then to darkness with the Alhambra impressively sitting on top of the hill well lit up. And, in the other direction, the lights of the city illuminating it as the night unfolded. And the meal was probably the best we had as well!"
Sheila
East Amherst, NY
Tour: 09/07/19
Overall rating:
This was our first Rick Steves tour and I have to say it was outstanding in every way! The hotels were all in city centers within easy walking distance of attractions and restaurants. The provided meals were over the top, introducing us to local specialties and wines. All the logistics along the way were handled in a very professional manner. And of course our guide Javier provided outstanding leadership, local color, cultural information, and much appreciated happy hours!
Favorite "WOW" moment
"The dinner in Granada with the view of the Alhambra was spectacular, both the food and the view. It was a magical evening at a 5 star restaurant that we would have never experienced on our own. And we thoroughly enjoyed the company of our lively tour group. My personal wow moment was interacting with the horses at the equestrian center near Jerez. As a horse lover and rider, this was a huge thrill and a surprise at how friendly the horses were."
Brian
Winnetka, IL
Tour: 08/26/19
Overall rating:
jus what we have come to expect from RS . good tours, good pace, some real wow moments
Favorite "WOW" moment
"cliff side dinner over looking alhambra"
When To Go & Weather
Any time between April and June, and from September through October are good times to visit Spain. However, the months of April, May, September, and October are best for offering good weather, long days, lighter crowds, and the full range of tourist fun.

Spain / Barcelona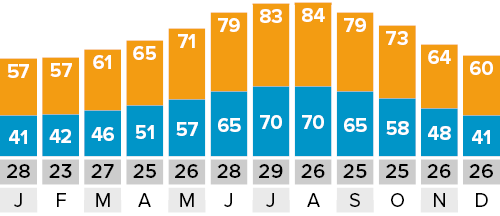 ---
Spain / Madrid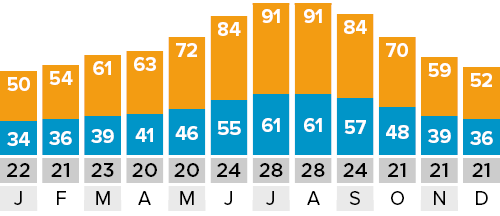 ---
Spain / Sevilla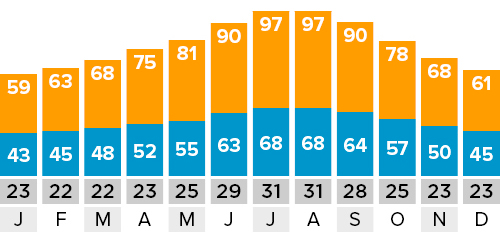 Hotels & Flights
Tour Hotels
In case you wish to book pre- or post-tour hotel accommodations, the contact information for the tour's first and last hotels is included in your tour confirmation email, as well as in the Itinerary section of your tour account. One month prior to the tour departure, in your customer account you'll find the directions to your first tour hotel and a complete list of hotels where we'll be staying in the Documents section of your tour account.
Flights
Our tours don't include airfare, so your flight arrangements are completely up to you.
Most tour members arrange to fly into Barcelona (BCN) and out of Sevilla (SVQ) — choose "multicity" on flight-booking websites. Booking round-trip to one city will require a connecting flight, train trip, or additional overnight stay in Spain.
We suggest arriving a day or two before your tour begins to allow ample time to get over jet lag and be well-rested for the first few days of your tour. For more information about transportation options for getting to and from your tour, see your Rick Steves Spain guidebook.