Córdoba

Flamenco

Andalucía's Olive Country

The Alhambra in Granada

Ronda's Famous Bullring

Guitar Concert

Sevilla's Alcázar
Tour Questions? See our FAQ | Email tour@ricksteves.com
Best of Andalucía in 10 Days Tour
Traveling to the rhythm of strutting horses and flirtatious flamenco, this tour captures the passion and pride of Spain's Andalucía. Starting with the Moorish roots of Córdoba, you'll be immersed in the culture and history of this remarkable region. We'll ponder millennia-old mysteries at Menga, marvel at Sevilla's flamboyant cathedral, and time-travel through Granada's Alhambra palace. We'll also slow down and savor the flavors of Andalucía's wines and cuisine, the craft of creating olive oil in Úbeda, and the artistry of guitarists in Ronda. Join us for the Best of Andalucía in 10 Days!
Dates & Prices
Apr 30–May 9 (Su–Tu)
$3,395 + Air

May 7–May 16 (Su–Tu)
$3,395 + Air

May 21–May 30 (Su–Tu)
$3,395 + Air

Jun 11–Jun 20 (Su–Tu)
$3,295 + Air

Sep 3–Sep 12 (Su–Tu)
$3,395 + Air

Sep 17–Sep 26 (Su–Tu)
$3,395 + Air

Sep 24–Oct 3 (Su–Tu)
$3,395 + Air

Oct 8–Oct 17 (Su–Tu)
$3,395 + Air

Oct 22–Oct 31 (Su–Tu)
$3,395 + Air

Apr 23–May 2 (Su–Tu)
$3,395 + Air
What's Included
You'll get at least 18 group sightseeing events — at no extra cost!
Here's what you'll see and do on our Best of Andalucía tour:
Córdoba walking tour
Córdoba Mezquita
Flamenco performance
Montilla-Moriles wine tasting
Úbeda walking tour
Synagogue del Agua
Chapel of El Salvador
Olive oil farm visit & tasting
Granada Royal Chapel
Alhambra palace (when available)
Antequera Menga Dolmen
Ronda bullring
Guitar concert
Bull farm
Sevilla walking tour
Sevilla Cathedral
Sevilla Alcázar (when available)
Sevilla carriage ride (weather permitting)
Plus you'll get all this, too.
A small, friendly group of 24–28 people — half the size of most tour groups
Full-time services of a professional Rick Steves guide and local experts who will make the fascinating history, art, and culture of Andalucía come alive for you
All group transportation from Córdoba to Sevilla
9 nights' accommodations in memorable, centrally located hotels
All breakfasts and half your dinners
All tips for guides and driver
A tour kit including a guidebook (when available) and a moneybelt
Guaranteed tour price, locked in the moment you make your deposit
Tour alum discount of $50 for each tour you've taken with us
50% discount on a consulting appointment with our in-house experts to assist with your pre- or post-tour travel plans
Flexibility should you need to transfer or cancel your tour
Fine print: You are responsible for the cost of your drinks and free-time sightseeing. See our Tour Conditions for important details regarding everything listed above.
Group sightseeing events subject to change.
Itinerary
Day 1: Welcome to Spain
We'll gather at our Córdoba hotel at 5 p.m. for a "Welcome to Spain" get-together. Then we'll join the locals in their nightly ritual and head out for an orientation paseo (stroll) through our neighborhood. We'll finish by getting acquainted over an Andalusian-style dinner together.
Light walking: 2–4 miles throughout the day on mostly level terrain. No bus. Sleep in Córdoba.
Day 2: Córdoba's Moorish Maze and Modern City
This morning we'll explore Córdoba's maze-like Moorish old town, from its Roman foundations to its marvelous centerpiece — and Spain's best Islamic sight after the Alhambra — the Mezquita. This afternoon you're free to experience more of this magnificent city on your own, including its hidden patios and modern Plaza de las Tendillas neighborhood. This evening we'll celebrate the rhythm of Andalucía with an intimate flamenco performance.
Light walking: 2–4 miles throughout the day on mostly level terrain. No bus. Sleep in Córdoba.
Day 3: Ruta del Vino and Andalucía's Olive Country
An hour's drive along Andalucía's Ruta del Vino brings us to the heart of the Montilla-Morilles wine region. We'll tour a local bodega to learn about the famous Pedro Ximénez grape — and its place among Spanish wines. After lunch, we'll continue through the province of Jaén, getting our first glimpse at a landscape dominated by more than 60 million olive trees. Our ultimate destination is the historic, quaint — and little touristed — town of Úbeda, one-time home to Romans, Visigoths, Muslims, Christians, and Jews. Tonight we'll orient ourselves to the cultural delights of the town before enjoying dinner together.
Moderate walking: 2–6 miles throughout the day with some hills and stairs. Bus: 3 hours. Sleep in Úbeda.
Day 4: Undiscovered Úbeda
There's more than meets the eye to this unspoiled, charming town, and this morning we'll meet our local guide to soak up some of its Old World charms. Starting with the impressive Chapel of El Salvador, dedicated to Francisco de los Cobos, we'll unravel its history and dive deeper into the impact of the man who put Úbeda on the map. Later, we'll visit the mystically inspiring Synagogue del Agua before diving back into 21st Century. Your afternoon and evening are free to make even more discoveries.
Moderate walking: 2–6 miles throughout the day with some hills and stairs. No bus. Sleep in Úbeda.
Day 5: Rolling Hills and Royal Views
We'll start our day with a visit to one of Úbeda's nearby olive estates, where we'll learn all about olive oil production and put our newfound knowledge to a taste-test. After lunch, we'll head to Granada, where we'll begin with a visit to the ornate tombs of world-changing Ferdinand and Isabel, who reigned over a new age of religious zeal at home and exploration of the "new" Americas. Then we'll head up the Albayzín hill for dinner together and enjoy a sunset view of the Alhambra.
Moderate walking: 2–6 miles throughout the day with some hills and stairs. Bus: 3 hours. Sleep in Granada.
Day 6: Moorish Treasures of Granada
This morning you'll learn about Spain's Islamic legacy with a visit to the sprawling palace and garden complex of the Alhambra (when available). This last and greatest of Europe's Moorish palaces will awe you with its grace and artistry. This afternoon and evening, you'll be free to linger longer at the Alhambra and make your own discoveries along the colorful streets and alleyways of Granada's Old Town.
Moderate walking: 2–6 miles throughout the day with some hills and stairs. No bus. Sleep: in Granada.
Day 7: Ronda
Today's destination is the hill town of Ronda, home to Spain's oldest bullring and its most breathtaking gorge. On our way, we'll pause to marvel at the 5,000-year-old megalithic Dolmen of Menga (the largest in Europe). In town, we'll take in the birthplace of modern bullfighting at Ronda's bullring and have free time to explore. We'll cap our day with an intimate guitar concert together before being set free to complete your quintessential Andalusian evening with dinner on your own.
Light walking: 2–4 miles throughout the day on mostly level terrain. Bus: 3 hours. Sleep in Ronda.
Day 8: Sevilla's Barrio Santa Cruz
This morning we'll drive to Sevilla, Spain's most flamboyant and atmospheric city. On our way, we'll stop at a local bull farm to learn about this fascinating – and often controversial – cultural pastime and enjoy a country lunch together. After settling in to our neighborhood hotel, our local guide will introduce us to the Barrio Santa Cruz and the world's largest Gothic cathedral. Tonight you'll have time to do more exploring on your own or take in a performance of sultry, swirling flamenco.
Moderate walking: 2–6 miles throughout the day with some hills and stairs. Bus: 2 hours. Sleep in Sevilla.
Day 9: Sevilla's Royal Alcázar
We'll start today with a tour of the beautifully Moorish-style Alcázar palace (when available), the Sevilla home of the Spanish royal family for the past 500 years. Afterward, you're free to walk in the footsteps of Carmen and Don Juan, linger in Sevilla's charming squares, or stroll along the romantic Guadalquivir River. This evening we'll share travel memories and toast new friends at our final dinner together, capped off with a carriage ride through the streets of Sevilla. Salud!
Moderate walking: 2–6 miles throughout the day with some hills and stairs. No bus. Sleep in Sevilla.
Day 10: Tour Over After Breakfast
Breakfast is provided, but there are no group activities today. Sevilla's airport, with easy connections throughout Europe, is a bus or taxi ride away. Alternately, you can hop on an AVE train to Madrid to continue your Iberian adventures on your own. Hasta luego!
Itinerary specifics subject to change.
Please note: We may not be able to visit the Alhambra as a group or guarantee admission due to their new restrictive ticketing policy.
Physical Demands
Our tours are physically active! It's an essential part of the Rick Steves tour experience. On our Best of Andalucía in 10 Days tour — among other things — you'll need to happily…
Carry/roll your luggage over uneven pavement (possibly several blocks) and up stairways to reach your hotel, then up several flights of stairs to reach your room.
Be on your feet, walking and standing, for up to four hours, indoors and outdoors, in all weather conditions.
Sleep with street noise and no (or weak) air conditioning.
After orientation and transportation lessons, be able to navigate towns and cities on your own.
Travel on a bus without a toilet (rest stops every two hours).
Eat group dinners as late as 9 p.m.
Reviews
Donald
Tour: 10/23/22
Overall rating:
Generally, the tour went well. Our guide was well informed and the local guides were good; the tour members got along well, and most things went smoothly. It was fun to explore a part of Spain that we had not experienced too much before this tour.
Favorite "WOW" moment
"Seeing the Alhambra again, with a good local guide, was terrific; it is so beautiful."
Mary
Tour: 10/09/22
Overall rating:
This was our fifth Rick Steves tour and they never disappoint. We saw wonderful sights and had fantastic experiences that we couldn't have done on our own. Jorge was a terrific guide and the tour members were all so congenial. Plus, great hotels and so delicious meals.
Favorite "WOW" moment
"Having a delicious dinner overlooking the Alhambra at night."
Alison
Tour: 10/09/22
Overall rating:
All aspects were what I have come to expect from my previous two guided Rick Steves tours: experienced/excellent tour guide and local guides, central and/or interesting hotels, great food, extra surprises, wonderful participants.
Favorite "WOW" moment
"My favorite "wow" moments involved food and a view: Carmen dinner across from nighttime Alhambra, San Lorenzo tapas with a surprising view, Welcome dinner on beautiful rooftop, plus the expansive gardens and views of our Ronda "retreat.""
John
Tour: 10/09/22
Overall rating:
The tour was well organized. The Hotels were well situated.Each group dinner was at a local restaurant where we had an authentic dining experience. While it was an active tour, we had plenty of opportunity to explore each town on our own. It matched other Rick Steves tours I've been on. In fact it was more than a tour, it was an experience.
Favorite "WOW" moment
"The group dinner in Granada was situated in a restaurant across the valley from the Alhambra. We had a front row seat to enjoy the palace at sunset ."
Anne
Tour: 10/09/22
Overall rating:
Great guide, great sights, nice hotels - a well-rounded, stimulating experience and a good value
Favorite "WOW" moment
"The horse-drawn carriage ride in Seville to the Plaza Espana"
Chuck
Tour: 10/02/22
Overall rating:
Good pace, hotels, extras, and specialty guides(local guides.)
Favorite "WOW" moment
"I particularly liked the many examples of the architecture in the Mudejar style or influences. We've traveled to Northern Spain and really saw the differences— influenced by the Muslim traditions and art."
James
Tour: 10/02/22
Overall rating:
The local guides were exceptional. There were wonderful highlights, e.g., Alhambra and Alcazar Real, but there was too much down time.
Favorite "WOW" moment
"Dinner in Albaicin, Granada with evening view of the Alhambra."
Steve
Tour: 10/02/22
Overall rating:
Not up to our former experiences with RS tours
Christine
Tour: 10/02/22
Overall rating:
Well organized, well guided tour.
Favorite "WOW" moment
"Realizing the Alhambra was made of sandstone & will disappear at some point."
Deb
Tour: 09/25/22
Overall rating:
Our Rick Steves tour was well organized, yet offered plenty of flexibility.
Favorite "WOW" moment
"My husband and I had never been to Spain. For us, the overall exposure to daily life and Spanish culture in the Andalusian region was a daily wow!"
Doug
Tour: 09/18/22
Overall rating:
It was phenomenal and extremely well organized and crafted. Robert was a great tour guide, and the contract guides at each location were equally impressive. There was a ton of information that was provided, sometimes too much, but it also managed to capture my attention virtually the whole time and opened my senses and pores to learn more and take it all in. The locations chosen were thoughtful and methodically chosen. Liked the honest acceptance of both the good/bad sides of spanish history
Favorite "WOW" moment
"When I saw the group come together and really begin to enjoy each other. The Alhambra night was stunning and staggering. Getting there at sunset and taking it all in for a few moments was neat but then reading 'Tales of the Alhambra' on the way home, really brought it home too. I can't count the times I just stepped back in awe and said WTF to myself."
Anne
Tour: 09/18/22
Overall rating:
Very interesting history and architecture in Andalucia. Visit was very thought provoking. Although I had been there multiple times before I saw and understood new facets of Moslem rule in this part of Spain.
Favorite "WOW" moment
"The Mosque/Cathedral in Cordoba. Built at the height of Moslem tolerance and learning, continuing life with a Catholic church and numerous chapels inserted in its sanctuary. A really incredible space."
Barbara
Tour: 09/18/22
Overall rating:
Robert was fantastic, his knowledge of the area and helpful hints along the way was quite useful during the tour. The other guides during our visit also did a phenomenal job in each of the unique experiences along the way.
Favorite "WOW" moment
"Seeing the size and scope of the Alhambra was quite a sight to see!"
Michael
Tour: 09/11/22
Overall rating:
Our 3rd RS trip! From Cordoba to Seville, there was a wonderful surprise everyday. Whether it was a beautiful view, an amazing piece of architecture, an 'RS only experience' (meeting the Matador on his bull farm!!) or new connections with wonderful people; this trip was designed especially for us. A few words to describe our guide and friend, Amanda. She gives life to the experience (this is our second trip with her) and so much love to people and places. So lucky to share this trip with her.
Favorite "WOW" moment
"Ubeda! We had never heard of this town. Having tapas on the back patio of San Lorenzo church that was destroyed during the Spanish Civil War, overlooking a beautiful valley at sunset, and is now more art than religion during its renovation. Wow. The Sinagoga de Agua was both beautiful and moving. Many wow moments...Alhambra dinner at sunset, Casa Don Bosco in Ronda (views and guitars), Mesquita, Andrea the local guide in Ubeda, Amanda, Amanda, Amanda..how do you pick just one?"
Chaling
Tour: 06/05/22
Overall rating:
Great Itinerary! Visited most charming places in S. Spain
Favorite "WOW" moment
"Every city/town has a Wow! Great selection of the visiting points. I would say the old Masque in Cordoba. Consider this history of the place. The newly uncovered Jewish site at Ubeda made an unique experience."
Ramon
Tour: 06/05/22
Overall rating:
We absolutely loved our trip to Spain as our guides Robert and Jesus made sure everything ran smoothly and that we all were having a great time. Not only did they take care of all the logistics at every stop (hotel, museum, or restaurant) went perfectly, but most importantly helped us understand the rich culture of Spain both historically and also practically so we could enjoy our free time exploring the shops and tapas restaurants like locals!
Favorite "WOW" moment
"Of all the wonderful moments on the trip I would say our group dinner with a sunset view of the Alhambra in Granada was the most magical. Most definitely a highlight on the tour."
Jacqueline
Tour: 05/15/22
Overall rating:
I loved it! It's a great itinerary, including several cultural activities in addition to the incredible historical sites.
Favorite "WOW" moment
"There are so many to choose from! However, the guitar concert brought tears to my eyes - beautiful music in a gorgeous setting."
Brian
Tour: 05/15/22
Overall rating:
This Andalucia tour was very good and well planned. Jorge Roman seems to be a very experienced guide with great local connections.
Favorite "WOW" moment
"My "wow" event was attending my first bullfight in Sevilla the evening we arrived. Touring the bullring in Ronda and the bull farm just before the bullfight gave me a better appreciation for the novillada we watched."
Dorothy
Tour: 05/15/22
Overall rating:
As usual, interesting people, great guide, wonderful locations on and off the beaten path.
Favorite "WOW" moment
"Hiking up a hill to have a fabulous dinner on the terrace of a restaurant with a magnificent view of the Halambra across the ravine as it went from sunlit day into ethereally lit night. Wow! and unexpected!"
Barbara
Tour: 05/15/22
Overall rating:
Well balanced between together time and personal time. Important sights covered and special surprises added that made for a great experience .
Favorite "WOW" moment
"The guitar concert and setting provided a special moment that will not be soon forgotten."
Bonnie
Tour: 05/15/22
Overall rating:
So excited to be able to go on this tour! We knew it was the first year for doing Andalucia and there were so many good things about it.
Favorite "WOW" moment
"There were so many on this tour.....but I loved the tapas and wine on the high balcony walk of a church in Ubeda. The view was incredible at sunset. But, the one place that we learned so much was about bullfighting in Ronda at the museum and ring; and going out to the bull farm and hearing the owner/matador speak. Opened up our understanding to the cultural aspects and traditions in Spain of bullfighting."
Russ
Tour: 05/15/22
Overall rating:
Very good. Interesting visit to the Andalusia area of Spain
Favorite "WOW" moment
"The bull farm"
Randall
Tour: 05/15/22
Overall rating:
Just very well organized and expansive. I learned a lot and enjoyed it!
Favorite "WOW" moment
"The olive oil farm and tasting."
Carol
Tour: 05/08/22
Overall rating:
We enjoyed Spain. The Rick Steves guide made trav between locations easy.
Favorite "WOW" moment
"Dinner overlooking the Alahamra."
Deborah
Tour: 05/08/22
Overall rating:
Favorite "WOW" moment
"So many "wow" moments! Touching the walls of a neolithic dolmen. Sevilla's streets lined with blooming jacarandas. Going nose-to-nose with an Andalusian stallion. Meeting a bullfighter. Seeing the oceans of olive trees lapping the mountains en route to Ubeda from Cordoba."
Joseph
Tour: 05/08/22
Overall rating:
Had a good time seeing Andalusia
Favorite "WOW" moment
"Seville Cathedral"
Joan
Tour: 05/08/22
Overall rating:
The tour was great. Robert was terrific as were all our local guides.
Favorite "WOW" moment
"Walking on one of the lookout trails in Ronda that overlook the magnificent gorge, there was a violinist just starting to play in the gazebo. She began with Pachelbel's Canon in D, one of my favorites. What an amazing blend of the gorgeous scenery and beautiful music. Very serendipitous."
Cindy
Tour: 05/08/22
Overall rating:
Andalucia was our first Rick Steves tour. Far exceeded expectations.
Favorite "WOW" moment
"Robert, our guide, reading poetry in Spanish to the group. Of the cities, Ubeda was our favorite."
James Michael
Tour: 05/08/22
Overall rating:
I loved the variety of activities I never would have thought to select if I were planning this trip on my own.
Favorite "WOW" moment
"Finding out how the buildings, art, and people have many layers of cultural influences. My favorite word on this trip was palimpsest."
Jack
Tour: 05/01/22
Overall rating:
Overall, it was a wonderful tour. I would suggest staying in Ubeda one night rather than two, and add a night onto Sevilla. I felt there wasn't enough to see in Ubeda, and too much to see in Sevilla for only 2 nights.
Favorite "WOW" moment
"Too many to list. Alhambra; all of Cordoba; buggy ride around Sevilla; flamingo in Cordoba; bull and olive farm."
Maurice
Tour: 05/01/22
Overall rating:
From the moment the tour started to the final goodbye we were expertly guided through the most enchanting experience. Every detail was considered, allowing us to enter into the magic of Andalusia. Our guide director, Javier, along with our expert local guides made the entire trip perfect. This won't be our last Rick Steeves tour!
Favorite "WOW" moment
"While visiting The Alhambra in Granda is a "bucket list" experience that didn't disappoint, the unexpected beauty of Ronda was just captivating. We fell in love with Ronda. What an unexpected time to catch our breath and relax."
Amy
Tour: 05/01/22
Overall rating:
Wonderful tour. Great balance of scheduled activities and frre time to explore on your own.
Favorite "WOW" moment
"Too many wow moments to settle on just one."
Linda Dyann
Tour: 05/01/22
Overall rating:
Non-stop enjoyment and personal growth. Andalusia is a sparkling jewel of contemporary culture and ancient history simultaneously entwined. Around every corner lay something to learn from and marvel at.
Favorite "WOW" moment
"I was moved by the intimate experience we had in UNESCO World Heritage City Ubeda on the first night of the visit with a private dinner artfully catered for our group alone, by a local cooking School at the church of San Lorenzo, a "confiscated church" which is now a fascinating public cultural space with access to archival remains below and currently houses an stunning contemporary art exhibit plus far reaching views of Jaen landscape beyond the city walls."
Stephen
Tour: 05/01/22
Overall rating:
Great tour with a lot of interesting cities. Tour guide treated us like adults
Favorite "WOW" moment
"Mezquita-Cathedral"
Paulette
Tour: 05/01/22
Overall rating:
High marks to Javier, our tour guide who made the trip memorable. Rick Steves has the absolute best guides. Overall the tour was fantastic. I would recommend it to others.
Favorite "WOW" moment
"The Alhambra at night on the patio, followed by an excellent group dinner, will always represent the best Wow moment for me on this tour. The Mezquita tour would be next, for it changed my perspective on Christian vs. Islamic representations of their religions. The juxtaposition of both is very enlightening and memorable."
Jillian
Tour: 05/01/22
Overall rating:
It was excellent, I was very impressed with everything that was included in this tour. As always with every Rick Steve tour, I feel like every penny of my money was well spent. It's a great feeling and we look forward to the next tour!
Favorite "WOW" moment
"Ronda was absolutely a breathtaking cliff side village. We had a wonderful timing climbing down to see the water and walking up and down the beautiful hills."
Jane
Tour: 05/01/22
Overall rating:
The tour, my first Rick Steves, was terrific. The sites, experiences, local guides, meals —- all excellent and fun. Our guide Javier was well informed and engaging.
Favorite "WOW" moment
"Finally seeing Ronda and hiking in the gorge!"
Chris
Tour: 05/01/22
Overall rating:
Andalucia is a great region of Spain filled with beautiful small and medium sized towns and filled with 66 million olive trees. This was my first Rick Steves tour and I picked it for the region not the tour company but I really like it. The guide was good, the small hotels interesting, the tour good fun and the mix with free time every other afternoon or so was perfect.
Favorite "WOW" moment
"Probably the Alhambra with all the Spring flowers."
Dennis
Tour: 04/24/22
Overall rating:
I had never spent time in this region of Spain. It was great to immerse into Spanish culture, scenery, food and architecture.
Favorite "WOW" moment
"Standing in Ronda's bullring and looking into its gorge as well as an evening dinner in front of the Alhambra"
William
Tigard, OR
Tour: 10/27/19
Overall rating:
It was such fun being "lab packrats" for this trip. Having five guides/planners/observers was a real treat. All contributed to the quality of the experience. Pace of trip was good. Had been to Granada, Ronda and Seville before (24 years ago) but Cordoba and Ubeda were new and well worth experiencing. Local guides all good. good ratio of free time and group activities. Group meals were fantastic! Fellow travelers were great.
Favorite "WOW" moment
"The most memorable moment occurred at the farewell dinner when Ron presented the guides with teeshirts printed with a photo of Jorge modeling an outrageous hat. We all laughed loud and long. Of the group activities the visit to the olive oil farm stood out as I knew very little about that stuff."
Joan
Redmond, WA
Tour: 10/27/19
Overall rating:
It certainly didn't help my experience when I got a nasty cough just as the tour got off the ground. I really hope I didn't pass it on to my friends. (Sorry, Sam). So that is not the tour's fault, of course. Travel mates: Excellent. Two hours of standing in hot sun looking at vineyards and nearly losing what's left of my hearing watching barrel being made: Not adequare. Ubeda, outstanding , Ronda, needs more time! flamenco, outstanding, olive oil fields, processing plant and lunch, ????
Favorite "WOW" moment
"Wow was the guides taking us up at night to see the treasure that is the Alhambra. Stunning! Also, I really enjoyed the upgraded hotels and our carriage ride and last nights dinner."
Saunders
Redmond, WA
Tour: 10/27/19
Overall rating:
It was a good time from the perspective of someone that has been a previous Spain trip with RS. The areas that were a little soft were the wineries and too many churches. The tour guides were Outstanding to very good, and I am aware of the balances they face in trying to give the clients the best overall experience.
Favorite "WOW" moment
"Although I have been to Granada before, I don't believe I would ever tire of the area and sightseeing opportunities. Additionally, the tour dinner was outstanding!"
Bob
Tumwater, WA
Tour: 10/27/19
Overall rating:
We enjoyed visiting key points in Andalusia, discussing history, its culture and the regions' future. The tour introduced us to many new sights and tastes and really brought out the love of this very special area. The fact that we had four tour guides was a unique and happy experience! This was our very first "proofing" tour so we had a fun time with our tour mates and the staff.
Favorite "WOW" moment
"A "wow" moment that SHOULD be on the tour was the Andalusian horse show in Córdoba! Wow! Additionally, the Mesquita in Cordoba had to be one of the wows of our travels. Simply put...it is magnificent. Finally, the Cathedral of Seville...grand beyond words and we saw the grave of Columbus perched high aloft by four Spain's kings. Double wow!"
Helen
Pacific Grove, CA
Tour: 10/27/19
Overall rating:
Wow! After having been on the road for almost eight weeks prior to beginning this tour I was wondering if I would just be anxious to get back home. Boy, was I wrong. This tour was great fun and very educational. I grew up in Spain and yetl I learned a great deal about part of the country I still call the 'home of my heart.' The 'experimental' nature of this trip and the additional guides, and representative of the RS home office, made it very special. I wasn't ready to come home.
Favorite "WOW" moment
"There were more than one, but I will say that the visit to the Sinagoga del Agua in Úbeda was a "wow" moment for me. The enthusiasm and knowledge of our guide, Andrea, was utterly infectious. If I may be permitted, the visit to the bull farm was the second "wow" moment for me. Having attended bullfights as a child, though not something I would likely do today, learning the backstory on this controversial art form was very enlightening."
Frederick
Pacific Grove, CA
Tour: 10/27/19
Overall rating:
Though things changed, some went a bit slow, and some too fast, I would not have missed the Test DriveTour for anything. An outstanding group of fellow travelers, guides, and locations. I have spent some weeks in Spain over the years and I'm married to a lady who was raised on Mallorca, so I feel I have a pretty good handle on the country but this trip nailed it. The trip presented southern Spain as it should be presented, kudos to all the Rick Steves' people who put this trip together.
Favorite "WOW" moment
"The cathedral in the middle of Mesquite in Córdoba. Walking through the former mosque in to the cathedral took my breath away. I was not prepared for the juxtaposition. I loved it!"
Vickie
Santa Clara, CA
Tour: 10/27/19
Overall rating:
Small group travel is the best and the dynamic Rick Steves guides leading the way were wonderful. I went to some of the same places on the Rick Steves Best of Spain tour, but this time the focus was on the culture and history of the region. It was a great supplement to the other tour. The local guides were outstanding, whether they were sharing historical facts, explaining the process of producing wine or olive oil, or talking about cultural activities such as bull fighting and flamenco dancing.
Favorite "WOW" moment
"There were so many WOW moments throughout the tour. I enjoyed being in Cordoba where there are beautiful patios everywhere, and visiting the magnificent Mezquita. In Granada, seeing the Alhambra all lit up in the background while we ate dinner then going there the next day was very special. Watching Flamenco dancers and guitarists perform at the highest level was breathtaking. !"
Paula
Seattle, WA
Tour: 10/27/19
Overall rating:
We had a ball on this "guinea pig tour Best of Andalucia." Several of the tour members and even a couple of guides said, "You and Tony love everything so maybe we aren't critical enough. We wanted to go back to Andalusia and so this trip was great. Granada, the Alhambra, Sevilla, wonderful Cordoba Ubeda and the Sinagogue. Andreas the guide! Loved the bull farm, the passion and fire of Spain was apparent to us who are not fans of bull fighting. Loved both the wineries but you should cut one.
Favorite "WOW" moment
"Two Jorge moments, one on the old Roman bridge at night with a view of Cordoba and his story about his family and their experiences during the civil war. Lola the guide in Cordoba. All the guides and their passion for Spain. The Synagogue in Ubeda and thinking of the people of the world who have been asked or forced to leave their homes."
When To Go & Weather
Any time between April and June and from September through October are good times to take a Best of Andalucía tour. However, the months of April, May, September, and October offer the best combination of good weather, lighter crowds, and long days.

Spain / Sevilla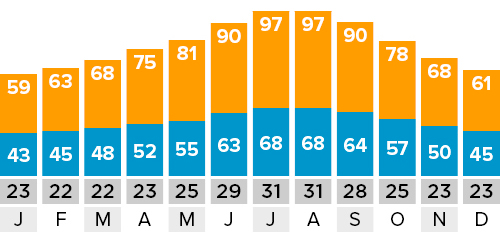 Hotels & Flights
Tour Hotels
In case you wish to book pre- or post-tour hotel accommodations, the contact information for the tour's first and last hotels is included in your tour confirmation email, as well as in the Itinerary section of your tour account. One month prior to the tour departure, in your customer account you'll find the directions to your first tour hotel and a complete list of hotels where we'll be staying in the Documents section of your tour account.
Flights
Our tours don't include airfare, so your flight arrangements are completely up to you.
Most tour members arrange to fly in and out of Sevilla (SVQ), about a 45-min train ride from Córdoba, where the tour begins. You can also arrange to fly into Madrid, about a 2-hour train ride to Córdoba, and out of Sevilla.
We suggest arriving a day or two before your tour begins to allow ample time to get over jet lag and be well-rested for the first few days of your tour. For more information about transportation options for getting to and from your tour, see your Rick Steves Spain guidebook.