Chapel Bridge in Luzern

Lake Lugano

The Matterhorn

Mürren

Château de Chillon on Lake Geneva

Say "Cheese"

Hiking in the Berner Oberland

Bern
Tour Questions? See our FAQ | Call 425-608-4217
Best of Switzerland in 12 Days Tour
Our 12-day Best of Switzerland tour will have you delighting in the majesty, diversity, and cultural quirks that make this place so…Swiss! From lakeside towns to flowerbox-perfect villages to hiking trails surrounded by cut-glass mountains — you'll find yourself in a nature-lover's nirvana. Peek at its peaks, marvel at its love of precision, and savor a daily dose of cow-milking, chocolate, and cogwheel trains. Already been to Switzerland? Treat yourself to a generous second Alping. Join us for the Best of Switzerland in 12 Days!
Dates & Prices
What's Included
You'll get at least 20 group sightseeing events — at no extra cost!
Here's what you'll see and do on our Switzerland tour:
Luzern walking tour
Lake Luzern boat cruise
Rütli Meadow
Fortress Fürigen
Appenzell orientation walk
Ebenalp mountain excursion
Bellinzona
Lugano orientation walk
Lake Lugano boat cruise
Ticino cooking class
Zermatt
Lake Geneva boat cruise
Château de Chillon
Lavaux wine tasting
Cheese farm
Schilthorn mountain excursion
Hiking orientation for day in the Berner Oberland
Bern walking tour
Swiss culture Q&A
Chocolate experience
Plus you'll get all this, too.
A small, friendly group of 24–28 people — half the size of most tour groups
Full-time services of a professional Rick Steves guide and local experts who will make the fascinating history, art, and culture of Switzerland come alive for you
All group transportation from Luzern to Bern
11 nights' accommodations in memorable, centrally located hotels
All breakfasts and half your dinners
All tips for guides and driver
A tour kit including a guidebook (when available) and a moneybelt
Guaranteed tour price, locked in the moment you make your deposit
Tour alum discount of $50 for each tour you've taken prior to 2022
50% discount on a consulting appointment with our in-house experts to assist with your pre- or post-tour travel plans
Flexibility should you need to transfer or cancel your tour
Fine print: You are responsible for the cost of your drinks and free-time sightseeing. See our Tour Conditions for important details regarding everything listed above.
Group sightseeing events subject to change.
Itinerary
Day 1: Welcome to Switzerland
We'll meet at 5 p.m. at our hotel in Luzern (Lucerne) for a "Welcome to Switzerland" meeting. Then we'll take a meandering evening walk through Switzerland's most charming lakeside town and get acquainted with one another over dinner together.
Light walking: 2–4 miles throughout the day on mostly level terrain. No bus. Sleep in Luzern.
Day 2: Luxurious Luzern
We'll begin our day with a walking tour of Luzern, learning how a backwater fishing village grew to become a bustling center of trade in medieval times and one of Europe's must-see destinations on the "Grand Tour" a century ago. Our guided walk will take us through the city's restored medieval core and over its famously colorful pedestrian bridges. This afternoon, we'll travel by bus and boat, tracing the tale of William Tell and the birthplace of Switzerland at Rütli Meadow before returning to Luzern for a free evening.
Moderate walking: 2–6 miles throughout the day with some hills and stairs. Boat: ½ hour. Bus: 1 hour. Sleep in Luzern.
Day 3: Storybook Appenzell
This morning we'll leave Luzern and make our way to Switzerland's "cowbell country" — Appenzell. We'll stop at the once-secret Swiss Army bunker at Fortress Fürigen, where we'll see part of the massive defense system designed to keep Switzerland strong and neutral. Afterward, we'll continue our drive through the Swiss countryside to our picturesque home for the night. We'll settle into our family-run hotel, then head out for an orientation walk followed by free time to wander through our storybook neighborhood before enjoying dinner together.
Moderate walking: 2–6 miles throughout the day with some hills and stairs. Bus: 2½ hours. Sleep in Appenzell.
Day 4: Ebenalp and Italian Switzerland
Our day begins with a gondola lift to the peak of nearby Ebenalp. You'll have time to savor the 360-degree alpine view and perhaps head downhill to see the 400-year-old Wildkirchli cave church (hermit monks lived and worshipped here from 1658 to 1853) and a guesthouse built precariously into the cliff. Then we'll trade our mountains and meadows for palm trees and a taste of Ticino, the Italian side of Switzerland. On our way, we'll stop in the fortified town of Bellinzona to practice our best Swiss passeggiata. This afternoon's destination is the dolce vita lakeside city of Lugano. Your guide will take you on an orientation walk before setting you free to enjoy one of the town's many idyllic open-air restaurants.
Moderate walking: 2–6 miles throughout the day with some hills and stairs. Bus: 3 hours. Sleep in Lugano.
Day 5: Free Day on Lake Lugano
It's time to take a vacation from your vacation, on the sunny side of the Alps! The day is yours to stroll along Lugano's shops and harbor, ride the funicular up to the top of 3,000-foot San Salvatore for great lake views, or hop aboard a ferry and cruise to nearby Swiss and Italian villages. We'll regroup this evening to board a boat for our Ticinese cooking class and dinner together.
Light to strenuous walking (your choice). Boat: 1 hour. No bus. Sleep in Lugano.
Day 6: The Mighty Matterhorn and Lausanne
We'll say ciao to Lugano this morning as we make our way into the French-speaking corner of Switzerland. Along the way we'll visit the quaint mountain village of Zermatt, framed by Switzerland's iconic Matterhorn. We'll have free time to explore the village and enjoy the views of one of the most recognizable mountains on the planet — if the weather cooperates. Then it's on to Lake Geneva and the city of Lausanne, where this afternoon we'll get oriented to our old town neighborhood before sitting down to test our French over dinner together.
Light walking: 2–4 miles throughout the day on mostly level terrain. Train: ½ hour. Bus: 5½ hours. Sleep in Lausanne.
Day 7: Lake Geneva's Château de Chillon
The morning is all yours to explore Lausanne's tangled and historic old town, visit its famed Olympic Museum, or simply savor a café au lait while people-watching in the idyllic waterfront neighborhood of Ouchy. This afternoon we'll take a boat cruise on Lake Geneva (weather permitting). A few miles downshore we'll dock at Château de Chillon, where we'll have a guided tour of this delightfully medieval castle on the water. Then we'll visit the Lavaux vineyards for a wine tasting before returning to Lausanne for the evening.
Moderate walking: 2–6 miles throughout the day with some hills and stairs. Boat: 2 hours. Bus: 1 hour. Sleep in Lausanne.
Day 8: Into the Heart of the Alps
Today we'll depart lakeside Lausanne and journey into the heart of the Swiss Alps. The best way to get there is by taking a scenic drive up and over the Jaun Pass as we make our way to the breathtaking Berner Oberland. After passing lush green meadows and dramatic alpine peaks, we'll end our journey with a thrilling gondola ride from the Lauterbrunnen Valley floor up to the clifftop village of Mürren. You'll have some time to commune with nature and delight in the high mountain air before we enjoy a traditional Swiss fondue dinner together.
Moderate walking: 2–6 miles throughout the day with some hills and stairs. Bus: 3 hours. Sleep in Mürren.
Day 9: Schilthorn and Hiking in the Berner Oberland
For an exhilirating start to our day, we'll take a gondola ride up to the top of the 10,000-foot Schilthorn and enjoy breakfast together with a view of the Eiger, Mönch, and Jungfrau peaks. The rest of the day is yours to join your guide on an optional hike or explore more of the magnificent mountains on your own, then find your way back to Mürren. Whatever adventure you choose, you won't be far from the three essential ingredients of the area: cows, cheese, and chocolate.
Light to strenuous walking (your choice). No bus. Sleep in Mürren.
Day 10: Cheese, Cows, and Chocolate
Today we'll experience both rural and urban Switzerland as we make our way to stately-but-human Bern. Along the way, we'll visit a working alpine farm where the area's famous Gruyere cheese is produced. After free time for lunch, we'll indulge ourselves by stopping at a local chocolatier and sample a selection to judge for yourself if Swiss chocolate is really the best in the world. We'll continue on to the country's present-day capital and our final stop, where your guide will orient you to our neighborhood before setting you free to find dinner on your own.
Light walking: 2–4 miles throughout the day on mostly level terrain. Bus: 3 hours. Sleep in Bern.
Day 11: The Swiss Capital of Bern
This morning we'll take a walking tour through Bern's city center filled with cozy covered arcades, pointy towers, sandstone buildings, and colorful fountains. Afterward, we'll sit down with a local for a cultural Q&A session on all things Swiss. This afternoon you're free to explore more of Bern, visit a museum, enjoy a beer at an outdoor café, or take a stroll along the river. Tonight we'll gather for a farewell dinner together, where we'll share travel memories and toast new friends. Pröschtli, cin cin, and salud!
Light walking: 2–4 miles throughout the day on mostly level terrain. No bus. Sleep in Bern.
Day 12: Tour Over After Breakfast
Breakfast is provided, but there are no group activities today. It's a breeze to reach Zürich's airport by train (75 minutes, 2 trains per hour). You'll have easy connections to home or other points in Europe. Tschüssli!
Itinerary specifics subject to change.
Physical Demands
Our tours are physically active! It's an essential part of the Rick Steves tour experience. On our Best of Switzerland in 12 Days tour — among other things — you'll need to happily…
Carry/roll your luggage over uneven pavement (possibly several blocks) and up stairways to reach your hotel, then up several flights of stairs to reach your room.
Be on your feet, walking and standing for up to three hours, indoors and outdoors, in all weather conditions.
Sleep with street noise and no (or weak) air conditioning.
After orientation and transportation lessons, be able to navigate towns and cities on your own.
Adjust to frequent alpine weather changes that can interfere with sightseeing.
Reviews
Xiaotong
Atlanta, GA
Tour: 09/23/19
Overall rating:
Outstanding tour.
Favorite "WOW" moment
"The nature and the landscape were beautiful, especially in Zermatt, Engelberg, and Murrein."
Reginald
San Francisco, CA
Tour: 09/23/19
Overall rating:
Overall, the tour was a wonderful experience with many new adventures every day.
Favorite "WOW" moment
"Opening up the window to our hotel room in Murren and having the Jungfrau Alps overlooking us."
Dan
Redmond, WA
Tour: 09/23/19
Overall rating:
Fantastic experience. Breathtaking scenery (we had spectacular weather). Friendly and helpful people that we interacted with. Learned a ton!
Favorite "WOW" moment
"Alpine meadow dairy/cheese making tour. This seemed to present the true flavor of old Switzerland with its agrarian heritage, coupled with a beautiful setting and wonderful host."
Debra
Macon, GA
Tour: 09/23/19
Overall rating:
From the first day, Mirjam lead our group on a delightful tour!! She shared interesting historical tidbits about the culture and places we were visiting ( and in case you didn't know, Switzerland has 4 official languages and you visit areas where 3 of these are spoken). She even share favorite chocolates from several of the areas with her group....THANKS MIRJAM!!!! The hotels where the group stayed were outstanding and the locations were always central to the towns. This made for easy walking
Favorite "WOW" moment
"The hotel room my husband and I had in Lugano was over the top "wow". It was previously the room of the daughter of the owner of the hotel....they had refurbished the room several years ago with original furnishings. Of course, the scenery at every location (Murren, Engelberg, etc, etc) were picture-postcard worthy!!!"
James
La Porte, IN
Tour: 09/23/19
Overall rating:
Favorite "WOW" moment
"The Lautterbrunner valley, Murren and the revolving restaurant!"
Mary Ann
Upper Marlboro, MD
Tour: 09/23/19
Overall rating:
I choose the Switzerland tour for the beauty I expected to experience and I was not disappointed. Additionally, I'm especially appreciative of the tour staff for scheduling such a wonderful group of travelers to share my experience with. Everyone was interesting, amicable, and such fun on a daily basis. No complaining. No stragglers. Nothing but smiles and appreciation for our experiences.
Favorite "WOW" moment
"There are probably two "Wow" moments, both of Switzerland's awesome landscapes. First was our drive through the Gotthard Pass at the hands of our super coach driver Remo. Next was the view of Schilthorn peak from my room in Murren. I was overwhelmed when I dragged my suitcase into the room and stepped out on the balcony where I'd enjoy my morning coffee for the next 2 mornings! Even the gondola rides up the mountain didn't prepare me for the mountain view."
Bradford
Concord, CA
Tour: 09/23/19
Overall rating:
Favorite "WOW" moment
"logono"
Joseph
Cape May Court House, NJ
Tour: 09/23/19
Overall rating:
This tour had a blend of some fantastic experiences I don't think can be found on any other tours, as well as some frustrations. Murren, Matterhorn, Risotto dinner on Lake Lugano, Engleberg, and visiting a cheese farm were all highlights that we will remember forever. Not being met at the airport, and trying to find things to do in Lugano for 2 days (which the RS book concluded) was a downer. Lugano would've been better as a quick stop and more time in Murren or Zermatt!
Favorite "WOW" moment
"Zermatt and seeing the Matterhorn. We are always "wowed" by seeing iconic features of Europe and the world. There were so many options of hiking and vantage points that we did not have an opportunity to get to as we only had 2-3 hours here. Murren was a very close 2nd. Also notable was the amazing risotto dinner on Lake Lugano."
Lori
Clay Center, KS
Tour: 09/23/19
Overall rating:
My 1st RS tour enjoying the sights and tastes of a very clean and beautiful country. Lovely cruises on the lakes: Luzern, Lugano and Geneva. Nice tour group size and getting to know one another, especially cooking risotto and tasting white merlot in a grotto at Ticino. Free time included the Luzern market, the beautiful village of Morcote and hiking around Murren. Mirjam, an excellent guide and even a cow whisperer. She received an immediate weather forecast answer from the nod of the cow. Fun!
Favorite "WOW" moment
"So many! The view of the Alps from hotel balcony in Murren. A sunny day marveling the picturesque Matterhorn. The alpine cheese-making farm with a tasting, alpine horn, accordion and yodeling. Beautiful Italian village of Morcote."
Kelly
Milton, GA
Tour: 09/23/19
Overall rating:
This was my first RS tour & I loved it! Am used to independent travel & this was my first "organized" tour. I was visiting family in Basel for a month, but also wanted to see more of Switzerland. I signed up for the BOS tour after my Basel visit, because my husband couldn't join me, and I didn't want to travel solo. Great itinerary, friendly people & so nice to have everything all arranged - so no stress for me. My Swiss cousins were impressed & told me that I had seen the best of Switzerland!
Favorite "WOW" moment
"Boy this is hard, but I loved being in Mürren. Although I hated the gondola rides because of my fear of heights, I was in awe the entire time I was there...and the brunch in Schilthorn, wow, those views, that's what you think of when someone says "Switzerland." Three other highlights for me were the cheese farm, Benedictine monastery and Chillon Castle."
Deborah
Carson City, NV
Tour: 09/23/19
Overall rating:
After visiting the Schilthorn, Monch, Eiger, Jungfau on previous RS tours, I wanted to see more of the country and was not dissapointed in the variety on this tour. The itinerary provided a great glimpse into the heart of Switzerland. I loved visiting each area with German, Italian, and French languages being the principal language. It was like visiting three different countries in one. I highly recommend this tour.
Favorite "WOW" moment
"Visiting Murren and the Schilthorn again. Driving into Lauterbrunnen I was so glad to be back as it is truly breathtaking. I was also hoping to see the Matterhorn and we had a glorious sunny day. So this would be a second wow for me."
Nancy
Humble, TX
Tour: 09/11/19
Overall rating:
As always, the tour was well organized with a variety of attractions. The tour director was excellent and letting us know the schedule for the day so we could plan accordingly. We had a great group of travelers, as people were friendly and willing to share other vacation experiences.
Favorite "WOW" moment
"There were so many "wow" moments - most from the views we were able to experience from the mountains."
John
Loveland, OH
Tour: 09/11/19
Overall rating:
Relaxing, informative. This tour gave us a closeup look at the beautiful mountains and valleys of Switzerland and also gave us some understanding of what sets the Swiss way of life apart from the way we live.
Favorite "WOW" moment
"Mountain top views and hikes are what set this trip apart from our other European tours. Absolutely fabulous scenery from Pilatus, Titilis, Matterhorn, and Schilthorn. Ability to choose our own hikes on or near these mountains led to numerous unforgettable moments."
Barbara
Ottawa, ON
Tour: 09/11/19
Overall rating:
This was our first guided tour. The treat was in having the travel between locations taken care of by a great bus driver, Mirianne, and the information about the locations explained by our guide, Yorick, a Manchester chap, whose historical, geographical, and social knowledge was much appreciated. Hotels were downtown, close to sites, provided great breakfasts, and views. The group meals were special, boats, trains, buses, tickets to castles,vineyards taken care of. A big plus.
Favorite "WOW" moment
"Walking down on the service road halfway from the Titlis mountain peak back to town. It took quite a bit longer than the senior Swiss hikers had indicated, but looking down at Engleberg in the valley with the cows and their clanging bells keeping a close eye on us, stopping at a farm for an ice cream, was everything I imagined Switzerland to be. A close second was the 2hr boat tour from Lausanne to Chillon castle and finishing with the wine tasting, overlooking Lake Geneva. Perfect."
Elaine
Loveland, OH
Tour: 09/11/19
Overall rating:
Great tour! Loved the beauty of the Alps as well as the lakes. Most of the food was good and our guide was very knowledgeable. Our bus driver became like one of the family, as well.
Favorite "WOW" moment
"I think the whole Alps Experience was one big "WOW". Loved seeing Zermatt and having lunch almost next to it, Incredible experience going up Mt. Titlis and then hiking down, and beautiful views of the Eiger and Jungfrau from another great hike in Murran."
Marcia
Destrehan, LA
Tour: 09/11/19
Overall rating:
Switzerland was a trip of a lifetime. When my husband first mentioned the idea of traveling to Switzerland, I felt like I was in a dream, and having realized the idea exceeded all I ever envisioned about this amazing place. It was a very stimulating trip from the cultural aspect, the people that we met, and the beauty of the cities that we visited made it all a beautiful and memorable experience. I also enjoyed meeting the people that were part of the tour. I now have new friends.
Favorite "WOW" moment
"There were many "wow" moments on this trip, it is hard to narrow it to just one. For me, I would have to say was hiking down Mount Titlis, although I had trained for the hike prior to the trip, nothing could have prepared me for this amazing experience. This was a true test of endurance. Sharing time with my tour buddies, seen the beautiful scenery and hearing the cowbells as we hiked and just taking it all in stimulated all my senses. It was certainly a "wow" moment."
Guy
Destrehan, LA
Tour: 09/11/19
Overall rating:
The beautiful scenery wildly exceeded expectations; Switzerland may possibly be the most beautiful place on earth. The diversity and interest of the many side trips and included tours and many other unexpected highlights. Our tour guide Yorick facilitated, translated, and put it all in prespective, from the Roman ruins to Olympics to the present. Within all this beauty, the charming city and hospitable people of Lucerne remain a great memory, as do our 26 tour mates. No regrets, not a one.
Favorite "WOW" moment
"I had many wow moments; the hike down from Mount Titlis tested my stamina but was so stimulating, it left me wanting for more. Another was the views provided from the villages of Murren of Gimmelwald, the Lauterbrunen Valley below, and the Schilthorn high above all of that, including the clouds. It's amazing to say anything other than "Wow" amidst such beauty."
Carol
Winter Park, FL
Tour: 09/09/19
Overall rating:
Excellent Rick Steves tour. Fantastic guide, great itinerary, great sites, good mix of tour time and time on our own.
Favorite "WOW" moment
"WOW moments: 1. Visiting cheese making/dairy farm on top of the Juanpass. What a treat! This is the real deal and what makes a Rick Steves tour so special. We toured a working farm and saw how cheese is made, sampled it, and were serenaded with "alpen horn," accordion, and yodeling! 2. Having less than 3 hours in Zermatt, we had perfect weather and incredible views of the Matterhorn! 3. Visit to the Benedictine Monastery in Engelberg."
David
Edmonds, WA
Tour: 09/09/19
Overall rating:
Amazing, very efficient, everything on time, no wasted tines.
Favorite "WOW" moment
"Engleberg walk around lake"
Linda
Ellison Bay, WI
Tour: 09/09/19
Overall rating:
The scenery was wonderful, especially the mountains. What a nice group of fellow travelers and a great guide Mirjam! The cities gave us a good taste of metro Switzerland while the small towns provided the 'storybook' Switzerland. It was fun to learn a few words in Swiss German, Italian and French, even tho I sometimes got my greetings mixed up. We were lucky to have good weather to see all the mountain peaks. The Swiss wine was delightful also,Especially the wine tasting at Domaine du Daley. I
Favorite "WOW" moment
"I have to say, being back in Murren and hiking the mountain trails was my 'wow' moment. I just wanted to soak it all up and sear it into my brain to bring back memories. Is there a more beautiful place on earth?"
Beverly
Livermore, CA
Tour: 09/09/19
Overall rating:
Best tour ever! We got to see everything we wanted and more. Rick Steve's has tours down to a proven science with great exposure to new places, easy transportation, lovely accommodations, and just the right amount of time for you to explore yourselves.
Favorite "WOW" moment
"Taking the gondola ride into Murren and seeing the Alps rise above you was my wow moment. The view from the town of Murren was amazing in itself."
David
Reading, MA
Tour: 09/09/19
Overall rating:
I wanted mountians and I got them. As a bonus I experienced 4 distinct cultures; Swiss, Germain, Italian and French, and 3 lakes. What more could I ask for?
Favorite "WOW" moment
"Standing in the snow on the glacier at the top of Mount Titlis."
Lynelle
Woodbridge, CA
Tour: 09/02/19
Overall rating:
This was our 16th Rick Steve's Tour and as you can see we are hooked! We enjoy coming to Europe for at least 30 days and always include a Rick Steve's Tour in our plans. We had been to Switzerland a few times but this tour offered quite a few places we had not been. Once again it far exceeded our expectations. And we cannot say enough about Martin as our guide. He was fabulous!
Favorite "WOW" moment
"I would say we thoroughly enjoyed all of it. Enjoying the hike up to be able to see the Matterhorn come out from behind the clouds was definitely a wow. And although we had been up to the Schilthorn a couple times, getting a clear morning and enjoying a great breakfast was again a wow! We really also enjoyed going up to Mt. Pilatus, again with a clear view. We felt we were very blessed!"
Cathy
Havertown, PA
Tour: 09/02/19
Overall rating:
This tour was wonderful! Our guide was fantastic, the people in the group were as nice as could be, the scenery and tours were indescribable. Your company always spices up our travels with experiences that we wouldn't be able to have otherwise (e.g., visiting a dairy farm and watching cheese be made). We recommend Rick Steves tours to everyone!
Favorite "WOW" moment
"Seeing the Matterhorn appear from the clouds!"
Tim
Havertown, PA
Tour: 09/02/19
Overall rating:
There is nothing that can prepare you for the beauty and efficiency of this country. The alps are magnificent, the cities are picturesque and clean. The transportation system is easy to navigate and on time. The members of the tour were varied, compatible and fun. Martin, our leader, was relaxed, but efficient, and made things happen seemingly effortlessly. His advice on options was appropriate and valuable.
Favorite "WOW" moment
"Sitting at lunch at an outdoor restaurant table just above Zermatt watching the Matterhorn emerge from the clouds."
Mary
Madison, WI
Tour: 09/02/19
Overall rating:
Our guide, Martin, was excellent, in every way! He was very knowledgeable. The itinerary was good and the placement of free time was good. I enjoyed the local city tours, the cheese making stop, the chocolatier visit and the winery tour. Tasting the local foods was special. The military complex tour was very interesting I was a bit concerned about the possibility of carrying luggage up flights of stairs and in general transporting my luggage throughout the trip but it wasn't too bad.
Favorite "WOW" moment
"My best moments were hiking on the North Face trail in Mürren. It was awesome. Martin was very helpful in describing possible hiking routes, such as the one I mentioned, but also in other areas, too."
Luann
Shreveport, LA
Tour: 09/02/19
Overall rating:
I loved getting to meet other travelers from around the US who love to explore and travel. The areas that we explored in Switzerland were amazing! Our guide was extremely patient and cared that we all had a fabulous experience n his country.
Favorite "WOW" moment
"Hiking in the Alps, walking by the cows and being able to reach out and pet them! Seeing cheese being made in a farm The way it has been done for 100 years!"
Mark
Shreveport, LA
Tour: 09/02/19
Overall rating:
We enjoyed the accommodations, Martin was great, the tour was fabulous, met some wonderful people. The combination of site seeing and travel was perfect.
Favorite "WOW" moment
"My wife and I really enjoyed Mürren. We wish we could have stayed there one more day and cut out a day from say Bern."
Mary
Edmonds, WA
Tour: 09/02/19
Overall rating:
Excellent tour of a beautiful country. So well organized and so many wonderful sights were included. We left feeling so much more aware of Swiss culture and history. It was a very active tour, with many days of walking 5-10 miles.
Favorite "WOW" moment
"Our time in the Alps. We were blessed with glorious weather, seeing the Matterhorn, the Eiger, Monch, and Jungfrau peaks was absolutely amazing. We loved our breakfast at the Schilthorn and walking out on the viewing platform. Truly awe inspiring. Also, had no idea there were 3 distinct language/cultural areas in Switzerland--very cool."
Nancy
Monroe, MI
Tour: 08/26/19
Overall rating:
This was my first Rick Steves tour and I loved it! The itinerary was superb, affording us a comprehensive introduction to Switzerland including city, village, farmhouse, mountain tops and valleys. The tour guide and assistant were exceptional and insured that the tour was interesting, informative, and fun. They also brought a dimension of reflection on their own part which encouraged me to explore what was happening within me as I experienced a new country.
Favorite "WOW" moment
"The first "wow" moment happened on our first tour of Luzern with guest tour guide "Claudia" whose freshness, sense of humor and her honest depiction of Swiss history and culture delighted me. But that was just my first "wow" moment. There was the water in every form: lakes, drinking water fountains, waterfalls, glaciers, humidity in the WWII bunker. I came away with an overwhelming sense of water in Switzerland. The mountains, too, but I expected that. And they were stunning."
Gene
Johnson City, TN
Tour: 08/26/19
Overall rating:
I am concerned that my comments will be "excerpted" to minimize my concerns. I have been on 4 tours but will not go on another one or recommend them to others. 12 days tour actually 10 days and 3-4 hours. 2 nights in a location actually mean 1 day and some hours on the day of transit. So you really have 6 days of quality time, not 12. The tour felt rushed much of the time. Best of Switzerland is not cities, but trip was 2/3 cities. The time spent in the mountains was most rewarding.
Favorite "WOW" moment
"Hiking in the clouds and rain in Murren, the Alps. Actually being in the mountains rather than just looking from afar (as with the Matterhorn). I would have traded 2 or 3 days in other places to stay longer in Murren (as it cleared the morning we left)."
Marie
New Hope, AL
Tour: 08/19/19
Overall rating:
We had a wonderful tour around Switzerland and just LOVED Maisie! Both Maisie and our bus driver, Marriane, were awesome and talented. This trip was to celebrate our 30th wedding anniversary and we loved every minute of it. Murrin was our favorite stop and happened to be on the day of our anniversary so we were hiking in the Oberlin on our special day which was a dream come true! We loved the mountains as well as the cruises - this is an amazing tour!
Favorite "WOW" moment
"Our WOW moment was the gondola ride up to Mt. Titlis. It was cloudy so we were not expecting much visibility at the top. But then about half way up we came through the clouds and could see all of the mountains clearly and all of the valley was still hidden beneath the clouds. Literally - everyone said "Wow" almost in unison! It was an amazing day with outstanding views after all of the clouds cleared. We were also impressed with how exceptionally beautiful the water is everywhere!"
Mary
Edmonds, WA
Tour: 07/29/19
Overall rating:
Very helpful on the tour. The tour guide was great. Would of liked air conditioning in some of the hotel rooms but we managed
Favorite "WOW" moment
"Going to the farm where they made the cheese. Riding to the top of the mountain and having a great breakfast with Swiss food."
When To Go & Weather
Any time between May and September is a good time to visit Switzerland. However, the months of May, June, and September are best for combining the convenience of peak season with generally good weather and lighter crowds. Summer, while the most crowded, has the best weather.

Switzerland / Bern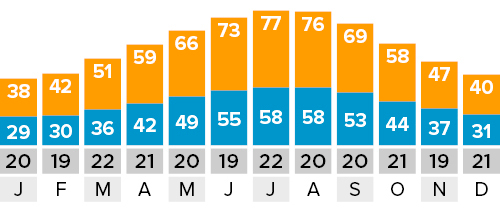 Hotels & Flights
Tour Hotels
In case you wish to book pre- or post-tour hotel accommodations, the contact information for the tour's first and last hotels is included in your tour confirmation email, as well as in the Itinerary section of your tour account. One month prior to the tour departure, you'll find the directions to your first tour hotel and a complete list of hotels where we'll be staying in the Documents section of your tour account.
Flights
Our tours don't include airfare, so your flight arrangements are completely up to you.
Most tour members arrange to fly in and out of Zürich International Airport (ZRH). Zürich is a 90-minute train ride to Luzern (where the tour begins) and a 75-minute train ride from Bern (where the tour ends). You can also arrange to fly into Zürich and out of Bern (BRN) — choose "multicity" on flight-booking websites.
We suggest arriving a day or two before your tour begins to allow ample time to get over jet lag and be well-rested for the first few days of your tour. For more information about transportation options for getting to and from your tour, see your Rick Steves Switzerland guidebook.