Salzburg

Sound of Music Bike Tour

Alpe di Siusi, Italian Alps

Zugspitze, German Alps

Bavaria

Neuschwanstein Castle

Berner Oberland, Swiss Alps

Mont Blanc, French Alps
Tour Questions? See our FAQ | Call 425-608-4217
My Way® Alpine Europe in 12 Days
This trip delivers endless opportunities for fresh-air thrills — from Austria's Sound of Music country to flower-carpeted meadows in Italy's Dolomites, fairy-tale castles in Germany's Bavaria, cut-glass peaks in Switzerland's Berner Oberland, and spectacular scenery in France's Chamonix. For a dozen free-spirited days, this money-saving My Way vacation package gives you the freedom to decide your own daily priorities and pace. We cut the stress by providing comfortable rooms in well-located hotels, private bus transportation to each destination, and a travel-savvy tour manager to advise you along the way. Join us for My Way® Alpine Europe in 12 Days!
Dates & Prices
What's Included
This is an "un-guided" tour — giving you the freedom (and responsibility) to manage your daily sightseeing schedule and meals
A small, friendly group of 24–28 people will share our big, comfy bus during the trip, but not do organized sightseeing together
A Rick Steves tour manager will coordinate the group's transportation and hotels and provide advice for sightseeing, meals, etc.
All group transportation from Salzburg to Chamonix
11 nights' accommodations in memorable, centrally located hotels
All breakfasts are included
All tips for tour manager and driver
Free Audio Europe™ app for Apple and Android (or get free podcast/mp3 files) featuring Rick's audio walking tours of sights, museums, and neighborhoods in Germany and Austria. Also includes Rick's radio interviews with experts on destinations covered in this itinerary
A tour kit including a guidebook (when available) and a moneybelt
Guaranteed tour price, locked in the moment you make your deposit
Tour alum discount of $50 for each tour you've taken prior to 2022
50% discount on a consulting appointment with our in-house experts to assist with your pre- or post-tour travel plans
Flexibility should you need to transfer or cancel your tour
Costs not covered: As this is not a guided tour, you will be responsible for the cost of all your lunches, dinners, drinks, admissions, sightseeing, and non-group transportation. Be sure to plan and budget accordingly.
Itinerary
Day 1: Welcome to Salzburg
Welcome to Austria's charming city of Salzburg, the birthplace of Mozart. We'll rendezvous at our hotel at 5 p.m. for a group get-together. Your tour manager will give an overview of the days ahead, answer your questions, and offer a quick orientation to our neighborhood. Then you're free for dinner on your own, and maybe an evening stroll around Salzburg's delightful, pedestrian-friendly Old Town*.
No bus. Sleep in Salzburg.
Day 2: All Day in Salzburg
Today is all yours for savoring Salzburg. Begin or end your day with a climb up to the fortress and its sweeping view of the city and surrounding mountains. You can also enjoy exploring the town's Baroque churches, playful fountains, and colorful markets. Rent a bike for an easy ride and picnic along the Salzach River, try your hand at "Do-Re-Mi" by joining a Sound of Music bus tour, or take an excursion out to nearby Berchtesgaden to see Hitler's infamous Eagle's Nest retreat (r).
No bus. Sleep in Salzburg.
Day 3: Dolomites Drive to Italy
We'll spend this morning enjoying breathtaking views as we drive into Italy, where the forested Austrian Alps give way to the chiseled 10,000-foot peaks of the Italian Dolomites. After a mid-day stop for lunch, we'll reach our cozy mountain retreat nestled at the foot of Europe's largest (and arguably most beautiful) alpine meadow, the Alpe di Siusi. Dotted with farms and crowned by towering granite cliffs, this high-altitude plateau offers hundreds of miles of trails with an array of challenging hikes and easy walks to suit everyone's pace. Grab an evening aperitivo and toast to nature's splendor as the setting sun paints the mountains pink.
Bus: 5 hours. Sleep near the Alpe di Siusi area.
Day 4: All Day in the Alpe di Siusi
Today your options are as wide-ranging as the surrounding mountains. Chairlifts abound, providing springboards for the day's adventures. Take a leisurely stroll through rolling green pastures and befriend a free-roaming cow or two, and duck into a hut café to rub elbows with locals and sample traditionally prepared South Tirolean treats. For those with more energy, ridge trails get the heart pumping and provide unforgettable vistas with every step. Feeling a little more cosmopolitan? At Bolzano, the gateway to the region, cobbled lanes pave the way to a colorful street market and the impressive South Tirol Museum of Archaeology, home to 5,300-year-old Ötzi the Iceman.
No bus. Sleep near the Alpe di Siusi area.
Day 5: To the Zugspitze and Bavaria
This morning we'll head northwest into Austria's Tirol country. On the way, you'll have some free time (weather permitting) to ride a gondola lift to Germany's highest point, the 9,700-foot Zugspitze. At the top, you'll stand with one foot in Germany and the other in Austria, enjoying vistas of each. Then we're off to the charming riverside village of Füssen in beautiful Bavaria. Follow Rick's walking tour around the old town, or maybe take an afternoon bike ride across the Lech River to mountain-ringed meadows. This evening is perfect for sitting in an outdoor beer garden and hoisting a liter-size mug with new friends. Prost!
Bus: 4 hours. Sleep in or near Füssen
Day 6: Bikes, Hikes and Castles
King Ludwig's fairy-tale Neuschwanstein and Hohenschwangau Castles (r) are less than an hour's walk or quick bus, bike, or taxi ride, away. The Bavarian countryside is laced with wonderful bike paths, so you might rent a bike and ride to the nearby castles in Schwangau, to Tegelberg for a luge ride (or cable-car ride up to hiking trails), or over the border into Austria to explore the Ehrenberg Castle ruins in nearby Reutte. Be sure to break for coffee (or a cold eiscafe) with cake at a café along the way.
No bus. Sleep in or near Füssen.
Day 7: On to the Best of Switzerland
Today we'll drive across Bavaria and climb high into the heart of the Swiss Alps. By dinner time we'll be in the Berner Oberland's magnificent Lauterbrunnen Valley, flanked by vertical, waterfall-laced cliffs and crowned by a trio of Switzerland's most formidable alps: the Eiger, Mönch, and Jungfrau. After settling into our creaky old chalet, you'll find hearty dinner options and spectacular views just a short walk away.
Bus: 6 hours. Sleep in the Lauterbrunnen Valley.
Day 8: All Day to Explore the Swiss Alps
This morning you'll wake up in one of the most beautiful spots on Earth. Take off on a mountain excursion that combines the local cog railway, a gondola lift up to Männlichen, and a spectacular alpine walk above the tree line, surrounded by a vista of snow-white peaks. You can also book a seat on the Jungfraujoch train, which leads to Europe's best glacier panorama. You'll have one more full day in this alpine paradise, so there's plenty of time to stop and smell the wildflowers.
No bus. Sleep in the Lauterbrunnen Valley.
Day 9: Another Day of Swiss Adventures
Today is all yours to explore the opposite side of the valley and beyond: Ride a gondola lift to the top of the 10,000-foot Schilthorn, take in the 360-degree panoramic view, and hike back down. For a more restful day, stroll the valley floor and visit thundering Trümmelbach Falls, a unique set of roaring waterfalls carved deep into the mountainside. Finish your Swiss adventures with the region's hot and hearty specialty, rösti.
No bus. Sleep in the Lauterbrunnen Valley.
Day 10: To the French Alps
This morning we'll head west toward France and our final alpine destination: the resort town of Chamonix, site of the first Winter Olympics. Spend the afternoon soaking in the French Alps ambience at the foot of Europe's highest peak (15,780 feet), the mighty Mont Blanc. Consider taking the gondola lift to Le Brévent for a spectacular view, and ending your day enjoying a traditional dinner of raclette or fondue.
Bus: 4 hours. Sleep in Chamonix.
Day 11: Aiguille du Midi Dreamin'
Today is your day to enjoy the wonders of the French Alps. You can choose between several great hiking trails with stunning views of Mont Blanc and a supporting cast of Alps that seem to stretch forever. For one of Europe's great alpine thrills (weather permitting), take Europe's longest vertical gondola ride up to the 12,600-foot Aiguille du Midi viewpoint. From there, mini-gondolas take travelers over the snowfields and on to Italy (and back!). Or, if you prefer, simply find a café table with a view in Chamonix, and take the day off in après-ski style.
No bus. Sleep in Chamonix.
Day 12: Tour Over After Breakfast
From Chamonix, you can book a convenient two-hour shuttle bus ride to Geneva's airport. Your tour manager will help you with any post-tour planning, leaving you well prepared for the road ahead. Au revoir!
Itinerary specifics subject to change.
Sightseeing notes
(r) = reserve a time before you leave the US
* = included in Rick's Audio Europe™ app
Physical Demands
Our tours are physically active! It's an essential part of the Rick Steves tour experience. On our My Way® Alpine Europe in 12 Days tour — among other things — you'll need to happily…
Carry/roll your luggage over uneven pavement (possibly several blocks) and up stairways to reach your hotel, then up several flights of stairs to reach your room.
Sleep with street noise and no (or weak) air conditioning.
Be able to navigate hiking trails, towns, and cities on your own.
Be responsible for your own daily sightseeing, admissions, meals (except breakfasts), and non-group transportation.
Reviews
Christian
Houston, TX
Tour: 09/23/19
Overall rating:
It is a great experience for "solo" travelers, having the option to plan your day as it goes, without any pressure of time to make it for something prearranged. Having the ability to plan to do where/when you want to go, see and do for the day is great. Having the comfort that the transportation and hotels are arranged for you is great, so you don't have to think about planning for that, or figure out what bus/train to take to your next destination and how to make it to the hotel.
Favorite "WOW" moment
"My "wow" moment pretty much was being able to go up to the alps, and see beautiful views any way/direction you look."
Jane
Fullerton, CA
Tour: 09/23/19
Overall rating:
We really enjoyed the tour and felt fortunate to have a great group of travelers sharing the experience with us. Don did a wonderful job of explaining options in each location.
Favorite "WOW" moment
"Seeing Seceda in the Dolomites and the hike between Mannlichen and Kleine Scheidegg"
Lauren
Fort Collins, CO
Tour: 09/23/19
Overall rating:
We LOVED this trip. It was our first Rick Steves tour and will definitely not be our last. It was wonderful to choose our own daily itinerary without having to worry about transportation or accommodations. We loved the hiking, the food, and the stunning alpine views. Our biggest pleasant surprise was the people. We picked a "My Way" tour because we weren't sure if we would like being on a tour with a 25 other people, but our fellow travelers ended up being one of the highlights of the trip!
Favorite "WOW" moment
"Arriving in the Dolomites on a beautiful afternoon, seeing the magnificent Schlern peeking through the clouds, being able to walk from our gorgeous hotel straight to a lift that took us up the mountain to meet a friendly (hungry) group of pygmy goats, then hiking all the way back down into town. Perfection!"
Brad
Coppell, TX
Tour: 09/23/19
Overall rating:
What an outstanding trip! Exactly what we were looking for as it allowed us to do as we wished while taking care of accommodations and travel between destinations. Everything was extremely well coordinated. We will definitely do a My Way tour again one day!
Favorite "WOW" moment
"Lauterbrunnen was sensational in its beauty. My favorite fun day was renting electric bicycles in Fussen, riding up to the castles and visiting several beer gardens on the way back into town."
Susan
Portland, OR
Tour: 09/23/19
Overall rating:
This tour was everything I had hoped for! We were fortunate to have great weather for most of the trip which amplified the already gorgeous scenery. The hotels and bus were very comfortable.
Favorite "WOW" moment
"Hiking above Lauterbrunnen--we could not take a bad picture! The scenery was so beautiful!"
Johnathan
Richland, WA
Tour: 09/23/19
Overall rating:
The overall experience was outstanding with all the details taken care of so we could enjoy the beauty and wonderment of the alpine country.
Favorite "WOW" moment
"There were several wow moments daily on this trip but the biggest "wow" experience happened upon arrival at the isolated plateau at Transbodeli in the Swiss Alps. Being instantly engulfed into a natural amphitheater of snow-capped glacier-lined peaks that felt like I could reach out and touch them was indescribable. I would highly recommend this hike. Definitely 5 star"
Katherine
Richland, WA
Tour: 09/23/19
Overall rating:
I absolutely loved this trip. Salzburg was a perfect first stop (plenty to see and do while adjusting to the time change), and hiking in the Dolomites and the Jungfrau region was unforgettable. Don was a terrific tour manager, Paul an amazing driver, and we greatly enjoyed getting to know the others on the tour. If I were to change one thing it would be to skip the stay in Fussen and spend time in another hiking location in Bavaria, or add more time in the Dolomites.
Favorite "WOW" moment
"There were many jaw-dropping "wow" moments hiking in the Italian and Swiss Alps. My absolute favorite was the view cresting the trail to Tranzbodeli outside of Gimmelwald. It was a 360 degree panorama with mountains so close I felt as though I could reach out and touch them!"
Dean
Redmond, WA
Tour: 09/23/19
Overall rating:
I had so much fun. It was a great experience. The places we visited, the hiking, my hiking companions I met on the tour were all beyond my expectations. I didn't know how we would all interact on this "My Way" tour, but it was a good, friendly group. We had everything from people who didn't hike at all but rode the lifts for scenery, ate and shopped to people who did crazy scary adventure hiking. We all got along and enjoyed each other's company as we traveled or met around the hotels.
Favorite "WOW" moment
"It's hard to limit it to only one "wow" moment, but I will go with the first full day of hiking above Castelrotto. Everything was still new to us, we were all excited, we were still getting to know one another, the weather was perfect and the views were stunning. It was a perfect day."
Linda
Bend, OR
Tour: 09/16/19
Overall rating:
I loved the My Way Tour of the Alps! I like having the freedom during the day to do what we like and not be matched around in a group following a leader holding an umbrella ?? The schedule was well planned and bus ride not too long most days. Our driver was great!
Favorite "WOW" moment
"The ride up the Zugspitze gondola gave me a breath taking view of the Alps?? I had no idea they went so many miles. It made the Cascades or Rocky Mts look so small."
Sarah
Abingdon, VA
Tour: 09/16/19
Overall rating:
This was my 2nd tour with your company and one I had been thinking about for 6 years. I adore the My Way style of traveling, it suits my independent personality very well. The hotels this time were amazing; much larger than I expected as I had a single supplement. Some truly beautiful rooms and the locations chosen for charm and convenience. My fellow hikers and bus buddies were friendly and we paired up for dinner and hiking. A great group of people.
Favorite "WOW" moment
"My favorite "WOW" moment was in Lauterbrunnen Valley - each year the farmers bring their cattle down from the upper mountain pastures to winter in the valley. This year we were lucky enough to see them (and hear them) as they made their way down from Wengen to Lauterbrunnen - flowers on their heads, and bells on their necks, they made their way down. They came in groups with the locals leading them on - happy smiles and bells ringing as they made their way down the mountain. It was incredible!"
Amy
Radford, VA
Tour: 09/16/19
Overall rating:
Lovely tour through the heart of the Alps. It is a nice sampling of the best of the Alps. Each stop must have been picked to give you easy access to the hikes and lifts available. Castelrotto was one of our favorites, it's a beautiful town with so much charm. I would suggest travelers adding at least one day in Chamonix, in case of cloudy or rainy weather.
Favorite "WOW" moment
"Our hotel in Castelrotto was amazing."
Joan
Olympia, WA
Tour: 09/16/19
Overall rating:
The itinerary was perfect. The stops offered a variety of things to do and see from the cathedrals, the hikes, cooking classes too My favorite when the townspeople brought the cows down from the Alps and parades them thru town. Will definitively do another My- way tour.
Favorite "WOW" moment
"It would be impossible to choose just one. But I think what made it go from a good trip to a great trip was Mary. She was always available to help you out or answer any questions. When they lost my luggage and I needed medication I called my travel insurance co. They advised me to go to the local hospital which was over an hour away. When Mary heard that she grabbed her jacket and walked to to the local dr. Waiting 20 minutes my prescriptions were being filled."
Carol
Lake Oswego, OR
Tour: 09/16/19
Overall rating:
We signed up for the tour because we wanted to hike in the Alps without having to worry about all of the logistics. We were not disappointed. The tour provided a good sampler of high altitude hiking spots, a helpful orientation to useful information about each place, and a chance to meet other folks from across the country who share an appreciation for exploring high mountains. Our escort was exceptional in the way she ensured each individual could find what they wanted to do.
Favorite "WOW" moment
"It may have been when we rented a car in Salzburg, and drove to Hallstatt, the site of the oldest salt mine in the world. At the UNESCO World Heritage Museum, we saw artifacts, including a fur cap from 15,000 years ago! Perhaps it was when we hiked in the Dolomites, and observed those unusual peaks rising above the horizon, or hiking near Lauterbrunnen, with the wonderful waterfalls, or at Chamonix, with incredible views while hiking from Plan de l'Aiguille to Montenvers-Mer de Glace."
Melanie
Martinez, CA
Tour: 09/16/19
Overall rating:
In 2000 my 18 yr old son and I did your Best of Europe in 21 Days tour and it's been the best trip of my life ... until this trip!! We saw so much in 21 days. Amazing trip! On this My Way trip I wanted to slow down and smell the roses ... or fresh Alpine air in this case! Especially in Grimmelwald! This trip was exactly what I was looking for .... dependable transportation and unique hotels off the beaten path ... which RS is SO good at finding! It was a fantastic, dream-come-true trip!!!
Favorite "WOW" moment
"I bought a beautiful, large tapestry of the Swiss Alps shortly after my trip in 2000. I look at it every day of my life because it reminds me of the treasured experience staying at Walker's ... taking the tram up, then hauling our luggage up to Hotel Mittaghorn. Grimmelwald was my top destination on this trip and walking down from Mürren and coming upon Walter's place on a gorgeous day ... realizing I was actually back in Grimmelwald ... that was my WOW moment!!! Then drinks at the Biergarten ?"
Connie
Orange, CA
Tour: 09/16/19
Overall rating:
My husband and I decided this year to try doing two Rick Steves' trips back to back. Directly after finishing our Best of Germany tour, we went on the My Way Alpine trip. It was a terrific experience - the tour manager, Mary, could not have been more capable, friendly, efficient, helpful. What a wonderful complement this tour was to the Germany tour - here it was breathtaking nature and spectacular scenery, there it had been compelling history and lots of times in cities.
Favorite "WOW" moment
"The Lauterbrunnen Valley, without question. Trummelbach Falls, hiking up near the Jungfrau, the cows coming down the hillside for 'alpabfahrt'."
Jane
Rochester, MN
Tour: 09/16/19
Overall rating:
Fantastic trip through alpine Europe. Enjoyed the "my way" option as we could tailor our experiences to our preferences and hiking ability levels. Great group of travelers with small groups getting together for activities or dinners.
Favorite "WOW" moment
"Watching the parade of cows and proud families as the cows were brought from the higher alps for summer grazing down to the winter pastures. Quite a sight with the cow's horns decorated with flowers and ribbons and hearing the cacophony of cowbells as they passed us."
Matthew
Rochester, MN
Tour: 09/16/19
Overall rating:
Well organized with many fun opportunities and great support by Mary. Hotels were good and transportation excellent.
Favorite "WOW" moment
"Hiking high in the Alps. Also Mozart dinner concert in Salzburg."
Angela
Mesa, AZ
Tour: 09/16/19
Overall rating:
Overall, the tour was very good. It hit the highlights of Alpine Europe in an enjoyable manner. It was a good mix of hiking opportunities, charming town visits and sightseeing. The tour management was excellent and the tour group was congenial. The My Way experience is a good fit for me.
Favorite "WOW" moment
"My "wow" moment was riding the gondola to the top of Germany's highest peak, the Zugspitze and spending some time soaking up the scenery and sunshine while there. I also was wowed by the Italian Dolomites. Spectacular!"
Edward
Evanston, IL
Tour: 09/11/19
Overall rating:
The tour was very well-planned and it was an excellent selection of beautiful places. Even the bus rides (which I thought would be boring) were extremely scenic and also provided a good opportunity to plan for the next destination.
Favorite "WOW" moment
"We had very clear weather for a walk from Murren to Gimmelwald and then through the valley to Lauterbrunnen. It was the most beautiful hike I have ever experienced."
Linda
St Augustine, FL
Tour: 09/11/19
Overall rating:
The tour was fantastic. The scenery was unbelievable, the group of fellow travelers was very enthusiastic, interesting, (and nice) and the accommodations were mostly top notch, with again some phenomenal views. I would do it again in a hearbeat.
Favorite "WOW" moment
"Too many to count: The view from our room in the Dolomites, the view from our room in Wengen, the views from so many different places."
Samuel
Sammamish, WA
Tour: 09/11/19
Overall rating:
This was my 7th Rick Steves tour, first My Way. It was a great experience and I enjoyed being able to move about on our own schedules.
Favorite "WOW" moment
""Wow" moment was the Panorama gondola ride from Aiguille du Midi to Heilbrunner. But, this itinerary provides many. I have been to the Jungraujoch, Schilthorn, and Alpe di Siusi before, but was still "wowed" by them."
Lori
Camas, WA
Tour: 09/11/19
Overall rating:
This was our first My Way tour and it was better than expected. The Alpine locations along with the independent hiking helped make our selection. It was a great trip. We highly recommend the My Way style of traveling. Our tour guide kept us well prepared while allowing the freedom we wanted at each stop. We also liked the order of the itinerary with the progressing elevation gain.
Favorite "WOW" moment
"Two wow moments standout - breaking through the clouds at Jungfraujoch and the Trammell Bach Falls in the Lauterbrunnen Valley."
Timothy
Mount Pleasant, SC
Tour: 09/11/19
Overall rating:
It was great. Overall experience was led very well by Don. It was a good balance of details, yet allowed us to plan our own daytime activities and restaurants. Don was great at explanations and overall context of the culture, food, people, and detailed highlights. The lodgings were great with locations, cleanliness, breakfast, and other request we had of them.
Favorite "WOW" moment
"Wengen. Great base city to spend time in the Lauterbruen valley, with Don having personal connections to this region."
David
Dartmouth, NS
Tour: 09/09/19
Overall rating:
Excellent tour. Has been a "bucket list" item for many years. Loved our tour-mates, bus and driver Derrick. Kathleen provided excellent guidance about destinations, activities etc. The destinations were perfect for the Alps experience. Each country had a different flavour. It all added up to perfection.
Favorite "WOW" moment
"The alpine meadows in the Dolomites for it's expansive splendor. The 12000+'summit in Chamonix for it's rugged and frozen grandeur. Both were equally WOW."
Carolynne
Anacortes, WA
Tour: 09/09/19
Overall rating:
After experiencing the camaraderie of the regular RS tours, I wondered if this would be lacking on the My Way Tour but I'm pleased to say that it was always a pleasure to encounter other tour members on the trails and on the streets and there were many opportunities to eat together and to discuss the day. What a simpatico group!
Favorite "WOW" moment
"Although there were many Peak experiences on this tour, I will always remember my amazement when the cable car rounded the cliff top at Compatsch and the eerie glory of the Dolomites surrounding the Alpe di Siusi was revealed. Absolute paradise and unlike any other alpine landscape I've ever seen!"
Silvia
Santa Paula, CA
Tour: 09/09/19
Overall rating:
It was as great as the last Rick Steves tour we took. Organized and well thought out.
Favorite "WOW" moment
"The amazing views in the alps!"
David
Boise, ID
Tour: 09/09/19
Overall rating:
Kathleen Cavalier is an exceptional person and guide. Fun group of travelers and happy campers so all is well.
Favorite "WOW" moment
"The Alps are spectacular despite global warming with glaciers melting on all fronts."
Harold
West Chester, PA
Tour: 09/09/19
Overall rating:
This was our first experience with a tour. We could not have been more pleased with the idea that we could be driven from place to place and yet be on our own during the day. Probably the best thing about the trip was our guide Kathleen. Her knowledge of each place we visited was a great help and her positive friendly manner made the trip fun.
Carol
West Chester, PA
Tour: 09/09/19
Overall rating:
We had an outstanding and spunky tour guide in Kathleen, and the ease of arrival and departures, the breakfasts, and the wonderfully convenient central locations were all big pluses! The people on our group were all such genuine and friendly folks so that we always had fun running into them various places. The "my way" freedom to do anything at all all day long worked out so well for everyone. We biked some days, hiked some, and just were tourists on some days. The accommodations were nice.
Favorite "WOW" moment
"The gorgeous scenery in the Dolomites, and in Switzerland and Mt. Blanc!"
Roxanne
Monroe, WA
Tour: 09/02/19
Overall rating:
My Way is perfect for my family. I love to research (part of the experience for me) and yet feel great to have such a valuable resource on the trip a Rick Steve's tour guide! Also freeing that travel from area to area is covered and I can spend that time relaxing and learning.
Favorite "WOW" moment
"My favorite wow moment was Lauterbrunnen valley. Our weather was perfect blue sky, crisp white mountain tops, flowers and cows along the walk. It wasn't so much as a single moment but 3 wonderful days that had me very sad to leave the area. With so much to see in the world I rarely think I will visit an area twice but my heart needs to go back to the valley!"
Robin
Raleigh, NC
Tour: 09/02/19
Overall rating:
No words or even pictures can capture how epic this trip was. No matter where I hiked, the views were unbelievably spectacular - and they just kept coming! Each stop offered so many options that it was hard to quit and go to sleep at night. On a My Way tour, you choose your activities, but you are not on your own. Our guide, Cary, provided tips, tricks and directions to get us there faster. A bonus of tour was running into tour friends on the trail or in town. Highly recommend.
Favorite "WOW" moment
"Cary challenged us to have a wow moment every day. I did, and it's hard to choose a favorite. I'll choose the place I'd return to first - the Panorama hike in the Dolomites near Kastelruth. Panorama means that you periodically need to turn around and look behind you too - I wish I had eyes in the back of my head! It was a challenging and beautiful hike, and at the end, I felt I was at the top of the world."
Robert
Carlsbad, CA
Tour: 09/02/19
Overall rating:
This was an absolutely fantastic trip! This was our second Rick Steve's My Way tour. As with our first My Way (Italy), it was great to have all logistics (hotel and transportation) taken care of for us but still be left free to set our own agenda for each day. Our tour manager, Cary, was very knowledgeable, helpful, and enthusiastic in planning our days, which was great because there were so many options of things to see. The variety of locations was excellent.
Favorite "WOW" moment
"It's hard to choose just one "wow" moment because there were so many. The memory I go back to most is hiking on the trails at the foot of the Eiger. Walking in the Swiss Alps through green pastures full of cows with their cowbells ringing while looking up at the snowy peaks of the Monch, Eiger, and Jungfrau was like a dream."
Patricia
Lewisburg, PA
Tour: 09/02/19
Overall rating:
The tour of the Alps was beautiful with varied levels of exploring daily. Our guide Cary was outstanding at providing group and individual guidance and being very available to all. I personally would prefer no less than 3 days in one location. It was a lot of moving. The hotel Cavallino d'Oro in Castelrotto was very lovely and I would gladly return there. The other hotels were very dark and dated with very hard uncomfortable beds.
Favorite "WOW" moment
"The Dolomites and the Lauterbrunnen Valley in Switzerland."
Mary Jane
Yardley, PA
Tour: 09/02/19
Overall rating:
My husband and I have been on several tours with Rick Steves but never a My Way Tour. This itinerary was a perfect one for a My Way tour as it involved many opportunities for outdoor activities which you would not necessarily want to do as a full group. I loved visiting the different Alpine regions and our guide Cary was so personable and very helpful in setting our daily itinerary. The tour was just the right mix of personal touring and group interaction.
Favorite "WOW" moment
"Since I am writing this well after the tour ended, the memory that has stuck with me was the day that I thought would bring the biggest disappointment. In the Lauterbrunnen valley region, we arrived via train and chair lift to our day's hike and it was totally fogged in. We plodded onward and the vista revealed itself slowly as we walked, going from a light snow with no views to sun and a total high peaks panorama by the end of the trail. It was magical!"
Bruce
Wilsonville, OR
Tour: 09/02/19
Overall rating:
Beautiful countryside and excellent assistance from Cary, our tour guide
Favorite "WOW" moment
"We both absolutely loved the Lauterbrunnen Valley area. We also enjoyed the Dolomites and Chamonix"
Connie
Sammamish, WA
Tour: 08/12/19
Overall rating:
This was a wonderful tour with the perfect itinerary. The sites were well planned and travel times spaced out to maximize our time. Our guides, Cynthia and Cary, were excellent and went the extra mile to ensure a great time. Fabulous countries and scenery.
Favorite "WOW" moment
"When we were in Bolzano, Italy, we took a gondola up to dinner above the city. Our first sight of the Dolomites was wonderful! We found a restaurant with an outdoor patio, and with 10 of our other tour mates we had a great meal. While getting to know our tour mates during dinner, a full moon rose above the Dolomites providing an incredible moonrise and many ooohs and ahhhhhs. Even the staff came out to admire it. It was a magical evening."
When To Go & Weather
Any time from late May through September is a good time to take an Alpine Europe vacation. However, the months of May, June, September, and early October offer fewer crowds and mild weather (with occasional snow). July and August have the best weather, snow-free alpine trails, long days, and the biggest crowds. No matter when you go, know that the weather in the Alps can change suddenly.

Austria / Vienna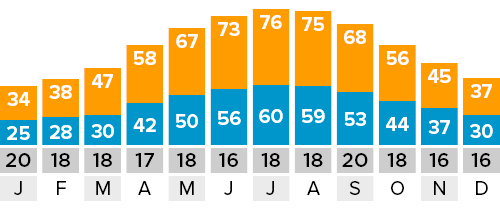 ---
Germany / Munich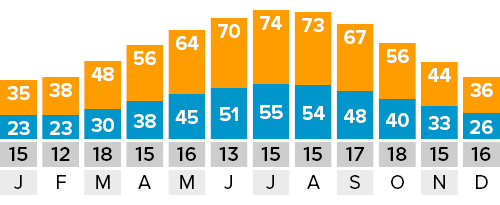 ---
Italy / Milan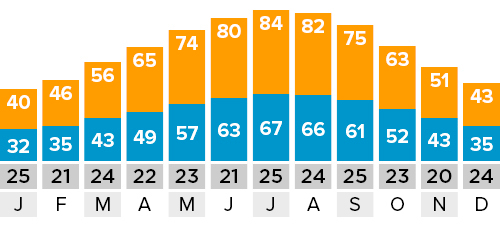 ---
Switzerland / Bern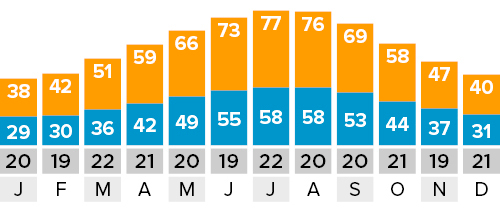 Hotels & Flights
Tour Hotels
In case you wish to book pre- or post-tour hotel accommodations, the contact information for the tour's first and last hotels is included in your tour confirmation email, as well as in the Itinerary section of your tour account. One month prior to the tour departure, you'll find the directions to your first tour hotel and a complete list of hotels where we'll be staying in the Documents section of your tour account.
Flights
Our tours don't include airfare, so your flight arrangements are completely up to you.
Most tour members arrange to fly into Salzburg (SZG) and out of Geneva (GVA) — choose "multicity" on flight-booking websites. Munich and Vienna are alternatives with easy train connections to Salzburg, and the Geneva airport is a two-hour bus ride from Chamonix, where the tour ends. Booking round-trip to one city will require a connecting flight, train trip, or additional overnight stay in Europe.
We suggest arriving a day or two before your tour begins to allow ample time to get over jet lag and be well-rested for the first few days of your tour. For more information about transportation options for getting to and from your tour, see your Rick Steves Alpine Europe tour guidebook.