Paris

Château de Chenonceau

Lyon

Chamonix

Annecy

Pont du Gard

Avignon

Arles

Nice
Tour Questions? See our FAQ | Call 425-608-4217
My Way® France in 13 Days
from $2,795 per person + air
Optional Single Supplement $925
See Tour Dates
Your vacation to France starts by following a route that connects France's must-see sights — from monumental Paris to sunny Nice, with the Loire Valley, Lyon, Annecy, the French Alps, the Pont du Gard, and Avignon in between. Rick Steves' money-saving My Way vacation package gives you the freedom to decide your own daily sightseeing priorities and pace. We cut the stress by providing comfortable rooms in centrally located hotels, private bus transportation from city to city, and a France-savvy tour manager to advise you along the way. Join us for My Way®: France in 13 Days!
Dates & Prices
What's Included
This is an "un-guided" tour — giving you the freedom (and responsibility) to manage your daily sightseeing schedule and meals
A small, friendly group of 24–28 people will share our big, comfy bus during the trip, but not do organized sightseeing together
A Rick Steves tour manager will coordinate the group's transportation and hotel arrangements, and provide advice for sightseeing, meals, etc.
All group transportation from Paris to Nice
12 nights' accommodations in memorable, centrally located hotels
All breakfasts are included
All tips for tour manager and driver
Free Audio Europe™ app for Apple and Android (free podcast/mp3 files) featuring Rick's audio walking tours of sights, museums, and neighborhoods in Paris. Also includes Rick's radio interviews with experts on destinations covered in this itinerary
A tour kit including a guidebook (or books) and a moneybelt
Guaranteed tour price, locked in the moment you make your deposit
Optional single supplements — this tour has a limited number of private rooms for solo travelers for an additional fee
Tour alum discount of $50 for each tour you've taken prior to 2019
50% discount on a consulting appointment with our in-house experts to assist with your pre- or post-tour travel plans
Flexibility should you need to transfer or cancel your tour
Costs not covered: As this is not a guided tour, you will be responsible for the cost of all your lunches, dinners, drinks, admissions, sightseeing, and non-group transportation. Be sure to plan and budget accordingly. See our Tour Conditions for important details regarding everything listed above.
Itinerary
Sightseeing notes
(r) = reserve a time before you leave the US
* = included in Rick's Audio Europe™ app
Day 1: Welcome to France
Bienvenue à Paris! Known as the City of Light, Paris is blessed with more monuments and museums than anyone could ever hope to see in a single visit. So get a jump start on your sightseeing priorities today by tackling some of the city's world-class museums, such as the Orsay*, Picasso (r), or Rodin (plan accordingly using the Rick Steves France guidebook; many museums are closed one day a week). If jetlag has you yawning, take a promenade along the famous Champs-Elysées or through one of Paris' many attractive parks, such as the Tuileries or Luxembourg Gardens. This evening, we'll meet at our hotel at 5 p.m. for a group get-together. Your tour manager will give an overview of the days ahead, answer your questions, and offer a quick orientation to our neighborhood. Then you're free for dinner on your own and perhaps a twilight ride to the top of the brilliantly lit Eiffel Tower (r). Or, enjoy the views from below, aboard a floodlit Seine River cruise. Sleep in Paris (2 nights).
Day 2: All day in Paris
Today Paris is all yours. With your guidebook and audio tours in hand, you might begin your day where Paris did — on the Ile de la Cite* — visiting Notre-Dame Cathedral and the exquisite Sainte-Chapelle*. Or take all the time you want to cover the most famous museum in the world — the Louvre* — home to the Mona Lisa, Winged Victory, and Venus de Milo. This evening, head up to Montmartre to savor the bohemian flair of Amélie's "village" Paris. Take in the breathtaking vistas from the Sacré-Coeur Basilica, and drop in to a lively café for a post-dinner drink. As with every day of this trip, everything is your choice! No bus today.
Day 3: To the Loire Valley
This morning we'll bid adieu to Paris. Meeting up with our bus and driver, we'll head to the château-rich Loire Valley, stopping en route to visit the immense Château de Chambord. Farther down the road, our home base of Blois looks and feels more important than other Loire towns…because it was. The Château Royal de Blois is the dominant must-see sight in town. However, don't miss out on the flying-buttressed St. Nicolas Church, the medieval warren of lanes below St. Louis Cathedral, or the traffic-free streets lined with colorful shops and cafés. Sleep in Loire Valley (2 nights). Bus: 3 hours.
Day 4: Loire Valley Châteaux
Your entire day is free for sightseeing in the Loire Valley — the land of a thousand châteaux. To help save you time and effort, our coach will make a morning run to the Château de Chenonceau (arguably the greatest, and hardest to reach château), continuing on to the town of Amboise in the afternoon, and returning to Blois in time for dinner. Many more châteaux are a convenient train, bus, taxi, bike, or rental car drive away from Blois. The choice is entirely yours. (Blois is so charming, you could stay in town all day!) Your guidebook and your tour manager will help you sort through all the happy possibilities this day has to offer. Bus (optional): 2 hours.
Day 5: To Lyon on the Saône
Today we'll drive across the center of France to Lyon, in many ways the cultural capital of France. This is a city where restaurants outnumber cars, chefs are more famous than soccer players, and residents live by the saying, "How well you eat determines how well you live." We'll arrive and get settled in our hotel with plenty of time for you to find your new favorite eatery. (Note: To guarantee a table at any one of Lyon's highest-rated restaurants, make your reservation well in advance.) After dinner, once the sun has set, take in the view from the Bonaparte Bridge on the Saône. Lyon's riverfront walks and floodlit buildings make an evening stroll here an absolute must. Sleep in Lyon (2 nights). Bus: 5 hours.
Day 6: All day to Explore Lyon
Lyon is France's most historic and culturally important city after Paris. You'll experience two different-as-night-and-day cities: Vieux Lyon's old-world cobbled alleys, quaint shops, and pastel Renaissance mansions; and the Parisian-feeling shopping streets of the Presqu'île. Buy a 1-day Lyon City Card to get you into all the city's museums, including the Museum of Fine Arts and the Resistance and Deportation History Center. The pass also covers all public transportation, including the Fourvière Hill funiculars. Up on the hill you can tour the Basilica of Notre-Dame de Fouvière, enjoy a panoramic city view, and visit the Roman Theaters and Gallo-Roman Museum. No bus today.
Day 7: To Idyllic Annecy
After breakfast this morning we'll drive straight to Annecy, so you can spend all afternoon and evening enjoying this sophisticated, outdoor-oriented — and absolutely bike-crazy — lakeside town. There's something for everyone here: mountain views, romantic canals, a hilltop château, and the irresistible urge to swim in, paddle on, or bicycle around the translucent lake (with cafés well-spaced along the way). Idyllic Annecy may very well end up being your favorite city on the tour. Sleep in Annecy (2 nights). Bus: 2 hours.
Day 8: Annecy and the French Alps
A thriving outdoor food market occupies much of Annecy's old town center until 12:30 today. With your market finds in hand, picnicking along the shores of the lake with the snow-dipped peaks in the distance is a wonderful way to spend your afternoon. But if getting up into the French Alps is your highest priority, our bus will take you to Chamonix and the base of snowy Mont Blanc this morning, returning to Annecy in time for dinner. In Chamonix, you can hike the mountain trails, take a cogwheel train to Montenvers and the Mer de Glace, or a cable car to the dizzying height of 12,600 feet atop the famous Aiguille du Midi (weather permitting). Bus (optional): 3 hours.
Day 9: To the Pont du Gard and Avignon
This morning we'll make our way into Provence, with a long stop to savor one of Europe's most impressive Roman structures, the Pont du Gard. Set in a beautiful national park, this massive aqueduct spanning the Gardon River was constructed of locally quarried, golden limestone more than 2,000 years ago. The Pont and its setting have since become one of France's iconic sights. Spend time in the museum learning how and why the Pont was built. If the weather permits, take a swim, rent a canoe, or hike within the national park. Later this afternoon, we'll make our way to Avignon, the 14th-century home of the pope (or antipope, depending on where you stood). Sleep in Avignon (2 nights). Bus: 4 hours.
Day 10: A Day in Avignon and Arles
Famous for its nursery rhyme, medieval bridge, and brooding Palace of the Popes, Avignon looks and feels like it's stepped out of a fairy tale. You'll have all day to explore this medieval-walled city, wandering through the palace, strolling along the pedestrian streets, and quietly humming "sur le pont d'Avignon." A day-tripping alternative is to take a 20-minute train ride to the nearby city of Arles. Here you can walk in the footsteps of Vincent van Gogh, hang out at the lively Forum Square, and take in the impressive Roman Arena (still used for public events) and Ancient History Museum. No bus today.
Day 11: To the Riviera and Nice
This morning we'll make our way from Provence along the azure waters of the French Riviera, arriving in Nice by midday. You'll be set free to dive into your Riviera experience in Old Nice, starting with the lively Cours Saleya market square, getting lost in the maze of Italianate Old City lanes, then breaking out onto the spacious boulevards and shopping promenades of the city's newer side. Chagall and Matisse both called Nice home, and the museums bearing their names are must-see sights. A dip into the sea or a stroll along the palm-tree-lined Promenade des Anglais (with a gelato in hand) are great ways to cap the day. Sleep in Nice (2 nights). Bus: 3 hours.
Day 12: Day-Tripping on the Riviera
There is no better way to end your French adventure than with a day-trip along the French Riviera. The only problem: there are so many dazzling destinations nearby! Cannes, Antibes, Villefranche-sur-Mer, Eze, and Monaco are all in easy reach by train or public bus. Will you stay in Nice? Or maybe go to Antibes for its Picasso museum? Or head east to Villefranche-sur-Mer for a hike around Cap Ferrat to visit Villa Ephrussi de Rothschild? Or travel up to Eze for spectacular views and a whiff of perfume? Or check out Monaco's yacht-filled harbor, historic casino, royal palace, and Oceanographic Museum? It's your final day in France, so get out and make it special. No bus today.
Day 13: Tour Over After Breakfast
It's a breeze to reach Nice's airports and train station by bus or taxi. Your tour manager can help you with any post-tour planning, leaving you well prepared for the road ahead. Au revoir et merci!
(To avoid long lines at the Eiffel Tower, we recommend booking tickets several weeks in advance. For details, see our Eiffel Tower ticket tips for tour members.)
Itinerary specifics subject to change.
Physical Demands
Our tours are physically active! It's an essential part of the Rick Steves tour experience. On our My Way®: France in 13 Days tour — among other things — you'll need to happily…
Carry/roll your luggage over uneven pavement (possibly several blocks) and up stairways to reach your hotel, then up several flights of stairs to reach your room.
Sleep with street noise and no (or weak) air conditioning.
Be able to navigate towns and cities on your own.
Be responsible for your own daily sightseeing, admissions, meals (except breakfasts), and non-group transportation.
Reviews
Tara
Los Alamitos, CA
Tour: 07/03/18
Overall rating:
It was very good! Our first hotel didn't have air conditioning which was annoying and hot but all the places were very nice and everything we saw was beautiful. Linda was super nice and fun and very exciting and she was very good at telling us all the important things. Henri was a very good driver and a lot of fun too.
Favorite "WOW" moment
"My favorite wow moment was in Annecy. it was beautiful to bike around the lake and it was our favorite part of the trip."
Elizabeth
Gresham, OR
Tour: 07/03/18
Overall rating:
After leaving Paris, the experience became what I had initially expected. The hotel in Paris did not have AC and our initial room had a very dirty carpet. The staff moved us the second day to a more acceptable room. The trip was very memorable and the 18 members of our tour group were all fun and lovely people. Linda was an excellent guide! Henri was a wonderful driver, too.
Favorite "WOW" moment
"I believe that the drive to Chamonix and taking the gondola up to Mt. Blanc was the biggest "wow""
Carolyn
Plymouth, MA
Tour: 07/03/18
Overall rating:
This was a wonderful tour, a terrific way to experience a taste of France's diverse regions by visiting cities large and small, and granted us some flexibility to plan our own activities and excursions. While we traveled mainly in our comfortable bus with the group, we also freely explored on our own using the efficient and easy mass transit options available throughout the country (rail, metro, buses, boats). It was a great way to hone our travel skills!
Favorite "WOW" moment
"A highlight for us was traveling by train west from Paris to visit friends at the farmhouse they are renovating in a small village. We walked peaceful and tiny Moutiers-au-Perche, where our friends sang medieval choral music for us in a small church at the top of a hill overlooking the village. It was hauntingly beautiful - reminding us of the long history of France and the invaluable insights we gain by connecting with local people when traveling abroad."
Mary Ellen
Los Alamitos, CA
Tour: 07/03/18
Overall rating:
The tour was amazing! Beautiful, interesting and varied locations we probably would not have toured on our won. It was well-paced, as we got used to moving every other day. Linda was an amazing tour guide, providing a lot of information, but reading the group to not talk too much! My Way was perfect for traveling with our two teenagers, so we could go at our own pace and see what we wanted! I highly recommend!
Favorite "WOW" moment
"Annecy was unforgettable! We took a bike ride around the clear blue lake, hearing cows and their bells in a pasture while gliders were floating down from the mountains around us. The town is absolutely adorable with window boxes full of flowers and swans swimming in the canals. The town was alive since France won one of the semi final games toward their World Cup victory."
Charles
Markham, ON
Tour: 07/03/18
Overall rating:
We had a wonderful time.
Favorite "WOW" moment
"I am a pushover for French food."
Daniel
Cape Coral, FL
Tour: 07/03/18
Overall rating:
Very nice met very nice people, Linda our guide was very informative Exactly what we were expecting.
Favorite "WOW" moment
"Never really had a wow moment. We liked the smaller cities on the trip"
Phyllis
Markham, ON
Tour: 07/03/18
Overall rating:
Great trip!
Ken
Nolensville, TN
Tour: 06/26/18
Overall rating:
It was my first trip abroad and I couldn't have asked for a better experience. The My Way plan was perfect for my family. The overall trip itinerary was well structured, the travel days were relaxed, and the Guide (Mary) was fantastic.
Favorite "WOW" moment
"The cultural experience. They generally have the same stuff in France that we have in the US, but they interact differently. The pace of life generally seems more relaxed then what I'm accustomed to at home."
Janice
Philadelphia, PA
Tour: 06/26/18
Overall rating:
I thoroughly enjoyed this tour and the variety of French experiences. This was my 3rd My Way tour with my daughter (previously Europe and Alpine Europe). It's a great way for us to travel together - low stress for me with logistics and being able to customize our days for our favored activities and budget. One thing that drew me to this tour was the optional bus trans. to Chenonceau & Chamonix. Great to have those options (and not typical on My Ways, I think?)
Favorite "WOW" moment
"I would say that there were less "wow" moments than on previous My Way tours (Europe being pretty much a "best of" and Alpine Europe filled with jaw-dropping scenery, mountain lifts, etc.), but I don't see that as a drawback. This itinerary didn't have a lot of blockbuster "must sees"...there weren't a whole lot of 3 triangle ratings in the book (other than Paris, of course, which we've been to a few times). Was wowed by the lake in Annecy, and swimming next to the Pont du Gard was really cool!"
Patricia
Leaburg, OR
Tour: 06/26/18
Overall rating:
I enjoyed the balance of touring as a group and having independent time at each location. Hotels were lovely and centrally located. Our tour manager, Mary, was wonderful - knowledgeable, friendly, and respectful of individual time.
Favorite "WOW" moment
"There were several "wow" moments - the Chateau Chenonceau was as beautiful as I had imagined and we were blessed with a beautiful day to visit it. I also found the Pont du Gard to be very impressive. Annecy was lovely - my favorite town visited - beautiful scenery, colorful flowers, clean streets and canals, and beautiful cafes along the water."
Timothy
Chapel Hill, NC
Tour: 05/22/18
Overall rating:
It was out first time to take a tour and we felt the "My Way" fit us best. We wanted to see more of France (we've been to Paris several times), but were not sure how to go about seeing more of the country. I felt intimidated by the language, the culture, eating, etc. Now, after our tour, my travel confidence is way up!
Favorite "WOW" moment
"Paragliding off the Alps in Chamonix! Picnicking under Pont du Gard in the rain was awesome, too. Lyon was so much fun - what a lively city!"
Nancy
Ashland, OR
Tour: 05/22/18
Overall rating:
This was a great trip for my husband and me. My husband hadn't traveled a lot and when we traveled I would make the arrangements. I didn't want to be in charge of all our arrangements for this 3 week trip. We're pretty independent also, so didn't think we would like being on a group tour doing everything with the group. This met our needs very well. We might try a regular group tour next time because of the experiences we heard from our fellow travelers who had done both.
Favorite "WOW" moment
"One of my favorites resulted from waiting for a local bus for 2 hours! When it finally came a French man insisted I take his seat. I used (my poor) French skills to have a conversation with his wife/partner who had been waiting, too. She was also on vacation and works in the same field as I do. We all had hearty handshakes and smiling nods as we parted. It was very serendipitous! It made my 12 weeks of re-fresher French classes worth it. Another "wow" was visiting the silk atelier in Lyon."
Nancy
Schenectady, NY
Tour: 05/22/18
Overall rating:
I have taken many overseas tours in the past 40 years with a variety of companies and enjoyed the majority of them. I would rank the MyWay tour as outstanding! Why? Excellent organization and planning of the tour, excellent guide who was knowledgeable and charming, excellent hotels in key locations that were perfect for seeing each location, the wonderful fellow travelers, the excellent bus and bus driver, and the bus transportation to sights when in the Loire Valley and Annency.
Favorite "WOW" moment
"For the me, the most meaningful experiences were visiting the Resistance Museum in Lyon with its vivid portrayal of the resistance movement in Lyon through interviews with resistance fighters, and seeing the Chagall Museum in Nice with its magical paintings that made me feel as if I were seeing someone's dreams that I was allowed to make mine."
Mary
Iowa City, IA
Tour: 05/22/18
Overall rating:
Since we had previously been to Paris in a guided RS tour so had seen and heard about all the "important" sites, it was nice to be able to go back and fill in other sites and repeat some places we wanted to see again. Very useful to have the MyWay tour take us directly to several Loire Valley chateaux and not expect us to go on our own. Pre-tour materials and the guide gave us the necessary info to see as much as we wanted.
Favorite "WOW" moment
"The day trip we made to Giverny - it was a sunny spring day and all the iris, peonies, phlox were in glorious bloom. We had just been to L'Orangerie Museum the day before so this was even more memorable. Other equally good WOW moment was first site of the enormity of the 2 visited Loire Valley chateaux - Chambord and Chenonceau - graceful magnificent structures !"
Thomas
Lafayette, LA
Tour: 05/22/18
Overall rating:
Just perfect for our second time in France. We love Rick Steves tours, and this was our first "My Way." It was just what we wanted: professional planning and leadership that freed us up to enjoy each day tailored perfectly to our own interests and mood. We will be on the lookout for more My Way opportunities.
Favorite "WOW" moment
"Number one "Wow." was getting to the top of the fort in Nice, and turning to see the full grandeur of the Cote d'Azur. Unbelievably WOW. Close second, the whole experience of Lake Annecy."
Roger
Iowa City, IA
Tour: 05/22/18
Overall rating:
We enjoyed the flexibility of being able to pursue our own itinerary at the various stops along the way while retaining access to a very knowledgeable guide. I believe an earlier incarnation of 'My Way' was called 'Bus, Bed and Breakfast.' While the bus rides occasionally seemed a bit long, the bus undoubtedly provided a better vantage point for appreciating the local nuances of the regions being traversed than the perspective offered either from the air or from the TGV.
Favorite "WOW" moment
"We had taken a bus to Antibes to visit the Picasso Museum and walked through the marina while waiting for the museum to open. Standing in one spot on the wharf, we got a close-up look at the schooner owned for fourteen years by Bogey and Bacall while looming just over our shoulder was a yacht that I felt sure at first must have belonged to the French Navy. When one finally puts into port No matter what they've got There's always someone a few berths down Who's got a bigger yacht!"
Helen
Seattle, WA
Tour: 05/22/18
Overall rating:
I thought it was quite enjoyable, we were fortunate to have good people on the tour and everybody was able to get along. The coach was good and most of the hotel rooms were great and in good locations. The only place I didn't really care for was Lyon, maybe it was because there was too much concrete. All the other places were wonderful.
Favorite "WOW" moment
"The eating in Blois was phenomenal, the restaurant was Le Castalat. I will always remember that food, it was so good! The Chateux Chambord and Chateux Chenaceux were pretty impressive"
James
Seattle, WA
Tour: 05/22/18
Overall rating:
This was our third My Way, so we knew what to expect and were not disappointed. Accommodations were excellent, as was the transportation & driver, Jean (John? we never asked for his spelling). My wife does all the pre-trip planning, so I learned where we were going as we went, and the location choices all seemed fine, with ample time to explore each place. We obviously like the format, since planning the accommodations and connecting transportation can be the least fun part of such a trip.
Favorite "WOW" moment
"I'm congenitally adverse to "favorites", whether they be children or trip moments. We enjoyed exploring the old parts of the cities, and the fact that our accommodations were conveniently located for doing so helped make those sorties pleasant."
Robert
Nashville, TN
Tour: 05/22/18
Overall rating:
While there were good sights at each of our stops, my favorite stops were Blois and Nice. Blois because of Chenonceau and the hotel (which was the best on the trip), and Nice because of the variety of sights in the area. The hotels overall were below par. The first hotel was much worse than the Londres Eifel which we had enjoyed on to previous Rick Steves tour. The hotel in Avignon had the worst breakfast selection on the trip. The Nice hotel did not even have a lift.
Favorite "WOW" moment
"I actually had two "wow" moments on the tour. The first was Chenonceau. After visiting Chambord the day before, I almost opted to skip Chenonceau. I am happy I chose to visit this property, What a beautiful setting and grounds. Almost worth the trip by itself. My second "wow" moment was Pont du Gard. We arrived during a thunderstorm and it continued to rain for most of the time we were at the park. But the setting and the history behind it were absolutely stunning."
Leslie
Chapel Hill, NC
Tour: 05/22/18
Overall rating:
We had traveled on our own to Paris and really wanted to experience more of the country--outside of the city. An attractive feature of the Rick Steve's My Way was that we left the driving and administrative hotel reservation process to the R.S. Team. The two-nights stops per town were appealing because we were able to experience six different places. The Tour allowed us to be very independent AND provided a terrific resource in our Guide, Linda.
Favorite "WOW" moment
"I loved the day trip to Chamonix. We were uncertain about going due to the weather, but went anyway. The weather cleared and we parasailed off the 5280 ft. Mountain, much to our delight. Evidence that the ability to be spontaneous and experience once in a lifetime events can be the highlight of our travels! I'm not sure we would have traveled there if the tour and bus opportunity hadn't been there!"
Terry
Ashland, OR
Tour: 05/22/18
Overall rating:
Very satisfied with our tour. Would highly recommend Rick Steves tours especially the my way tours.
Favorite "WOW" moment
"There where a lot of wow moments. I especially liked the Loire valley and the town of Blois."
Arlon
Mesa, AZ
Tour: 09/26/17
Overall rating:
Very exciting. Moving every other day was tough. Had a wonder leader and bus driver. Visited many historic sites We enjoy the My Way format.
Favorite "WOW" moment
"Seeing the Roman sites and how they handle the many years. Nice was great too with the many wonderful views of the sea."
Lisa
Portland, OR
Tour: 09/26/17
Overall rating:
It was an excellent experience. We had a great tour group and we loved the My Way concept which allowed us a lot of flexibility.
Favorite "WOW" moment
"Nice and the riviera."
Doug
Milford, OH
Tour: 09/26/17
Overall rating:
Great experience with a great tour manager (Linda).
Favorite "WOW" moment
"Nice with beautiful weather and the beautiful Mediterranean sea."
Jenny
Milford, OH
Tour: 09/26/17
Overall rating:
This was our third My Way tour and the tour experience on our My Way France was great. The My Way format allows a lot of flexibility which we appreciate. We had many activities and excursions where others from the tour group joined us, as well as times when we were off on our own. It was a perfect balance! Linda our tour manager would familiarize us with each city with recommendations on restaurants and possible activities before turning us loose. The My Way format is the best way for us.
Favorite "WOW" moment
"There were several "wow" moments: seeing the Eiffel Tower for the first time, the majesty of the Pont du Gard, the blue of the Mediterranean of the Cote d'Azur in Nice."
Gloria
Morgantown, WV
Tour: 09/26/17
Overall rating:
Linda was a wonderful, informative, and fun guide! All the tour members got along well and enjoyed each other. The tour was well organized and the time spent in each city was great. Not too much time spent in the bus! The south of France was absolutely stunning!
Favorite "WOW" moment
"It is so hard to pick one wow moment! Enjoyed every experience but really enjoyed Annecy and Arles."
Mary Anne
Woodburn, OR
Tour: 09/26/17
Overall rating:
We had a great trip. Our guide, Linda, was amazing and the group was so much fun to travel with. This was our first "My Way" trip and it was a fun adventure. We took a lot of time to read about where we were going and what there is to do there. We made reservations ahead so we knew what our schedule would be and where we would have free time. The one disappointment was that we had reservations to parasail in the French Alps but the day we arrived it was pouring rain and the adventure was cancel
Favorite "WOW" moment
"We attended mass in the cathedral in Lyon "Fourviere". It was a spectacular production in a spectacular place."
Linda
Blaine, MN
Tour: 09/26/17
Overall rating:
This was my first My Way Tour. I was very pleased with the amount of assistance I received from Linda. She gave answers and met requests in a very timely fashion. As far as the tour itself, I would prefer to have at least 3 nights at some destinations. The town of Blois could be skipped all together. Consider more time in Lyon, Paris, and Nice. Our bus driver was very enjoyable also. Love the bus size. Allowing people to spread out.
Favorite "WOW" moment
"Top of the Eiffel Tower at sunset with a glass of champagne ! Loved the Roman amphitheater and museum in Lyon."
Carolyn
Ventura, CA
Tour: 09/26/17
Overall rating:
Going "My Way" was not as intimidating as I had thought it may be, given that this was both my first trip to France and my first Rick Steves tour. Our escort provided just enough information on the bus between destinations, and offered an optional orientation at each destination, to help us "newbies" gain confidence that we would be able to navigate public transportation, get wonderfully lost at times, and explore (or not)as we wished.
Favorite "WOW" moment
"Just one? Not in any particular order: Lyon - the ceiling detail at the Notre Dame Basilica; Chateau Chenonceau including walkways and gardens, and Chateau of Chambord."
Ram
Dallas, TX
Tour: 09/26/17
Overall rating:
It was our third trip; we certainly enjoyed every aspect and every day of the tour. Our tour guide and the bus driver were funny, entertaining, and informative.
Favorite "WOW" moment
"The architecture, the preservation of the historic sites and their present condition of the chateaus. We were also impressed with scenic French countryside, the kindness and openness of the French people and the cuisine."
Kathleen
Mesa, AZ
Tour: 09/26/17
Overall rating:
Our Tour Manager Linda was amazing and really helped us get the most out of our tour experience. We covered so much territory and history of France and ancient Rome. Once we left Paris we had a great tour routine of checking into our next hotel and then taking an orientation walk with Linda where she gave us a city map and oriented us to our new town. Our fellow travelers were all friendly, flexible, and we enjoyed each others' company and sharing insights into the local community.
Favorite "WOW" moment
"Provence; Pont du Gard and the magnificent Roman history museum; moving on to Avignon and a day trip to Arles. We went to Arles with the expectation of walking in the place that inspired Van Gogh but were as "wowed" by the Roman Arena and Roman Theatre and the ancient history of the area. The Cote d'Azur and walking the Promenade des Anglais."
Josh
Shelton, WA
Tour: 09/12/17
Overall rating:
I think my trip through Rick Steve's under promised and over performed. Our travel guide was beneficial in our seeing extra sites and provided her expertise for each city we visited. Of all the cities, Avignon was my least favorite, but was full of historical informaton, Arles was close by and would have been a better choice. Rick Steve's gives Avignon 1 star and Arles 3. Great trip, great people and great fun.
Favorite "WOW" moment
"Annecy and Lyon were wow town's. With rivers in Lyon and the lake in Annecy, the night views were spectacular. Of course, Paris stands alone with it's beauty and history."
Janet
Moro, OR
Tour: 09/12/17
Overall rating:
It was so much fun! I was dubious about the bus since I get carsick, but I didn't have any trouble! Trish and Henry were fantastic! I had to adjust the clothes I packed at the last minute since I could see that it wasn't going to be as warm and sunny as I would have thought for September in France, but the cooler days actually made for good traveling! We had a great group of people, from all over the Pacific Northwest and the rest of the U.S., so that made conversations interesting.
Favorite "WOW" moment
"Chateau des Baux, near Avignon. Trish had a research day there and invited us along to make use of the bus and it was awesome. A beautiful day to start with and a beautiful location, with some difficult walking and steps, to be honest, but so worth it. Incredible sound and light show."
Linda
Shelton, WA
Tour: 09/12/17
Overall rating:
I cannot say enough positive things about our tour consultant, Trish. (I say 'consultant' because I was on a RS My Way tour, but Trish was very often a guide. Every stop, she took us on a short orientation tour of the new town. She made sure we checked our surroundings, knew where our hotel was located, and that we all had a map as we walked to the visitor's center for any other information we needed. Additionally, on the bus, Trish always gave us a heads-up on anything we needed to know.
Favorite "WOW" moment
"Lyon at night. Saint Chappelle in Paris. L'Orangerie. Annecy. Too difficult to select just one 'wow' moment. Our whole trip was "Wow!""
Pamela
Walnut Creek, CA
Tour: 09/05/17
Overall rating:
Have been wanting to go to France since my first experience in French class at age 13. Guess I was waiting for the MyWay tour! It did not disappoint. We added 6 additional days in Paris divided before and after the tour. This allowed us to take in so much of the wonderful beauty and culture of that great city. Appreciated the additional visits to places near the tour cities on the itinerary which enhanced our experience. (chateaux, Ambois, Point du Gard, etc).
Favorite "WOW" moment
"Paris, Paris, Paris. Loved the art, architecture,food!"
Don
Edmonton, AB
Tour: 09/05/17
Overall rating:
I was very pleased with the overall tour experience. Our tour leader and bus driver were very good, experienced and professional. The itinerary for the tour was varied and interesting. The other tour members were good travel companions. The length of the tour was just right. Overall---excellent.
Favorite "WOW" moment
"The visit to the ancient roman aqueduct at Ponte du Garde( spelling may be wrong) was a favourite wow moment!, Also the chateaus of Chambord and Chenennceau were spectacular in their own ways."
Charles
St Louis, MO
Tour: 09/05/17
Overall rating:
For us this was a perfect balance of providing services which took the guesswork and hassle out of overseas travel while still allowing us to make all our own decisions about what to see at what pace.
Favorite "WOW" moment
"We were able to visit my wife's cousins in Nice. It was a special treat to see where my mother-in-law lived during her teenage years. We were lucky enough to have a great lunch in Villefrance-Sur-Mer at a seaside restaurant managed by my wife's cousin's son celebrating his 35th birthday with cousins, children, grandchildren, etc. It felt like we were in a movie."
Claire
Dayton, OH
Tour: 09/05/17
Overall rating:
I think the My Way Tour is the way to go. You can decide what you want to see in each city. You can make it as busy or relaxing as you want. You don't feel overwhelmed with what there is to seeing each city. You didn't like you were on the go every minute.
Favorite "WOW" moment
"My favorite stop was Annecy. It was great to have a break from the museums and just to enjoy our surroundings. The views were wonderful."
Chris
San Diego, CA
Tour: 09/05/17
Overall rating:
I really enjoyed having the hotel and transportation end of our trip all taken care of. This left us with the flexibility and time to explore our stops in whatever way we chose. It's like having the "best of both worlds". As a relatively shy person, it was also great getting to know some of our fellow travelers in the group. People from all over the US and Canada. I had a wonderful experience!
Favorite "WOW" moment
"I really enjoyed learning about the culture of France from our tour guide! Not only did we learn the history of the sights we could see, but also learned about the everyday lives of people in France."
Randy
Issaquah, WA
Tour: 09/05/17
Overall rating:
We were first timers to visit France and this My Way tour was a great way to experience the country. Splitting time between Paris and the other distinctive regions, having a wonderfully personable tour guide to help us choose the best experiences, and having the flexibility to go off on our own, all helped to make this our best vacation ever. We are sold on the My Way tours and will hope that Rick adds many new countries for folks to enjoy.
Favorite "WOW" moment
"So many French sights, sounds, tastes and experiences over those two weeks, it is really hard to narrow it down to just one. But I do have one personal "wow" moment that happened our second day in Paris. I will never forget the initial surprise and then the utter amazement at the beauty of all those breath-taking stained glass depictions at Sainte-Chappelle. Wow, indeed!"
Leslie
Flourtown, PA
Tour: 09/05/17
Overall rating:
Had a fabulous time. Linda was a great guide and enjoyed seeing France with an expert.
Favorite "WOW" moment
"Visiting the chateau's they almost didn't seem real even though they were right in front of you."
Mary
Catonsville, MD
Tour: 09/05/17
Overall rating:
It was very good plus (I seldom give an outstanding). Linda was great as a tour manager, Peter an excellent bus driver. The hotels were good to very good. I had no problems during the 2 weeks. Fellow travelers were friendly and courteous and nobody whined!
Favorite "WOW" moment
"Monaco was my favorite "wow" few hours more than a moment. France is a country that has an abundance of "wow" moments and I travel there as often as I can afford to do so."
Terri
San Diego, CA
Tour: 09/05/17
Overall rating:
This was my first trip to France, so the itinerary was perfect for seeing many parts of the country in 2 weeks. The hotels were are nice and centrally located. The tour guide, Linda, was fantastic! She was fun and informative. I really enjoyed the "My Way" tour, with just the right amount of guidance from Linda.
Favorite "WOW" moment
"It's hard to pick just one! There were many highlight experiences along the way, something special in each place we visited."
Laurie
Everett, WA
Tour: 06/27/17
Overall rating:
I love the My Way tour format. It takes the stress out of travel and lets me enjoy Each city. Our guide Linda gave us a great insight to French people as well giving us sightseeing advice.
Favorite "WOW" moment
"Seeing the differences and beauty between regions throughout France. The beauty of Annecy and the Alps. The incredible food of France."
Nicole
Tampa, FL
Tour: 06/27/17
Overall rating:
I had an amazing time! Linda, our tour guide, and Henri, our bus driver, were such joys to be around and I will always cherish our chats! I am someone who LOVES planning, so this trip was perfect for me to get what I wanted out of every location, while not having to worry about getting to any of the cities safely - the bus and the hotels included in the tour took care of that. I will forever remember this trip and cannot wait to book other RS tours in the future!
Favorite "WOW" moment
"In Annecy I was able to do a 20 mile bike ride around the lake and mountains, and will never be able to put into words how amazing it was. I also enjoyed all of the local wines and cuisines. Getting to walk among lavender fields an hour out of Avignon, enjoy a Michelin star restaurant in Lyon...I truly cannot choose just one "wow" moment because they ALL were "wow" moments!"
Barbara
Brooklyn, NY
Tour: 06/27/17
Overall rating:
I just loved the concept of a tour that does not move as a single body once it arrived at a place. The idea that I could spend as much [or little]time in a specific tourist destination or go to dinner with two or three others was very workable.
Favorite "WOW" moment
"Mt. Blanc. I wanted to see the mountains up close. I did not ascend to the hiking areas because I didn't want to spend hours on line waiting for the gondola but seeing the glacier and exploring the town was great."
David
Bainbridge Island, WA
Tour: 06/27/17
Overall rating:
Beautiful countryside. Hotels were in good locations...not sure if usual, but all but one had A/C. Given that it was summer, that's a good thing. :-) The "My Way" tour provided the opportunity to see much of France without the uncertainties of arranging accomodations in the various towns along the way. A great thing for travelers who might be a little intimidated by that sort of thing. It also provided us with confidence in being able to do it ourselves next visit we take.
Favorite "WOW" moment
"Although the scenery, countryside, history, etc., all provided WOW moments, my favorite parts (and there were many) were the meals we had a little out of the way restaurants during out journey. Why can't we have such quality, friendliness, good wine and good bread here in the States?"
Laurie
Houston, TX
Tour: 06/27/17
Overall rating:
This tour was wonderful. Having our hotels and transportation between towns made it possible to focus on sightseeing. Our tour guide was the BEST. I loved the towns and cities we visited. I was surprised that some of the ones I was less enthusiastic about visiting turned out to be some of my favorites. I enjoyed meeting new people on the tour, but we all had our own preferences of what to see, so it worked out great.
Favorite "WOW" moment
"So many special moments. Maybe my favorite was an idea I had to rent a car in Avignon and drive up into the Luberon hills to visit L'isle Sur la Sorgue, Gordes, Roussillon, and the Pont Julien. Linda gave us information on who to ask about it. We really made our tour a super "My Way" tour, catching the train to Amboise on our own schedule, and adding the drive along the coast to Barcelona. Thanks!!!"
William
Houston, TX
Tour: 06/27/17
Overall rating:
We had a great time: an exceptional tour guide and bus driver, good hotels, and pleasant fellow travelers. We visited a variety of interesting locations, which provided us a wealth of memories. The length of time we stayed in each location was adequate (though it sometimes left us wanting more).
Favorite "WOW" moment
"I came to France expecting to see great art and great scenery, to taste great food and wine. I was not disappointed, and these things yielded numerous "wows." It's hard for me to identify a single favorite "wow" moment, but I suppose I felt a sense of awe (or "wow") when I visited Roman features like Pont du Gard, and realized how advanced Roman civilization was in the first, second, and third centuries."
Suzanne
New Smyrna Beach, FL
Tour: 06/27/17
Overall rating:
This was our first My Way tour. It was outstanding. Great leader and wonderful group of fellow travelers. Every location on the tour offered new experiences. Very easy to see and do everything that we planned to do. We look forward to our next My Way tour!
Favorite "WOW" moment
"Cycling beside Lac Annecy and enjoying a leisurely lunch at the Oasis at a table by the Lac."
Stephanie
New York, NY
Tour: 06/27/17
Overall rating:
It's just the right tour for us! The experience is a good combination of explorations of many cities and nature, with hotels, breakfast and transportation taken care of, and freedom to explore on our own with a local insider's guides. We could not have done it ourselves in a relaxed way, explored so many places, and learned about France! Hotels were great, the bus was clean, the driver was professional and fun, the inputs from the guide is relevant, useful and personalized. Highly recommended!
Favorite "WOW" moment
"After experiencing some big cities and smaller towns, arriving in Annecy on a sunny July afternoon was perfect! The lake glistening against the mountain, people were walking, sunning, boating and running...it was a great place for all seasons."
Timothy
Newburgh, IN
Tour: 06/27/17
Overall rating:
Great Trip, well planned with very nice accommodations. Transport was clean and roomy with very good driver, "Henri". This was our 2nd Rick Steves' my may tour and certainly not our last. When you do the math on planning this trip yourself vs letting Rick handle it you find the value is there.
Favorite "WOW" moment
"Too many to list. France is worth the visit with every stop along the way having a "wow" moment"
Susan
Tampa, FL
Tour: 06/27/17
Overall rating:
Everything was wonderful, our bus driver Henri, the comfortable perfectly located hotels, the satisfying breakfasts to start each day, and our exceptional tour guide Linda. We had an amazing group and made some awesome new friends, of all ages. "My way" gave our family a chance to do whatever we wanted in each city and the tour book made it easy for us to plan our days to the fullest. We have over 800 beautiful photos and wonderful memories to last a lifetime. It was all that we wanted and more!
Favorite "WOW" moment
"My favorite "wow" moment was the orientation walk in Annecy. The lake with the mountains in the background was breathtaking! It is the clearest lake in Europe and the bicycle/walking path goes all around it. We rented bicycles and rode 7 miles to the city of Duingt and back with beautiful views the entire ride. It was truly paradise! We even had a lake view from our hotel!"
Dave
Portland, OR
Tour: 06/27/17
Overall rating:
Prior to this trip, my wife and I had been to Paris quite a lot but never anywhere south of there. So, we were really looking forward to this tour, and we were not disappointed. This was a great tour in every way: great group, great tour guide (Linda), great bus driver (Henry), great food, etc. This was our first My Way tour and we will do it again.
Favorite "WOW" moment
"We had a lot of wow moments, but two stand out. One was at the top of the Aiguille du Midi in Chamonix. As a dedicated climber and skier for most of my adult life, this was almost a pilgrimage for me. The other was the Pont du Gard Roman aqueduct. The aqueduct itself was stunning, but the museum on the history of water and the Roman Empire was one of the best I've seen (on par with the best the Smithsonian has to offer). An overall wow for me was the French people: incredibly nice and kind."
William
Maple Valley, WA
Tour: 05/09/17
Overall rating:
The tour was perfect. The my way tour lets you do what you want, yet the guide is there to suggest places to go and what to expect at each location.
Favorite "WOW" moment
"It's hard to pick just one WOW moment of the tour, since there were so many levels of WOW. Swimming in the river under Pont du Gard, or standing in the VOID at Mt. Blanc, or riding motorcycles in the French Riviera, only scratches the surface of WOW."
Thomas
Snohomish, WA
Tour: 05/09/17
Overall rating:
This MyWay tour had the perfect itinerary. Just a few days in Paris to experience the city, and then off to the French countryside to explore castles and chateaus. We ended in Nice just in time for the film festival and Grand Prix. We started 3 days early in Paris to have time to go out to Normandy to tour the beaches and memorials. We extended two more nights in Nice to be able to rent motorcycles to tour the area. Beautiful weather in southern France. Food, wine, and people were wonderful.
Favorite "WOW" moment
"The excursion up to Charmonix up to 12,600 feet was amazing. Renting a Harley to ride around Nice and Monaco was fun. We even rode on part of the Grand Prix course. This was a great group of 25 people that got along great."
Lois
Maineville, OH
Tour: 05/09/17
Overall rating:
The itinerary for the trip was a good balance of big cities, small towns, mountains,valleys, countryside and seaside. The "my way" format was a great way for us to travel. We had independence yet guidance along the way. Plus, having the transportation and hotels arranged for us made it easy. We appreciated having the option of taking our bus to Chenonceau and Chamonix. This was our 3rd Rick Steves Tour and, as in the previous two, our fellow tour members were great fun, easy-going, good sports.
Favorite "WOW" moment
"Really hard to narrow down to one. I expected to love Annecy, Avignon and Blois but I was surprised to be so impressed by Lyon. Maybe the biggest wow was the top of Aiguille du Midi."
Robert
Fort Worth, TX
Tour: 05/09/17
Overall rating:
Enjoyed the trip very much and Trish was a great guide and facitator. We had a great time and I was glad Henry did all the driving.
Favorite "WOW" moment
"I really enjoyed bicycling along Lake Annecy and taking the tram up Mont Blanc."
Susan
Fort Worth, TX
Tour: 05/09/17
Overall rating:
3rd RS tour, but first 'my way' trip. We enjoyed it very much. Assistance when we needed it and the bonus of choosing our own timetable and schedule. Accommodations were great and central (for the most part) and all the folks in the group were congenial. Trish did a great job and used her people skills to pull our group together. Great time!
Favorite "WOW" moment
"Wow moment??? Everything was great... We had one of those picture perfect days in Chamonix. Bright sunshine, blue sky and no wind. The view of Mont Blanc was breathtaking and the mountains looked like they were white and navy blue. No photo shop necessary. Absolutely perfect"
Larry
Springfield, OR
Tour: 05/09/17
Overall rating:
It took some time to finally say how joyful was this fine France My Way Tour. As this was # 20 tour, since 2002, my expectations have a certain level. Which always are exceeded! Trish is an enthusiastic TREASURE! Thankful for her kind efforts to assist this less then perfectly mobile traveler in many ways, especially in Nice for her language skills with a certain taxi driver! Loved seeing France in all its remarkable geography. From Paris splendor, to mountain highs in the Alps.
Favorite "WOW" moment
"So many...Yet certainly the museum of Pont Du Gard, in its explaining completely the history and complexity of this Roman artifact, filled my afternoon with AC comfortable insights...A Certain Wow. Also there I met several other travelers, from England, the US and french locals, who again confirmed why these tours bring you new friendships at the spur of the moment!"
Carol
Davis, CA
Tour: 05/09/17
Overall rating:
This was our ninth RS Tour and our first My Way Tour. We had been to most of the locations before, but this time we did it "Our Way." We pre-arranged cooking classes, French market food tours, winery visits and tastings, boat tours and other ways to explore each location that we had not done previously. I have mobility issues and can no longer keep up with the group on a regular RS Tour, so going at my own pace, taking taxis and other transportation instead of always walking was so helpful.
Favorite "WOW" moment
"Although we had been there before, being on Mont Blanc, on the water at Lake Annecy and being Wowed by the views at Nice and the one hour boat tour there were stand outs. My favorite Wow, though was taking the golf cart to tour the massive grounds at Chateau de Chambord! We got to see it in a different way than we had before, even in the pouring rain. My photos of the chateau from that vantage point are spectacular."
James
El Macero, CA
Tour: 05/09/17
Overall rating:
Really liked the My Way format. The tour leader, organization, hotel and transportation arrangements created a great base for a wonderful trip. This plus the Rick Steves' guidebook allowed us to tailor a marvelous travel experience for our particular interests and some personal physical limits. Even though we all did different activities, it was very enjoyable traveling with the group; fun to share experiences, etc.
Favorite "WOW" moment
"The Wow was the contnual joy of interactions with the French people in the restaurant, service and tourist industry. They are a polite, precise, energetic people who made a great effort to communicate in English and responded kindly to my limited French. Bounjour, Merci, Au Revoir were magic words. This plus the marvelous and varied beauty of France on this broad sweep across the country."
Terri
Bertram, TX
Tour: 05/09/17
Overall rating:
This was our third Rick Steves tour, and our second My Way tour. We really enjoy the My Way experience because we get to travel with a congenial group of independent travelers who have many interests in common with us. Yet, we all experienced this trip in our own individual ways. And we are sharing those experiences and photos post tour on our Facebook group. This trip to diverse areas in France was our favorite.
Favorite "WOW" moment
"We had seats in the third row for the ballet at the Opera Garnier. On a previous visit to Paris, we toured that beautiful place, so this was definitely on our bucket list! It was a very special and magical evening for us."
Laura
Myrtle Beach, SC
Tour: 05/09/17
Overall rating:
The tour exceeded my expections many times over. We saw an incredible amount of the country in a two week period however I never felt rushed. Paris was full of awe inspiring experiences (including performances in Saint-Chapelle and Norte-Dame cathedral) however I fell in love with France after we left the city. The countryside from the Loire valley to Chamonix down to Nice was covered in spring foliage and watching it go by from the comfortable seat of Henry's bus was truly the way to go.
Favorite "WOW" moment
"The chateau of Chenonceau was the "wow" moment for me. It is privately owned and maintained extremely well. The gardens were full of spring flowers which were made into arrangements placed in every room of the chateau."
Ellen
Murfreesboro, TN
Tour: 05/09/17
Overall rating:
Excellent, really. Our guide was great[INVALID]informative and helpful. Henry our bus driver was also great and integrated into the group effectively. Hotel locations were great, even if it meant sacrificing space for big people like us. I liked the balance between city and the small towns.
Favorite "WOW" moment
"Too many to choose: Discovering that Lyon was such an important city in the Roman Empire. The blue of the Mediterranean at Nice the magnificence of Mont Blanc the Pont du Gard--incredible engineering"
Virginia
Olympia, WA
Tour: 09/20/16
Overall rating:
This My Way France tour was perfect for my husband and me. This was our third RS tour; the others were the standard format. This time we wanted the security of having a guide available for information or emergencies, and we didn't want to plan the hotel or bus logistics. We like to explore on our own without the pressure to participate in the group. Our group was delightful, very compatible, and we discovered they all felt much like we did.
Favorite "WOW" moment
"There were several: the combination of the ethereal sun-lit beauty of the pale blue and gold mosaics along with the architecture and the Mass singing priest at La Basilique Notre Dame de Fourviere in Lyons; viewing the magnitude and age of the Pont du Gard from the shallows of the Garder River below; the intense colors of the bay and buildings in Nice under the piercing blue sky; finding the actual locations where Van Gogh painted his canvases on the Van Gogh Walk in Arles."
Sheldon
Naples, FL
Tour: 09/20/16
Overall rating:
The entire tour was a great experience. The logistics were flawless, the sites were great and the tour leader superb. After three of your tours, we think Linda was the best tour leader overall.
Favorite "WOW" moment
"Chennanceau and its gardens were just amazing."
Carol-ann
Naples, FL
Tour: 09/20/16
Overall rating:
This was our third My Way Tour - we love them! We very much enjoy the freedom to explore the tour destinations at our own pace, focused on the aspects that interest us most. Leaving the logistics to the experts allow us to relax and experience Europe more readily. Linda was a fantastic Tour Manager. Her love of France was enthusiastically shared with us throughout the journey.
Favorite "WOW" moment
"Visiting the village of Eze on our last day in Nice. The charming climb up to the lovely garden with the scenic views were unparalleled."
Maribeth
Dearing, GA
Tour: 09/20/16
Overall rating:
The destinations chosen provided a nice overview of the charms of France. We felt like we had enough time to enjoy each place but also had a list of things to see and do when/if we get back there.
Favorite "WOW" moment
"Seeing the resilience of the French people in the face of terrorism! Truly inspiring."
Mary
Galesburg, IL
Tour: 09/20/16
Overall rating:
The My Way tour is our preferred way to travel in Europe. We can relax on the bus between locations and rely on local recommendations for sightseeing, culture and restaurants/food. Hotels being arranged is also nice for us with limited planning time. We have also found a hidden bonus in getting to know fellow tour members, the guide and bus driver! We found France a little more difficult to maneuver than other countries, with more of a language barrier. The RS books helped a lot with this
Favorite "WOW" moment
"The street markets across France were cultural experiences in their own right; mouth watering, visually stimulating, free smells experiences. Oh, tasted good too!"
Efren
Roanoke, VA
Tour: 09/20/16
Overall rating:
This was our first Rick Steve's tour after my wife and I traveled twice to Italy on our own using Rick's guidebooks. We are not "tour" people, preferring to see, eat and do things independently at our own pace. Based on feedback from friends who had traveled on several My Way tours, we decided to sign up; glad we did! It was wonderful to not have to worry about transportation and lodging for each leg of the Tour, and we enjoyed being with a small group of like-minded people. Linda was terrific!
Favorite "WOW" moment
"Seeing France and each city for the first time. Just when you thought nothing can top this, you encounter something else amazing, whether it is the food, the wine, the people, the shops, the views, the sites, etc."
Lori
Roanoke, VA
Tour: 09/20/16
Overall rating:
This being my first my-way tour I really didn't know what to expect. I have always been skeptical about tours. It was the perfect fit for my husband & I. Our tour guide Linda could not have been more helpful or accommodating, the bus was most comfortable and our driver Henri was great. We really were able to relax as we traveled from place to place. We also enjoyed the rest of the group and made new friends. It was great!
Favorite "WOW" moment
"The cities we visited were beautiful! Its impossible to pick one! The variety was perfect."
Saunders
Redmond, WA
Tour: 09/20/16
Overall rating:
The overall tour experience was great. The group was cohesive but independent. Linda and Henri well able to gauge the dynamics and seemed to tailor their input to those dynamics. I think EVERYONE enjoyed it. The hotels were good as expected, and their location to the areas I wanted to visit were great. The one area that should be revised should be the amount and the lengths of stops in the coach between locations. I believe some of our time could have been better spent in the towns.
Doug
Olympia, WA
Tour: 09/20/16
Overall rating:
This was our third Rick Steve's tour but first My Way tour. We loved the My Way tour for the size of the group and the freedom to pursue our own interest most of the time but at the same time have the hotels and transportation taken care of. On top of that it was great to have the tour leader (consultant) available for questions, some directions, and in case of any problems of which there were none. The other people on the tour were very compatible which added to the experience.
Favorite "WOW" moment
"My favorite "wow" moment was when I stepped into Lyon's Basilica of Notre-Dame de Fouvière and was struck by the beauty of the interior. However, a close second would be the opportunity to walk the narrow streets of the different towns' historic districts and coming upon small shops, churches, markets, and people watching."
Michael
Boulder Creek, CA
Tour: 09/13/16
Overall rating:
Great my way tour of France, hitting several interesting locations, and the bonus optional sides trips were not to be missed!
Favorite "WOW" moment
"We did our own walking tour of historic Paris, including Sainte-Chapelle, Notre-Dame, and the left Bank including Shakespeare and Company. Particularly memorable was a pleasant lunch at a cape down the street from the entrance of Notre-Dame, relaxing at a cafe in the shade of Notre-Dame, and taking in that magnificent church."
Mary Lou
Orland Park, IL
Tour: 09/13/16
Overall rating:
Having done the signature tour of Greece last year I was interested in the MY Way for France, since I was more familiar with that country. Overall it was similar in tone and the fellow travelers. It also worked well with my sister and her husband, as we had lots of time to do our own thing. If I were on my own I would prefer the signature style.
Favorite "WOW" moment
"Having potage and a kir on Mont Blanc. The hike down to the small restaurant was a good 30 minutes and I thought I missed it but some fellow hikers encouraged me. Then, while dining, we watched some hang-gliders gracefully ride the air currents. When we returned we found out one of them was from our group. There were also 2 crazy folk who were in flying squirrel suits who flew past. Yikes!"
Richard
Manlius, NY
Tour: 09/13/16
Overall rating:
The France - My Way tour gave me what I wanted as far as a look at France that went beyond the Paris - Versaille - Verdun that I'd seen several times before. By adding two days in Normandy prior to tour start, and complemented by a really great tour manager (Marie), it was just about all I could have hoped for.
Favorite "WOW" moment
"Seeing Nice from the castle point."
LeeAnn
Seabrook, TX
Tour: 09/13/16
Overall rating:
This was my first "My Way" tour and my third Rick Steves trip. The "My Way" concept worked perfectly for me and my travel buddy. It took care of the planning chores we don't especially enjoy (finding hotels and transportation) and left those we do enjoy (choosing daily activities)to us. This was also a perfect itinerary!
Favorite "WOW" moment
"The definition of a "wow" moment has to be stepping into the "Pas dans le vide" at Aiguille du Midi. Yes,it is possible to feel terror and exhilaration at the same time! As my travel buddy and I shuffled our way into the glass box, we were compelled to touch the glass to verify it was really there and to hold hands for security. The views of Mont Blanc and surrounding Alps kept my jaw dropped in awe the entire time up there!"
Brendle
Sacramento, CA
Tour: 09/13/16
Overall rating:
I had a wonderful time and very much enjoyed my trip around France! The group was great as well and I enjoyed the occasional social events that were offered as options.
Favorite "WOW" moment
"The crystal clear weather for our trip to the French Alps which allowed for bike riding along Lake Annecy and a trip up to the Aiguille du Midi. The views were astonishing. As this was the portion of the trip I was looking forward to most, it was just brilliant and fantastic. A high point literally and figuratively."
Patricia
Uncasville, CT
Tour: 09/13/16
Overall rating:
It was the perfect way to travel for us. Your travel and hotel arrangements took stress out of the trip. Our travel manager, Mary, was a great mentor. She helped us with travel plans, and also guided us through basics French language and etiquette. As a result, we were more confident in our dealing with the French people. The bus day trip options saved us from additional transportation issues. The cities included in the tour gave a great feel for the country.
Favorite "WOW" moment
"I didn't have just one "wow" moment. Every day I was in the midst of a historic and culturally rich environment."
Scott
Sacramento, CA
Tour: 09/13/16
Overall rating:
Thoroughly organized and complete. Relentless cheerfulness...that's a good thing. Though a "my way" trip it still was "guided" but non-intrusively.
Favorite "WOW" moment
"The Roman Museum in Lyon..."
Robert
Uncasville, CT
Tour: 09/13/16
Overall rating:
France My Way was everything we hoped it would be. The pace of the tour was very good for us. We were able to do and see the things we wanted to experience, but were not limited to the need to remain with a tour group. We had originally planned to tour France for 3 weeks on our own, but this tour took care of those difficult logistical elements of travelling (e.g., how to get from one place to another and where to sleep once you got there).
Favorite "WOW" moment
"Chenonceau chateau. The grounds, the chateau, the beautiful and determined women, the palace intrigue, it had it all. History really came alive as I toured through the chateau."
Lillian
Bellevue, WA
Tour: 09/13/16
Overall rating:
This was our first experience with a RS tour, after previously having used his Europe Through the Back Door guide books. We loved having the accomodations and transportation provided for us. What was unexpected and much appreciated was our tour manager Mary with her suggestions for daily explorations. She encouraged us to frequently say Bonjour Madame/Monsieur when first meeting a local, which was so helpful in breaking the ice. Wished more more days in some cities/towns.
Favorite "WOW" moment
"Wow-Paris and Nice."
Diana
Tigard, OR
Tour: 09/13/16
Overall rating:
We really enjoyed the France MyWay tour and felt that we had a good overview of the country after it ended. Although there was a lot of time spent on the bus, we realize it was because France is a large country. Even so, we now know where we would return for a future trip: Provence and southern France! So, it was worth it being able to see a lot of this lovely country.
Favorite "WOW" moment
"Pont du Gard was my wow moment, well worth the stopover."
Judith
Chesapeake, VA
Tour: 09/13/16
Overall rating:
We joined the group, and right from the start, it was easy to see we had joined a group of friendly travelers. As first-time travelers to Europe, we were the only "newbies" in the group, but our guide quickly helped us feel at home. We appreciated the comfy bus trips, and the destinations offered a variety of great places to visit in France.
Favorite "WOW" moment
"The absolute high-point of the trip was our visit to the Mont Blanc and Chamonix. The vistas were amazing, and we were thrilled to have a perfect weather day to make it perfect!"
Diane
Taylor Lake Village, TX
Tour: 09/13/16
Overall rating:
This was a fabulous vacation: great tour manager, itinerary, and tour group. The fact that this My Way tour included some stops enroute to the next town, and that the bus took those interested to Chenonceaux and Chamonix was part of the reason my friend and I chose this tour--and we were really glad we did.
Favorite "WOW" moment
"The Pas dans la Vide at the top of Aiguille du Midi. "Stepping into the void" of that 5-sided glass room with walls so clear we had to touch them to be sure they were there was terrifying but exhilarating. Unexpectedly, it was scarier to look out at Mont Blanc and the Alps than it was to look down from an elevation of about 12,400 feet. I'm about as risk-averse as they come, but I am so glad I did this!"
Loretta
La Grange Park, IL
Tour: 09/13/16
Overall rating:
This was my first time in Europe and using Rick Steve's My Way tour was a great overview of France. Because I didn't have to worry about accommodations or travel between cities, I was able to focus on the activities I was most interested in doing. The travel bus was comfortable and efficient. The hotels were clean, in great locations with varieties styles. Having a good breakfast and delicious coffee every morning was a great way to start the day and gave each of us a chance to share notes.
Favorite "WOW" moment
"My WOW moment was getting off the tour bus at Chamonix to see clear blue skies and the amazing and breathtaking view of Mont Blanc. We boarded the gondola, crammed in like sardines and zipped to the top with a small bump halfway up that made the whole crowd squeal. We were presented with an unobstructed view of the Alps for 360 degrees. There wasn't a breeze and very few clouds. All sun and snow. I could have stayed in that moment forever."
John
Lagrange Park, IL
Tour: 09/13/16
Overall rating:
We had a great time! Thank you Mary
Favorite "WOW" moment
"The Alp's! Chamonix and the Aiguille De Midi cable car was spectacular. The views of Mont Blanc and the surrounding mountains toke my breath away."
Diane
Redmond, WA
Tour: 09/06/16
Overall rating:
I had never been to France before. This itinerary through central France was ideal. We have been on several RS tours before including My Way Italy so we came quite prepared for independent excursions. Our escort Linda was very good and well liked by everyone. We chose not to buy the Museum Pass in Paris and had no trouble with lines for Versailles or Paris proper. We arrived in Paris 3 days before the tour. The one thing I would have liked more information on before the trip is a more detaile
Favorite "WOW" moment
"Point du Gard and Chamonix. Wish we had a full day at Pont du Gard to hike and spend time in the excellent museum"
Trudy
Connoquenessing, PA
Tour: 09/06/16
Overall rating:
I enjoyed this tour of France very much, from beginning to end.
Favorite "WOW" moment
"I enjoyed each site we visited but was especially impressed by the endurance of the Gallo-Roman ruins we encountered throughout France."
Patricia
Glen Allen, VA
Tour: 09/06/16
Overall rating:
I entered into this tour with little to no knowledge of France except that there was a fancy large city that had a tall tower. This tour left me so enriched with "all things French" through the expert commentaries provided by Linda along with the cultural, historical, political, educational, and artistic experiences we experienced. This was truly a most wonderful experience.
Favorite "WOW" moment
"There were so many "wow" moments in each town we visited. Paris's night Seine boat ride with all the lighted buildings was stunning. The Roman ruins in Lyon and Pont du Gard was humbling. Biking along Lake du Annecey was beautiful with the French Alps as backdrop. And Nice was by far the most beautiful city I have experienced."
John
Mechanicsville, VA
Tour: 09/06/16
Overall rating:
Linda, our guide, was super. She added so much human interest information regarding France, past and present.
Favorite "WOW" moment
"The lift in Chamonix"
Jennifer
Loveland, OH
Tour: 09/06/16
Overall rating:
We love the freedom of the "My Way" tours. Henri (a terrific bus driver) took care of getting us to each beautiful town, then Linda got us oriented and we were off to explore. This is a great tour for people who enjoy doing some trip planning, particularly for the days in Paris. As always, a great guide, and fun, interesting tour members. "My Way" tours allow you to enjoy more of what you love about travelling to Europe, whether that is art, history, churches, markets, food, beauty.
Favorite "WOW" moment
"We loved the day in Chamonix, as well as enjoying the Paris evenings. We also really loved having lunches in outdoor cafes in the small towns. There are some beautiful squares that you just happen upon, and it is such a treat to enjoy lunch while looking at architecture and cobblestones that we'd never see at home."
Peter
Encinitas, CA
Tour: 09/06/16
Overall rating:
The itinerary here was nicely laid out, and I particularly enjoyed the Loire, Lyon, Annecy portion. I'd recommend perhaps that the tour focus more on Arles than Avignon, as Arles is much more open and cheerful a spot. It's obviously an easy train hop from one city to the other, so just a question of what would work the best for hotels, etc. Nice has changed significantly for the better in the past 15 years (from our last visit), and was a very pleasant endpoint on the tour.
Favorite "WOW" moment
"Mont Blanc without hesitation. What a spectacular view! We were uncertain if the weather would accommodate us up to the very last minute, and then, WOW! Worth every euro (and it was a lot!), but great fun. Second, somewhat surprising wow moment was the Pont du Gard - that was interesting and impressive, much more than I expected."
James
Elma, NY
Tour: 09/06/16
Overall rating:
Linda our tour guide was very friendly and helpful. She sat down individually with us to help plan with our itineraries. It was nice to go off and explore on our own and at our own pace places that we didn't get a chance to visit when we were in this region. We had been to France a couple of times as well as Lyon, Provence and Avignon once before.
Favorite "WOW" moment
"Chamonix, Mount Blanc. Majestic beauty. Thrilling to see sky divers jump off the top of the mountain."
Becky
Glendive, MT
Tour: 09/06/16
Overall rating:
We liked the variety of the cities we visited and the people we traveled with. All had been on Rick Steve's tours before. We like the open plan of the "My way " tours. This was our second, the first was Spain and this trip was France.
Favorite "WOW" moment
"Annessy was just the right sized town; the city sits on the cannel and the lake was pretty."
Weather

France / Paris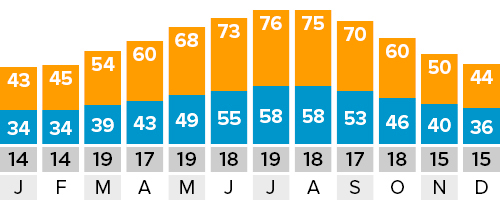 ---
France / Nice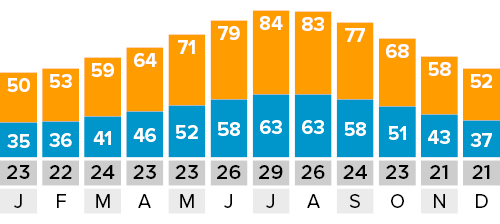 Hotels & Flights
Tour Hotels
In case you wish to book pre- or post-tour hotel accommodations, the contact information for the tour's first and last hotels is included in your tour confirmation email, as well as in your online customer account. About one month prior to the tour departure, in your customer account you'll find the directions to your first tour hotel and a complete list of hotels where we'll be staying while on tour.
Flights
Our tours don't include airfare, so your flight arrangements are completely up to you.
Most tour members arrange to fly into Paris and out of Nice ("multicity" on flight-booking websites). Booking round-trip to one city will require a connecting flight, train trip, or additional overnight stay in France.
We suggest arriving a day or two before your tour begins to allow ample time to get over jet lag and be well-rested for the first few days of your tour. For more information about transportation options for getting to and from your tour, see Rick Steves France guidebook.