Paris

Château de Chenonceau

Lyon

Chamonix

Annecy

Pont du Gard

Avignon

Arles

Nice
Tour Questions? See our FAQ | Call 425-608-4217
My Way® France in 13 Days
from $2,795 per person + air
Optional Single Supplement $925
See Tour Dates
Your vacation to France starts by following a route that connects France's must-see sights — from monumental Paris to sunny Nice, with the Loire Valley, Lyon, Annecy, the French Alps, the Pont du Gard, and Avignon in between. Rick Steves' money-saving My Way vacation package gives you the freedom to decide your own daily sightseeing priorities and pace. We cut the stress by providing comfortable rooms in centrally located hotels, private bus transportation from city to city, and a France-savvy tour manager to advise you along the way. Join us for My Way®: France in 13 Days!
Dates & Prices
What's Included
This is an "un-guided" tour — giving you the freedom (and responsibility) to manage your daily sightseeing schedule and meals
A small, friendly group of 24–28 people will share our big, comfy bus during the trip, but not do organized sightseeing together
A Rick Steves tour manager will coordinate the group's transportation and hotel arrangements, and provide advice for sightseeing, meals, etc.
All group transportation from Paris to Nice
12 nights' accommodations in memorable, centrally located hotels
All breakfasts are included
All tips for tour manager and driver
Free Audio Europe™ app for Apple and Android (free podcast/mp3 files) featuring Rick's audio walking tours of sights, museums, and neighborhoods in Paris. Also includes Rick's radio interviews with experts on destinations covered in this itinerary
A tour kit including a guidebook (or books) and a moneybelt
Guaranteed tour price, locked in the moment you make your deposit
Optional single supplements — this tour has a limited number of private rooms for solo travelers for an additional fee
Tour alum discount of $50 for each tour you've taken prior to 2019
50% discount on a consulting appointment with our in-house experts to assist with your pre- or post-tour travel plans
Flexibility should you need to transfer or cancel your tour
Costs not covered: As this is not a guided tour, you will be responsible for the cost of all your lunches, dinners, drinks, admissions, sightseeing, and non-group transportation. Be sure to plan and budget accordingly. See our Tour Conditions for important details regarding everything listed above.
Itinerary
Sightseeing notes
(r) = reserve a time before you leave the US
* = included in Rick's Audio Europe™ app
Day 1: Welcome to France
Bienvenue à Paris! Known as the City of Light, Paris is blessed with more monuments and museums than anyone could ever hope to see in a single visit. So get a jump start on your sightseeing priorities today by tackling some of the city's world-class museums, such as the Orsay*, Picasso (r), or Rodin (plan accordingly using the Rick Steves France guidebook; many museums are closed one day a week). If jetlag has you yawning, take a promenade along the famous Champs-Elysées or through one of Paris' many attractive parks, such as the Tuileries or Luxembourg Gardens. This evening, we'll meet at our hotel at 5 p.m. for a group get-together. Your tour manager will give an overview of the days ahead, answer your questions, and offer a quick orientation to our neighborhood. Then you're free for dinner on your own and perhaps a twilight ride to the top of the brilliantly lit Eiffel Tower (r). Or, enjoy the views from below, aboard a floodlit Seine River cruise. Sleep in Paris (2 nights).
Day 2: All day in Paris
Today Paris is all yours. With your guidebook and audio tours in hand, you might begin your day where Paris did — on the Ile de la Cité* — visiting the exquisite Sainte-Chapelle* and viewing the resilient and awe-inspiring Notre-Dame Cathedral. Or take all the time you want to cover the most famous museum in the world — the Louvre* — home to the Mona Lisa, Winged Victory, and Venus de Milo. This evening, head up to Montmartre to savor the bohemian flair of Amélie's "village" Paris. Take in the breathtaking vistas from the Sacré-Coeur Basilica, and drop in to a lively café for a post-dinner drink. As with every day of this trip, everything is your choice! No bus today.
Day 3: To the Loire Valley
This morning we'll bid adieu to Paris. Meeting up with our bus and driver, we'll head to the château-rich Loire Valley, stopping en route to visit the immense Château de Chambord. Farther down the road, our home base of Blois looks and feels more important than other Loire towns…because it was. The Château Royal de Blois is the dominant must-see sight in town. However, don't miss out on the flying-buttressed St. Nicolas Church, the medieval warren of lanes below St. Louis Cathedral, or the traffic-free streets lined with colorful shops and cafés. Sleep in Loire Valley (2 nights). Bus: 3 hours.
Day 4: Loire Valley Châteaux
Your entire day is free for sightseeing in the Loire Valley — the land of a thousand châteaux. To help save you time and effort, our coach will make a morning run to the Château de Chenonceau (arguably the greatest, and hardest to reach château), continuing on to the town of Amboise in the afternoon, and returning to Blois in time for dinner. Many more châteaux are a convenient train, bus, taxi, bike, or rental car drive away from Blois. The choice is entirely yours. (Blois is so charming, you could stay in town all day!) Your guidebook and your tour manager will help you sort through all the happy possibilities this day has to offer. Bus (optional): 2 hours.
Day 5: To Lyon on the Saône
Today we'll drive across the center of France to Lyon, in many ways the cultural capital of France. This is a city where restaurants outnumber cars, chefs are more famous than soccer players, and residents live by the saying, "How well you eat determines how well you live." We'll arrive and get settled in our hotel with plenty of time for you to find your new favorite eatery. (Note: To guarantee a table at any one of Lyon's highest-rated restaurants, make your reservation well in advance.) After dinner, once the sun has set, take in the view from the Bonaparte Bridge on the Saône. Lyon's riverfront walks and floodlit buildings make an evening stroll here an absolute must. Sleep in Lyon (2 nights). Bus: 5 hours.
Day 6: All day to Explore Lyon
Lyon is France's most historic and culturally important city after Paris. You'll experience two different-as-night-and-day cities: Vieux Lyon's old-world cobbled alleys, quaint shops, and pastel Renaissance mansions; and the Parisian-feeling shopping streets of the Presqu'île. Buy a 1-day Lyon City Card to get you into all the city's museums, including the Museum of Fine Arts and the Resistance and Deportation History Center. The pass also covers all public transportation, including the Fourvière Hill funiculars. Up on the hill you can tour the Basilica of Notre-Dame de Fouvière, enjoy a panoramic city view, and visit the Roman Theaters and Gallo-Roman Museum. No bus today.
Day 7: To Idyllic Annecy
After breakfast this morning we'll drive straight to Annecy, so you can spend all afternoon and evening enjoying this sophisticated, outdoor-oriented — and absolutely bike-crazy — lakeside town. There's something for everyone here: mountain views, romantic canals, a hilltop château, and the irresistible urge to swim in, paddle on, or bicycle around the translucent lake (with cafés well-spaced along the way). Idyllic Annecy may very well end up being your favorite city on the tour. Sleep in Annecy (2 nights). Bus: 2 hours.
Day 8: Annecy and the French Alps
A thriving outdoor food market occupies much of Annecy's old town center until 12:30 today. With your market finds in hand, picnicking along the shores of the lake with the snow-dipped peaks in the distance is a wonderful way to spend your afternoon. But if getting up into the French Alps is your highest priority, our bus will take you to Chamonix and the base of snowy Mont Blanc this morning, returning to Annecy in time for dinner. In Chamonix, you can hike the mountain trails, take a cogwheel train to Montenvers and the Mer de Glace, or a cable car to the dizzying height of 12,600 feet atop the famous Aiguille du Midi (weather permitting). Bus (optional): 3 hours.
Day 9: To the Pont du Gard and Avignon
This morning we'll make our way into Provence, with a long stop to savor one of Europe's most impressive Roman structures, the Pont du Gard. Set in a beautiful national park, this massive aqueduct spanning the Gardon River was constructed of locally quarried, golden limestone more than 2,000 years ago. The Pont and its setting have since become one of France's iconic sights. Spend time in the museum learning how and why the Pont was built. If the weather permits, take a swim, or hike within the national park. Later this afternoon, we'll make our way to Avignon, the 14th-century home of the pope (or antipope, depending on where you stood). Sleep in Avignon (2 nights). Bus: 4 hours.
Day 10: A Day in Avignon and Arles
Famous for its nursery rhyme, medieval bridge, and brooding Palace of the Popes, Avignon looks and feels like it's stepped out of a fairy tale. You'll have all day to explore this medieval-walled city, wandering through the palace, strolling along the pedestrian streets, and quietly humming "sur le pont d'Avignon." A day-tripping alternative is to take a 20-minute train ride to the nearby city of Arles. Here you can walk in the footsteps of Vincent van Gogh, hang out at the lively Forum Square, and take in the impressive Roman Arena (still used for public events) and Ancient History Museum. No bus today.
Day 11: To the Riviera and Nice
This morning we'll make our way from Provence along the azure waters of the French Riviera, arriving in Nice by midday. You'll be set free to dive into your Riviera experience in Old Nice, starting with the lively Cours Saleya market square, getting lost in the maze of Italianate Old City lanes, then breaking out onto the spacious boulevards and shopping promenades of the city's newer side. Chagall and Matisse both called Nice home, and the museums bearing their names are must-see sights. A dip into the sea or a stroll along the palm-tree-lined Promenade des Anglais (with a gelato in hand) are great ways to cap the day. Sleep in Nice (2 nights). Bus: 3 hours.
Day 12: Day-Tripping on the Riviera
There is no better way to end your French adventure than with a day-trip along the French Riviera. The only problem: there are so many dazzling destinations nearby! Cannes, Antibes, Villefranche-sur-Mer, Eze, and Monaco are all in easy reach by train or public bus. Will you stay in Nice? Or maybe go to Antibes for its Picasso museum? Or head east to Villefranche-sur-Mer for a hike around Cap Ferrat to visit Villa Ephrussi de Rothschild? Or travel up to Eze for spectacular views and a whiff of perfume? Or check out Monaco's yacht-filled harbor, historic casino, royal palace, and Oceanographic Museum? It's your final day in France, so get out and make it special. No bus today.
Day 13: Tour Over After Breakfast
It's a breeze to reach Nice's airports and train station by bus or taxi. Your tour manager can help you with any post-tour planning, leaving you well prepared for the road ahead. Au revoir et merci!
(To avoid long lines at the Eiffel Tower, we recommend booking tickets several weeks in advance. For details, see our Eiffel Tower ticket tips for tour members.)
Itinerary specifics subject to change.
Physical Demands
Our tours are physically active! It's an essential part of the Rick Steves tour experience. On our My Way®: France in 13 Days tour — among other things — you'll need to happily…
Carry/roll your luggage over uneven pavement (possibly several blocks) and up stairways to reach your hotel, then up several flights of stairs to reach your room.
Sleep with street noise and no (or weak) air conditioning.
Be able to navigate towns and cities on your own.
Be responsible for your own daily sightseeing, admissions, meals (except breakfasts), and non-group transportation.
Reviews
Gregory
Arden, NC
Tour: 07/09/19
Overall rating:
Wonderful overview of France and we especially appreciated William's intuitive abilities in providing options to the program based on the needs and desires of the group. While this was a "MyWay" tour, he took the experience to the next level because of his knowledge and ability to communicate. There was a lot of see and experience but the MyWay tour optimized our ability to connect with France and the people. Taking public transportation and walking the cities was definitely a highlight!
Favorite "WOW" moment
"There was a church service William recommended in Lyon. It was all in French but had people from throughout Europe. We were the only tour people who attended but being served Communion by a community instead of a pastor was absolutely surreal. Without William, we never would have experienced this intimate connection with French people. The other magnificent experience was Chenoneau. I wish we could have been there all day!!!"
Leon
Woodinville, WA
Tour: 07/09/19
Overall rating:
It was a fantastic trip!!! Loved being in Paris, French Alps, and the Riviera... such a beautiful country and it was a privilege to experience its diversity. MY WAY is outstanding... really appreciated the recommendations and having the option of participating or not. The other travelers were a real pleasure and so respectful of one another - no one imposed their preferences, schedule, or invitations upon one another.
Favorite "WOW" moment
"PARIS is incredible - so much to see and do!"
Karen Charlene
Driftwood, TX
Tour: 07/09/19
Overall rating:
Hotels were great and well located, bus and driver (Joost) were great, tour manager, William, was great and I appreciated the walk around each new city, pointing out restaurants, shops and attractions we should know about. Very nice group of travelers with about the right amount of interaction.
Luis
Austin, TX
Tour: 07/09/19
Overall rating:
Very enjoyable. Great experiences and great memories.
Favorite "WOW" moment
"Walks through Paris."
Norma
Austin, TX
Tour: 07/09/19
Overall rating:
My husband and I were very happy with the tour. It was all we hoped to expect and more. Would definitely consider going on another tour.
Favorite "WOW" moment
"Fireworks in Lyon on Bastille Day."
Jodi
Miami Beach, FL
Tour: 06/25/19
Overall rating:
Our "My Way" trip could not have been better!! From start to finish we had the most wonderful experiences with the destinations, hotels, the bus and bus driver "Gunther", and the very BEST tour guides anyone could possibly want "Veronique Savoye" plus her assistant "Hilbren".... They took us to extra designation stops, and they were knowledgeable and informative, plus really cared about insuring each passenger had a fantastic trip!!! Merci Beaucoup Veronique and Hilbren. Jodi
Favorite "WOW" moment
"My favorite "wow" moments include the lavender fields, Mont Blanc, the quaint town of Annicy, the promenade in Nice, and visiting all the charming towns in the Riviera ..... It was all magical and I'll never forget it!"
Jessica
Marion, IA
Tour: 06/25/19
Overall rating:
I thoroughly enjoyed the My Way tour experience. The tour guides provided excellent information. I am looking forward to more My Way tours.
Favorite "WOW" moment
"Staying in Annecy and seeing the lake was amazing. The food was also some of my favorite on the whole trip."
Bette
Charlotte, NC
Tour: 06/25/19
Overall rating:
France was amazing except for the record heat wave during our visit! Our two guides, Veronique and Hibren were so knowledgeable and personable- we could not have asked for better guides! Our group endured the heat in stride with their guidance!
Favorite "WOW" moment
"My favorite moment was our afternoon at Pond Du Gard. I did not realize we were going there, and our guides arranged it so that we could stop and buy supplies for a French picnic. We had a great afternoon as we played in the water, amazed at the structure built by the Romans. And the afternoon in the water, sipping Rose, provided great fellowship for the group."
Janet
Simpsonville, SC
Tour: 06/25/19
Overall rating:
This was my husband and my first Rick Steves tour, and we were thoroughly impressed! Everything was done in a classy manner - a full-size bus for 26 travelers, wonderful hotels near markets and public transportation, excellent itinerary and optional trips, and an incredible tour guide in Veronique Savoye. She made what would have been an outstanding trip into an incredible one, with her professionalism, preparation, pride in country, and personality.
Favorite "WOW" moment
"Overall we were wowed by the richness of diversity and history in the different regions we visited. Loved Sainte-Chapelle, lavender fields in Provence, and the charm of Annency."
Stuart
Delray Beach, FL
Tour: 06/25/19
Overall rating:
This tour was perfect.... I cannot imagine a better itinerary to see such a vast part of France! ! I would call this tour "My Way PLUS" because it is the best of both worlds.... we had the freedom to explore each city and region on our own and at our own pace but we were also taken to important places like Chateaus and Chamonix which would have been too difficult to get to on our own. It was perfect! Equally important, we were lucky to have two of the greatest tour guides!
Favorite "WOW" moment
"Every stop on the tour was a "wow" moment! Every city was special and every Chateau was overwhelming with excitement... a great choice of cities to visit to get a full overview of France!"
Sue
Bellevue, WA
Tour: 06/25/19
Overall rating:
Our Excellent guide, Veronique, made the trip delightful. She was always willing to provide us with helpful information when planning our days. We like the options of finding our own paths & exploring some of the 2ndary sites, especially in Paris. The 2 nights in each city were perfect. We had very hot weather & appreciated the air conditioned hotels. Bus was fantastic, driver on time and helpful. Ending with a hotel in Nice & a swimming pool...what a treat!
Favorite "WOW" moment
"Favorites: Chateaus in Loire Valley. Roman ruins and museum in Lyon. Annecy...beautiful and i could stay there for a much longer time. Aqueduct and cooling off in the river. Fun! Paris, enjoying 2ary sties. Food Tour, Paris by Mouth."
Sally
Steubenville, OH
Tour: 06/25/19
Overall rating:
Despite the heat-wave through Europe our entire trip, Veronique and Hilbren did an outstanding job guiding us for this unguided tour! We loved all the cities we visited, and hotels were in excellent locations and comfortable except for in Blois where the AC didn't work. The extra included side trips-Chambord, Chenonceaux, Pont du Gard, Chamonix were all extraordinary and much appreciated! One slight disappointment was mid trip on Sunday and Monday, most retail business were closed.
Favorite "WOW" moment
"Probably the perfectly clear sky to go to the top of Mont Blanc. The chateau visits were extraordinary, I fell in love with Lyon, and peaceful Annecy was a nice diversion from the cities. Avignon was funky and fun! Obviously moments!!!"
Katherine
Chico, CA
Tour: 05/21/19
Overall rating:
I loved this tour. It provided 2 amazing, well informed and knowledgeable guides to help give an overview of each stop and then us enjoy each stay at our own pace and based on our interests.
Favorite "WOW" moment
"I felt the entire trip and every stop provided a wow factor for me. I travel because I love seeing new places in new countries and encountering people from other countries. It makes for a better understanding for the world as we know it, If I had to pick out the stop that did make me a bit nervous but well worth a wow moment, was the gondola trip up Mt Blance in Chamonix."
Deborah
Albany, NY
Tour: 05/21/19
Overall rating:
Before I say anything, I was very sick with a throat infection the week before the tour. That and jetlag significantly influenced my experience as I was unusually tired a lot of the time. Overall it was a good tour, but it is not the way I travel. There is something very transient about moving every 2 days, and I felt I could never really dig into each place where we stopped--often we arrived only a few hours before sights closed.
Favorite "WOW" moment
"In Lyon, after Sunday Mass and a coffee, I accidentally bought two baskets of strawberries at the open market. I walked to an empty bench by the river, sat in the shade and ate the strawberries while reading the Sunday Times Union newspaper on my smartphone. It was quiet, no rush and just a delight...pretty much what I do at home on a Sunday morning with an actual paper in my hands. I also went to Ventimillia, Italy from Nice via Monaco. I almost didn't come back."
Margo
Urbana, IL
Tour: 05/21/19
Overall rating:
We had high expectations for this trip, and it exceeded all of them! The itinerary covered almost everything we hoped to see in a introduction to France. (We did add a daytrip to Normandy on our own before the tour started.) I am now smitten with France in a way I had not predicted, and hope we can return sometime.
Favorite "WOW" moment
"My top four would be Chenonceau (especially the flower and vegetable gardens); the Palace of the Popes in Avignon; the Pont du Gard, and the view from Eze Village on a spectacularly beautiful day on the Mediterranean."
Rick
Chico, CA
Tour: 05/21/19
Overall rating:
Extremely knowledgeable guides who were very helpful in helping individuals plan their days. Comfortable transportation, good hotels with good breakfasts. The size of the group was also a positive.
Favorite "WOW" moment
"It was all good but the tram at Mt Blanc was a real thriller."
Joyce
Ponte Vedra, FL
Tour: 05/21/19
Overall rating:
Loved the My Way tour for the freedom it allowed. We added two days in Paris and two days in Nice, where we travelled to both Eze Village with its charming cobbled stone streets and Cap Ferrat with the Rothschild Villa and gorgeous gardens. The bread, pastries, fruit were all outstanding; after walking miles each day, we earned dessert! Would have liked another day in lovely Annecy. Remember to greet the French people in their language and you will be rewarded with a smile!
Favorite "WOW" moment
"We'd definitely have to say reaching the top of the Aiguille du Midi on a glorious sunny day. We had been here many years ago but it was just as thrilling this time."
Nancy
Shelton, WA
Tour: 05/21/19
Overall rating:
This was the first "My Way" tour that we have taken. William Altman, and his assistant Veronique (Veronica) were exceptional and far more informative and helpful than expected from the promotional materials. I had expected a consultant, but William freely shared so much information, especially on the bus. Veronica was a guide in training, and she was eager, friendly, and well informed. Lucky are the people who have Veronica as their tour guide after her training is finished.
Favorite "WOW" moment
"The gondola ride to see Mont Blanc at the 12,000+ foot level from the town of Chamonix was incredible. Because of weather, William changed the bus schedule to a day earlier so as to not miss our window of opportunity. Many thanks."
Michael
Edmonds, WA
Tour: 05/21/19
Overall rating:
Being a country boy, I have to say that I enjoyed seeing the cities. We enjoyed trying my best with the French language. We always got smiles after we tried. I enjoyed the people of France, the way they seemed to love life. I enjoyed the food; I have to learn how to make some. I enjoyed seeing people dressed up nicely. All the sites were great, so different from Seattle. I especially enjoyed our escorts, William and Veronique.
Favorite "WOW" moment
"Sitting down with our picnic lunch near the Eiffel Tower. We said "we are in France". I have to squeeze in a second one, seeing the Pont du Gard and imaging how the Romans built it."
Linda
Beulah, MI
Tour: 05/21/19
Overall rating:
Loved the tour, tour guides and itinerary. Was a bit hectic but that is the trade-off for trying to see as much as we did in the time frame.
Favorite "WOW" moment
"Loved Annecy and the beautiful lake and mountains. The boat tour of the lake was a definite highlight."
Roger
Lake Oswego, OR
Tour: 09/18/18
Overall rating:
My goal for this trip was to gain insight to site important to French history and culture. This tour met my goal. It was a "my way" tour (because that was what was available between my Italy and GAS tours). I think I missed elements which local guides would have filled in on a more standard tour.
Favorite "WOW" moment
"In order of importance: 1. Loire Valley, 2. Paris (esp Montparnasse), 3. Avignon."
Peter
Roseville, MN
Tour: 09/18/18
Overall rating:
First Rick Steve's tour and was impressed with the whole experience from sign up to tour conclusion. Good info in books, liked My Way tour setup , excellent guide, two days in each city made it less hectic, hotels were nice and breakfasts good, intro walks in each city were nice and informative, size of group was great, ability to explore on own was what I was looking for.
Favorite "WOW" moment
"Chateaus in Loire valley were amazing, Chamonix was drop dead gorgeous"
Cheryl
Gold River, CA
Tour: 09/18/18
Overall rating:
We enjoyed a fabulous tour of France! We have never traveled to France so this My Way tour was a perfect way to see the heart of France from Paris south to Nice. We love that the lodging and transportation are planned out. When we reach our destination, we are free to explore on our own. What is fun about "My Way" trips, is that you share your experiences/explorations with others on the same trip. Sometimes you bump into fellow travelers and sometimes you join up for dinner. All very fun!
Favorite "WOW" moment
"Great WOW - the diversity and beauty of landscape in France. From beaches of Nice/French Riviera to the French Alps to the rural farming communities that were sandwiched in between. Bad WOW - the graffeti in PARIS! For the City of Light, Love, Fashion, and Food to be so covered in spray paint was shocking."
Laura
Gig Harbor, WA
Tour: 09/11/18
Overall rating:
The tour was great! Especially loved the My Way aspect of the tour. Great group of people and beautiful country!
Favorite "WOW" moment
"I loved the food! Everything was amazing that we tasted. I enjoyed the small towns like Blois, Annecy and Ville Franche Sur Mer. Very quaint and very french indeed. Loved the markets! Enjoyed rubbing elbows with the locals and seeing them interact with their neighbors!!"
Betty
Newton, KS
Tour: 09/11/18
Overall rating:
I appreciate the thoughtful way Rick Steves tours planned the trip. Going from a big city/town to a smaller one was helpful in reducing sensory overload. France My Way was planned with our 50th Anniversary and my 70th Birthday in mind. We were not disappointed, we loved every minute of it. I promised myself I was not going to be able to "see everything", but to appreciate what I could see. I was reminded by my wise brother-in-law to be mindful of the moment. It was excellent advice!
Favorite "WOW" moment
"Nice was a wonderful way to end the tour! My "wow" moment was being awestruck by the full moon shining down on the Mediterrainian Sea at night. It was breathtaking. And, during the day the beauty of the French Riviera is something that will be indelibly imprinted on mind!"
Sharon
Alexandria, VA
Tour: 09/11/18
Overall rating:
The people on the tour were very enjoyable and our guide was fun and friendly. Moving every two days was a bit fast-paced for me, but it allowed me to see more of France than I would have on my own. France was incredibly diverse, with incredible food, beautiful shops, fashionable people, and charming places. It was my first visit, and I'll certainly return.
Favorite "WOW" moment
"Seeing the Eiffel Tower for the first time, a day of biking in Blois, a boat tour in Annecy, entering a glacier in Chamonix, laying on a beach in the French Riviera - all were wonderful and made me feel grateful to be alive, well, and able to travel."
Felice
Annandale, NJ
Tour: 09/11/18
Overall rating:
The locations were great. The hotels good. The tour manager was excellent.
Favorite "WOW" moment
"The city of Blois and the city of Annecy."
Cathy
Novi, MI
Tour: 09/11/18
Overall rating:
Trish F was our 'manager', she was fun and competent. I was pleased with all of the hotels and travel arrangements. We had a very good bunch of people, everyone was friendly and got along. I liked the 'my way' aspect of the tour, and was reassured that the travel and lodging were taken care of. Each city was interesting and afforded us much to learn.
Janet
Blanchard, OK
Tour: 09/11/18
Overall rating:
My tour experience was superb. As always the city and town choices and the pattern of their visit was well selected and well thought out . Interspersing smaller towns among the bigger cities allowed for some restful moments between fuller, busier schedules. I admit the My Way tours allow for that anyway but as I advance in age I appreciate a quiet environment more and more. Also our guide, Trish, was helpful and knowledgeable. I appreciated her straightforwardness and short lessons in French.
Favorite "WOW" moment
"Seeing Notre Dame for the first time and seeing the French Riviera for the first time. I never really thought I'd visit the Riviera. The beautiful mosaic of Jesus in Sacré-Cœur was also an exquisite moment."
Rita
Nazareth, PA
Tour: 09/11/18
Overall rating:
Tour manager was experienced and aided us in making decisions for each stop Not enough time in each city/village. It seems like 2 nights in each place would suffice, but in reality, there is only 1 full day to visit. I felt rushed to see even the few things I wanted to experience.
Favorite "WOW" moment
"Having a day in Annecy with no schedule...just browsing the village and enjoying a cup of tea and an eclair with a friend with no schedule."
Dee
Indian Land, SC
Tour: 09/04/18
Overall rating:
Loved all the sites we saw and it was a joy to have Lola with us to explain things from a native french citizen's point of view.
Favorite "WOW" moment
"Riding e-bikes along the lake in Annecy and the Loire Valley chateaux."
Dan
Raleigh, NC
Tour: 09/04/18
Overall rating:
We were very pleased with everything: The number of places we were able to visit, the variety of them, the tour escort, apprentice and driver, the format and the experience. As we knew it would be, having the transportation and accommodations taken care of was wonderful.
Favorite "WOW" moment
"My wife and I were very impressed with our visit to Chamonix and Mount Blanc since it was very beautiful, included different attractions (water, the mountains, paragliders, food and wine). My real wow moment, however, was the final dinner with Mary the guide and Lola the apprentice, when they spoke with and about each other and our group. They were both very special and made our trip that way. Our group loved them!"
Thomas
Longview, TX
Tour: 09/04/18
Overall rating:
I had high expectations and they were met. Mary was a wonderful guide and every tour member was a delight to be with.
Favorite "WOW" moment
"Close call between the magnificence of the Roman Pont du Gard aqueduct and the beauty of the Annecy region."
Debra
Issaquah, WA
Tour: 09/04/18
Overall rating:
First of all, our guide, Mary was a gem!!! She is so knowledgeable and helpful. Having her apprentice, Lola, with us was an added bonus. Both of them were amazing!! My trip really did exceed my expectations as I was not very familiar with some of the places we visited. We had a great group of travelers and oh...cannot forget our wonderful bus driver, Henry!!
Favorite "WOW" moment
"I had several but I think my favorite was seeing Chateau De Chenonceau. What a breathtaking chateau!! And learning some of the history behind it was an added bonus. I also fell in love with the town of Annecy!! So charming and just the perfect size."
William
Issaquah, WA
Tour: 09/04/18
Overall rating:
I admit I was a bit intimidated by the thought of venturing into France but wanted to stretch my comfort level. I found France and the My Way tour to be outstanding. Mary and Lola were super!
Favorite "WOW" moment
"I think observing the parapent flyers out of Chamonix and Mont Blanc mwere my Aha moment. Had I had earlier warning, I would have tried the Parapent flight experience."
Susan
Virginia Beach, VA
Tour: 09/04/18
Overall rating:
The tour met our expectations and more. It was a great way to get an overall view of France and it's different geographical areas. The tour was structured enough for us to feel comfortable, yet we had enough freedom to do what we wanted to do.
Favorite "WOW" moment
"It is hard to just note one "wow" moment. The time in Paris was wonderful as well as visiting the Chateau Chambord. The trip to Chamonix was delightful as well as visiting the silk screening center in Lyonne."
David
Virginia Beach, VA
Tour: 09/04/18
Overall rating:
A perfect balance of structure (e.g. hotels, travel arrangements, orientation information and walks, questions answered) and free time to pursue our individual "bucket list" experience. We did our homework (e.g. dining, wine tour, things to do, setting up GPS) in advance. All that made it possible to enjoy a great time every day!
Favorite "WOW" moment
"Every single day had "wow" moments! The food and wine were outstanding, in wonderful bistros, wine bars, and outdoor cafes! A day in Provence with a wine guide! Seeing the hang gliders launch in the alps! Gathering and enjoying a French picnic! The Château of Chenonceau! So many delightful public spaces! Emerging from the Metro at Place St. Michael in the Latin Quarter! Strolling along the rivers, the boat tour of Lac Annecy, and the Cote d'Azur!"
Harvey
Reisterstown, MD
Tour: 09/04/18
Overall rating:
This was our second Rick Steves tour and our first My Way tour. Overall, I don't think our experience could have been any better. Mary and Lola were perfect trip managers. The quality and location of the hotels were very good along with the ease of travelling between cities/towns in a first-class bus. We especially loved the camaraderie and friendliness of the other travelers.
Favorite "WOW" moment
"Paris was number one. So much to see and do, Musee D'Orsay, Paris Opera House, Montmartre,Catacombs. Taking a side trip from Blois to see the Chateau de Chenonceau, the Musee Miniature et Cinema in Old Town Lyon,beautiful Lake Annecy, train ride up to the glacier in Chamonix, eating our best meal at Le Coude a Coude in Avignon, walking around Arles, and the Musee National Marc Chagall in Nice. Also walking thru the old towns and trying regional dishes (tartiflette, raclette, galettes, socca)."
Larisa
Palo Alto, CA
Tour: 09/04/18
Overall rating:
Mary and Lola were so helpful in pointing to us places to see and things to do, which made the whole experience fun and pleasant. Lola's introduction to Avignon was informative and engaging. The organized happy hour in Avignon was an added bonus. Our group was wonderful - friendly and fun bunch of people. I love small towns so much, that I wanted to stay there longer, and wonder around town, sitting in the cafe watching people. The Blois, Annecy and Avignon were my favorite.
Favorite "WOW" moment
"The Château de Blois, and the night light show in it, was unexpectedly wonderful. Lake Annecy boat tour - so beautiful Everything in Avignon. Village of Eze and it's Fragonard perfume museum Food in small mom-and-pop places."
Bonnie
Littleton, CO
Tour: 09/04/18
Overall rating:
My husband and I have never taken a tour before. This My Way tour was perfect for us, and it exceeded our expectations. Our tour guide, Mary, was informative and helpful yet succinct. She gave a short orientation walk once we arrived in each town. She not only gave suggestions and wasn't afraid to offer her opinion. Mary was fortunate to have an assistant, and French at that: Lola. Lola helped us brush up on English and acquainted us with French customs, food, and music. Perfect team!
Favorite "WOW" moment
"Our favorite town on this trip was Annecy. It really did feel like a mini Venice with the canals and building colors. Just beautiful. The dining was delicious. The bike riding around the lake is an absolute must to engage in true community. We also enjoyed the tour in the Loire Valley of the Chateau of Chambord as it was complete with furnishings."
Elisa
Metairie, LA
Tour: 09/04/18
Overall rating:
Loved every minute of it. However, we would have preferred a few more days in one of the other towns. If we had to skip a place - it would have been Lyon. That's not to dog Lyon we just would have preferred not re-packing every second day.
Favorite "WOW" moment
"When we first walked out of our hotel in Paris. We Unpacked after a grueling flight across the pond & had the PERECT DAY. We started at Luxembourg Gardens, wondered Montparnasse and ended up in the Latin Quarter. We had a bite to eat at Le Soufflote- I didn't realize we were down the street from the Pantheon - it just kept getting better and better each day! And then, the Size of all the buildings in Paris - the Notre Dame - the Eiffel Tower - pictures and videos do not do them Justice."
Tara
Los Alamitos, CA
Tour: 07/03/18
Overall rating:
It was very good! Our first hotel didn't have air conditioning which was annoying and hot but all the places were very nice and everything we saw was beautiful. Linda was super nice and fun and very exciting and she was very good at telling us all the important things. Henri was a very good driver and a lot of fun too.
Favorite "WOW" moment
"My favorite wow moment was in Annecy. it was beautiful to bike around the lake and it was our favorite part of the trip."
Elizabeth
Gresham, OR
Tour: 07/03/18
Overall rating:
After leaving Paris, the experience became what I had initially expected. The hotel in Paris did not have AC and our initial room had a very dirty carpet. The staff moved us the second day to a more acceptable room. The trip was very memorable and the 18 members of our tour group were all fun and lovely people. Linda was an excellent guide! Henri was a wonderful driver, too.
Favorite "WOW" moment
"I believe that the drive to Chamonix and taking the gondola up to Mt. Blanc was the biggest "wow""
Phyllis
Markham, ON
Tour: 07/03/18
Overall rating:
Great trip!
Daniel
Cape Coral, FL
Tour: 07/03/18
Overall rating:
Very nice met very nice people, Linda our guide was very informative Exactly what we were expecting.
Favorite "WOW" moment
"Never really had a wow moment. We liked the smaller cities on the trip"
Charles
Markham, ON
Tour: 07/03/18
Overall rating:
We had a wonderful time.
Favorite "WOW" moment
"I am a pushover for French food."
Mary Ellen
Los Alamitos, CA
Tour: 07/03/18
Overall rating:
The tour was amazing! Beautiful, interesting and varied locations we probably would not have toured on our won. It was well-paced, as we got used to moving every other day. Linda was an amazing tour guide, providing a lot of information, but reading the group to not talk too much! My Way was perfect for traveling with our two teenagers, so we could go at our own pace and see what we wanted! I highly recommend!
Favorite "WOW" moment
"Annecy was unforgettable! We took a bike ride around the clear blue lake, hearing cows and their bells in a pasture while gliders were floating down from the mountains around us. The town is absolutely adorable with window boxes full of flowers and swans swimming in the canals. The town was alive since France won one of the semi final games toward their World Cup victory."
Carolyn
Plymouth, MA
Tour: 07/03/18
Overall rating:
This was a wonderful tour, a terrific way to experience a taste of France's diverse regions by visiting cities large and small, and granted us some flexibility to plan our own activities and excursions. While we traveled mainly in our comfortable bus with the group, we also freely explored on our own using the efficient and easy mass transit options available throughout the country (rail, metro, buses, boats). It was a great way to hone our travel skills!
Favorite "WOW" moment
"A highlight for us was traveling by train west from Paris to visit friends at the farmhouse they are renovating in a small village. We walked peaceful and tiny Moutiers-au-Perche, where our friends sang medieval choral music for us in a small church at the top of a hill overlooking the village. It was hauntingly beautiful - reminding us of the long history of France and the invaluable insights we gain by connecting with local people when traveling abroad."
Patricia
Leaburg, OR
Tour: 06/26/18
Overall rating:
I enjoyed the balance of touring as a group and having independent time at each location. Hotels were lovely and centrally located. Our tour manager, Mary, was wonderful - knowledgeable, friendly, and respectful of individual time.
Favorite "WOW" moment
"There were several "wow" moments - the Chateau Chenonceau was as beautiful as I had imagined and we were blessed with a beautiful day to visit it. I also found the Pont du Gard to be very impressive. Annecy was lovely - my favorite town visited - beautiful scenery, colorful flowers, clean streets and canals, and beautiful cafes along the water."
Janice
Philadelphia, PA
Tour: 06/26/18
Overall rating:
I thoroughly enjoyed this tour and the variety of French experiences. This was my 3rd My Way tour with my daughter (previously Europe and Alpine Europe). It's a great way for us to travel together - low stress for me with logistics and being able to customize our days for our favored activities and budget. One thing that drew me to this tour was the optional bus trans. to Chenonceau & Chamonix. Great to have those options (and not typical on My Ways, I think?)
Favorite "WOW" moment
"I would say that there were less "wow" moments than on previous My Way tours (Europe being pretty much a "best of" and Alpine Europe filled with jaw-dropping scenery, mountain lifts, etc.), but I don't see that as a drawback. This itinerary didn't have a lot of blockbuster "must sees"...there weren't a whole lot of 3 triangle ratings in the book (other than Paris, of course, which we've been to a few times). Was wowed by the lake in Annecy, and swimming next to the Pont du Gard was really cool!"
Ken
Nolensville, TN
Tour: 06/26/18
Overall rating:
It was my first trip abroad and I couldn't have asked for a better experience. The My Way plan was perfect for my family. The overall trip itinerary was well structured, the travel days were relaxed, and the Guide (Mary) was fantastic.
Favorite "WOW" moment
"The cultural experience. They generally have the same stuff in France that we have in the US, but they interact differently. The pace of life generally seems more relaxed then what I'm accustomed to at home."
Thomas
Lafayette, LA
Tour: 05/22/18
Overall rating:
Just perfect for our second time in France. We love Rick Steves tours, and this was our first "My Way." It was just what we wanted: professional planning and leadership that freed us up to enjoy each day tailored perfectly to our own interests and mood. We will be on the lookout for more My Way opportunities.
Favorite "WOW" moment
"Number one "Wow." was getting to the top of the fort in Nice, and turning to see the full grandeur of the Cote d'Azur. Unbelievably WOW. Close second, the whole experience of Lake Annecy."
Mary
Iowa City, IA
Tour: 05/22/18
Overall rating:
Since we had previously been to Paris in a guided RS tour so had seen and heard about all the "important" sites, it was nice to be able to go back and fill in other sites and repeat some places we wanted to see again. Very useful to have the MyWay tour take us directly to several Loire Valley chateaux and not expect us to go on our own. Pre-tour materials and the guide gave us the necessary info to see as much as we wanted.
Favorite "WOW" moment
"The day trip we made to Giverny - it was a sunny spring day and all the iris, peonies, phlox were in glorious bloom. We had just been to L'Orangerie Museum the day before so this was even more memorable. Other equally good WOW moment was first site of the enormity of the 2 visited Loire Valley chateaux - Chambord and Chenonceau - graceful magnificent structures !"
Robert
Nashville, TN
Tour: 05/22/18
Overall rating:
While there were good sights at each of our stops, my favorite stops were Blois and Nice. Blois because of Chenonceau and the hotel (which was the best on the trip), and Nice because of the variety of sights in the area. The hotels overall were below par. The first hotel was much worse than the Londres Eifel which we had enjoyed on to previous Rick Steves tour. The hotel in Avignon had the worst breakfast selection on the trip. The Nice hotel did not even have a lift.
Favorite "WOW" moment
"I actually had two "wow" moments on the tour. The first was Chenonceau. After visiting Chambord the day before, I almost opted to skip Chenonceau. I am happy I chose to visit this property, What a beautiful setting and grounds. Almost worth the trip by itself. My second "wow" moment was Pont du Gard. We arrived during a thunderstorm and it continued to rain for most of the time we were at the park. But the setting and the history behind it were absolutely stunning."
Nancy
Schenectady, NY
Tour: 05/22/18
Overall rating:
I have taken many overseas tours in the past 40 years with a variety of companies and enjoyed the majority of them. I would rank the MyWay tour as outstanding! Why? Excellent organization and planning of the tour, excellent guide who was knowledgeable and charming, excellent hotels in key locations that were perfect for seeing each location, the wonderful fellow travelers, the excellent bus and bus driver, and the bus transportation to sights when in the Loire Valley and Annency.
Favorite "WOW" moment
"For the me, the most meaningful experiences were visiting the Resistance Museum in Lyon with its vivid portrayal of the resistance movement in Lyon through interviews with resistance fighters, and seeing the Chagall Museum in Nice with its magical paintings that made me feel as if I were seeing someone's dreams that I was allowed to make mine."
Nancy
Ashland, OR
Tour: 05/22/18
Overall rating:
This was a great trip for my husband and me. My husband hadn't traveled a lot and when we traveled I would make the arrangements. I didn't want to be in charge of all our arrangements for this 3 week trip. We're pretty independent also, so didn't think we would like being on a group tour doing everything with the group. This met our needs very well. We might try a regular group tour next time because of the experiences we heard from our fellow travelers who had done both.
Favorite "WOW" moment
"One of my favorites resulted from waiting for a local bus for 2 hours! When it finally came a French man insisted I take his seat. I used (my poor) French skills to have a conversation with his wife/partner who had been waiting, too. She was also on vacation and works in the same field as I do. We all had hearty handshakes and smiling nods as we parted. It was very serendipitous! It made my 12 weeks of re-fresher French classes worth it. Another "wow" was visiting the silk atelier in Lyon."
Leslie
Chapel Hill, NC
Tour: 05/22/18
Overall rating:
We had traveled on our own to Paris and really wanted to experience more of the country--outside of the city. An attractive feature of the Rick Steve's My Way was that we left the driving and administrative hotel reservation process to the R.S. Team. The two-nights stops per town were appealing because we were able to experience six different places. The Tour allowed us to be very independent AND provided a terrific resource in our Guide, Linda.
Favorite "WOW" moment
"I loved the day trip to Chamonix. We were uncertain about going due to the weather, but went anyway. The weather cleared and we parasailed off the 5280 ft. Mountain, much to our delight. Evidence that the ability to be spontaneous and experience once in a lifetime events can be the highlight of our travels! I'm not sure we would have traveled there if the tour and bus opportunity hadn't been there!"
Timothy
Chapel Hill, NC
Tour: 05/22/18
Overall rating:
It was out first time to take a tour and we felt the "My Way" fit us best. We wanted to see more of France (we've been to Paris several times), but were not sure how to go about seeing more of the country. I felt intimidated by the language, the culture, eating, etc. Now, after our tour, my travel confidence is way up!
Favorite "WOW" moment
"Paragliding off the Alps in Chamonix! Picnicking under Pont du Gard in the rain was awesome, too. Lyon was so much fun - what a lively city!"
Terry
Ashland, OR
Tour: 05/22/18
Overall rating:
Very satisfied with our tour. Would highly recommend Rick Steves tours especially the my way tours.
Favorite "WOW" moment
"There where a lot of wow moments. I especially liked the Loire valley and the town of Blois."
James
Seattle, WA
Tour: 05/22/18
Overall rating:
This was our third My Way, so we knew what to expect and were not disappointed. Accommodations were excellent, as was the transportation & driver, Jean (John? we never asked for his spelling). My wife does all the pre-trip planning, so I learned where we were going as we went, and the location choices all seemed fine, with ample time to explore each place. We obviously like the format, since planning the accommodations and connecting transportation can be the least fun part of such a trip.
Favorite "WOW" moment
"I'm congenitally adverse to "favorites", whether they be children or trip moments. We enjoyed exploring the old parts of the cities, and the fact that our accommodations were conveniently located for doing so helped make those sorties pleasant."
Helen
Seattle, WA
Tour: 05/22/18
Overall rating:
I thought it was quite enjoyable, we were fortunate to have good people on the tour and everybody was able to get along. The coach was good and most of the hotel rooms were great and in good locations. The only place I didn't really care for was Lyon, maybe it was because there was too much concrete. All the other places were wonderful.
Favorite "WOW" moment
"The eating in Blois was phenomenal, the restaurant was Le Castalat. I will always remember that food, it was so good! The Chateux Chambord and Chateux Chenaceux were pretty impressive"
Roger
Iowa City, IA
Tour: 05/22/18
Overall rating:
We enjoyed the flexibility of being able to pursue our own itinerary at the various stops along the way while retaining access to a very knowledgeable guide. I believe an earlier incarnation of 'My Way' was called 'Bus, Bed and Breakfast.' While the bus rides occasionally seemed a bit long, the bus undoubtedly provided a better vantage point for appreciating the local nuances of the regions being traversed than the perspective offered either from the air or from the TGV.
Favorite "WOW" moment
"We had taken a bus to Antibes to visit the Picasso Museum and walked through the marina while waiting for the museum to open. Standing in one spot on the wharf, we got a close-up look at the schooner owned for fourteen years by Bogey and Bacall while looming just over our shoulder was a yacht that I felt sure at first must have belonged to the French Navy. When one finally puts into port No matter what they've got There's always someone a few berths down Who's got a bigger yacht!"
Arlon
Mesa, AZ
Tour: 09/26/17
Overall rating:
Very exciting. Moving every other day was tough. Had a wonder leader and bus driver. Visited many historic sites We enjoy the My Way format.
Favorite "WOW" moment
"Seeing the Roman sites and how they handle the many years. Nice was great too with the many wonderful views of the sea."
Mary Anne
Woodburn, OR
Tour: 09/26/17
Overall rating:
We had a great trip. Our guide, Linda, was amazing and the group was so much fun to travel with. This was our first "My Way" trip and it was a fun adventure. We took a lot of time to read about where we were going and what there is to do there. We made reservations ahead so we knew what our schedule would be and where we would have free time. The one disappointment was that we had reservations to parasail in the French Alps but the day we arrived it was pouring rain and the adventure was cancel
Favorite "WOW" moment
"We attended mass in the cathedral in Lyon "Fourviere". It was a spectacular production in a spectacular place."
Gloria
Morgantown, WV
Tour: 09/26/17
Overall rating:
Linda was a wonderful, informative, and fun guide! All the tour members got along well and enjoyed each other. The tour was well organized and the time spent in each city was great. Not too much time spent in the bus! The south of France was absolutely stunning!
Favorite "WOW" moment
"It is so hard to pick one wow moment! Enjoyed every experience but really enjoyed Annecy and Arles."
Jenny
Milford, OH
Tour: 09/26/17
Overall rating:
This was our third My Way tour and the tour experience on our My Way France was great. The My Way format allows a lot of flexibility which we appreciate. We had many activities and excursions where others from the tour group joined us, as well as times when we were off on our own. It was a perfect balance! Linda our tour manager would familiarize us with each city with recommendations on restaurants and possible activities before turning us loose. The My Way format is the best way for us.
Favorite "WOW" moment
"There were several "wow" moments: seeing the Eiffel Tower for the first time, the majesty of the Pont du Gard, the blue of the Mediterranean of the Cote d'Azur in Nice."
Lisa
Portland, OR
Tour: 09/26/17
Overall rating:
It was an excellent experience. We had a great tour group and we loved the My Way concept which allowed us a lot of flexibility.
Favorite "WOW" moment
"Nice and the riviera."
Doug
Milford, OH
Tour: 09/26/17
Overall rating:
Great experience with a great tour manager (Linda).
Favorite "WOW" moment
"Nice with beautiful weather and the beautiful Mediterranean sea."
Linda
Blaine, MN
Tour: 09/26/17
Overall rating:
This was my first My Way Tour. I was very pleased with the amount of assistance I received from Linda. She gave answers and met requests in a very timely fashion. As far as the tour itself, I would prefer to have at least 3 nights at some destinations. The town of Blois could be skipped all together. Consider more time in Lyon, Paris, and Nice. Our bus driver was very enjoyable also. Love the bus size. Allowing people to spread out.
Favorite "WOW" moment
"Top of the Eiffel Tower at sunset with a glass of champagne ! Loved the Roman amphitheater and museum in Lyon."
Ram
Dallas, TX
Tour: 09/26/17
Overall rating:
It was our third trip; we certainly enjoyed every aspect and every day of the tour. Our tour guide and the bus driver were funny, entertaining, and informative.
Favorite "WOW" moment
"The architecture, the preservation of the historic sites and their present condition of the chateaus. We were also impressed with scenic French countryside, the kindness and openness of the French people and the cuisine."
Kathleen
Mesa, AZ
Tour: 09/26/17
Overall rating:
Our Tour Manager Linda was amazing and really helped us get the most out of our tour experience. We covered so much territory and history of France and ancient Rome. Once we left Paris we had a great tour routine of checking into our next hotel and then taking an orientation walk with Linda where she gave us a city map and oriented us to our new town. Our fellow travelers were all friendly, flexible, and we enjoyed each others' company and sharing insights into the local community.
Favorite "WOW" moment
"Provence; Pont du Gard and the magnificent Roman history museum; moving on to Avignon and a day trip to Arles. We went to Arles with the expectation of walking in the place that inspired Van Gogh but were as "wowed" by the Roman Arena and Roman Theatre and the ancient history of the area. The Cote d'Azur and walking the Promenade des Anglais."
Carolyn
Ventura, CA
Tour: 09/26/17
Overall rating:
Going "My Way" was not as intimidating as I had thought it may be, given that this was both my first trip to France and my first Rick Steves tour. Our escort provided just enough information on the bus between destinations, and offered an optional orientation at each destination, to help us "newbies" gain confidence that we would be able to navigate public transportation, get wonderfully lost at times, and explore (or not)as we wished.
Favorite "WOW" moment
"Just one? Not in any particular order: Lyon - the ceiling detail at the Notre Dame Basilica; Chateau Chenonceau including walkways and gardens, and Chateau of Chambord."
Josh
Shelton, WA
Tour: 09/12/17
Overall rating:
I think my trip through Rick Steve's under promised and over performed. Our travel guide was beneficial in our seeing extra sites and provided her expertise for each city we visited. Of all the cities, Avignon was my least favorite, but was full of historical informaton, Arles was close by and would have been a better choice. Rick Steve's gives Avignon 1 star and Arles 3. Great trip, great people and great fun.
Favorite "WOW" moment
"Annecy and Lyon were wow town's. With rivers in Lyon and the lake in Annecy, the night views were spectacular. Of course, Paris stands alone with it's beauty and history."
Linda
Shelton, WA
Tour: 09/12/17
Overall rating:
I cannot say enough positive things about our tour consultant, Trish. (I say 'consultant' because I was on a RS My Way tour, but Trish was very often a guide. Every stop, she took us on a short orientation tour of the new town. She made sure we checked our surroundings, knew where our hotel was located, and that we all had a map as we walked to the visitor's center for any other information we needed. Additionally, on the bus, Trish always gave us a heads-up on anything we needed to know.
Favorite "WOW" moment
"Lyon at night. Saint Chappelle in Paris. L'Orangerie. Annecy. Too difficult to select just one 'wow' moment. Our whole trip was "Wow!""
Janet
Moro, OR
Tour: 09/12/17
Overall rating:
It was so much fun! I was dubious about the bus since I get carsick, but I didn't have any trouble! Trish and Henry were fantastic! I had to adjust the clothes I packed at the last minute since I could see that it wasn't going to be as warm and sunny as I would have thought for September in France, but the cooler days actually made for good traveling! We had a great group of people, from all over the Pacific Northwest and the rest of the U.S., so that made conversations interesting.
Favorite "WOW" moment
"Chateau des Baux, near Avignon. Trish had a research day there and invited us along to make use of the bus and it was awesome. A beautiful day to start with and a beautiful location, with some difficult walking and steps, to be honest, but so worth it. Incredible sound and light show."
Don
Edmonton, AB
Tour: 09/05/17
Overall rating:
I was very pleased with the overall tour experience. Our tour leader and bus driver were very good, experienced and professional. The itinerary for the tour was varied and interesting. The other tour members were good travel companions. The length of the tour was just right. Overall---excellent.
Favorite "WOW" moment
"The visit to the ancient roman aqueduct at Ponte du Garde( spelling may be wrong) was a favourite wow moment!, Also the chateaus of Chambord and Chenennceau were spectacular in their own ways."
Terri
San Diego, CA
Tour: 09/05/17
Overall rating:
This was my first trip to France, so the itinerary was perfect for seeing many parts of the country in 2 weeks. The hotels were are nice and centrally located. The tour guide, Linda, was fantastic! She was fun and informative. I really enjoyed the "My Way" tour, with just the right amount of guidance from Linda.
Favorite "WOW" moment
"It's hard to pick just one! There were many highlight experiences along the way, something special in each place we visited."
Randy
Issaquah, WA
Tour: 09/05/17
Overall rating:
We were first timers to visit France and this My Way tour was a great way to experience the country. Splitting time between Paris and the other distinctive regions, having a wonderfully personable tour guide to help us choose the best experiences, and having the flexibility to go off on our own, all helped to make this our best vacation ever. We are sold on the My Way tours and will hope that Rick adds many new countries for folks to enjoy.
Favorite "WOW" moment
"So many French sights, sounds, tastes and experiences over those two weeks, it is really hard to narrow it down to just one. But I do have one personal "wow" moment that happened our second day in Paris. I will never forget the initial surprise and then the utter amazement at the beauty of all those breath-taking stained glass depictions at Sainte-Chappelle. Wow, indeed!"
Charles
St Louis, MO
Tour: 09/05/17
Overall rating:
For us this was a perfect balance of providing services which took the guesswork and hassle out of overseas travel while still allowing us to make all our own decisions about what to see at what pace.
Favorite "WOW" moment
"We were able to visit my wife's cousins in Nice. It was a special treat to see where my mother-in-law lived during her teenage years. We were lucky enough to have a great lunch in Villefrance-Sur-Mer at a seaside restaurant managed by my wife's cousin's son celebrating his 35th birthday with cousins, children, grandchildren, etc. It felt like we were in a movie."
Mary
Catonsville, MD
Tour: 09/05/17
Overall rating:
It was very good plus (I seldom give an outstanding). Linda was great as a tour manager, Peter an excellent bus driver. The hotels were good to very good. I had no problems during the 2 weeks. Fellow travelers were friendly and courteous and nobody whined!
Favorite "WOW" moment
"Monaco was my favorite "wow" few hours more than a moment. France is a country that has an abundance of "wow" moments and I travel there as often as I can afford to do so."
Claire
Dayton, OH
Tour: 09/05/17
Overall rating:
I think the My Way Tour is the way to go. You can decide what you want to see in each city. You can make it as busy or relaxing as you want. You don't feel overwhelmed with what there is to seeing each city. You didn't like you were on the go every minute.
Favorite "WOW" moment
"My favorite stop was Annecy. It was great to have a break from the museums and just to enjoy our surroundings. The views were wonderful."
Pamela
Walnut Creek, CA
Tour: 09/05/17
Overall rating:
Have been wanting to go to France since my first experience in French class at age 13. Guess I was waiting for the MyWay tour! It did not disappoint. We added 6 additional days in Paris divided before and after the tour. This allowed us to take in so much of the wonderful beauty and culture of that great city. Appreciated the additional visits to places near the tour cities on the itinerary which enhanced our experience. (chateaux, Ambois, Point du Gard, etc).
Favorite "WOW" moment
"Paris, Paris, Paris. Loved the art, architecture,food!"
Chris
San Diego, CA
Tour: 09/05/17
Overall rating:
I really enjoyed having the hotel and transportation end of our trip all taken care of. This left us with the flexibility and time to explore our stops in whatever way we chose. It's like having the "best of both worlds". As a relatively shy person, it was also great getting to know some of our fellow travelers in the group. People from all over the US and Canada. I had a wonderful experience!
Favorite "WOW" moment
"I really enjoyed learning about the culture of France from our tour guide! Not only did we learn the history of the sights we could see, but also learned about the everyday lives of people in France."
Leslie
Flourtown, PA
Tour: 09/05/17
Overall rating:
Had a fabulous time. Linda was a great guide and enjoyed seeing France with an expert.
Favorite "WOW" moment
"Visiting the chateau's they almost didn't seem real even though they were right in front of you."
Weather

France / Paris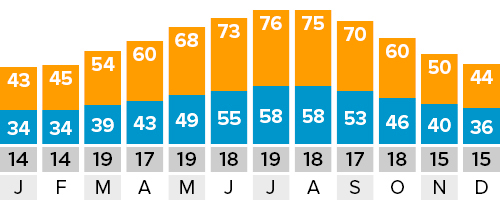 ---
France / Nice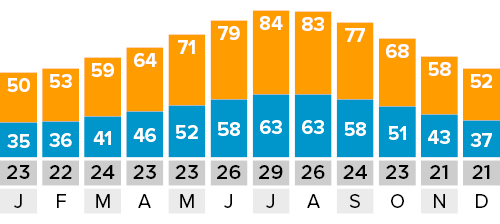 Hotels & Flights
Tour Hotels
In case you wish to book pre- or post-tour hotel accommodations, the contact information for the tour's first and last hotels is included in your tour confirmation email, as well as in your online customer account. About one month prior to the tour departure, in your customer account you'll find the directions to your first tour hotel and a complete list of hotels where we'll be staying while on tour.
Flights
Our tours don't include airfare, so your flight arrangements are completely up to you.
Most tour members arrange to fly into Paris and out of Nice ("multicity" on flight-booking websites). Booking round-trip to one city will require a connecting flight, train trip, or additional overnight stay in France.
We suggest arriving a day or two before your tour begins to allow ample time to get over jet lag and be well-rested for the first few days of your tour. For more information about transportation options for getting to and from your tour, see Rick Steves France guidebook.