Paris

Château de Chenonceau

Lyon

Chamonix

Annecy

Pont du Gard

Avignon

Arles

Nice
Tour Questions? See our FAQ | Email tour@ricksteves.com
My Way® France in 13 Days
Your vacation to France starts by following a route that connects France's must-see sights — from monumental Paris to sunny Nice, with the Loire Valley, Lyon, Annecy, the French Alps, the Pont du Gard, and Avignon in between. Rick Steves' money-saving My Way vacation package gives you the freedom to decide your own daily sightseeing priorities and pace. We cut the stress by providing comfortable rooms in centrally located hotels, private bus transportation from city to city, and a France-savvy tour manager to advise you along the way. Join us for My Way® France in 13 Days!
Dates & Prices
Oct 4–Oct 16 (Tu–Su)
$2,895 + Air
What's Included
This is an "un-guided" tour — giving you the freedom (and responsibility) to manage your daily sightseeing schedule and meals
A small, friendly group of 24–28 people will share our big, comfy bus during the trip, but not do organized sightseeing together
A Rick Steves tour manager will coordinate the group's transportation and hotel arrangements and provide advice for sightseeing, meals, etc.
All group transportation from Paris to Nice
12 nights' accommodations in memorable, centrally located hotels
All breakfasts are included
All tips for tour manager and driver
Free Audio Europe™ app for Apple and Android (free podcast/mp3 files) featuring Rick's audio walking tours of sights, museums, and neighborhoods in Paris. Also includes Rick's radio interviews with experts on destinations covered in this itinerary
A tour kit including a guidebook (when available) and a moneybelt
Guaranteed tour price, locked in the moment you make your deposit
Tour alum discount of $50 for each tour you've taken prior to 2022
50% discount on a consulting appointment with our in-house experts to assist with your pre- or post-tour travel plans
Flexibility should you need to transfer or cancel your tour
Costs not covered: As this is not a guided tour, you will be responsible for the cost of all your lunches, dinners, drinks, admissions, sightseeing, and non-group transportation. Be sure to plan and budget accordingly.
Itinerary
Day 1: Welcome to France
Bienvenue à Paris! Known as the City of Light, Paris is blessed with more monuments and museums than anyone could ever hope to see in a single visit. Get a jump start on your sightseeing priorities today by tackling some of the city's world-class museums, like the Orsay*, Picasso (r), or Rodin (plan accordingly using the Rick Steves France guidebook; many museums are closed one day a week). If jetlag has you yawning, promenade along the famous Champs-Elysées or through one of Paris' many attractive parks, such as the Tuileries or Luxembourg Gardens. This evening, we'll meet at our hotel at 5 p.m. for a group get-together. Your tour manager will give an overview of the days ahead, answer your questions, and offer a quick orientation to our neighborhood. Then you're free for dinner on your own and perhaps a twilight ride to the top of the brilliantly lit Eiffel Tower (r). Or, enjoy the views from below aboard a floodlit Seine River cruise.
No bus. Sleep in Paris.
Day 2: All day in Paris
Today Paris is all yours. With your guidebook and Rick's Audio Europe app, you might begin your day where Paris did — on the Ile de la Cité* — visiting the exquisite Sainte-Chapelle* and seeing the resilient and awe-inspiring Notre-Dame Cathedral. Or, take all the time you want to cover the most famous museum in the world — the Louvre*, home to the Mona Lisa, Winged Victory, and Venus de Milo. This evening, head up to Montmartre to savor the bohemian flair of Amélie's "village" Paris. Take in the breathtaking vistas from the Sacré-Coeur Basilica and drop in to a lively café for a post-dinner drink. As with every day of this trip, everything is your choice!
No bus. Sleep in Paris.
Day 3: To the Loire Valley
This morning we'll bid adieu to Paris. Meeting up with our bus and driver, we'll head to the château-rich Loire Valley, stopping en route to visit the immense Château de Chambord. Farther down the road, our home base of Amboise looks and feels more important than other Loire towns…because it was. Stroll along the Loire River or the traffic-free streets lined with colorful shops and cafés. However, don't miss out on Leonardo da Vinci's home, Clos Lucé, and the chance to marvel at the working models of the Renaissance Man's cleverest inventions.
Bus: 3 hours. Sleep in the Loire Valley.
Day 4: Loire Valley Châteaux
Your entire day is free for sightseeing in the Loire Valley — the land of a thousand châteaux. To help save you time and effort, our coach will make a morning run to the Château de Chenonceau (arguably the greatest and hardest to reach château), returning to Amboise in the afternoon. Many more châteaux are a convenient train, bus, taxi, bike, or rental car drive away from Amboise. The choice is entirely yours. (And Amboise is so charming, you could also stay in town all day!) Your guidebook and your tour manager will help you sort through all the happy possibilities this day has to offer.
Bus (optional): 2 hours. Sleep in the Loire Valley.
Day 5: To Lyon on the Saône
Today we'll drive across the center of France to Lyon, in many ways the country's cultural capital. This is a city where restaurants outnumber cars, chefs are more famous than soccer players, and residents live by the saying, "How well you eat determines how well you live." We'll arrive and get settled in our hotel with plenty of time for you to find your new favorite eatery. (Note: To guarantee a table at any one of Lyon's highest-rated restaurants, make your reservation well in advance.) After dinner, once the sun has set, take in the view from the Bonaparte Bridge on the Saône. Lyon's riverfront walks and floodlit buildings make an evening stroll here an absolute must.
Bus: 5 hours. Sleep in Lyon.
Day 6: All day to Explore Lyon
Lyon is France's most historic and culturally important city after Paris. You'll experience two different-as-night-and-day cities: Vieux Lyon's old-world cobbled alleys, quaint shops, and pastel Renaissance mansions; and the Parisian-feeling shopping streets of the Presqu'île. Buy a 1-day Lyon City Card to get into all the city's museums, including the Museum of Fine Arts and the Resistance and Deportation History Center. The pass also covers all public transportation, including the Fourvière Hill funiculars. Up on the hill you can tour the Basilica of Notre-Dame de Fouvière, enjoy a panoramic city view, and visit the Roman Theaters and Gallo-Roman Museum.
No bus. Sleep in Lyon.
Day 7: To Idyllic Annecy
After breakfast this morning we'll drive straight to Annecy so you can spend all afternoon and evening enjoying this sophisticated, outdoor-oriented — and absolutely bike-crazy — lakeside town. There's something for everyone here: mountain views, romantic canals, a hilltop château, and the irresistible urge to swim in, paddle on, or bicycle around the translucent lake (with cafés well-spaced along the way). Idyllic Annecy may very well end up being your favorite city on the tour.
Bus: 2 hours. Sleep in Annecy.
Day 8: Annecy and the French Alps
A thriving outdoor food market occupies much of Annecy's old town center until 12:30 p.m. today. With your market finds in hand, picnicking along the shores of the lake with the snow-dipped peaks in the distance is a wonderful way to spend your afternoon. But if getting up into the French Alps is your highest priority, our bus will take you to Chamonix and the base of snowy Mont Blanc this morning, returning to Annecy in time for dinner. In Chamonix, you can hike the mountain trails, take a cogwheel train to Montenvers and the Mer de Glace, or ride a cable car to the dizzying height of 12,600 feet atop the famous Aiguille du Midi (weather permitting).
Bus (optional): 3 hours. Sleep in Annecy.
Day 9: To the Pont du Gard and Avignon
This morning we'll make our way into Provence, with a long stop to savor one of Europe's most impressive Roman structures: the Pont du Gard. Set in a beautiful national park, this massive aqueduct spanning the Gardon River was constructed of locally quarried, golden limestone more than 2,000 years ago. The Pont and its setting have since become one of France's iconic sights. Spend time in the museum learning how and why the Pont was built. If the weather permits, take a swim or hike within the national park. Later this afternoon, we'll make our way to Avignon, the 14th-century home of the pope (or antipope, depending on where you stood).
Bus: 4 hours. Sleep in or near Avignon.
Day 10: A Day in Avignon and Arles
Famous for its nursery rhyme, medieval bridge, and brooding Palace of the Popes, Avignon looks and feels like it's stepped out of a fairy tale. You'll have all day to explore this medieval-walled city, wandering through the palace, strolling along the pedestrian streets, and quietly humming "Sur le pont d'Avignon." A day-tripping alternative is to take a 20-minute train ride to the nearby city of Arles. Here you can walk in the footsteps of Vincent van Gogh, hang out at the lively Forum Square, and take in the impressive Roman Arena (still used for public events) and Ancient History Museum.
No bus. Sleep in or near Avignon.
Day 11: To the Riviera and Nice
This morning we'll make our way from Provence to the azure waters of the French Riviera, arriving in Nice by midday. You'll be set free to dive into your Riviera experience in Old Nice, exploring the lively Cours Saleya market square, getting lost in the maze of Italianate Old City lanes, then breaking out onto the spacious boulevards and shopping promenades of the city's newer side. Chagall and Matisse both called Nice home, and the museums bearing their names are must-see sights. A dip into the sea or a stroll along the palm-tree-lined Promenade des Anglais (with a gelato in hand) are great ways to cap the day.
Bus: 3 hours. Sleep in Nice.
Day 12: Day-Tripping on the Riviera
There is no better way to end your French adventure than with a day-trip along the French Riviera. The only problem: there are so many dazzling destinations nearby! Cannes, Antibes, Villefranche-sur-Mer, Eze, and Monaco are all in easy reach by train or public bus. Will you stay in Nice? Or maybe go to Antibes for its Picasso museum? Or head east to Villefranche-sur-Mer for a hike around Cap Ferrat to visit Villa Ephrussi de Rothschild? Or travel up to Eze for spectacular views and a whiff of perfume? Or check out Monaco's yacht-filled harbor, historic casino, royal palace, and Oceanographic Museum? It's your final day in France, so get out and make it special.
No bus. Sleep in Nice.
Day 13: Tour Over After Breakfast
It's a breeze to reach Nice's airports and train station by bus or taxi. Your tour manager can help you with any post-tour planning, leaving you well prepared for the road ahead. Au revoir et merci!
(To avoid long lines at the Eiffel Tower, we recommend booking tickets several weeks in advance. For details, see our Eiffel Tower ticket tips for tour members.)
Itinerary specifics subject to change.
Sightseeing notes
(r) = reserve a time before you leave the US
* = included in Rick's Audio Europe™ app
Physical Demands
Our tours are physically active! It's an essential part of the Rick Steves tour experience. On our My Way® France in 13 Days tour — among other things — you'll need to happily…
Carry/roll your luggage over uneven pavement (possibly several blocks) and up stairways to reach your hotel, then up several flights of stairs to reach your room.
Sleep with street noise and no (or weak) air conditioning.
Be able to navigate towns and cities on your own.
Be responsible for your own daily sightseeing, admissions, meals (except breakfasts), and non-group transportation.
Reviews
Patricia
Tour: 08/30/22
Overall rating:
The My Way Tour was perfect for us as I like to research events/attractions early before travel that appeals to our travel taste. Daniela, our guide and Justin, our driver were the best to keep us informed and safe. The destination locations we traveled were wonderfully different and held my interest and excitement. I couldn't have been more pleased and plan to post my preplanning research method as well as the Rick Steves tour plan on social media so that others can see travel as a doable joy!
Favorite "WOW" moment
"Realizing that I would miss the comradeship of the new friends we so deeply bonded with on the Tour."
Kenneth
Tour: 08/30/22
Overall rating:
Loved not driving or figuring out where to stay. It's exhausting walking everywhere but I wouldnt take back a single step. We loved the French culture, including the wine and cheese. I think my favorite experience was having dinner in Avignon at Le Bercail. Beautiful sunset. Thank you.
Favorite "WOW" moment
"We had a wow moment in Nice when we ran into a wedding. Had an awesome crepe in Nice, too."
Heather
Tour: 08/30/22
Overall rating:
Fabulous! Daniella our guide was excellent—very friendly and accessible. She took as much time as anyone needed to get headed in the right direction. She was incredibly knowledgeable and researched anything she wasn't sure about (especially with changes due to COVID). We loved our tour route and the amount of time at each spot. I agree that your style of travel attracts a certain people with an 'openness to discover' mindset. I appreciated that our group fit this description—great folks!
Favorite "WOW" moment
"I had read about seeing the night lights of Lyon AND YET was still 'WOWED'. I love looking back at those pictures especially."
Stephanie
Tour: 08/30/22
Overall rating:
Exactly what I had hoped for and then some!
Favorite "WOW" moment
"There were too many to single one out. Maybe the overall opulence of Versailles? Or a simple picnic in the garden of the Pope's Palace in Avignon with the delicious food we purchased at Les Halles?"
Clint
Tour: 08/30/22
Overall rating:
We enjoyed getting to know the tour buddies on our bus. The destinations picked for our My Way Tour were exciting and different and interesting. The guide, Daniela did an exceptional job.
Favorite "WOW" moment
"Having a socca and a cold rose' in a tiny socca stand in a back street in the old part of Nice. The owner/cook was delightful and the other patrons were so gentle and kind."
Claude
Tour: 08/30/22
Overall rating:
It was a fun tour.
Favorite "WOW" moment
"Finding used favorite French books from booksellers on the river banks in Lyon."
Roy
Tour: 06/28/22
Overall rating:
it was very well organized and planned.
Favorite "WOW" moment
"Definitely seeing the Italian Alps!!"
Dan
Tour: 06/28/22
Overall rating:
It was really everything we had hoped for … very well organized, wonderful destinations, fun travel companions, and an awesome tour coordinator! Veronique was outstanding! Even the weather was perfect!
Favorite "WOW" moment
"The Aiguille du Midi and Panoramic Mt. Blanc lift rides! Awesome scenery on a gorgeous day!"
Wendell
Tour: 06/28/22
Overall rating:
Very good except for the dark "Covid cloud" that hung over the tour for the duration. Not a comfortable feeling knowing you could test positive and be kicked off the tour. This happened to a number of our co-travelers.
Favorite "WOW" moment
"Being able to take the tram to the Aguille de Midi above Chamonix"
Kathy
Tour: 06/28/22
Overall rating:
Wonderful tour ! Veronique was our fantastic tour guide on our "my way" tour! Our bus driver Luc also was great! We loved the bus tour to the Loire valley castles, the picnic under the Pont du Gard , and especially the trip to Chamonix and the Alps! Veronique did a great job of keeping us together and safe in spite of Covid.
Favorite "WOW" moment
"It would have to be the trip to Chamonix and the lift through the Alps all the way to Italy! There were so many other great moments too."
Carol
Tour: 06/21/22
Overall rating:
Once again, our My Way tour did not disappoint! I do so love the camaraderie of other independently-minded travelers plus the support of a professional and very knowledgeable guide. In a way, the added stress of dealing with the realities of a world still impacted by Covid caused our group bond quickly. The areas we traveled to were well-selected and, even though we had visited some of the regions on previous trips, I felt we were able to experience them more fully on this tour.
Favorite "WOW" moment
"I think that having the time to just "wander around" the beautiful cities and sites we visited was my favorite "wow" moment of this trip. As with our previous My Way tours, so many of my happiest memories are experiences we shared with other members of our tour group. Having been to (and loved!) Annecy before, I was worried I would be disappointed upon return, but it was better than I remembered! Nice was a pleasant surprise, with Villefranche-sur-Mer and Monaco so easily accessible."
Drew
Tour: 06/21/22
Overall rating:
Since we arrived in Paris 4 days prior to our tour & planned to continue to tour other locations in France for 18 days after the tour, we were very prepared for our tour. City walks were helpful but could be difficult due to expected large summer crowds. Transportation was extremely comfortable & timely.
Favorite "WOW" moment
"A cumulative 'wow' for the neighborhood of Montparnasse. We stayed at Hotel Lenox in Montparnasse 4 days prior. With 2 metro lines at each end of the block & convenient shops & restaurants just a few steps away; touring, eating & sleeping couldn't have been easier. Another cautionary 'wow' was experienced at the beautiful Mer de Glace in Chamonix & noting the receding of the glacier over time, witnessing climate change."
Steven
Tour: 06/21/22
Overall rating:
Good group of travelers on the tour, guide was very good. Hotel in Nice was the best and selection of cities was great.
Favorite "WOW" moment
"Pont du Gard was the wow moment for me."
Cherylyn
Tour: 06/21/22
Overall rating:
The ability to see several areas of France without having to worry about travel accommodations was helpful. Some areas I would have liked more time to visit while others I would have preferred not to have visit at all. The overall trip was a positive experience.
Favorite "WOW" moment
"My favorite wow moment was Annecy, France. This town brought a lot of unexpected wow factor. A beautiful, peaceful stop on our trip."
Lynn
Tour: 06/21/22
Overall rating:
Beautiful place to visit.
Favorite "WOW" moment
"Saint chappell"
Lenoir
Tour: 06/21/22
Overall rating:
Weird to sign up with a group of people you've never met. They were each fantastic!!! How rewarding to be with a small group of wonderful people!
Favorite "WOW" moment
"Well, You may not like this, but swimming in the Mediterranean as opposed to out ocean chez nous."
Patricia
Tour: 06/21/22
Overall rating:
The tour route included all of the "must see" sites in France. It was well organized and resourced. The tour guide did a good job of orienting us in each of the neighborhoods where our hotels were located.
Favorite "WOW" moment
"Lake Annecy"
Beverley
Tour: 05/24/22
Overall rating:
Too short a time spent in the bigger cities
Favorite "WOW" moment
"Visiting Chamonix"
David
Tour: 05/24/22
Overall rating:
The My Way tours are perfect for us. We prefer to decide for ourselves where to go when we arrive at a destination. Having transportation and hotels arranged for us leaves the fun planning to us. This was our second My Way tour; it was well-organized and professionally led. This one provided the opportunity to see parts of France we had not experienced before.
Favorite "WOW" moment
"The Lac Annecy 2-hour cruise on a breezy sunny day brought all the drama of the surrounding mountains reflected on the teal-colored water. As if added just for our entertainment, a swarm of hang-gliders floated on the updrafts above the cliffs. We watched as one circled down, down, down, over treetops, rocks and water and finally splashed gently into the lake."
Kathleen
Tour: 05/24/22
Overall rating:
Our guide William was exceptional. Very thoughtful and considerate of the groups needs. I have been on several RS Tours and each one the bus drivers are top notch. Justin was our driver, during the entire trip I felt completely reassured of his skill in maneuvering the bus through narrow streets and busy cities.
Favorite "WOW" moment
"Arriving at Château de Chenonceau before they opened, being one of the first groups inside I was in several rooms all by myself. The Pont du Gard and adjoining museum were exceptional. My side trip to Arles via train from Avignon."
Judy
Tour: 05/24/22
Overall rating:
The tour ran like clockwork. Having a tour guide as experienced as William was helpful and comforting for our first international trip since Covid.
Favorite "WOW" moment
"Aiguille du Midi, of course. But there were many other big moments: Eiffel Tower, Versailles, Pont du Gard, Avignon, Villefranche-sur-Mer."
Robert
Tour: 05/24/22
Overall rating:
We enjoyed the trip! Locations were good, although Avignon was our least favorite. Community downtown was not in good shape. William was great!
Favorite "WOW" moment
"Dining in the Michelin rated restaurant in Amboise!"
Lisa
Tour: 05/10/22
Overall rating:
Overall it was good. Some of the hotels were not acceptable. Rooms too small, outdated, no air conditioning and steep stairs to carry luggage up. I would have preferred a little less bus time and maybe an extra day in a couple of places.
Favorite "WOW" moment
"Mont Blanc and the lake in Annecy."
Stuart
Tour: 05/10/22
Overall rating:
First My Way tour. Really enjoyed setting my own pace
Favorite "WOW" moment
"The Good Companionship of our fellow travelers"
David
Tour: 05/10/22
Overall rating:
Getting to see non-Paris France was very nice. This was our fifth or sixth RSE trip. Most of the hotels were fine, but there were a few I would rate as unacceptable. The bus was excellent as always. William was a great resource as our tour manager. This was the first tour where a large group was present. With over 2/3 of the group all traveling together it altered the dynamics. Their pre-planning at times made it feel like it was Their Way instead of Our Way.
Favorite "WOW" moment
"The high point was the high point on Mont Blanc."
Autumn
Tour: 05/10/22
Overall rating:
Rick Steves My Way Tours never disappoint.
Favorite "WOW" moment
"Avignon and Lyon."
Nancy
Lititz, PA
Tour: 09/17/19
Overall rating:
Overall, our tour was fantastic. We had just enough time in each city we visited to see what we planned to see. Clean, centralized hotels that were near to the places we wanted to see. Everybody in our group was friendly and we paired up with some of them on some of our excursions that were listed on the trip itinerary. The entire trip was well planned with info about each place given on the bus as we headed there. I would highly recommend this trip.
Favorite "WOW" moment
"My "wow" moment was visiting Chamonix and taking the gondola 12600 feet to Mont Blanc. It was supposed to rain all day, but we went anyway. It did not rain, got right on the gondola and went to Mont Blanc where there was light snow, just enough to make our visit complete. Good weather seemed to follow us throughout the entire trip."
Meghan
Milford, CT
Tour: 09/17/19
Overall rating:
We were privileged to enjoy a wide array of French during our 13 day adventure. There is no way we could have done this trip on our own.
Favorite "WOW" moment
"Chenonceau's architectural elegance, beautiful gardens (including vegetable), and lovely wine cellar tastings were high on the list, as well as sipping spritzs under an umbrella while lounging on the Nice beach after several brisk swims."
John
Pensacola, FL
Tour: 09/17/19
Overall rating:
It was way more than I expected. The best of the best. Veronique and Will were experts!!!
Favorite "WOW" moment
"Mount Blanc. It was an amazing option."
Gail
Brewerton, NY
Tour: 09/17/19
Overall rating:
I had a wonderful trip and felt like I saw lots of different regions of France. It has whetted my appetite to explore more of France.
Favorite "WOW" moment
"Seeing the paintings in the Musee D'Orsay was breathtaking."
John
Deruyter, NY
Tour: 09/17/19
Overall rating:
It more than met my expectations. France is a wonderfully diverse country and we experienced a significant amount of that diversity. The experience was further enhanced by the able quality of Veronique Savoye.
Favorite "WOW" moment
"Visiting Chamonix and the cable car ride to the summit."
Margaret
Rockingham, VA
Tour: 09/17/19
Overall rating:
Thoroughly enjoyed this my way trip - my first time with Rick Steves. Hotels were above average to excellent. Bus was very comfortable and the driver was top-notch. The towns and places we visited were new to us and provided insights into French life and culture beyond Paris.
Favorite "WOW" moment
"Trip to Chamonix and Mont Blanc. What a great experience! Chamonix is so picturesque; views from the heights of Mont Blanc were fantastic. Will always remember stepping out on the glass floor at 12000 plus feet for our photo op, and actually enjoying the gondola rides up and back."
Roger
Rockingham, VA
Tour: 09/17/19
Overall rating:
"Tears of Joy!" is the best way to title my experience, since many times during the tour and after, I fill up with that happy-joyful feeling of how wonderful it all was. This was our third attempt to do our first tour, medical issues and surgeries delayed our start. Throughout the delays I found the Administrative folks very helpful, deposits were credited towards this trip.
Favorite "WOW" moment
"When the sun broke through the clouds when we were on top of Aiguille du Midi in the French Alps. We rolled the dice with an iffy weather forecast and were rewarded with a thrilling gondola ride and stellar views. Getting the Alps as part of this tour was a grand slam home-run."
Donald
Jacksonville, IL
Tour: 09/17/19
Overall rating:
The whole tour experience was instructive and positive - a kind of opening up of the country, and a fine introduction to the country, this being our first visit to France. (Over the years we've made it to just about all of the adjacent countries but this was our first visit to France. And hopefully not our last.
Favorite "WOW" moment
"Perhaps encountering the colosseum in Arles so suddenly and unexpectedly - and in such good shape. Mt. Blanc was another highlight, but one we were prepared for in advance. In Arles we turned a corner and therein was."
Bonita
Manheim, PA
Tour: 09/17/19
Overall rating:
Entire trip was outstanding. Enjoyed each stop on trip mainly because Veronique gave us a good introductory walks So we were oriented to each town. Even though we had done our homework this was very helpful I think Veronique made the whole trip a wonderful experience
Favorite "WOW" moment
"There were several but the trip to Chamonix and riding the gondolas up the mountain was breathtaking, especially as the weather forecast was for rain"
Robert
West Kelowna, BC
Tour: 09/17/19
Overall rating:
This was my third RS tour experience and France My way was just as well run as the first 2. Veronique is an excellent tour guide/manager providing smiles, information, and orientation walks in all off our stops along the way. Veronique was just as important to the group as a tour guide on a full Rick tour, and although we had less time overall with her, she provided excellent overall support to make our experience the best. My mother and I were very happy RS traveler! Merci!
Favorite "WOW" moment
"Favourite moment, was a bike ride in beautiful Annecy near the French Alps. It was a glorious day, and the aqua marine water and mountain peaks around Annecy made it very special. The farewell dinner was once again a favourite RS moment, really capping of an excellent trip. Merci beaucoup."
David
Camp Hill, PA
Tour: 09/17/19
Overall rating:
Had a wonderful time. The tour went pretty much exactly as we had anticipated. Veronique was a superb escort and made the long bus rides most enjoyable.
Favorite "WOW" moment
"I particularly enjoyed the Pont du Gard and a bike ride in Annency."
Sarah
Camp Hill, PA
Tour: 09/17/19
Overall rating:
I found the itinerary had a nice mix of historical cities/towns of France. Our tour manager, Veronique, was absolutely fantastic. She wanted us to appreciate her native country. She introduced us to French life, history, music, language,and food. She knew how to present us with just the right amount of information. She was proactive making sure the trip went as smoothly as possible. The fact that we had almost perfect weather helped make the trip great!
Favorite "WOW" moment
"Chenonceau chalet A bike ride along the Annecy's Lake Path. A coastal hike in Cap Ferrat near Nice. Pont du Gard"
Dianne
Cupertino, CA
Tour: 09/17/19
Overall rating:
The "My Way" trip to Southern France was great especially when Veronique contacted me to help deal with our cancelled flight to Paris. She had a number of options for us in order to catch up to the group if our second flight was cancelled.
Favorite "WOW" moment
"Now that is a difficult question as I had many "WOW" moments. The Pont. Du Gard experience was amazing and walking around the two peninsulas of Cap Ferrat was breathtaking. I wanted to take a picture as I rounded each curve in the trail."
Ida Alice
Jacksonville, IL
Tour: 09/17/19
Overall rating:
Veronique was outstanding as our tour leader. Will, our driver, also added to the overall positive experience. We had not traveled in France before this trip, so the "My Way" was an excellent introduction to this fascinating country. I enjoyed the introduction we received to the various regions and hope to revisit them in the future. Thanks!
Favorite "WOW" moment
"The Pont du Gard. Also visiting Arles."
Jennifer
Williamsburg, VA
Tour: 09/10/19
Overall rating:
This was our 8th RS tour but our first My Way, and we will most likely not take another My Way. We missed the fantastic tour guides we so enjoy listening to on Rick Steves tours. I wonder if in future you could include a list of guides for each location so that we could arrange to pay for tours in certain places (eg, Avignon) where some of us may have wanted to dig deeper on the history.
Favorite "WOW" moment
"Annecy was amazing."
Lisa
Newton, NJ
Tour: 09/10/19
Overall rating:
this is the perfect way to tour! i love that rick steves has taken care of all the transportation and hotels, and then we have complete freedom to spend our travel time the way we want to! France is heaven on earth! our tour guide, Hilbren was so great and his knowledge of the history of all of our stops was amazing! our bus was so comfortable and the driver, jaak, quickly became one of our group! he was so fun! please, rick steves, create more My Way tours!!
Favorite "WOW" moment
"i loved every single minute of our trip, but annency was a standout! we rented bikes and rode to the little town of duingt and back. we then rented a paddle boat and were able to jump off the boat in the middle of the pristine lake! Nice was also lovely! we had a fantastic beach day and rented loungers and umbrellas and spent the day enjoying the water and then the lovely old town area of nice. having a great group of fellow travelers added to our experience immensely!"
John
Newton, NJ
Tour: 09/10/19
Overall rating:
The My Way option was great, really gives you the ability to choose which activities you want to do that particular day. The 6 cities, hotels, and locations were fantastic choices and really gave you a view into Paris and much of southern France.
Favorite "WOW" moment
"Biking and boating in Annecy while viewing the Alps. I also loved the finish of the trip on the beaches in Nice, a perfect way to relax on the last days of the My Way Tour."
Ken
Milwaukie, OR
Tour: 09/10/19
Overall rating:
Almost everyone on this tour were experienced travelers and most had also been on a Rick Steves tour. Sharing travel plans with various people in each location became second nature because we all seemed to be very like minded and easy going. It was a comfortable group experience....ah, YES(as Hilbren would say)....Team Steves!
Favorite "WOW" moment
"Without question, Aiguille Du Midi and Stepping into the Void. We lucked out with perfect weather that day. The ride up the gondola was exhilarating and the views from the top were spectacular."
Margaret
Saint Louis, MO
Tour: 09/10/19
Overall rating:
the "France My Way" tour was a great experience. The benefits were a marvelous itinerary; decent lodging; comfortable transportation; interesting traveling companions; and a knowledgeable and engaging guide. Our guide was available but not intrusive.
Favorite "WOW" moment
"biking around the adorable town of Annecy on a glacial blue lake."
Deanna
Acton, MA
Tour: 09/10/19
Overall rating:
A wonderful tour, great guide,terrific fellow travelers. Each destination was unique and memorable. I especially enjoyed Annecy. The hotel locations were excellently placed for walking to sites of interest.All of the stops were close enough to have time to spend on the day of travel. Much appreciated.
Favorite "WOW" moment
"Mount Blanc was especially memorable. It was such a clear day we could see the Matterhorn in Switzerland from the observation deck. Lyon and the Resistance Museum was another unforgettable experience."
Min-Chi
Yardley, PA
Tour: 09/10/19
Overall rating:
MyWay tour enabled the flexibility of activities at each stop without the hassle of booking hotels or arranging transportation. This is definitely a way I'd like to travel. The itinerary was excellent; it allowed a sample of different regions and various sightseeing, culture experiences, although I wish we had more time (e.g. an extra day) in Provence.
Favorite "WOW" moment
"Loire valley chateaus and Annecy were my favorite stops."
John
Damascus, OR
Tour: 09/10/19
Overall rating:
We liked everyone in our tour group of about 25 people and our guide, Hilbren was very knowledgeable in history and international relations and shared his knowledge. The tour hit many cities and towns giving a good overview of France, but with a limit typically of 1 1/2 to 2 days in a place it felt too rushed. I would have preferred not visiting the very crowded and touristy cities of Lyon and Nice and spending more time in Annecy and Provance.
Favorite "WOW" moment
"Taking the tram to the Aguille du Midi in the Mt. Blanc massif and hiking the trail back down."
Kristi
Tumwater, WA
Tour: 09/10/19
Overall rating:
This was our first tour of any kind. We were somewhat apprehensive about being cooped up with 25 strangers. I don't know if we were simply lucky this time bur we had the most amazing group. It was a wonderful surprise.
Favorite "WOW" moment
"Annecy. Period. I was familiar with Paris, Avignon, Nice, and Lyon but both Blois and Annecy were surprises - wonderful surprises. Annecy is now our "absolutely have to go back" place. In fact, we already looked at the My Way Alps tour to see if it went to Annecy (close but no cigar)."
Catherine
Peoria, IL
Tour: 09/03/19
Overall rating:
This was our first My Way tour and we weren't sure what to expect. The tour met and exceeded all expectations! William, our guide, and Kiernan, his trainee, were both wonderful hosts as well as guides. We were impressed that William offered to get us into 2 of the chateaus as a group so we saved $. His orientation walks for each of the stops were helpful as well as informative. He also went out of his way to review our plans for a 9 day trip through the western part of France after our tour.
Favorite "WOW" moment
"My WOW monument was going to Mont Blanc. Beautiful views Seeing Pont du Gard was a close second. And the town of Annecy was our favorite town with the flower lined canals, the local market and riding bikes around the lake for a picnic lunch."
Kathryn
San Antonio, TX
Tour: 09/03/19
Overall rating:
Overall experience was excellent.
Favorite "WOW" moment
"Happy Hour and planned dinners with fellow travelers."
Nellie
Beaverton, OR
Tour: 09/03/19
Overall rating:
Wonderful tour guides, their knowledge and expertice made me feel very secure and i felt like i had just taken a college course on French history!!! Delightful!!! I loved France and learned to love it more by the time i left!
Favorite "WOW" moment
"Chamonix! Seeing the mountains and glacier was overwhelming! I got to sit and chat with 2 little elderly ladies and they were re visiting the town after being there 60 years ago! We all sat and marveled at the beauty of the surroundings. Also the delightful Atmosphere restaurant with the view outside the window and the wonderful lunch. Just smell the roses!"
Michelle
London, ON
Tour: 09/03/19
Overall rating:
The tour gave us so much more then expected. We appreciated the walkabouts in each town. Our tour managers (William and Kieran) offered valuable information and did not hesitate to answer any questions
Favorite "WOW" moment
"Never just one on a RS tour! Château Clos de Lucé in Amboise - Leonardo Da Vinci - what a brilliant mind! Resistance and Deportation Museum (Lyon) - one must always remember. Annecy - the entire town - such charm! Pont du Gard - Avignon - simply incredible!!"
Steve
Englewood, FL
Tour: 09/03/19
Overall rating:
Great selection of cities and locations of hotels. William our guide was very professional, knowledgeable and helpful.
Favorite "WOW" moment
"Walking the streets along the canals in Annecy. Beautiful town that I wish we could stay a week."
Steve
Westminster, CO
Tour: 09/03/19
Overall rating:
I really enjoyed the group activities. I thought William did a good job. He was very helpful with ideas and instructions.
Favorite "WOW" moment
"Chamonix, France was very special, just wish we had more time there."
Robert
Auburn, CA
Tour: 09/03/19
Overall rating:
The tour itinerary was excellent. We visited a good variety of places. Beginning in Paris and ending in Nice was a good design, since those two cities are the ones we wanted to extend our stay in. All of the cities and towns we visited were interesting and worth visiting.
Favorite "WOW" moment
"There were a lot of enjoyable moments but no single "wow" moment."
Jennie
Vestavia Hills, AL
Tour: 09/03/19
Overall rating:
I was blown away with all that we saw & what we did on this tour. I did my research beforehand but William, our guide, always presented more options of what to do & see in every place. His introductory walking tour of each town was very informative and included many sights and restaurants with varied price points. While this tour is very active it also gives the less active person the option to limit their amount of activity & participation.
Favorite "WOW" moment
"This was my third Rick Steves tour and I always find it hard to name just one "wow" moment. I was especially fond of the Old Town Annecy & Lake Annecy with lively market, picturesque village & crystal clear lake. Mont Blanc & L'Aguille du Midi were breathtaking. And Nice was exciting & beautiful. I was surprised at how much I enjoyed our time there."
Veronica
Westminster, CO
Tour: 09/03/19
Overall rating:
This was a great tour offering an opportunity to see a lot of France. There were a few towns in which we would have loved to stay longer. The people in our group became quick friends which made our travels that much more enjoyable. Our tour guide was very thoughtful and kind always making sure our needs were met.
Favorite "WOW" moment
"There were too many wow moments to name just one: Versailles, Pont du Gard aqueduct, Chenonceau, Chamonix, the works of Leonardo DaVinci, walking the streets of Paris, the Eiffel Tower, the pastries and chocolates. . ."
Bruce
Manhattan Beach, CA
Tour: 09/03/19
Overall rating:
Escort William Altman made all the difference. He offered many suggestions regarding interesting sites and dining options beyond those in the France guidebook.
Favorite "WOW" moment
"The side visit to Chamonix and Mont Blanc."
Marilyn
Manhattan Beach, CA
Tour: 09/03/19
Overall rating:
Our second My Way tour, I remain a real fan of this format - trip logistics in place, just-right tour guidance and group camaraderie, and enough freedom to wander, eat and tour at will. The itinerary was a big attraction - an exciting and satisfying range of world class cities, towns, villages, UNESCO sites, and a dash of Alps.
Favorite "WOW" moment
"Perhaps nothing "wows" like the Eiffel Tower lit up in the evening sky or Mont Blanc above the clouds on a clear day, but I also find myself reflecting often on smaller "wows", like enjoying a dinner outside on the square St. Pierre in Avignon, near church doors carved in the 14th century; the juxtaposition of the hilltop Basilica in Lyon with an ancient Roman amphitheater still in use; simply enjoying Cotes Du Rhone vin rouge ON the Cotes Du Rhone! ... so many more."
Theresa
Osage, IA
Tour: 09/03/19
Overall rating:
We had a great time! Our escort William was fabulous,very helpful and knowledgeable. We met some great people on the trip.
Favorite "WOW" moment
"The chateaus were great, but the WOW moment was the visit to Pont-du-Gard."
Neil
Osage, IA
Tour: 09/03/19
Overall rating:
This is my second RS tour and the first my way format. I really didn't know what to expect, but was very satisfied with the guidance provided by William, the tour guide. He took everyone on an orientation walk upon arriving at each overnight town and provided us suggestions on dining, attractions etc.
Favorite "WOW" moment
"Pont Du Gard"
Karen Charlene
Driftwood, TX
Tour: 07/09/19
Overall rating:
Hotels were great and well located, bus and driver (Joost) were great, tour manager, William, was great and I appreciated the walk around each new city, pointing out restaurants, shops and attractions we should know about. Very nice group of travelers with about the right amount of interaction.
Norma
Austin, TX
Tour: 07/09/19
Overall rating:
My husband and I were very happy with the tour. It was all we hoped to expect and more. Would definitely consider going on another tour.
Favorite "WOW" moment
"Fireworks in Lyon on Bastille Day."
Luis
Austin, TX
Tour: 07/09/19
Overall rating:
Very enjoyable. Great experiences and great memories.
Favorite "WOW" moment
"Walks through Paris."
Leon
Woodinville, WA
Tour: 07/09/19
Overall rating:
It was a fantastic trip!!! Loved being in Paris, French Alps, and the Riviera... such a beautiful country and it was a privilege to experience its diversity. MY WAY is outstanding... really appreciated the recommendations and having the option of participating or not. The other travelers were a real pleasure and so respectful of one another - no one imposed their preferences, schedule, or invitations upon one another.
Favorite "WOW" moment
"PARIS is incredible - so much to see and do!"
Gregory
Arden, NC
Tour: 07/09/19
Overall rating:
Wonderful overview of France and we especially appreciated William's intuitive abilities in providing options to the program based on the needs and desires of the group. While this was a "MyWay" tour, he took the experience to the next level because of his knowledge and ability to communicate. There was a lot of see and experience but the MyWay tour optimized our ability to connect with France and the people. Taking public transportation and walking the cities was definitely a highlight!
Favorite "WOW" moment
"There was a church service William recommended in Lyon. It was all in French but had people from throughout Europe. We were the only tour people who attended but being served Communion by a community instead of a pastor was absolutely surreal. Without William, we never would have experienced this intimate connection with French people. The other magnificent experience was Chenoneau. I wish we could have been there all day!!!"
Jodi
Miami Beach, FL
Tour: 06/25/19
Overall rating:
Our "My Way" trip could not have been better!! From start to finish we had the most wonderful experiences with the destinations, hotels, the bus and bus driver "Gunther", and the very BEST tour guides anyone could possibly want "Veronique Savoye" plus her assistant "Hilbren".... They took us to extra designation stops, and they were knowledgeable and informative, plus really cared about insuring each passenger had a fantastic trip!!! Merci Beaucoup Veronique and Hilbren. Jodi
Favorite "WOW" moment
"My favorite "wow" moments include the lavender fields, Mont Blanc, the quaint town of Annicy, the promenade in Nice, and visiting all the charming towns in the Riviera ..... It was all magical and I'll never forget it!"
Janet
Simpsonville, SC
Tour: 06/25/19
Overall rating:
This was my husband and my first Rick Steves tour, and we were thoroughly impressed! Everything was done in a classy manner - a full-size bus for 26 travelers, wonderful hotels near markets and public transportation, excellent itinerary and optional trips, and an incredible tour guide in Veronique Savoye. She made what would have been an outstanding trip into an incredible one, with her professionalism, preparation, pride in country, and personality.
Favorite "WOW" moment
"Overall we were wowed by the richness of diversity and history in the different regions we visited. Loved Sainte-Chapelle, lavender fields in Provence, and the charm of Annency."
Bette
Charlotte, NC
Tour: 06/25/19
Overall rating:
France was amazing except for the record heat wave during our visit! Our two guides, Veronique and Hibren were so knowledgeable and personable- we could not have asked for better guides! Our group endured the heat in stride with their guidance!
Favorite "WOW" moment
"My favorite moment was our afternoon at Pond Du Gard. I did not realize we were going there, and our guides arranged it so that we could stop and buy supplies for a French picnic. We had a great afternoon as we played in the water, amazed at the structure built by the Romans. And the afternoon in the water, sipping Rose, provided great fellowship for the group."
Sally
Steubenville, OH
Tour: 06/25/19
Overall rating:
Despite the heat-wave through Europe our entire trip, Veronique and Hilbren did an outstanding job guiding us for this unguided tour! We loved all the cities we visited, and hotels were in excellent locations and comfortable except for in Blois where the AC didn't work. The extra included side trips-Chambord, Chenonceaux, Pont du Gard, Chamonix were all extraordinary and much appreciated! One slight disappointment was mid trip on Sunday and Monday, most retail business were closed.
Favorite "WOW" moment
"Probably the perfectly clear sky to go to the top of Mont Blanc. The chateau visits were extraordinary, I fell in love with Lyon, and peaceful Annecy was a nice diversion from the cities. Avignon was funky and fun! Obviously moments!!!"
Jessica
Marion, IA
Tour: 06/25/19
Overall rating:
I thoroughly enjoyed the My Way tour experience. The tour guides provided excellent information. I am looking forward to more My Way tours.
Favorite "WOW" moment
"Staying in Annecy and seeing the lake was amazing. The food was also some of my favorite on the whole trip."
Sue
Bellevue, WA
Tour: 06/25/19
Overall rating:
Our Excellent guide, Veronique, made the trip delightful. She was always willing to provide us with helpful information when planning our days. We like the options of finding our own paths & exploring some of the 2ndary sites, especially in Paris. The 2 nights in each city were perfect. We had very hot weather & appreciated the air conditioned hotels. Bus was fantastic, driver on time and helpful. Ending with a hotel in Nice & a swimming pool...what a treat!
Favorite "WOW" moment
"Favorites: Chateaus in Loire Valley. Roman ruins and museum in Lyon. Annecy...beautiful and i could stay there for a much longer time. Aqueduct and cooling off in the river. Fun! Paris, enjoying 2ary sties. Food Tour, Paris by Mouth."
Stuart
Delray Beach, FL
Tour: 06/25/19
Overall rating:
This tour was perfect.... I cannot imagine a better itinerary to see such a vast part of France! ! I would call this tour "My Way PLUS" because it is the best of both worlds.... we had the freedom to explore each city and region on our own and at our own pace but we were also taken to important places like Chateaus and Chamonix which would have been too difficult to get to on our own. It was perfect! Equally important, we were lucky to have two of the greatest tour guides!
Favorite "WOW" moment
"Every stop on the tour was a "wow" moment! Every city was special and every Chateau was overwhelming with excitement... a great choice of cities to visit to get a full overview of France!"
Michael
Edmonds, WA
Tour: 05/21/19
Overall rating:
Being a country boy, I have to say that I enjoyed seeing the cities. We enjoyed trying my best with the French language. We always got smiles after we tried. I enjoyed the people of France, the way they seemed to love life. I enjoyed the food; I have to learn how to make some. I enjoyed seeing people dressed up nicely. All the sites were great, so different from Seattle. I especially enjoyed our escorts, William and Veronique.
Favorite "WOW" moment
"Sitting down with our picnic lunch near the Eiffel Tower. We said "we are in France". I have to squeeze in a second one, seeing the Pont du Gard and imaging how the Romans built it."
Margo
Urbana, IL
Tour: 05/21/19
Overall rating:
We had high expectations for this trip, and it exceeded all of them! The itinerary covered almost everything we hoped to see in a introduction to France. (We did add a daytrip to Normandy on our own before the tour started.) I am now smitten with France in a way I had not predicted, and hope we can return sometime.
Favorite "WOW" moment
"My top four would be Chenonceau (especially the flower and vegetable gardens); the Palace of the Popes in Avignon; the Pont du Gard, and the view from Eze Village on a spectacularly beautiful day on the Mediterranean."
Nancy
Shelton, WA
Tour: 05/21/19
Overall rating:
This was the first "My Way" tour that we have taken. William Altman, and his assistant Veronique (Veronica) were exceptional and far more informative and helpful than expected from the promotional materials. I had expected a consultant, but William freely shared so much information, especially on the bus. Veronica was a guide in training, and she was eager, friendly, and well informed. Lucky are the people who have Veronica as their tour guide after her training is finished.
Favorite "WOW" moment
"The gondola ride to see Mont Blanc at the 12,000+ foot level from the town of Chamonix was incredible. Because of weather, William changed the bus schedule to a day earlier so as to not miss our window of opportunity. Many thanks."
Deborah
Albany, NY
Tour: 05/21/19
Overall rating:
Before I say anything, I was very sick with a throat infection the week before the tour. That and jetlag significantly influenced my experience as I was unusually tired a lot of the time. Overall it was a good tour, but it is not the way I travel. There is something very transient about moving every 2 days, and I felt I could never really dig into each place where we stopped--often we arrived only a few hours before sights closed.
Favorite "WOW" moment
"In Lyon, after Sunday Mass and a coffee, I accidentally bought two baskets of strawberries at the open market. I walked to an empty bench by the river, sat in the shade and ate the strawberries while reading the Sunday Times Union newspaper on my smartphone. It was quiet, no rush and just a delight...pretty much what I do at home on a Sunday morning with an actual paper in my hands. I also went to Ventimillia, Italy from Nice via Monaco. I almost didn't come back."
Rick
Chico, CA
Tour: 05/21/19
Overall rating:
Extremely knowledgeable guides who were very helpful in helping individuals plan their days. Comfortable transportation, good hotels with good breakfasts. The size of the group was also a positive.
Favorite "WOW" moment
"It was all good but the tram at Mt Blanc was a real thriller."
Katherine
Chico, CA
Tour: 05/21/19
Overall rating:
I loved this tour. It provided 2 amazing, well informed and knowledgeable guides to help give an overview of each stop and then us enjoy each stay at our own pace and based on our interests.
Favorite "WOW" moment
"I felt the entire trip and every stop provided a wow factor for me. I travel because I love seeing new places in new countries and encountering people from other countries. It makes for a better understanding for the world as we know it, If I had to pick out the stop that did make me a bit nervous but well worth a wow moment, was the gondola trip up Mt Blance in Chamonix."
Joyce
Ponte Vedra, FL
Tour: 05/21/19
Overall rating:
Loved the My Way tour for the freedom it allowed. We added two days in Paris and two days in Nice, where we travelled to both Eze Village with its charming cobbled stone streets and Cap Ferrat with the Rothschild Villa and gorgeous gardens. The bread, pastries, fruit were all outstanding; after walking miles each day, we earned dessert! Would have liked another day in lovely Annecy. Remember to greet the French people in their language and you will be rewarded with a smile!
Favorite "WOW" moment
"We'd definitely have to say reaching the top of the Aiguille du Midi on a glorious sunny day. We had been here many years ago but it was just as thrilling this time."
Linda
Beulah, MI
Tour: 05/21/19
Overall rating:
Loved the tour, tour guides and itinerary. Was a bit hectic but that is the trade-off for trying to see as much as we did in the time frame.
Favorite "WOW" moment
"Loved Annecy and the beautiful lake and mountains. The boat tour of the lake was a definite highlight."
When To Go & Weather
Late spring and fall are the best times to take a My Way France tour, combining generally good weather, lighter crowds, and the full range of tourist fun.

France / Paris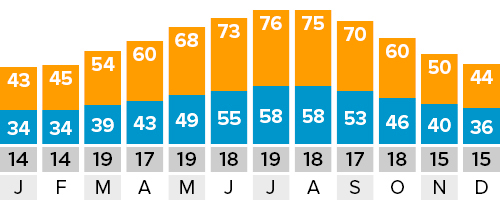 ---
France / Nice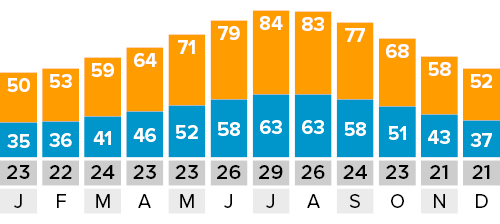 Hotels & Flights
Tour Hotels
In case you wish to book pre- or post-tour hotel accommodations, the contact information for the tour's first and last hotels is included in your tour confirmation email, as well as in the Itinerary section of your tour account. One month prior to the tour departure, you'll find the directions to your first tour hotel and a complete list of hotels where we'll be staying in the Documents section of your tour account.
Flights
Our tours don't include airfare, so your flight arrangements are completely up to you.
Most tour members arrange to fly into Paris (CDG or ORY) and out of Nice (NCE) — choose "multicity" on flight-booking websites. Booking round-trip to one city will require a connecting flight, train trip, or additional overnight stay in France.
We suggest arriving a day or two before your tour begins to allow ample time to get over jet lag and be well-rested for the first few days of your tour. For more information about transportation options for getting to and from your tour, see Rick Steves France guidebook.