Colosseum

Sistine Chapel

Volterra

Wine Tasting in Tuscany

Tuscan Hillside

Lucca

Vernazza in the Cinque Terre

Ponte Vecchio in Florence
Tour Questions? See our FAQ | Call 425-608-4217
Heart of Italy in 9 Days Tour
Tight on time? This tour is Rick's personal "best of" distillation of our Best of Italy tour. Beginning with the "must-see" sights of the Eternal City of Rome, your Rick Steves guide will help you experience the very heart of this remarkable country: the Tuscan hill-town ambience of Volterra, harbor-hugging villages of the Cinque Terre, and the amazing art of Renaissance Florence. Along the way, you'll enjoy Italy's distinctive culture, countryside charm, robust wine, and farm-fresh cuisine. Join us for the Heart of Italy in 9 Days!
Dates & Prices
What's Included
You'll get at least 15 group sightseeing events — at no extra cost!
Here's what you'll see and do on our Heart of Italy tour:
Ancient Rome walking tour
Colosseum
Roman Forum
Pantheon
Evening walk through Rome including Trevi Fountain
Vatican Museums and Sistine Chapel
Volterra walking tour
Guarnacci Etruscan Museum
Alabaster workshop
Wine tasting
Family farm visit
Orientation for "vacation" day in the Cinque Terre
Renaissance Florence walking tour
Florence's Accademia (Michelangelo's David)
Uffizi Gallery
Plus you'll get all this, too.
A small, friendly group of 24–28 people — half the size of most tour groups
Full-time services of a professional Rick Steves guide and local experts who will make the fascinating history, art, and culture of Italy come alive for you
All group transportation from Rome to Florence
8 nights' accommodations in memorable, centrally located hotels
All breakfasts and half your dinners
All tips for guides and driver
A tour kit including a guidebook (when available) and a moneybelt
Guaranteed tour price, locked in the moment you make your deposit
Tour alum discount of $50 for each tour you've taken prior to 2022
50% discount on a consulting appointment with our in-house experts to assist with your pre- or post-tour travel plans
Flexibility should you need to transfer or cancel your tour
Fine print: You are responsible for the cost of your drinks and free-time sightseeing. See our Tour Conditions for important details regarding everything listed above.
Group sightseeing events subject to change.
Itinerary
Day 1: Welcome to Italy
We'll have a get-acquainted meeting at 3 p.m. at our hotel in Rome. After an orientation walk through our neighborhood, we'll learn about the city's transportation system. Then we'll enjoy a fountain-splashing, dolce vita trek through the heart of Rome, soaking up the city's evening ambience at the classy Piazza Navona, Baroque Trevi Fountain, and the remarkably preserved, 2,000-year-old Pantheon before enjoying our first Italian dinner together at a favorite restaurant.
Strenuous walking: 2–8 miles throughout the day with lots of hills, stairs, and uneven terrain. No bus. Sleep in Rome.
Day 2: The Vatican Museums
Today we'll focus on Renaissance (Catholic) Rome. With your smartphone in hand and the Rick Steves Audio Europe™ app, Rick's voice will guide you through the treasures of the Vatican Museums to the stunning grand finale: Michelangelo's Sistine Chapel. You'll have the rest of the day free to continue your modern-day pilgrimage at the greatest church in Christendom: the awe-inspiring St. Peter's Basilica, home to Michelangelo's sublime Pietà. Wander through this immense church and explore more of the Eternal City on your own.
Strenuous walking: 2–8 miles throughout the day with lots of hills, stairs, and uneven terrain. No bus. Sleep in Rome.
Day 3: Ancient Rome and the Heart of Tuscany
We'll do some time-traveling this morning, as a local guide takes us on a walking tour through the ancient heart of Rome, telling us vivid tales of the larger-than-life Colosseum and the birthplace of Rome: the Forum. Then we'll leave the city and drive to Tuscany, ending our day in the hill town of Volterra, enjoying a Tuscan feast together at a favorite local restaurant.
Strenuous walking: 2–8 miles throughout the day with lots of hills, stairs, and uneven terrain. Bus: 5 hours. Sleep in Volterra.
Day 4: All Day in the Hill Town of Volterra
This morning, we'll take a walking tour with a local guide who'll make Volterra's traditions and history come alive. We'll also visit an alabaster workshop and tour the Guarnacci Etruscan Museum, one of Italy's best places to learn about this mysterious pre-Roman civilization. Then you'll have time to poke around the ancient lanes on your own. We'll regroup later this afternoon to learn about and taste some of the region's famous wines, followed by dinner on your own.
Moderate walking: 2–6 miles throughout the day with some hills and stairs. No bus. Sleep in Volterra.
Day 5: Italian Countryside and the Riviera
Today we say goodbye to Tuscany and head to the Ligurian coast. On our way, we'll stop in the countryside to sample some of the region's tastiest products at a local family farm. Later this afternoon we'll complete our drive to our seaside getaway, nestled along the harbor-hugging villages of the Italian Riviera. You'll have plenty of free time to explore before we gather this evening for dinner at a local family restaurant.
Moderate walking: 2–6 miles throughout the day with some hills and stairs. Train: ¼ hour. Bus: 4 hours. Sleep in or near the Cinque Terre (group may be split between two hotels).
Day 6: Exploring the Cinque Terre
You'll take a "vacation from your vacation" today in our Mediterranean getaway. You may choose to hike the famous cliffside paths, taking in lots of fresh air and panoramic views between Cinque Terre villages. Or pick a village where you can spend your day exploring the stairways and alleyways, sunning yourself on the rocks, or sipping cappuccino or vino while catching up on your journal at an outdoor café.
Light to strenuous walking (your choice). No bus. Sleep in or near the Cinque Terre.
Day 7: Florence and David
Today we'll drive straight to Florence and take a Renaissance walking tour of the city's historic center. We'll see and learn about Brunelleschi's magnificent cathedral dome, Ghiberti's Baptistery doors, and other creations that helped define this world-changing era. We'll end our tour at the Accademia Gallery to marvel at works of sculptural genius: Michelangelo's rough-hewn Prisoners and his greatest masterpiece, David. Then you'll be free to find a special trattoria for dinner on your own.
Moderate walking: 2–6 miles throughout the day with some hills and stairs. Train: ¼ hour. Bus: 4 hours. Sleep in Florence.
Day 8: The Uffizi Gallery
This morning we'll devote our time to the breathtaking Renaissance art of the Uffizi — home to the finest collection of Italian paintings anywhere — including masterpieces by Leonardo, Botticelli, Michelangelo, and more. The afternoon is yours to visit more of the city's art-filled churches and museums, or browse the colorful markets. As it's our final night together, we'll have a grand dinner to share travel memories and toast new friends. Salute!
Moderate walking: 2–6 miles throughout the day with some hills and stairs. No bus. Sleep in Florence.
Day 9: Tour Over After Breakfast
Breakfast is provided, but there are no group activities today. It's a breeze to reach Florence's airport by taxi or shuttle bus. Your guide will help you with any post-tour planning, leaving you well prepared for the road ahead. Grazie e ciao!
Itinerary specifics subject to change.
Physical Demands
Our tours are physically active! It's an essential part of the Rick Steves tour experience. On our Heart of Italy in 9 Days tour — among other things — you'll need to happily…
Carry/roll your luggage over uneven pavement (possibly several blocks) and up stairways to reach your hotel, then up several flights of stairs to reach your room.
Be on your feet, walking and standing, for up to four hours, indoors and outdoors, in all weather conditions.
Sleep with street noise and no (or weak) air conditioning.
After orientation and transportation lessons, be able to navigate towns and cities on your own.
Reviews
Julie
Andover, MN
Tour: 10/20/19
Overall rating:
This was the first time I have traveled with a group tour. It was great! I was traveling with 3 friends. I thought it was the perfect balance of tour time and our own time. I liked the smaller size of our group-26 people. Our Guide was fantastic. I have been to Europe before but not to Italy. I found a greater appreciation for the places we saw having the back ground information our guides provided. I found all our guides to be interesting, engaging, easy to understand.
Favorite "WOW" moment
"The city of Volterra. The whole city, the tour, and the wine tasting!"
David
Birmingham, AL
Tour: 10/20/19
Overall rating:
Our guide, Andrea, was wonderful. She was very enthusiastic and a wealth of knowledge about Italy. The local guides were fantastic additions, augmenting Andrea's knowledge. I was original hesitant about touring with a group because my wife and I both do not like being on someone else's schedule but I quickly saw the benefits in it. Having someone to handle all the logistics (hotel and bus reservations and getting into the venues) was a welcomed change from our other travels.
Favorite "WOW" moment
"It is extremely difficult to pick just one so I will pick two: Seeing Michelangelo's David and the views of the Cinque Terre villages from the hill tops."
Jack
Albion, MI
Tour: 10/20/19
Overall rating:
Experience was far beyond expectations in all respects. Andrea is an amazing individual and guide. She is knowledgeable, personable and enthusiastic topped off with a right mix of history and humor. Local guides were all excellent.
Favorite "WOW" moment
"Touring the sites within Vatican City."
Theresa
Greencastle, IN
Tour: 10/20/19
Overall rating:
My overall experience with the tour was very good. The instructions and information that we were given were excellent. Heart of Italy was more than I expected. I learned so very much. All of Italy was interesting.
Favorite "WOW" moment
"To pick one amongst many;. The view of Florence from the Medici gardens."
Teresa
Elk River, MN
Tour: 10/20/19
Overall rating:
This was my first time taking a tour and I couldn't have been more pleased. Our tour guide Andrea was not only knowledgeable but lots of fun!
Favorite "WOW" moment
"I really enjoyed Volterra!"
Joan
State Center, IA
Tour: 10/16/19
Overall rating:
What an amazing tour! We arrived 3 days early and using the guidebook were able to tour Rome comfortably. Every suggestion in the book was spot on! I was so impressed with the knowledgeable local tour guides who helped us truly see the art and history of each place we visited. The tour has a great balance of 'together time' and 'on your own time'. A poor quality sound system was replaced on the second day! Thanks!
Favorite "WOW" moment
"Dimitry invited us to get up early the first day and go to St Peter's Basilica in the Vatican before the crowds - amazing to walk through that space without a crowd! In Florence we were walking down a quiet small street and entered the plaza with the Duoma covered in green, pink, and white marble and covered with statues and carvings - AMAZING!"
Steven
Ann Arbor, MI
Tour: 10/16/19
Overall rating:
The places, the people and the guide were all incredible. The trip went by way too quickly and I did not want to leave. So, I stayed! I am writing this review from Italy now!
Favorite "WOW" moment
"There were really two inspiring moments: Seeing the David again after 41 years and experiencing Volterra and the beauty and peace of the Tuscan hills. Big "wows" but in different ways - man made vs. nature."
Ruth
Farmington Hills, MI
Tour: 10/16/19
Overall rating:
Loved the itinerary and the diverse areas we visited. Very impressed with the major historical sites such as Vatican, Basilica, Colliseum, Trevi Fountain. We have nothing like these architectural/artful giants in the USA. Just the right amount of formal tour vs on-our-own time.
Favorite "WOW" moment
"The beautiful Cinque Terra."
Sarah
Exeter, NH
Tour: 10/16/19
Overall rating:
Wonderful tour guide and wonderful local guides who knew the important memorable places in the city. Excellent knowledge of history and dates Good group management. Buddy system Works well. Fellow travelers were delightful Buses from town to town were comfortable We liked having flexible free time for ourselves Food was outstanding Weather was perfect.
Favorite "WOW" moment
"The little flowered back alleyways in Cinque Terra"
Thomas
Exeter, NH
Tour: 10/16/19
Overall rating:
This was my first tour and chose it to have guides and ready access to the important museums. Our guides were outstanding and our entry into the museums was very quick and easy. The tour had a wonderful blend of city strolling and country leisure. The fellow travelers in our group were good companions, and there was plenty of free time to explore on our own.
Favorite "WOW" moment
"I have been to Italy before but St Peter's Basilica is always overwhelmingly breathtaking. The work of the craftsmen and artisans is fantastic. Amazing to learn that so much of the marble was taken from the Forum."
Catherine
San Francisco, CA
Tour: 10/16/19
Overall rating:
my overall experience was great. We were a family group of 7 on our first trip to Italy together. Our tour was a perfect introduction to Italy and our Guide, Dimitri, could not have been a better guide.
Favorite "WOW" moment
"In Volterrra our guide, Annie (I think) took us to see the Roman Amphitheater and when we rounded the corner and looked down to see it everyone around me, including me, gasped..freat moment. I loved Volterra."
Fran
Floral Park, NY
Tour: 10/16/19
Overall rating:
Everything about this tour was wonderful. From the itinerary, to our guide (Dimitri), to the rest of the people on our tour, to the food, to the transportation and drivers - I was very impressed with the whole Rick Steves'tour operation and approach. It was an extremely well-run, organized and comprehensive tour (even if it was my first real tour!). Rick really leaves no stone unturned.
Favorite "WOW" moment
"There really are too many to list. Standouts include the Colosseum & Forum with Francesca as our guide in Rome,St. Peter's, the Pieta, Volterra, the unscheduled stop at the WWII American Cemetery in Florence (you really should include that in this tour),the Uffizi with our most passionate & instructive guide - seeing The Birth of Venus and David.... day and night tours of the cities, local guides -( I wasn't expecting them!)- & extra activities (wine tasting, alabaster workshop, pesto demo)WOW!"
Henrietta
Williams Lake, BC
Tour: 10/13/19
Overall rating:
I travel under the name Henrietta, but I'm known as Minette, much to Jesse's chagrin as my husband also travelled under a different name, Bill. We absolutely loved our tour and will do another again!! We signed up for an active tour and we got it for sure as we used our free time to the max! (See bottom box) We loved having the transportation and hotel rooms and the food arranged for us! The guiding was spectacular, touching on some major parts of the area we were visiting.
Favorite "WOW" moment
"Oh boy that is hard to say! Every new location was so splendid, fascinating and enjoyable! The tour was set up like a candy store, there is always something new and exciting to see and explore!"
Will
Charlotte, NC
Tour: 10/13/19
Overall rating:
It couldn't have gone better. Great people on the tour and great tour guides who were very informative.
Favorite "WOW" moment
"Enjoyed seeing the US WW2 memorial outside of Florence. Very humbling and got a lot out of it."
Elizabeth
The Villages, FL
Tour: 10/13/19
Overall rating:
Terrific tour experience. 28 people in the group is perfect. Large comfortable bus with good drivers Including tips is wonderful - we don't have to worry with it!! Nice amount of free and structured time. The wine tasting in Volterra presented by a sommelier was over the top! BTW, the Brunello was outstanding!!
Ralph
Roseville, MN
Tour: 10/13/19
Overall rating:
The tour was great for us. We were with a group of travelers who were good natured and friendly and who were excited as we were about all aspects of the trip.
Favorite "WOW" moment
"Many wow moments happened. Overall the artwork that we viewed was my wow experience (with the exception of the Vatican museum). The Pantheon was number one for the history that unfolded and the beauty of the structure and artwork. Next was the Uffizi with its works from the great renaissance masters. The Florence Baptistry and Dome round out the wow list."
Toni
North Pekin, IL
Tour: 10/13/19
Overall rating:
Everywhere you turn it looks like a movie set. Every bite you eat is delectable. Everyone in our group was cheerful and interested in getting to know others. The tour guides and local guides were so informed that I learned way more than I planned.
Favorite "WOW" moment
"My favorite wow moments were turning the corner and seeing St. Peter's square in Rome, riding the boat on a sunny day of 70 degrees to view all five Cinque Terre villages from the water, and the dome of the Pantheon. But the non-wow moments were just as special: ciacoloto forte at every gelato stop, pasta alla Gricia our new favorite meal, enjoying the rest areas on the highway in Italy."
Chuck
North Pekin, IL
Tour: 10/13/19
Overall rating:
My wife and I had a tremendous experience on our very first trip to Europe, Italy, to be specific. I truly enjoyed the participation and the minor planning or decision making we embraced each day. From my perspective this trip in Italy offered history, architecture, art, culture and of course, great food and wine. The October timing allowed us to enjoy the cooler weather and smaller crowds. I really liked the other tour members, friendships and sharing experiences with our new friends.
Favorite "WOW" moment
"I think there were a few, the one stands out would be viewing the Sistine Chapel. It was truly a spiritual experience, beautiful and timeless."
Joe
Allen, TX
Tour: 10/13/19
Overall rating:
The tour provided a great value for the money and I would not have seen and experienced all the places and locations that were visited on our trip. All the guides were outstanding with a shout out to Jesse and Sally. They provided a wealth of experience and experiences. The accommodations were perfect for what our trip offered with a local flair at every stop. Thanks again for making this an experience of a life time.
Favorite "WOW" moment
"I would say stopping at the US Memorial on the way to Florence and the galleries in Florence."
Ann
Allen, TX
Tour: 10/13/19
Overall rating:
Rvrything exceeded my expectations...the food, the guides, the accommodations. Everything was top notch. Our guides provided us with a few very special moments like a tour of an alabaster workshop, meeting the mayor of Luca and the visit to the Florence/ United States cemetery.
Favorite "WOW" moment
"Looking out over the ruins in Volterra."
Jeremiah
Chesapeake, VA
Tour: 10/13/19
Overall rating:
The overall tour experience was outstanding. There were many eye-opening sites visited from the Sistine Chapel to the Pantheon. We learned many facts that were unknown before. The beauty of the Tuscany region and the stunning view at night from the top of our hotel in Florence. It was a most satisfying experience especially with all the knowledge gained about the early Roman Empire.
Favorite "WOW" moment
"We did not just have one "wow" moment, we had three. The first was Tapestry in the Sistine Chapel. Absolutely amazing that tapestry like that was made that early in history. The second was ruins of Piazza Del Popolo. The third was the Pantheon. The dome and architecture going back 2000 years was amazing."
Dwight
Dallas, TX
Tour: 10/11/19
Overall rating:
This being my first Rick Steve's tour, I have been telling my friends how much more I got out of the trip than traveling on my own. The guides were very knowledgeable and informative.
Favorite "WOW" moment
"For me, it was the opportunity to see the Parthenon in Rome, a structure I learned about many years ago in Architecture class, followed closely by Michelangelo's David."
Margaret
Marshallville, OH
Tour: 10/11/19
Overall rating:
Awesome! The is an overused word, but not in this case. It was everything I had hoped for and more. Our tour guide, Ferdi, always made sure that I was served gluten-free food at our wonderful group meals (I am gluten intolerant); I am very grateful for that! All the local tour guides were superb, especially Francesca at the Colosseum and the Forum in Rome. The hotels were all lovely, the bus very comfortable. It was super to have all the reservations and the "must-see" sights arranged.
Favorite "WOW" moment
"The entire trip was "wow", but seeing Michelangelo's David was amazing."
Karen
Buda, TX
Tour: 10/09/19
Overall rating:
Our tour was fabulous. It was a great group of people, with the best tour guide, Trish. She told us so much about each place that we visited and took us to all the good gelato places.
Favorite "WOW" moment
"If I had to choose one (which is difficult because it was all enjoyable)it would be the meal that Carlo from the Primavera fixed for us in Levanto. That buffet was spectacular and it was also a birthday celebration for one of the travelers which made it more fun. A close toss up would be the impromptu visit to the American Service Members memorial and cemetery. That was very emotional and special."
Thomas
Winter Park, FL
Tour: 10/09/19
Overall rating:
Trish was an awesome host for us! She kept the tour flowing smoothly and kept it fun too. Assisting guides provided wonderful historical information on locations visited.
Favorite "WOW" moment
"That's a very difficult question as I had numerous "wow" moments ... even when we visited the American National Cemetery outside of Florence. From old towns, to art work, to old Cathedrals ... so many "wow" moments."
Susan
The Woodlands, TX
Tour: 10/09/19
Overall rating:
I loved the people in our tour group, our fearless leader Trish, the hotel employees and owners. The excellent food and of course gelato. Loved the walled villages and of course Cinque Terre. Rome and Florence and all the art and history.
Favorite "WOW" moment
"Cinque Terre"
Anne
Littleton, CO
Tour: 10/06/19
Overall rating:
This was our first time traveling with a group and guide. Loved it especially for our guide and local guides that brought history to life for us. We found the schedule and mix of "free time" perfect. Wan't sure we'd like the bus, but found that a great way to get to and from places. Also, glad we packed light as the RS suitcases [rolling backpack] worked great.
Favorite "WOW" moment
"Driving up to Volterra. We were very tired of the big city [Rome] but I don't think we realized it until going to Volterra. Also, arriving in the Cinque Terre and seeing the Mediterranean for the first time!"
John
Littleton, CO
Tour: 10/06/19
Overall rating:
Our overall tour experience was quite good. We are new to the tour form of international travel and were leery of the large/commercial operations that were very expensive. We also like the ideas that come from Rick's personal experiences shared in travel log form both in print as well as the PBS series. Practical, down to earth methods for everyday topics were most useful.
Favorite "WOW" moment
"When we arrived in Monterosso and realized we were in the Mediterranean! Equally inspiring was the walled town of Volterra."
Thomas
Mechanicville, NY
Tour: 10/02/19
Overall rating:
Our experience exceeded expectations! All of our guides were professionals and brought history to life. We wanted to really experience the Italian culture and food. Our hotels were located in the historical areas. The group meals were delicious and authentic Italian cuisine. Our itinerary was full, but we still had free time to explore on our own. We experienced so much more by taking this tour than we could have by doing the trip completely on our own. Everything was so well planned!
Favorite "WOW" moment
"There were so many wow moments! Historically, while visiting the ruins of the Roman Forum seeing the artist's rendition of how the city appeared centuries ago was breathtaking. Seeing the vivid colors of the Sistine Chapel was also amazing. We enjoyed the museums of Rome and Florence and walking the narrow streets in the hill towns. The churches, even the small ones, were magnificent."
LuAnn
Chapel Hill, NC
Tour: 10/02/19
Overall rating:
Overall, wonderful experience. Our favorite part was the middle of the tour. While we loved the history and art in Rome and Florence, the seaside, Cinque Terre and Volterra were more relaxing and intimate. Rozeanne is an absolutely fabulous guide!
Favorite "WOW" moment
"The Cinque Terre hike between Monterosso and Vernazza! It was invigoration with gorgeous views. Loved exploring those tow villages!"
Douglas
Washington, DC
Tour: 09/29/19
Overall rating:
The Heart of Italy tour is terrific. This was a special trip, as it was our 10 yr anniversary, and the tour made it that much more special. I can't imagine now doing it on our own as our guides and the guests themselves, made this trip so much more fun. We made friends and had great experiences with them. The trip was very well organized from the sites to the restaurants and the wine chosen.
Favorite "WOW" moment
"Drank espresso at our first group dinner and couldn't sleep (plus excited). So I took a cab to San Giovanni in Laterno. Saw the Scala Sancta with the nuns climbing on their knees and I watched a group of monks singing their morning lauds. I was the only lay tourist there so perhaps not many witness this. We also attended an unscheduled mass with Pope Francis, of which he decided last minute to celebrate. St. Cecilia sculpture/ruins, Pieta, David and view from Vatican dome."
Patricia
Naperville, IL
Tour: 09/27/19
Overall rating:
Great tour with interesting fun people - very well planned with knowledgeable tour guides. Would have like more time, but only 9 days.
Favorite "WOW" moment
"Volterra was our WOW moment. The tour guide was amazing. The history of this small Italian hill town was mind blowing- from Romans to the Florentine attack to the Germans in WW2."
Oral
Bellingham, WA
Tour: 09/27/19
Overall rating:
Overall was excellent! I would not recommend touring the Vatican. Extremely crowded. Not a pleasant experience.
Favorite "WOW" moment
"Cinque Terre, Volterra and Florence were exceptional."
Ellen
Charlotte, NC
Tour: 09/25/19
Overall rating:
Very good. Just the right amount of information. We were very hesitant to do a tour but we are looking at another Rick Steves tour soon
Favorite "WOW" moment
"The location of our hotel after visiting the Vatican amazing location for our too tired bodies"
David
Decatur, GA
Tour: 09/22/19
Overall rating:
It was a wonderful trip. I enjoyed it so much that I was "home sick" for Italy when I got back home. The places we visited were the right mix of big city and small town. Our fellow travelers were a great bunch of people from all over the U.S. Our tour guide was the best. The hotels were really nice and in great locations for our tour and sightseeing. This tour is truly the Heart of Italy.
Favorite "WOW" moment
"Volterra in the Tuscan hills."
James
Nashville, TN
Tour: 09/06/19
Overall rating:
Great experience overall. Have been on Rick Steves' tours to Spain and Ireland. The trip to Italy was every bit as good. Our guide Andy was great. The people on the tour were fun people. I cannot imagine a better tour
Favorite "WOW" moment
"The whole trip was a wow moment. Our stay in Volterra with the history dating back to the Etruscans through the Romans to the Floretines to the Germans was brought to life by the town and our local guide Annie. the experience was punctuated by being next to the bell in the town hall bell tower when it rang at 230 pm. WOW."
Susan
Saint Charles, MO
Tour: 08/28/19
Overall rating:
The tour was great. All of the local guides were excellent
When To Go & Weather
Any time between March and October is a good time to take a Heart of Italy tour. However, the months of April, May, September, and October are best for combining the convenience of peak season with the most pleasant weather. Visiting in March offers the benefit of missing out on the sweat, stress, and crowds of the tourist season, along with cool and crisp weather.
Italy / Florence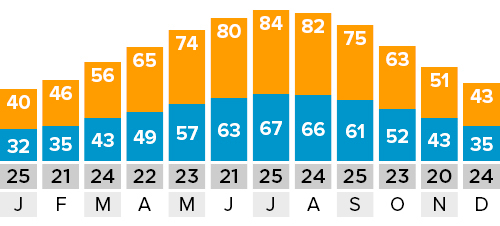 ---
Italy / Rome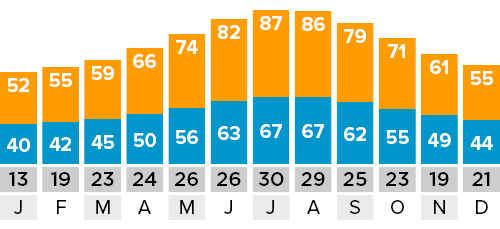 Hotels & Flights
Tour Hotels
In case you wish to book pre- or post-tour hotel accommodations, the contact information for the tour's first and last hotels is included in your tour confirmation email as well as in the Itinerary section of your tour account. One month prior to the tour departure, you'll find the directions to your first tour hotel and a complete list of hotels where we'll be staying while on tour in the Documents section of your tour account.
Flights
Our tours don't include airfare, so your flight arrangements and transfers are completely up to you.
Most tour members arrange to fly into Rome (FCO) and out of Florence (FLR) — choose "multicity" on flight-booking websites. Booking round-trip to one city will require a connecting flight, train trip, or additional overnight stay in Italy.
We suggest arriving a day or two before your tour begins to allow ample time to get over jet lag and be well-rested for the first few days of your tour. For more information about transportation options for getting to and from your tour, see your Rick Steves Italy guidebook.