Bethlehem's Mix of Christians and Muslims
By Rick Steves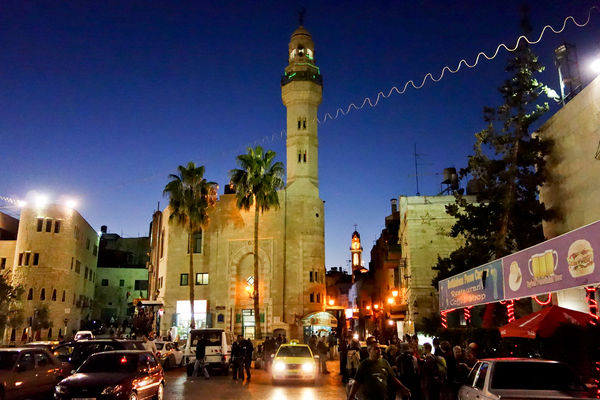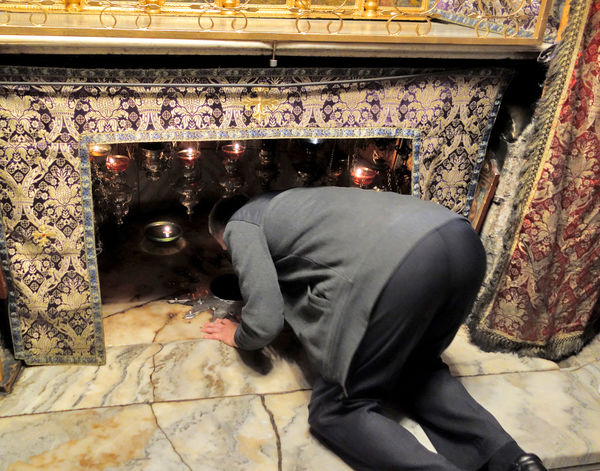 Lots of tourists go to Palestine, but I'd estimate that 90 percent of them do it in a rush from Jerusalem to Bethlehem to see the Church of the Nativity in Manger Square. (Bethlehem is just over the wall that separates Israel and Palestine, about six miles away.) They then return directly to Israel without spending a single shekel in restaurants or hotels in the West Bank. Obviously, there's much more to experience in this country.
While the region's hardscrabble vibe may be a bit too edgy for some Americans, it's amazing how after a couple of days in Palestine, you feel right at home. Walking through the wall from Jerusalem to Bethlehem, all you need is your passport. Palestine uses Israeli currency. Just cross the border and haggle with the taxis...and after spending about $5 and 10 minutes, you're looking at the spot where Jesus was born. If there were no border or traffic to deal with, you could bicycle from the Dome of the Rock in Jerusalem to the Church of the Nativity in Bethlehem in 15 minutes.
If you come, you'll find that Bethlehem is no longer just the "little town" of Christmas carol fame. It's a leading Palestinian city — the city sprawls and is almost indiscernible from greater Jerusalem. It's not a pretty town; most homes and businesses stand behind security walls and fences.
But Bethlehem has a special energy and a very cool Arabic vibe, especially in the early evening. The Arab market is colorful. And the skyline is a commotion of both crescents and crosses — a reminder that the town, while almost totally Arab, remains a mix of Muslims and Christians.
Not all Arabs are Muslims, a fact that surprises some. When meeting an Arab Christian, many Western tourists ask when the family converted. The answer is usually, "About 2,000 years ago, back when Jesus' disciples were doing missionary work around here."
Another surprise is on Bethlehem's main square. For over a hundred years, the Mosque of Omar has shared Manger Square with the Church of the Nativity. Jesus and Mary are both a big deal for Muslims. I had a joyous interview with an imam after filming a prayer service in his mosque. He explained, "Bethlehem is holy for Muslims as well as Christians. For Muslims, Jesus is a major prophet. We also revere Mother Mary. In fact, an entire chapter in the Quran is named for her." We sat cross-legged on the carpet of his mosque for an interview. I asked him to let me hear how he talks to God (but in English) and his prayer literally brought me to tears. As we hugged, I could feel the pull of Islam.
Across the square in the Church of the Nativity, Christian pilgrims waited to touch, kiss, and pray upon the spot where Jesus is believed to have been born. In AD 326, Roman Emperor Constantine sent his mother, St. Helena, to establish three churches in the Holy Land: Church of the Nativity, Church of the Holy Sepulchre (where Jesus was crucified), and one on the Mount of Olives (where Jesus ascended into heaven). Today, Bethlehem's Church of the Nativity is oldest because the others were destroyed, then rebuilt. It is regarded as the oldest Christian church in daily use.
While our image of "no room at the inn" is brick and wood, the "inn" of Bible fame was very likely a series of caves. And "no room" likely meant that a woman about to give birth would not be welcome in the main quarters, as birth (like menstruation) was considered an unclean thing. Mary was sent out to give birth to Jesus in the manger cave, where the animals hung out.
So a cavern beneath the church — the Grotto of the Nativity — is the focal point of your visit. You take the steps by the church altar down into what's been regarded since the second century as the site of Christ's birth. A silver star in the floor marks the spot.
I'm glad when visiting Bethlehem I didn't just blitz in for a quickie from Jerusalem. After a couple of days in Palestine, I was really impressed by how much fun it was to simply be there. There's a resilience, a welcoming spirit, and a warmth that is striking. While I didn't see many Americans overnighting (except for a few Christian and political tour groups), everywhere we went, we'd hear, over and over, "Welcome to Palestine." It was as if people just were thrilled they had a name for their country...and someone from the outside was here to see it.