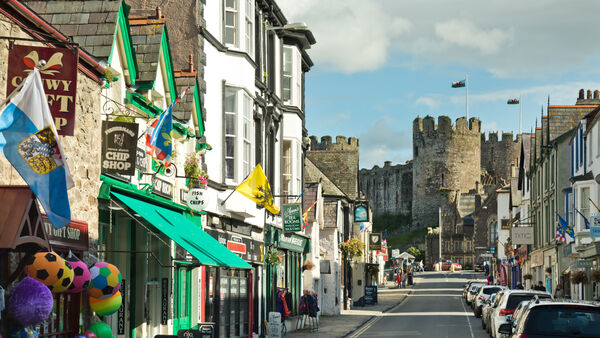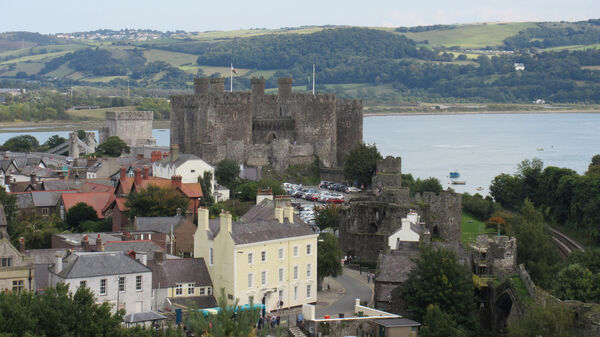 By Rick Steves
Of the many inviting towns that dot the northern Welsh coastline, cheerful Conwy is my pick for the single best place to visit on a short stay, and the best base for a longer visit to the region.
The town started life as a military outpost for English king Edward I, who had the town and its castle built in the 1280s: As there were no real cities in 13th-century Wales, this was an English town, planted with settlers in a then-hostile land for the king's political purposes. What's left today are the best medieval walls in Britain surrounding a humble town and crowned by the bleak and barren hulk of a castle that was awesome in its day — and still is.
The town's origins are still evident in its design. Conwy's charming High Street leads down to a fishy harbor that permitted Edward to restock his castle safely. Because the modern highway was tunneled under the town, Conwy has a strolling ambience. I find it the perfect size — big enough to have a real vitality, but small enough to be cozy.
You can easily get a sense of Conwy's core in a one-hour stroll, starting at the main square and walking a portion of its ramparts. It's worth venturing beyond them to get a good look from outside the walls, too — best appreciated along what's now called Town Ditch Road, which was once the dry moat that served as the town's first line of defense. A walk through the heart of town takes you past some half-timbered houses, an art academy that's free to visit, and an enjoyable slice-of-Welsh-life scene along Conwy's High Street: tearooms, a bakery, butcher, newsstand, and old timers.
Sitting lonely in the town center is St. Mary's Parish Church, the centerpiece of a Cistercian abbey that stood here a hundred years before the town or castle. Popular here because they were French and not English, the Cistercians taught locals farming and mussel-gathering techniques. When Edward took over he moved the monks 12 miles upstream, but kept the church for his town. The churchyard has plenty of noteworthy tombstones, many of which look new, despite being hundreds of years old — because pure slate weathers even better than marble.
The most interesting stop inside the walls is Plas Mawr, the first Welsh house built here after the garrison days. A well-narrated audioguide and helpful docents make its historical interior come to life. It was built in 1580, during the reign of Elizabeth I (Elizabeth's Tudor family had Welsh roots — and therefore relations between Wales and England warmed under her rule). For visitors, it offers a delightful look at 16th-century domestic life among the wealthy. Historically accurate (if facsimile) household items bring the rooms to life, as does the refreshing lack of velvet ropes — you're free to wander as you imagine life in this house.
Between the town walls and the River Conwy is the town's harborfront. Now mellow, it was once a busy zone where slate was transferred off river barges and loaded onto big three-masted ships. Back when much of Europe was roofed with Welsh slate, Conwy was a boomtown. These days the harborfront is a laid-back area that locals treat like a town square. On summer evenings, it seems everyone in town is here enjoying the local cuisine — "chips," ice cream, and beer. The benches and knee-high walls along the quay are ideal for a picnic, and two good fish-and-chips shops, plus a thriving pub, are right nearby.
The waterfront also offers a chance to see the Smallest House in Great Britain (72 inches wide, 122 inches high, and worth the wee admission fee to visit inside).
Of course, the big sight in town is Conwy Castle, with eight linebacker towers perched on a rocky outcropping overhanging the sea. Built in four years, the castle was cleverly designed to welcome the English who came by sea and repel any angry Welsh attacking by land. My favorite of the many castles in North Wales, it's compact, fun to explore, and offers the town's best views.
And just six miles south of town is Bodnant Garden, a sumptuous 80-acre display of floral color. Set in the lush green of Snowdonia, this garden is one of Britain's best. It's famous for its magnolias, rhododendrons, camellias, roses, and a floral arch made of bright-yellow laburnum — which, when in bloom (late May through early June) hangs like stalactites over the heads of garden lovers strolling beneath it.
With Conwy's appealing B&Bs and restaurants, fun-to-explore townscape within mighty walls, and manageable connections to the rest of the region, it's a Welsh win-win.