Austria Meets Italy in Bicultural Bolzano
By Rick Steves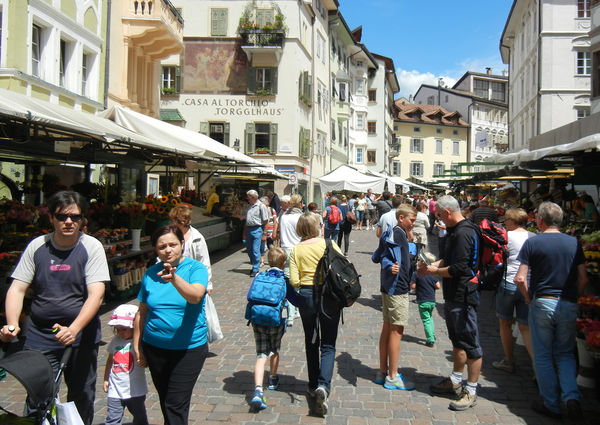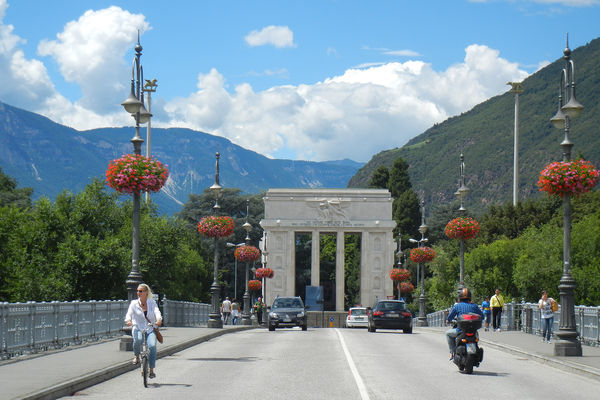 The Dolomites — the dramatic mountains along Italy's northeast border — offer not only some of Europe's most scenic alpine experiences, but a chance to encounter an intriguing mingling of cultures. These Alps belong to the long-Austrian, now-Italian region of South Tirol, an area that for centuries has been at one of Europe's main crossroads, and a mixing bowl for Germanic and Italian cultures. The valley hub of the region, Bolzano (or "Bozen" to its German-speaking residents), is a fun gateway to this fascinating corner of Europe.
Blending Austrian tidiness with an Italian love of life, Bolzano feels like a happy castaway between the two worlds. If it weren't so sunny, you might think you were in Innsbruck. The people are warm and friendly, but organized. One person greets you in Italian, the next in German. The city has a special verve, with lively shopping lanes, a food-and-flower market more bustling than anything you'll find north of the border in Austria, and a tidy main square with a backdrop of colorful churches and wooded foothills.
Piazza Walther (Waltherplatz in German) is the town's living room. Its statue honors the square's namesake, Walther von der Vogelweide, a 12th-century politically incorrect German poet who stood up to the pope in favor of the (German) Holy Roman Emperor. Walther's spunk against a far bigger power represents the freethinking pride of this region. Perhaps unsurprisingly, in the 1990s the McDonald's that once stood here — Italy's first — was also the first McDonald's to be shut down by locals protesting American fast food.
Nearby, Piazza Erbe (Obstplatz) hosts an ancient and still-thriving open-air produce market. Listen to the friendly buzz of locals perusing the fresh fruit, breads, strudel, and hams; it's a good place to shop for a picnic lunch. While nearly every local-style restaurant serves a mix of German/Tirolean and Italian fare, I favor taking a break from pizzas and pastas here to sample some of the region's traditional cuisine…with a distinctly Austrian flavor.
Bolzano's top attraction is a 5,300-year-old corpse named Ötzi, who resides at the excellent South Tirol Museum of Archaeology. This frozen "Ice Man" spent more than five millennia stuck in a glacier before being discovered high in the mountains on the Italian/Austrian border in 1991. Police initially believed the corpse was a lost hiker — but upon discovering his copper-bladed hatchet, officials realized that they had found a nearly perfectly preserved pre-Bronze Age hunter.
The museum vividly recounts the recent evolution of Europeans — from the Paleolithic era to the Roman period and finally to the Middle Ages. The three-story exhibit displays Ötzi's well-preserved clothing and gear, including a finely stitched two-color coat, his goathide loincloth, and weapons (hatchet, arrows, longbow, and dagger). A heavily fortified room contains Ötzi himself — still carefully frozen. Interactive displays allow visitors to zoom in on different parts of his body to see the layers of skin, muscle, and bone.
Just across the river from the museum is a slice of more recent Bolzano history: Mussolini's Nuova Bolzano (New Bolzano) development. Here, the fascist-style Victory Monument glistens in white marble. It marks the beginning of the "new" city built by the fascist government in the 1920s to Italianize the otherwise Germanic-looking city. Although the grand plans were never fully realized, several blocks of buildings were constructed in a repetitive Modernist design, following the idea of imperial monumentalism trumpeting the dawn of a new era in Italy. You won't hear much German spoken in the shops and bars along here — it feels a world away from the old town.
From Bolzano, you can get a quick taste of the alpine wonderland that lies above the valley floor by taking a cable car from the town center up to the resort village of Oberbozen ("Upper Bolzano"). The 12-minute ride offers views of the town, made-for-yodeling farmsteads, and the distant Dolomites. The town of Oberbozen isn't much to see itself, but from here it's an easy hike to see some "earth pyramids" — Bryce Canyon-like pinnacles that rise out of a steep canyon on the hillside. From Oberbozen a narrow-gauge train makes a 16-minute trip across a high plateau to Klobenstein, a slightly less touristy village with stunning views.
For the real alpine deal, spend a day at the Alpe di Siusi (Seiser Alm), my favorite spot in the Dolomites. This high-altitude meadow serves as a home base for everything from easy nature strolls to moderate day hikes to hard-core mountaineering. Well-kept huts, trails, and lifts make hiking here a joy, and the views alone are worth the effort. From Bolzano, it's an easy one-hour trip to the Alpe di Siusi by a scenic bus, and then a cable-car ride.
The mountains are the main draw of this region and hard to resist, but whether staying in Bolzano or just passing through, be sure to carve out some time to experience its bicultural urban charms.