Making Museum Reservations in Florence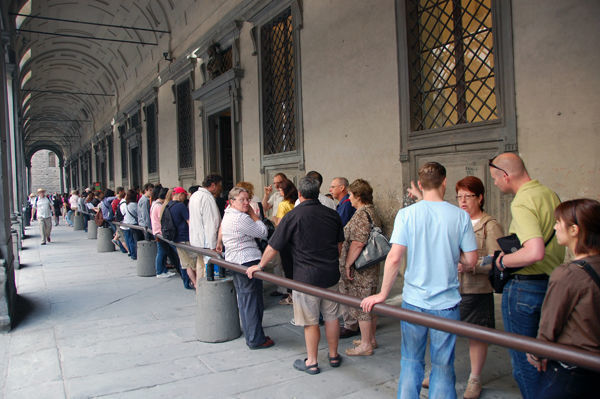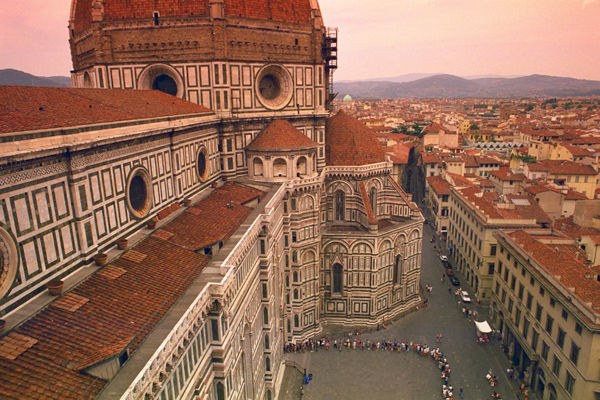 By Rick Steves and Gene Openshaw
Florence offers several options to help you bypass the lengthy ticket-buying lines that can plague its most popular sights in peak season. You can save literally hours in line if you buy Florence's official sightseeing pass (the Firenze Card) or make advance reservations.
Overview
The Firenze Card (at €72 per person) is a major investment, but it's the easiest way to avoid lines at multiple sights. (And it's the only way to skip the often-long lines to ascend the Duomo's dome.) Getting the card makes the most sense from April through October, when crowds are worst; off-season travelers could do without it. You'll have to sightsee like mad for the full three-day validity period just to break even. Note that there are no Firenze Card discounts for seniors or families, though kids get in (mostly) free to sights.
On a shorter visit (one or two days), or if you won't be entering too many sights, skip the Firenze Card and instead make reservations for the Accademia and Uffizi, and if you want to climb the dome, try to hit it at a less-crowded time. However, if the price is not a problem, people in town for even just a few hours may find the Firenze Card worthwhile — simply to buy themselves line-skipping privileges.
A €15 combo-ticket covers Duomo-related sights: the Baptistery, dome, Campanile, Duomo Museum, and Santa Reparata (the church crypt, inside the Duomo). You should only get the combo-ticket if you don't have a Firenze Card (which covers the same sights).
This three-day sightseeing pass gives you admission to many of Florence's sights, including the Uffizi Gallery and Accademia. Just as important, it lets you skip the ticket-buying lines without making reservations.
With the card, you simply go to the entrance at a covered sight (look for the Firenze Card logo), show the card, and they let you in (though there still may be delays at popular sights with bottleneck entryways or capacity limits). At some sights, you must first present your card at the ticket booth or information desk to get a physical ticket before proceeding to the entrance.
The Firenze Card costs €72 and is valid for 72 hours from when you validate it at your first museum (e.g., Tue at 15:00 until Fri at 15:00). Validate your card only when you're ready to tackle the covered sights on three consecutive days. Make sure the sights you want to visit will be open (many sights are closed Sun or Mon). It covers the regular admission price as well as any special-exhibit surcharges, and is good for one visit per sight. It also gives you free use of Florence city buses and trams.
To figure out if the card is a good deal for you, tally up the entry fees for what you want to see. If you're particularly ambitious and enter all the most popular sights within three days (the Uffizi, Accademia, Palazzo Vecchio, Bargello, Medici Chapels, Museum of San Marco, Duomo-related sights, and the Pitti Palace sights) the Firenze Card will pay for itself. The Firenze Card also covers a long list of minor sights that you might enjoy popping into, but wouldn't otherwise pay for.
Many outlets around town sell the card (including the tourist information officies at the train station and at Via Cavour 1 red). Don't bother buying the card online, as you still have to go in person to one of these desks to swap the voucher for the actual pass.
The Firenze Card is not shareable, and there are no family or senior discounts for Americans or Canadians. Children under 18 are allowed free into any state museum in Italy, and into any municipal museum in Florence. However, at the Uffizi and Accademia, if they want to skip the lines with their Firenze Card holding parents, children still must (technically) pay the €4 "reservation fee" (which can be paid on the spot — no need to reserve ahead). However, in practice, enforcement of this policy seems to vary. Don't confuse this card with the Firenze PASSport.
Advance Reservations (without the Firenze Card)
If you don't get a Firenze Card, and don't plan to book a private guide, it's smart to make reservations at the often-crowded Accademia and Uffizi Gallery. Some other Florence sights — including the Bargello, Medici Chapels, and Pitti Palace — offer reservations, but they are generally not necessary. The Brancacci Chapel officially requires a reservation, but it's usually possible to get it on the spot.
Get reservations for the Uffizi Gallery and the Accademia Gallery as soon as you know when you'll be in town. Without a reservation at the Accademia and Uffizi, you can usually enter without significant lines from November through March after 16:00. But from April through October and on weekends, it can be crowded even late in the day. Any time of year, I'd consider reserving a spot. Note that reservations are not possible on the first Sunday of the month, when the museums are free and can be very busy.
There are several ways to make a reservation:
Online
You can book and pay for your Accademia or Uffizi visit via the city's official site (€4/ticket reservation fee — click on the gray "B-ticket" strip). You'll receive an order-confirmation email, which is followed shortly by a voucher email. Bring your voucher to the ticket desk to swap for an actual ticket.
Pricey middleman sites — such as uffizi.com and tickitaly.com — are reliable and more user-friendly than the official site, but their booking fees run about €10 per ticket. (When ordering from these broker sites, don't confuse Florence's Accademia with Venice's gallery of the same name.)
By Phone
From a US phone, dial 011-39-055-294-883, or from an Italian phone call 055-294-883 (€4/ticket reservation fee; booking office open Mon–Fri 8:30–18:30, Sat 8:30–12:30, closed Sun). When you get through, an English-speaking operator walks you through the process — a few minutes later you say grazie, having secured an entry time and a confirmation number. You'll present your confirmation number at the museum and pay for your ticket. You pay only for the tickets you pick up (e.g., if you reserved two tickets, but only you can go, you'll pay for just one ticket).
Through Your Hotel
Some hoteliers are willing to book museum reservations for their guests (ask when you reserve your room); some offer this as a service, while others charge a small booking fee.
Other Options
Private Tour
Various tour companies sell tours that include a reserved museum admission. For example, Artviva offers tours of the Uffizi, Accademia, and both museums.
Last-Minute Strategies
If you arrive without a reservation, call the reservation number (see "By Phone," above), ask your hotelier for help, or head to a booking window, either at Orsanmichele Church (daily 9:00–16:00, closed Sun off-season, along Via de' Calzaiuoli) or at the My Accademia Libreria bookstore across from the Accademia's exit (Tue–Sun 8:15–17:30, closed Mon, Via Ricasoli 105 red). It's also possible to go to the Uffizi's official ticket office (use door #2 and skirt to the left of the long ticket-buying line — go ahead, you can really do this), and ask if they have any short-notice reservations available. Any of these options will cost you the €4 reservation fee. Because the museums are closed on Mondays, the hardest day to snare a last-minute, same-day reservation is Tuesday — get an early start.
---
Gene Openshaw is the co-author of the Rick Steves Florence & Tuscany guidebook.