Making Museum Reservations in Florence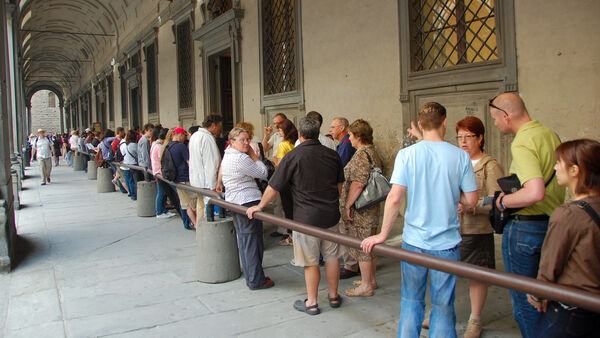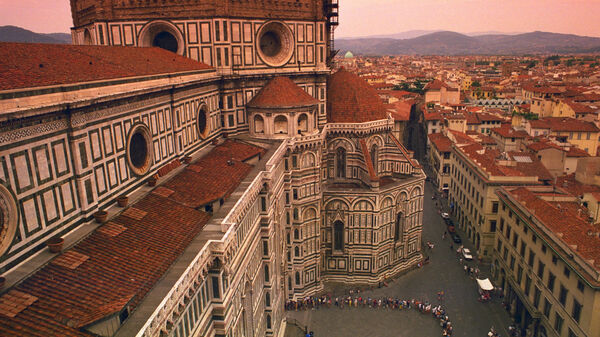 By Rick Steves and Gene Openshaw
In peak season, long lines plague Florence's most popular sights — especially the Uffizi Gallery, the Accademia (with Michelangelo's David), and the Duomo's dome, which have notoriously long lines all year long. Smart travelers save hours of lining up by planning ahead.
Uffizi and Accademia
As soon as you know when you'll be in town, make advance reservations for visiting the Uffizi Gallery and the Accademia and climbing the Duomo's dome (see below). Though lines are less of a problem after 16:00 and from November through March, it's always crowded from April through October and on weekends. For peace of mind, I'd reserve a spot any time of year.
When booking advance Uffizi and Accademia tickets through their own websites, note that available time slots for full-price tickets are marked "Intero/Full." Once you've selected a slot, you'll receive an email with a voucher that you take to the ticket desk a few minutes before your visit to swap for an actual ticket.
If you don't see any available slots on the official museum sites, you can try for-profit vendors such as Florence.net or Tickitaly.com, which charge about €5 more per ticket, but may have more time slots available.
You can also book Uffizi and Accademia tickets over the phone, though you'll be charged a €4-per-ticket reservation fee. From a US phone, dial 011-39-055-294-883, or from an Italian phone call 055-294-883 (booking office open Mon–Fri 8:30–18:30 Italian time, Sat until 12:30, closed Sun). When you get through, an English-speaking operator walks you through the process — a few minutes later you say grazie, having secured an entry time and a confirmation number. At the museum, you'll present your confirmation number and pay for your ticket (cash or credit card).
Various companies offer guided museum tours that include a reserved museum admission. If you're booking a private guide well in advance, they will likely be happy to obtain tickets and reservations for your tour with them. Ask when you book.
Climbing the Duomo's Dome
Florence's most distinctive monuments are the city's Duomo and some of its related sights: the Baptistery, Campanile, and the Duomo Museum. The Duomo Museum, the most important of these sights, never has long lines. The Campanile and Baptistery offer no reserved tickets, and usually have lines of modest length. But the dome climb is only possible with an advance reservation, bookable when you buy a 72-hour Duomo combo-ticket online (ticket also coveres the Baptistery, Campanile, Duomo Museum, and Santa Reparata crypt, inside the cathedral).
Dome climb time slots can fill up days in advance, so reserve well ahead. If you buy your combo-ticket in person in Florence, you can try to reserve a dome-climb entry time in person at the main Duomo ticket office (facing the Baptistery entrance), or at a ticket machine in the Duomo Museum lobby.
Other sights in Florence
Some other major sights — including the Bargello, Medici Chapels, and Pitti Palace — offer reservations, but they are generally not necessary.
It's a good idea to reserve an entry time at the Brancacci Chapel, for which you can book spots up until the day before your visit. Consider a reservation mandatory from March through the end of May, and advisable through the summer and fall. In the off-season, it's often possible to walk right in. Reservation times begin every 30 minutes, with a maximum of 30 visitors per time slot (you have 25 minutes inside the chapel). But when it's not too busy, they generally let people stay as long as they like.
Firenze Card
The Firenze Card was, until recently, a great way to skip lines. It's now, for most, just an overpriced pass that still requires reservations for the Uffizi and the Accademia. Sometimes, passholders may have access to entry times when the official websites are sold out — visitors with no other way in might consider the card if expense is no object.
---
Gene Openshaw is the co-author of the Rick Steves Florence & Tuscany guidebook.