Making Museum Reservations in Florence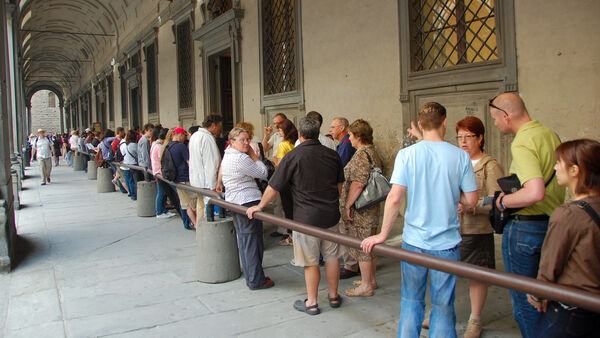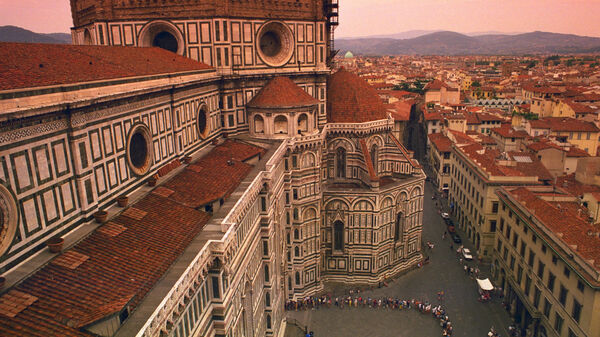 By Rick Steves and Gene Openshaw
All year long — and especially in peak season — long lines plague the most popular sights in Florence: the Uffizi Gallery, the Accademia (with Michelangelo's David), and the Duomo's dome. Smart travelers save hours of lining up by planning ahead for these big three.
Uffizi and Accademia tickets
To book your timed-entry tickets in advance for both of these museums, simply go to the city museums' official ticket site and follow the prompts.
If there's no availability via that site, you can try for-profit vendors such as Florence.net or Tickitaly.com, which may have time slots available, though you'll pay about €5 more per ticket.
Various private companies sell tours that include a reserved museum entry (I like Artviva, Florencetown, Florentia, Context Florence, Walks Inside Florence, and Exlusive Connection). If you're booking a private guide well in advance, they are most likely happy to obtain tickets and reservations for your time with them.
If you show up in Florence without reservations, try Opera Your Preview, a handy little ticket office that can book for you in-person what most will just do online (Uffizi and Accademia only, €4/museum extra, daily 10:00–17:45, 50 yards before Ponte Vecchio on Via Por Santa Maria).
The ticket office at the Orsanmichele Church can also make reservations for the Uffizi and Accademia (Mon–Sat 9:00–16:00, closed Sun).
Uffizi/Pitti Palace/Boboli Gardens combo-ticket
This pass, officially called "PassePartout," is valid for five consecutive days and offers admission to these sights at a €12 savings (but you'll still need to reserve an entry time at the Uffizi). Purchase the pass in advance through the city museums' official ticket site.
Duomo-complex tickets
Three passes cover the various Duomo sights, each good for three days (establish first day of validity when you purchase). The cathedral itself is free to enter but often has extremely long lines (although with a pass you can use the cathedral's side entrance through the crypt). For everything else, you'll need a pass (and for the Duomo's dome climb, you'll need a reservation, included in the Brunelleschi Pass):
Ghiberti Pass: includes entrance to the cathedral via the crypt (shorter line, near the Campanile), the crypt itself, the Baptistery, and the Duomo Museum.
Giotto Pass: includes everything in the Ghiberti Pass plus the Campanile (bell tower).
Brunelleschi Pass: includes everything in the Giotto Pass, plus a timed entry to climb the Duomo's dome. You'll choose your time slot when you buy the pass.
The easiest approach: View everything from the outside and only go into the Duomo Museum (buy your Ghiberti pass there).
Booking in advance: To arrive in Florence with your Duomo complex pass already in hand, book it online. You'll get a bar code that you can print out or download to your phone to show at each automated entry.
Ticket offices: Passes are sold in person at three offices near the cathedral. The main ticket office faces the Campanile entrance (at #14 on the square, staffed counter; daily 8:00–19:00). There are also ticket counters in the Duomo Museum lobby and opposite the Baptistery (at #7); look for handy self-service machines, which take both cash and credit cards.
Other sights in Florence
While the Brancacci Chapel is undergoing renovation (likely through at least the end of 2023) you can view the frescoes at close range from scaffolding, though only when booked in advance via email ([email protected]) and at relatively restricted hours (Fri–Sat & Mon 10:00–17:00, Sun from 13:00, closed Tue–Thu). Once the renovations are complete, reservations should still be considered mandatory, though it's unlikely to book up as far in advance as the Uffizi or Accademia galleries. Book online, or call or email the chapel (+39 055 276 8224 or +39 055 276 8558, English spoken, call center open Mon–Sat 9:30–13:00 & 14:00–17:00, Sun 9:30–12:30 Italy time).
Some other major sights — including the Bargello, Medici Chapels, Museum of San Marco, and Pitti Palace — offer reservations, but they're generally not necessary.
---
Gene Openshaw is the co-author of the Rick Steves Florence & Tuscany guidebook.