More Offbeat Europe
By Rick Steves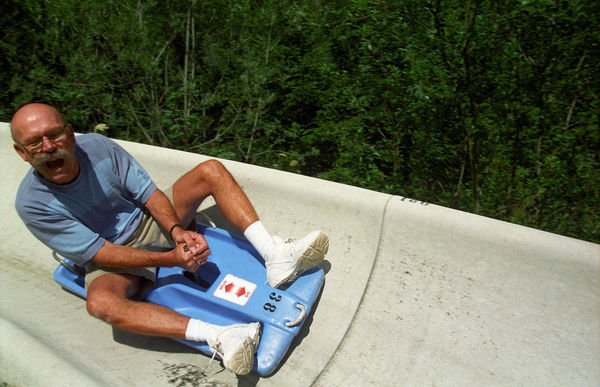 I know you've all heard of the Little Mermaid statue in Copenhagen and gondolas in Venice. But what about spelunking the sewers of Paris or quaffing homebrews with German monks? In this second article of a two-part series, I'll fill you in on more of Europe's quirky sights and experiences.
Monk Brewers: Imagine a fine Bavarian Baroque church at a monastery that serves hearty food and Germany's best beer in a carnival setting full of partying locals. That's the Andechs monastery, crouching happily between two lakes at the foot of the Alps, just south of Munich. Come ready to eat tender chunks of pork, huge soft pretzels, spiraled white radishes, savory sauerkraut, and Andechser monk-made beer that would almost make celibacy tolerable. Everything is served in medieval portions; two people can split a meal. Andechs has a fine picnic center offering first-class views and second-class prices.
Paris' Historic Sewers: Discover what happens after you flush. This quick, fascinating, and slightly stinky visit (a perfumed hanky helps) takes you along a few hundred yards of underground water tunnels in the world's first underground sewer system. It's lined with interesting displays, well-described in English, explaining the evolution of the world's longest sewer system. Flush hard: If you lined up Paris' sewers end to end, they would reach beyond Istanbul.
Rome's Fake Dome: Rome's St. Ignazio church (near the Pantheon) is a riot of Baroque illusions. As you walk into the church, admire the dome. Keeping your eyes on the dome, walk under and past it. It's false. Why? It's thought the original building project ran out of funding, so a skillful painter was hired to paint this fake, flat dome.
Frankfurt's Red Light Towers: Near Frankfurt's central station, people killing time between trains can gawk at the city's 20 "Eros Towers" — each a five-story brothel filled with hookers. Frankfurt's prostitutes, who are legal and taxed, note that business varies with the theme of the trade show at the nearby convention center. While Frankfurt's annual auto show is boom time, hookers complain that the world's largest annual book fair is a complete bust. (No, I'm not a customer. Beware — drug addicts and pushy barkers make this neighborhood feel unsafe after dark.)
Chapel of Bones: In Évora, Portugal, a chapel in the Church of St. Francis is decorated with bones and 5,000 skulls. The message over the entrance reads: "We bones in here wait for yours to join us." This was the work of three monks who thought their interior decorating scheme would help people meditate on the transience of material things. Seekers of the macabre can find similar bone chapels in Rome, Palermo (Sicily), Hallstatt (Austria), and Kutná Hora (Czech Republic).
The Original Ice Man: The excellent South Tirol Museum of Archaeology in Bolzano, Italy, features "Otzi the Ice Man," a 5,000-year-old body found frozen with his gear in a glacier by some German tourists in 1991. With the help of informative displays and a great audioguide, you'll learn about life in his prehistoric era. You'll see a convincing reconstruction of Ötzi, and yes, you actually get to see the man himself — lying peacefully inside a specially built freezer. Glass cases display his incredibly well-preserved clothing and gear, including a two-color, finely-stitched coat, his loincloth, a fancy hat, shoes, a finely crafted hatchet, and fire-making gadgets.
Summer Luge: The Sommerrodelbahn is one of the most exhilarating alpine experiences. Local speed demons spend entire summer days riding chairlifts up in order to "luge" down the concrete bobsled courses on oversize skateboards. You can find several luge courses near Germany's famous "Mad" King Ludwig's Neuschwanstein Castle; a metal course between Salzburg and Hallstatt in Austria; and a metal-track course in France's Chamonix, near the base of Mont Blanc. (Metal courses often stay open while concrete courses close at the least sprinkle of rain.) To ride a luge, you sit with a brake stick between your legs. Push to go fast. Pull to stop. The course banks on the corners, and even a first-timer can go very, very fast. Most are careful on their first run and really rip on their second. To avoid a slow-healing souvenir, keep both hands on your stick. You'll rumble, windblown and smile-creased, across the finish line with one thought on your mind — "Do it again!"
I've mentioned only a few of my favorite offbeat sights. On your travels, you'll likely uncover more. Anywhere in Europe, these surprising sights are a fun way to make the Old World feel new, vivid, and memorable.