Naples: Italy in Your Face
By Rick Steves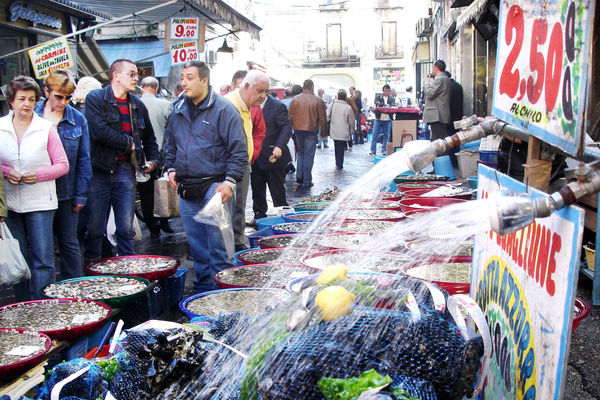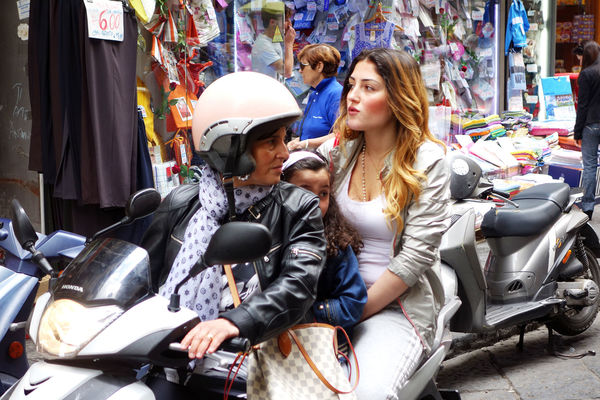 Crammed with chaos, Naples is appalling and uniquely captivating at the same time. It's Italy's third largest city, along with being its most polluted, crime-ridden, and densely populated, with almost no parks or open spaces. But this tangled mess still somehow manages to breathe, laugh, and sing with a joyful Italian accent. It's the closest thing to "reality travel" in western Europe — fertile, churning, exuberant, and fun.
I remember my first visit as a wide-eyed 18-year-old: My travel buddy and I had stepped off the train into vast Piazza Garibaldi — a paved hellhole until quite recently — when a man in a white surgeons' gown approached me and said, "Please, we need blood for a dying baby." We immediately did a U-turn back into the station, and made a beeline for Greece.
Years later, arriving at Naples' port on a cruise, I watched as some new friends walked off the ship and through the terminal, then peered into Naples' clogged streets…and turned right around, much like I had years before. (They spent the day in the ship's pool.)
But had they kept on walking for 15 minutes, they would have found themselves in a classic southern Italian world…without a hint of tourism. Of course, Naples has a reputation of being dangerous, but as a visitor, your main danger is pickpockets. Wear a money belt. Any traveler with good common sense will feel comfortable here — and will be richly rewarded for their adventurous spirit.
If you arrive in the morning, a good first stop is the lively (and smelly) Porta Nolana fish market, which squirts and stinks as it has for centuries under a gate in the city wall, Porta Nolana, just in front of the Circumvesuviana commuter train station. I like listening to the droning sales pitches of the fishmongers, perfected over centuries.
A walk through the city's core is the best way to capture the city's essence. Locals seem perfectly adept at enjoying life with their domestic worlds tumbling right out onto the gritty streets. For a taste of this quintessentially Neapolitan lifestyle, head to the city's Spanish Quarter.
Here, the streets — laid out in the 16th century for the Spanish military barracks outside the city walls — are unbelievably narrow (and cool in summer), and the buildings rise five stories high. Wave to someone on a balcony lining the walls of the urban canyon high above.
In such tight quarters, life — flirting, fighting, playing, and loving — happens in the streets. This is the cliché of Italian life — just like in the movies. People ooze from crusty corners. Black-and-white death announcements add to the clutter on the walls. Widows sell cigarettes from buckets. Hungry? Pop into a grocery shop and ask the owner to make you his best prosciutto-and-mozzarella sandwich. For a peek behind the scenes in the shade of wet laundry, venture down a few side streets. Buy two carrots as a gift for the woman on the fifth floor if she'll lower her bucket to pick them up.
Strolling Naples is an adventure sport. Mopeds are bold, and red traffic lights are considered decorations. Smart tourists tag along in the shadow of confident locals (who generally ignore crosswalks). Wait for a break in traffic, and make eye contact with approaching drivers. The traffic will stop.
North of the Spanish Quarter, a long, straight, narrow street bisects the city. Its name changes several times, but the whole drag is known as Spaccanapoli — "split Naples." Light a candle at one of Naples' powerful houses of worship along this strip, such as the Baroque Cappella Sansevero chapel. The unique Veiled Christ marble statue here seems to change expression from suffering to peace as you look from Jesus' feet to his head.
Naples' finest attraction is its Archaeological Museum, north of Spaccanapoli. This is where you'll get the best possible peek at the art and decorations of Pompeii and Herculaneum, the two ancient towns that were buried in ash by the eruption of Mount Vesuvius in AD 79. (And if you'd like to visit those sites, they're an easy train ride from Naples.)
Along the way, make time to savor a pizza in the city where it originated. It seems Neapolitans are endlessly enthusiastic about discussing the fine differences between different pizzerias. My friend Vincenzo described his idea of the perfect pizza as one that "melts into your mouth, goes straight through the throat and into the stomach — it does not need to be chewed."
Using traditional wood-burning ovens, Naples' pizzerias bake just the right combination of tomatoes, mozzarella, and fresh dough (soft and chewy, as opposed to Roman-style, which is thin and crispy). Ask anyone to steer you to the neighborhood pizzeria. An average one-person pie (usually the only size available) costs $5 to $10; most places offer both take-out and eat-in, and pizza is often the only thing on the menu.
Like the pizza, Naples is a delicious experience, warm and welcoming. And like life itself, Naples is at times daunting, but a thrill for anyone who fully embraces it.