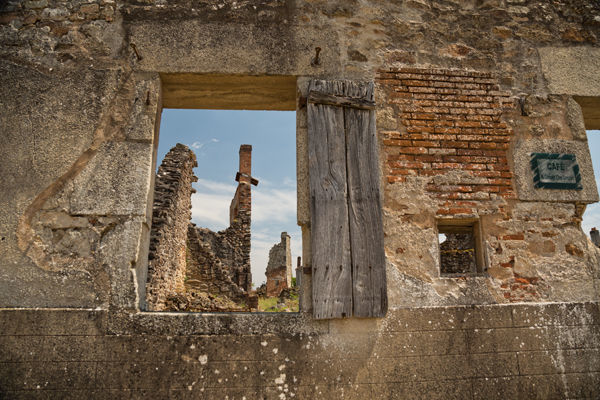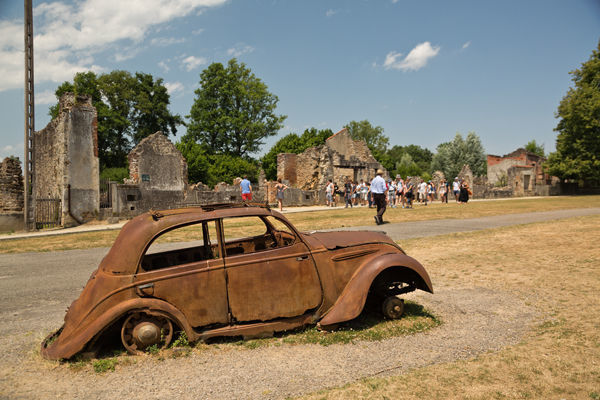 By Rick Steves and Steve Smith
Located two hours north of Sarlat and 15 miles west of Limoges, this is one of the most powerful sights in France. French school­children know this town well — most make a pilgrimage here. Village des Martyrs, as it is known, was machine-gunned and burned on June 10, 1944, by Nazi troops. The Nazis were either seeking revenge for the killing of one of their officers (by French Resistance fighters in a neighboring village) or simply terrorizing the populace in preparation for the upcoming Allied invasion (this was four days after D-Day).
With cool attention to detail, the Nazis methodically rounded up the entire population of 642 townspeople. The women and children were herded into the town church, where they were tear-gassed and machine-gunned. Plaques mark the place where the town's men were grouped and executed. The town was then set on fire, its victims left under a blanket of ashes. Today, the ghost town, left untouched for more than 60 years, greets every pilgrim who enters with only one English word: Remember.
Follow Village des Martyrs signs and start at the rust-colored underground museum (Centre de la Mémoire), which provides a good social and political context for the event (with English explanations and audioguide), including home movies of locals before the attack and disturbing footage of similar events (don't miss the 12-minute film with English audioguide translations). Then, with hushed visitors, walk the length of Oradour's main street, past gutted, charred buildings in the shade of lush trees, to the underground memorial on the market square (rusted toys, broken crucifixes, town mementos under glass). The plaques on the buildings tell us the names and occupations of the people who lived there (laine means wool; a sabotier is a maker of wooden shoes; a quincaillerie is a hardware store; cordonnier means shoe repair; a menuisier is a carpenter; and tissus means fabrics). Visit the cemetery where most lives ended on June 10, 1944, and finish at the church, with its bullet-pocked altar.
---
Steve Smith is the co-author of the Rick Steves France guidebook.