A Small Town with a Big Name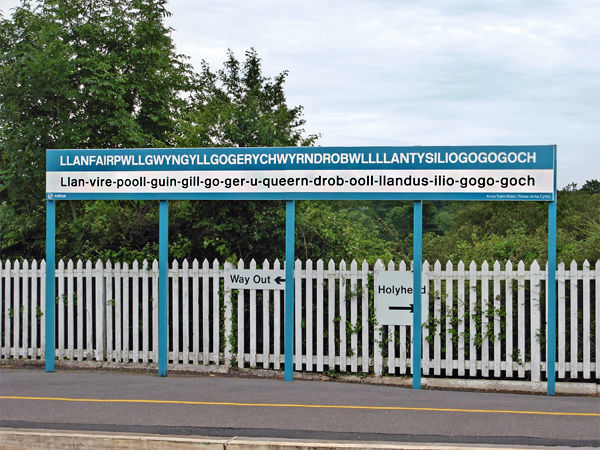 By Dave Fox
If you ask nicely, the lady at the tourist information office will pronounce the name of her town. "We get asked that about 30 times a day," she told me. Then, patiently, she took a deep breath and recited the correct pronunciation for the longest town name in Europe:
Llanfairpwllgwyngyllgogerychwyrndrobwllllantysiliogogogoch.
Originally the town had a shorter, easier to pronounce name: Llanfairpwllgwyngyll. In the 1880s, in a joking attempt to attract tourists, a tailor added the rest of the syllables, bringing the total length to 58 letters, including four letter L's in a row.
"What does Llanfairpwllgwyngyllgogerychwyrndrobwllllantysiliogogogoch mean?" I asked the lady at the tourist information office. Well, OK, what I really said was "What does that thing you just said mean?"
In English it translates to "St. Mary's Church in the hollow of white hazel near a rapid whirlpool and the Church of St. Tysilio near the red cave."
There's not much to do in "Llanfair PG," as it is listed on most maps, other than buy the T-shirt (available at the tourism office), take pictures of the sign on the train station platform, and pester the tourism office lady to say it again. But it's a scenic 15-minute drive from Caernarfon, home of one of the largest castles in Wales. If you want to be able to say you've been there, it's an easy side trip by car.
Llanfairpwllgwyngyllgogerychwyrndrobwllllantysiliogogogoch is not the longest town name in the world. Thailand has a town whose name has 163 letters:
Krungthepmahanakornamornratanakosinmahintarayutthayamahadilokphopnopparatrajathaniburiromudomrajaniwesmahasatharnamornphimarnavatarnsathitsakkattiyavisanukamprasit.
So How Do You Pronounce It?
The Welsh language looks daunting to English speakers, largely because of its obsession with the letters L and W. But all words are spelled phonetically — pronounced exactly as they are spelled. Once you learn how to pronounce each letter, it's not so bad:
A single Welsh F is pronounced like an English letter V.
A double F (as in the town of Ffestiniog) is pronounced like an English F.
A single L is pronounced like an English L.
A double L (as in Llanfair) is pronounced like an English L, but you blow air out along the sides of your tongue as you say it.
CH is a heavily aspirated H, pronounced with the tongue back in the throat, similar to the German CH.
The letter Y is an "uh" sound unless it is at the end of the word. Then it's an "ee" sound.
In Welsh, W is a vowel with an "oo" sound. The Welsh word for "bus" is "bws" (pronounced "boos"). The word for "beer" is "cwrw" (pronounced "cooroo").
---
Dave Fox is a veteran Rick Steves tour guide; find more of his travel and humor writing at globejotting.com.