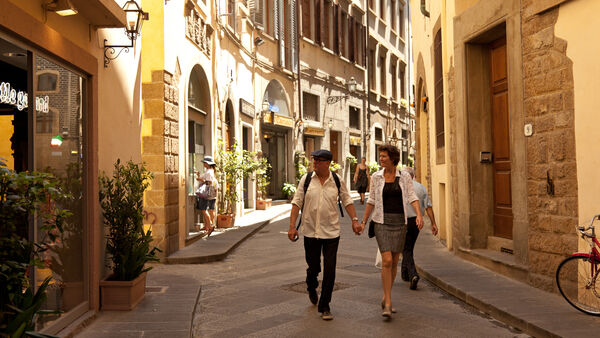 By Jane Zaloga
While a visitor to Florence will likely see Michelangelo's David, the Duomo, and the Birth of Venus in the Uffizi — and thereby understand something of this city's history — it takes a bit of a wandering eye and a little luck to find some of the other, smaller historical artifacts that tell us about the more commonplace aspects of Florentine life in the past. I'm always fascinated as I walk through Florence and happen to look up and find some such evidence of how the typical Florentines once lived. I like to think of these as "street finds."
There are many of these unprepossessing records of everyday Florence. For example, tabernacles with painted or sculpted images, usually of the Madonna and Child, seem to hang on almost every street corner. They speak of the practice of a popular devotion in Florentine life. One could pass, pray, and get on with the day. Many of these tabernacles still find flowers and candles placed before them, attesting to their continued function for contemporary Florentines.
There are also curious tiny arched openings adjacent to the massive entrance doors of many buildings in Florence. Such small porte del vino, or "wine doors," were used by the Florentine families who lived in these palaces to display their agricultural products for sale, most notably wine. Any Florentine family of note, naturally, had a house in the city as well as agricultural land out in the countryside. For me, these openings are sad reminders that once upon a time, a stroll through Florence could be done with a glass of Chianti in hand. Luckily, today's Florence still has plenty of wine shops — and there's usually one close at hand offering samples in the afternoon.
But back to the streets. Other finds include the marble plaques that can be found on various Florentine buildings at a height of about 20 feet (usually at the level of the street lamps affixed to the buildings). These plaques might commemorate passages from Dante or note an important person who once lived in the building. They might record important events, both true — the ones that indicate the level of the water of the 1966 flood seem to be everywhere, even in the stairwell of my apartment building — and not-so-true, such as the one affixed to the church of Santi Apostoli that records the foundation of that structure by Charlemagne.
Some of my favorite such plaques, however, are the ones that record civil statutes and the rules of proper comportment for a given place. For example, in Piazza Calamandrei, one is reminded to behave decently; in Piazza del Giglio, one is not to play ball or other games; in Piazza Strozzi, one is warned not to sell watermelons or other fruit, on pain of a five-lire fine. If you happen to be a prostitute, you are kindly invited not to live in Via dei Pepi — or you'll face arrest. The plaque on the Palazzo Vecchio behind the familiar Neptune fountain forbids us from doing our laundry in the fountain.
Next time you're in Florence, look for these "street finds," and you'll find a wealth of detail about how the regular Florentine lived and lives.
---
Jane Zaloga is a scholar of architectural history and former docent for Context Florence.