Wandering Dubrovnik's City Walls
Perched on the southern tip of Croatia, half surrounded by the Adriatic Sea, is one of Europe's finest fortified medieval cities.

By Rick Steves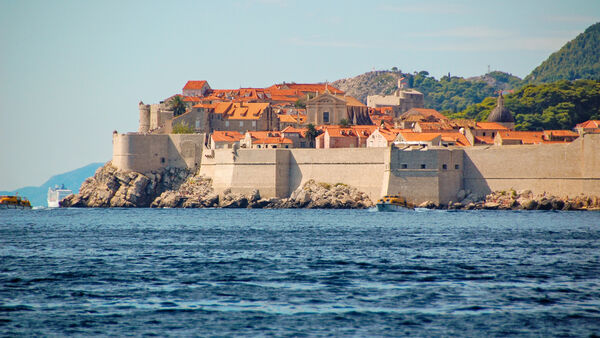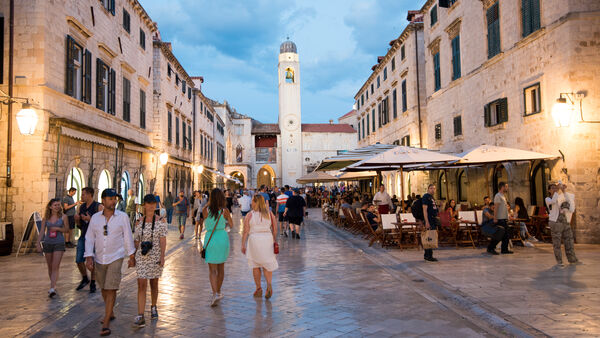 Dubrovnik, on the southernmost tip of Croatia, is the most visited spot along this renowned coast, and its most picturesque. No one who's taken in this time-warp city — whether from land or sea — wonders why it's long been known as the "Pearl of the Adriatic."
While Dubrovnik's museums are nothing special, this town is one of those places that you never want to leave. The real attraction here is the Old Town itself and its relaxing, breezy setting. It's a multigenerational celebration of life, where everybody's out enjoying an easygoing stroll or taking a dip in the sea.
For travelers, Dubrovnik's single best sight is the still-stout medieval wall that surrounds this city of about 40,000, offering an unforgettably scenic mile-long stroll above town. While constructed over many centuries, today's impressive fortifications date from the 1400s, when they were beefed up to defend against the Ottoman Turks.
Jockeying my way between cruise-excursion groups that have descended upon the town (pre-pandemic, about 800,000 cruisers stopped here each year), I climb the steep steps to the top of the mighty wall. As I begin a slow, circular, hour-and-a-half walk around the fortified perimeter of one of Europe's best-preserved medieval towns, I'm bombarded with ever-changing views. On one side is a sea of red rooftops; on the other side, the actual sea.
As I approach the Pile Gate wall entrance, I pause to enjoy a full frontal view of the Stradun, the 300-yard-long promenade that runs through the heart of Dubrovnik's Old Town. In the Middle Ages, merchants lined this drag; before that, it was a canal. Today this is the main artery of the city: an Old World shopping mall by day and sprawling cocktail party after dark.
Farther along the wall, I look down and see a peaceful stone terrace perched above the sea, clinging like a barnacle to the outside of the city walls. Generously shaded by white umbrellas, this is my favorite Dubrovnik escape, a rustic outdoor tavern called Buža. The name means "hole in the wall" — and that's exactly what you'll have to climb through to get there. Filled with mellow tourists and bartenders pouring wine from tiny screw-top bottles into plastic cups, Buža comes with castaway views and Frank Sinatra ambience.
Looking inland from my ramparts perch, my eyes fall on a random arrangement of bright- and dark-toned red roof tiles. In this complex and once troubled corner of Europe, even a tranquil stroll around the walls comes with a poignant history lesson. After Croatia declared independence from Yugoslavia in 1991, the Yugoslav National Army laid siege to this treasured city and lobbed mortars over the hill. Today, the new, brighter-colored tiles mark houses that were hit and have been rebuilt. At a glance, it's clear that more than two-thirds of the Old Town's buildings suffered bomb damage.
Surveying the rooftops, my thoughts turn to Pero, my B&B host, who spent years after the war turning the bombed-out remains of his Old Town home into a fine guesthouse. As he relayed the story to me the night before, Pero reached under the counter for the mangled tail of a mortar shell, describing how the gorgeous stone and knotty-wood building he grew up in had suffered a direct hit in the siege. When I moved to take a photo of the shell, he held it up with a determined smile — as if it signified a personal victory over the destruction the mortar had wrought.
Today the tourist crowds far exceed prewar levels, and Dubrovnik's biggest downside is now its popularity. Savor the town early and late, when cruisers and day-trippers have cleared out. (If possible, avoid walking the city walls when multiple cruise ships are in town. Otherwise, aim to begin your stroll around 8 a.m., or just before 5 p.m., which also helps you avoid the worst heat.) You won't have to look hard to discover your own secluded, laundry-draped back lane.
With many locals now priced out of the Old Town, Dubrovnik's center can now feel, at least at first glance, like a very pretty but soulless theme park. But if you dig a little deeper you'll find the city still has a strong sense of identity and community. Make a point to converse with your host or other friendly locals — you'll likely hear a perspective that'll give more depth to your visit than any perfectly framed photograph.
Upon my arrival, Pero had uncorked a bottle of orahovica (the local walnut liqueur). He'd made this hooch himself, as is still common in post-Yugoslav lands. As he slugged down a shot, he handed me a glass, wheezing, "It recovers your energy." Dubrovnik has certainly recovered its energy.