Winter in London: Chilly Weather, Warm Memories
Visit London in winter for Christmas delights or off-season exploration.

By Rick Steves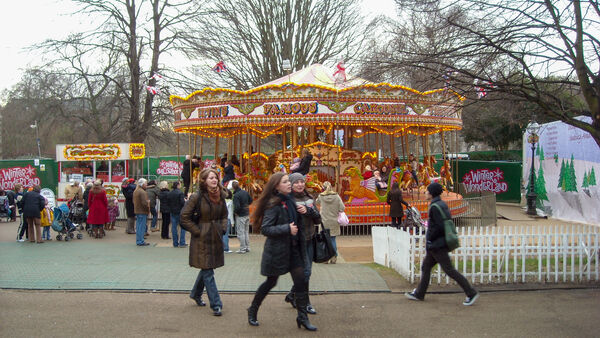 London dazzles year-round, so consider visiting in winter, when airfares and hotel rates are generally cheaper, and tourist crowds are at a minimum. Despite the season's drearier weather and shorter days, London's museums, theaters, and pubs always offer a warm, cozy welcome.
London is especially appealing (though hardly empty) in the weeks leading up to Christmas. In mid-November, German-style Christmas markets spring up all over the city. The market on Leicester Square is perhaps the most central, but the Southbank Centre Winter Market (between the London Eye and the Royal Festival Hall), is one of the biggest. Other major markets include one in London Bridge City (also on the Thames' southern bank, between London Bridge and Tower Bridge) and in the center of maritime Greenwich.
Many other squares are specially outfitted for the season. Covent Garden's spectacular transformation includes a festival of mulled wine, a seasonal installation that changes year to year, impressive decorations, and even a bit of daily snowfall. Nearby Trafalgar Square always sports a giant twinkling tree, given to London every year from the people of Oslo in appreciation for British support during World War II. Free carol concerts are held beneath the tree, and a new poem is commissioned every year to be displayed at its base. The year-round gourmet extravaganza of Borough Market becomes a wonderful place to sample mulled wine, Christmas pudding, mince pie, and other traditional favorites.
The city's biggest to-do is Hyde Park Winter Wonderland, a giant Christmassy carnival that takes over a good share of the park through the end of the year. It boasts enough rows of old-time market stalls to rival the Southbank Centre's market, as well as the UK's biggest outdoor ice rink — plus roller coasters, a Ferris wheel, circus show, a "Bavarian village," and all kinds of kitschy fun.
Santa, a.k.a. Father Christmas, has been known to receive visitors in his "grotto" in Winter Wonderland, but magically he also manages to offer a lap and an ear at many other spots around town, including Greenwich Market and Leicester Square.
Elaborate light displays and store windows sparkle along major shopping streets, including Oxford Street, Bond Street, Regent Street, and Brompton Road. Most walking-tour companies offer special tours with seasonal themes (Dickens, light displays, caroling).
Ice skating is easily London's coolest outdoor offering in winter (at least in a literal sense). Somerset House has the Rockefeller Center of London ice rinks, where you can glide alongside the facade of a grand Neoclassical building. Another ice rink sprawls in front of Hampton Court Palace. Most are open for skating from mid-November until the first or second week of January. (The rink in Canary Wharf usually runs a few weeks longer, though not in 2023.)
Of course, London always offers plenty to do indoors, and many well-touristed sights host special events and exhibits, such as the Tower of London, Kew Gardens, the London Zoo, Museum of the Home, and the Harry Potter Studio Tour in Leavesden. The grand, red-velvet-draped Royal Albert Hall puts on a wide range of seasonal programs, including sing-along caroling.
"Pantomime" plays are a curious holiday treat. These wacky, beloved slapstick shows, while primarily aimed at kids, are so delightfully English that it'd be a shame to miss a chance to see one in London, no matter your age. Most performances are put on prior to Christmas, but you should still be able to catch one for a month of more into the new year. Two London theaters that usually stage pantos are the Hackney Empire and the London Palladium.
New Year's Eve in London is usually busiest in the South Bank district, as the midnight fireworks are set off from the London Eye and nearby river barges. Shows attract upwards of 400,000 revelers to Trafalgar Square — the traditional hub of the partying — and the nearby riverbank. All of the biggest partying takes place within earshot of Big Ben, whose midnight chimes are broadcast nationwide. On New Year's Day, a parade featuring 10,000 performers snakes through Soho.
January brings out the best shopping deals, with many big sales kicking off immediately after Christmas. And while most Yuletide events wrap up within a week of New Year's Day, mid-January can be an ideal time for sightseeing, as it's easily the city's least-crowded time of year.
February is also relatively uncrowded, though London is a major destination for families during the week-long "half-term" break most British schools take in mid-February. Colorful Chinese New Year celebrations — purportedly the largest outside Asia — liven up the West End in February (or late January, depending on when the lunar new year falls.)
London's theater season is in high gear all winter. The plays rival New York's in quality and range of options, and usually beat them in price. Whether Shakespeare, musicals, comedies, thrillers, cutting-edge experimentation, London does it all well.
Many of London's best sights don't charge admission — a good thing to keep in mind while out and about in London's famously miserable winter weather. (Don't feel obligated to pay the suggested donation if you're just ducking inside for a break from the elements.)
London's a super one-week getaway, with sights that can keep even the most fidgety traveler well entertained. As an off-season adventurer, you can wander alone through the National Gallery, gaze at the crown jewels undisturbed, and be the only one trying to talk to stiff-lipped guards at Buckingham Palace. In wintertime London, you'll stroll beneath Big Ben and wonder, "Where are the tourists?"