Behind the Camera on a European TV Shoot
By Rick Steves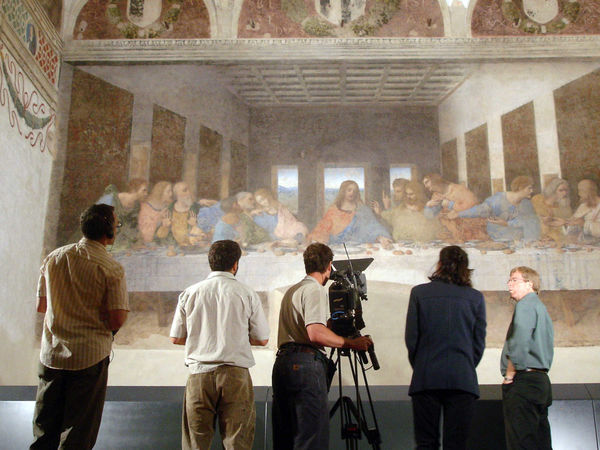 Watching Rick Steves' Europe with my friends, I always wish I could take them behind the scenes to show them the "glamour" of filming. It takes six days to film a 30-minute television episode, and it is an exhilarating and exhausting scramble from start to finish.
There's only three of us in Europe, and we generally shoot from 9 a.m. until it's too dark to shoot any more. Then, about half the evenings are spent shooting after-dark segments. I spend many late hours on my laptop, finessing the script.
We start with a carefully crafted, eight-page treatment. But it always changes as the work progresses. I love the collaboration with my producer/director Simon Griffith (who is on location for every inch of footage and then oversees the post-production in our Seattle-area offices) and with our cameramen (either Karel Bauer or Peter Rummel helps out). Back in Seattle, our television editor, Steve Cammarano, whips the footage for one show into shape in about three weeks.
Unlike some staged travel shows, we work to capture a real travel experience. In 1993, I stepped off the train in Prague without a hotel reservation and found a dozen hustlers carrying scrapbooks featuring their B&Bs, eager to take me home. Returning in 1994, I briefed my cameraman about the action we hoped to capture upon arrival. At the station, he got off on one end of the car, and I hopped off at the other...just another tourist in need of a bed. Precisely as I hoped, the B&B gang was there, armed with scrapbooks, still eager to take me home. And my buddy with the big camera got it all on video.
People always ask me why my wardrobe is so dull on TV. I wear the same shirt for the six days it takes to shoot each episode — to minimize "continuity" concerns. I can't get sick, develop a cold sore, or even speckle my "wardrobe" (tough when slurping pasta feels so right).
As the on-camera host, my mentor is Ringo, who sang, "All you gotta do is act naturally." My first shows were plagued by a distracting "eye thing." At the end of an on-camera shot, my face would freeze. Looking like Steve Forbes with two glass eyeballs, I'd turn slowly away. I now kill the "eye thing" with a Bewitched-style blink at the end of each shot.
Sometimes we get lucky when shooting on location. The script called for shots of a wine bar in Volterra, a hill town in Italy. We came across a fun enoteca run by two guys who also had a passion for fine music (guitars were available for patrons to strum) and unusual decor — the place was strewn with bras.
Other times we're not so fortunate. Only when working on our TV series do I agonize over the weather. Sunshine and blue sky make colors pop. Without good weather, we have to work twice as hard. One summer, we successfully danced around generally bad weather for five shows. Then in Switzerland — our last show — we hit rain that brought unusual flooding throughout central Europe.
For five days I squinted up at what should have been brilliant mountains and saw only clouds. Day after day the weatherman called the next day's weather "cruel." The dark weather inspired us to find fascinating indoor things to shoot. We featured high-altitude cheese-making, a one-room school house, a river-powered sawmill, and village volunteer firefighters learning how to rescue Heidis in distress. Our theme became: "This isn't just any Alps show."
Weather isn't the only factor that makes filming unpredictable. We stopped to film a sign in Bosnia, when suddenly a beat-up truck screeched around the corner and skidded to a halt next to the crew. An enraged man powered out, slammed his door, and screamed at Simon and Karel, thumping his chest so hard he almost went airborne. They talked calmly with him while taking the camera and tripod down, then walked back to get into the car (where I was safely waiting) — not knowing if the mad Serb would actually get physical. Thankfully it didn't come to blows.
We learned afterward that the media had been angering Bosnia's Serbian community with its 60 Minutes–type coverage of sensitive issues, and apparently this brute just had it out for anyone with a big camera. Fortunately, most of my viewers don't have that kind of reaction while watching my shows.
Over the years, many TV producers have tried to lure me into the world of commercial television. I always turn them down. My passion is to make travel accessible and meaningful, and I feel that public television is the best way to do it. My goal is to share Europe with a giant "tour group" traveling in the comfort of their own living rooms.