Download Amsterdam Audio Tours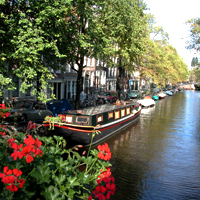 Choose from these three free options to listen to Rick Steves' Amsterdam Audio Tours:
Get the Audio Europe app! It's the easiest and best experience if you have an iPhone, iPad, iPod Touch, or Android. Learn more about the Rick Steves Audio Europe app or download the app now:

Prefer podcasts? Get Rick Steves' Netherlands Audio Tours on iTunes or find it in your favorite podcasting app. Need help? Read our Podcast FAQ.

Download the mp3 files below and transfer to any mp3 player, or play them on your computer. Mp3 audio tours do not have chapter breaks or subheadings.
How to download: The option to save will appear with the following action on your device:
PC: Right-click the download links below
Mac: "Control click" the download links below
Android: Tap and hold the download link
iOS: Sorry, iPhones, etc. don't allow this (get the app instead!)
Amsterdam Audio Tours