A Blitz Tour of Madrid
By Rick Steves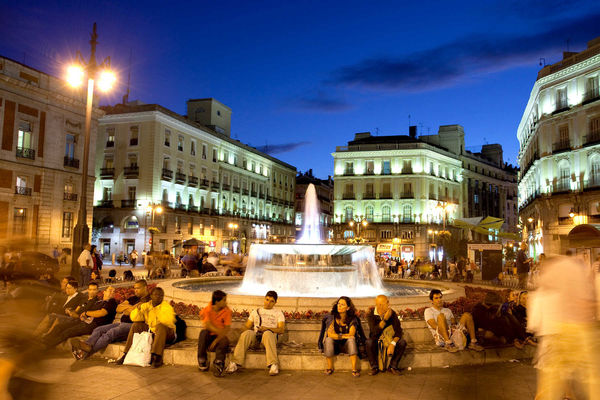 I'm standing on a tiny balcony overlooking the Times Square of all of Spain — Madrid's Puerta del Sol. Within a 10-minute walk I can visit one of the greatest palaces in Europe — Madrid's Royal Palace, the ultimate town square — Plaza Mayor, or my favorite collection of paintings under any single roof in Europe — the Prado Museum.
Just like in New York's Times Square, crowds in Madrid fill this square on New Year's Eve while the rest of Spain watches the action on TV. As Spain's "Big Ben" atop the governor's office chimes 12 times, Madrileños eat one grape for each ring to bring good luck through each of the next 12 months.
But unlike New York's famous gathering space, this square — like so many in Europe — has gone from a traffic nightmare to a more park-like people zone. It's what makes Madrid livable. Car traffic has been limited (made possible by the excellent public transportation system), letting the fine old buildings show off their original elegance in an inviting, wide-open setting.
From Puerta del Sol, I'm going to do a blitz tour of three major sights. I start by strolling toward the Royal Palace, which I consider Europe's third greatest palace (after Versailles, near Paris, and Schönbrunn in Vienna). Over the years, I've probably visited it at least 10 times — and I always learn more fascinating facts to include in my guidebook.
It's big — more than 2,000 rooms, with tons of luxurious tapestries, a king's ransom of chandeliers, priceless porcelain, and bronze decor covered in gold leaf. While these days the royal family lives in a mansion a few miles away, this place still functions as a royal palace, and is used for formal state receptions, royal weddings, and tourists' daydreams.
One highlight is the throne room, where red velvet walls, lions, and frescoes of Spanish scenes symbolize the monarchy in a Rococo riot. Another eye-stopper is the dining hall, where the king can entertain as many as 144 guests at a bowling lane–size table. The ceiling fresco depicts Christopher Columbus kneeling before Ferdinand and Isabel, presenting exotic souvenirs and his New World "friends" to the royal couple.
My next stop is Plaza Mayor — a stately, traffic-free chunk of 17th-century Spain. Each side of the square is uniform, as if a grand palace were turned inside-out. Whether hanging out with old friends, enjoying a cup of coffee, or finding a treasure at the morning coin market, it's an appealing place where people gather.
Bronze reliefs under the lampposts show how upon this stage, much of Spanish history was played out. The square once hosted bullfights. It was the scene of generations of pre-Lent carnival gaiety. And during the Inquisition, many suspected heretics were tried here and punished by being strangled or burned at the stake. Thankfully, the brutality of the Inquisition is long gone.
My last stop is the Prado Museum, which holds my favorite collection of paintings anywhere. These artworks give an eye-pleasing overview of Spain's rich history, from its Golden Age through its slow fade.
The Prado is the place to enjoy the great Spanish painter Francisco de Goya. You can follow this complex man through the stages of his life — from dutiful court painter, to political rebel and scandal-maker, to the disillusioned genius of his "black paintings." It's also the home of Diego Velázquez's Las Meninas, considered by some to be the world's finest painting, period. In addition to Spanish works, you'll find paintings by Italian and Flemish masters, including Hieronymus Bosch's fantastical Garden of Earthly Delights altarpiece.
With more than 3,000 canvases, including entire rooms of masterpieces by superstar painters, the Prado can be overwhelming. A $215 million expansion, completed in 2007, made this museum more visitor-friendly. A new wing holds a modern café, auditorium, and gift shop — freeing up exhibition space in the original building for more art. But it still gets crowded. To avoid the hordes, keep in mind that lunchtime and weekdays are generally less packed. It's always crowded on evenings, when it's free after 6 p.m., and on weekends; it's worth paying the entry price on other days to have your space.
As I walk back to my hotel on the Puerta del Sol, I reflect on this bustling capital — Europe's highest, at 2,000 feet. Despite the economic uncertainty, today's Madrid is vibrant. Even the living-statue street performers have a twinkle in their eyes. Lively Madrid has enough street-singing, bar-hopping, and people-watching vitality to give any visitor a boost. After every trip to this exciting city, the impression I take home is that of a thriving people with an enduring culture.