An Inside (and Outside) Look at Madrid
By Rick Steves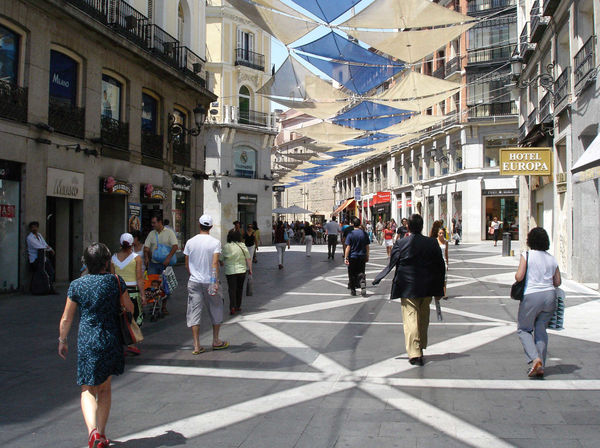 Spain's capital is, like its people, relatively young. A century ago, Madrid had only 400,000 residents, but today the country's hub is the upbeat, vibrant home to 3.2 million people.
The city made room for its newcomers with modern districts sprawling out from the historic core, leaving the center — and its magic — intact. But central Madrid's cityscape is hardly trapped in amber. Spurred in part by several (failed) bids to host the Olympics and World Cup, in the last decade the city has embarked on massive urban-improvement projects — new parks, pedestrianized streets, and revamped transit — that have made it even more of a joy to explore.
That might be even more true for locals than visitors. As much as anywhere in Spain, Madrid's paseo is an integral and unforgettable part of the culture, and walking Madrid's car-free streets is clearly Madrileños' favorite way to spend their evenings.
Anyone can join the paseo. Even past midnight on a hot summer night, entire families are strolling, licking ice cream, greeting their neighbors, and enjoying little beers and tapas. To join them, wander from Puerta del Sol, the lively central square, to the historic cobbled Plaza Mayor, or along the Calle de las Huertas, the pedestrianized street leading to the Prado.
For maximum fun, keep walking and go mobile for dinner: Do the tapeo, going from one bar to the next, munching, drinking, and socializing. You can find tapas bars almost everywhere in Madrid, but areas in the city center are particularly rewarding for a bar-crawl meal: The two-block stretch on Calle de Jesús (near the Prado) is the easiest, with several wonderful and diverse places. I never tire of this edible scavenger hunt, where I collect small portions of seafood, salads, meat-filled pastries, and deep-fried tasties, and piece them together for a light evening meal.
Spain has a reputation for partying very late, even until offices open in the morning. If you're people-watching early in the morning, it's can be hard to know who is finishing their day and who's just starting it. Even if you're not a party animal after midnight, make a point to be out with the happy masses, luxuriating in the cool evening air.
When it's sizzling in the middle of the day, Madrileños head to Retiro Park, a 300-acre green-and-breezy escape. It's a picnic-friendly place where you can hopscotch through a mosaic of lovers, families, skateboarders, expert bench-sitters, and pets walking their masters. Once the private domain of royalty, this majestic park has been a favorite of Madrid's commoners since King Charles III decided to share it with his subjects in the late 18th century. The lake at its center is filled with rented rowboats, and on weekends the surrounding area becomes a carnival of fun with jugglers, puppeteers, and lots of local color.
Nearby is the Royal Botanical Garden, another green oasis. Wander through this museum of plants to enjoy its collection of trees from around the world, also established by King Charles III.
My next stop is Plaza Mayor — a stately, traffic-free chunk of 17th-century Spain. Each side of the square is uniform, as if a grand palace were turned inside-out. Whether hanging out with old friends, enjoying a cup of coffee, or finding a treasure at the morning coin market, it's an appealing place where people gather.
Bronze reliefs under the lampposts show how upon this stage, much of Spanish history was played out. The square once hosted bullfights. It was the scene of generations of pre-Lent carnival gaiety. And during the Inquisition, many suspected heretics were tried here and punished by being strangled or burned at the stake. Thankfully, the brutality of the Inquisition is long gone.
For great views and an ancient temple, head to the Parque de la Montaña. In 1968, the Egyptian government was grateful for Spain's help in rescuing monuments threatened by rising waters above the Aswan Dam, so it gave its Temple de Debod to Madrid. Consequently, Madrid is the only place I can think of in Europe where you can actually wander through an intact original Egyptian temple — complete with fine carved reliefs from 200 BC. It's in a romantic park that locals love for its memorable panoramas — especially at sunset.
Throughout Europe, energetic governments are renewing green space and turning formerly car-congested wastelands into public spaces. To experience today's Madrid, take time away from indoor attractions and relish the exterior of this livable city.