Indulge in Barcelona's Visual Feast
By Rick Steves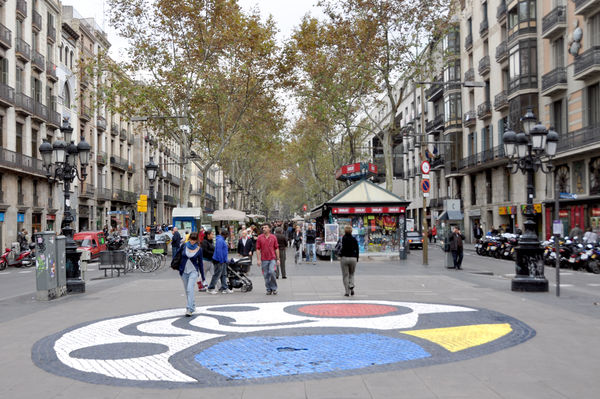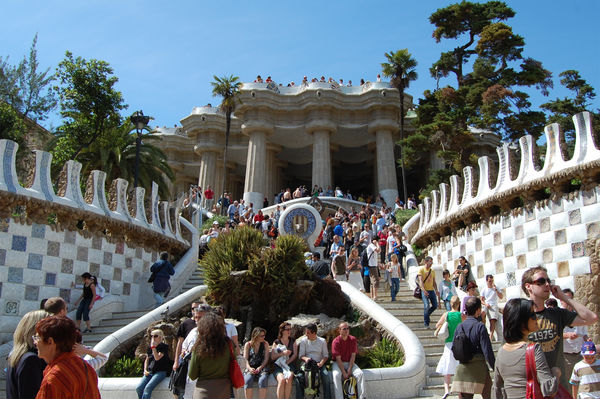 If you're in the mood to surrender to a city's charms, let it be Barcelona. Few cities so easily enchant visitors with their beauty and flavor like this one. Whether along its grand boulevards, stylish modern district, or narrow old-town alleys, the city's vibrant scenes are a joy to take in. While Barcelona has plenty of top-notch museums to keep an avid sightseer busy for days, its streets are a sight in themselves. Be sure to make time to just drift through the city and let your eyes feast on whatever you happen to pass.
A stroll down Barcelona's main pedestrian drag, the Ramblas, is a freefall into sensory overload. This grand boulevard takes you from rich (the elegant main square, Plaça de Catalunya) to rough (the port) in a one-mile walk past plenty of historic bits and pieces of this great city.
"Rambla" means "stream" in Arabic, and this route along what had been a medieval drainage ditch is now an endless current of people and action. For more than a century, this boulevard has been a magnet for visitors — but in the last decade or so, an overabundance of visitors has robbed it of much of its local charm. (Meanwhile, an overabundance of pickpockets continues to rob visitors of their wallets and phones — wear a money belt.) Make a point to come first thing in the morning, before the hordes are up and out. That's also when you can witness locals shopping at the boulevard's lively La Boqueria market for the freshest seafood and produce, not to mention chicken legs, bags of live snails, gourmet ham, and endless varieties of olives. They say if you can't find it in the Boqueria, it's not worth eating. (Push past the touristy outer market to get to the more interesting scene farther inside.) To experience the opposite vibe, return to ramble the Ramblas in the evening and raft its river of tourism.
East of the Ramblas is Barcelona's birthplace, the Barri Gòtic, the atmospheric neighborhood that surrounds the city's colossal cathedral. It's a bustling world of shops, bars, and nightlife packed into narrow, winding lanes and undiscovered courtyards. Astute strollers will notice, just above street level, a tangle of wrought-iron balconies whose bars barely contain their domestic jungles.
A creative spirit is part of the ebb and flow of daily life in Barcelona. The designs of Modernista artist Joan Miró, who lived in the Barri Gòtic, show up all over the city, from murals to mobiles to the La Caixa bank logo. If you enjoy his childlike style, ride the funicular up to Parc de Montjuïc, and peek into the Fundació Joan Miró, a showcase for his art.
The Barri Gòtic was also home to a teenaged Pablo Picasso. It was in Barcelona, in the 1890s, that Picasso grabbed hold of the artistic vision that rocketed him to Paris and fame. The Picasso Museum, in the Ribera district, is far and away the best collection of the artist's work in Spain. Seeing Picasso's youthful, realistic art, you can better appreciate the genius of his later, more abstract art.
For a refreshing break from the dense old city, head north to the modern Eixample neighborhood, with its wide sidewalks, graceful shade trees, chic shops, and Art Nouveau frills. Barcelona was busting out of its medieval walls by the 1850s, so a new town — called the Eixample ("expansion") — was laid out in a grid pattern. The original vision was an egalitarian one: Each 20-block-square district was to have its own hospital and large park, markets, schools, and daycare centers.
But over time the Eixample became a showcase for wealthy residents and their Catalan architects, who turned the flourishing Art Nouveau style into Modernisme, their own brand of decorative design. Buildings bloom with characteristic colorful, leafy, and flowing shapes in doorways, entrances, facades, and ceilings.
Barcelona's most famous Modernista artist, Antoni Gaudí, created architectural fantasies that are a quirky quilt of galloping gables and organic curves. A quintessential example of Modernisme, La Pedrera (a.k.a. Casa Milà) has walls of wavy stone and a fanciful, undulating rooftop, where 30 chimneys play volleyball with the clouds. At Casa Batlló, a green-blue ceramic-speckled facade, tibia-esque pillars, and shell-like balconies are inspired by nature, while the humpback roofline suggests a cresting dragon's back.
But Gaudí's best-known and most persistent work is the eternally unfinished Sagrada Família, with its wildly creative, unmistakably organic arches and spires. The Nativity Facade, the only part of the church essentially completed in Gaudí's lifetime, shows the architect's original vision. Mixing Christian symbolism, images from nature, and the organic flair of Modernisme, it's an impressive example of his unmistakable style.
Climb up between the spires for a gargoyle's-eye perspective of a living, growing, bigger-than-life building. Local craftsmen often finish up their careers by putting in a couple of years working on the project. After three decades of visits, I've enjoyed watching its considerable progress, and can't wait to see it completed. Your admission helps pay for the ongoing construction (I strongly recommend buying your timed-entry ticket well in advance).
Gaudí fans also enjoy the artist's magic in the colorful, freewheeling Park Güell, a 30-acre hilltop garden once intended to be a 60-residence housing project, a kind of gated community. Carpeted with fanciful mosaics and dotted with sculptures (including a giant tiled lizard), this park is a great place to cap the day.
Whether in its art, produce markets, architecture, or proud Catalan culture, Barcelona offers visitors an always colorful, always lively experience.