Bath's Easy Urban Delights
By Rick Steves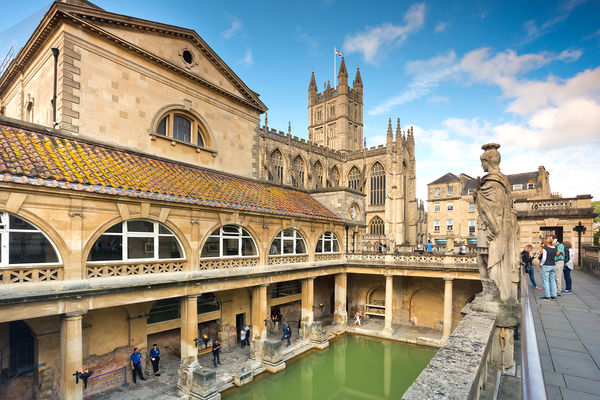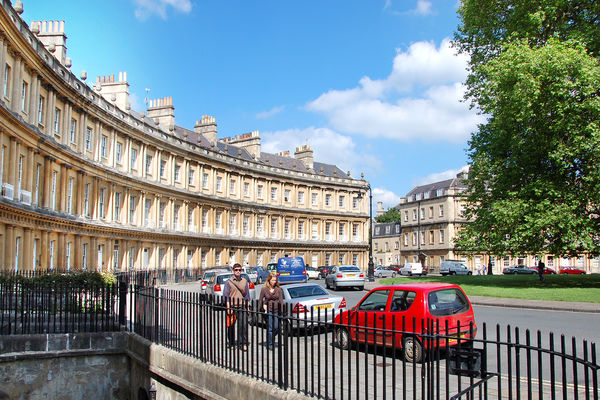 England's best city within two hours of London is beautiful, historic Bath. The city is popular and expensive, but a delight nonetheless — the most relaxing and elegant place to sample urban England.
Bath was a joy even in ancient Roman times, when patricians soaked in the city's mineral springs. From Londinium (today's London), Romans traveled so often to "Aquae Sulis," as the city was called, to "take a bath" that finally it became known simply as "Bath." Today, a fine museum surrounds the ancient bathing site. With the help of a great audioguide, visitors can wander past well-documented displays, Roman artifacts, excavated foundations, and the actual mouth of the health-giving spring.
Bath later prospered as a wool town, building its grand abbey about 500 years ago — the last great medieval church built in England. The abbey's facade features a very literal Jacob's Ladder — with angels going up…and down. The interior has breezy fan vaulting and is lit with enough stained glass that it feels like the inside of a giant lantern.
By the middle of the 1600s, Bath's heyday had passed, and its population dropped to about 1,500 people — just a huddle of huts at the base of the abbey. Then, in 1687, King James II's wife, Queen Mary, struggling with infertility, came here and bathed. Within about 10 months she gave birth to a son. A few decades later, her stepdaughter Queen Anne came here to treat her gout. With all this royal interest, Bath was reborn as a resort.
Most of the buildings you'll see in Bath today are from the 18th century — the cityscape is a triumph of the Neoclassical style that dominated the Georgian era, most of it built from the same honey-colored limestone. Free, fascinating town walks are offered every day by volunteers who bring to life highlights of this Georgian heritage — such as the Circus and Royal Crescent building complexes.
The Circus is like a coliseum turned inside out, with Doric, Ionic, and Corinthian capital decorations that pay homage to its Greco-Roman origin — a reminder that Bath (with its seven hills) aspired to be "the Rome of England." About a block away, the Royal Crescent is a long, graceful arc of buildings — impossible to see in one glance unless you step way back to the edge of the park in front. You can go inside one of these classy facades at No. 1 Royal Crescent, now a museum where you can see how the wealthy lived in 18th-century Bath.
During the Georgian era, Bath was the trendsetting Tinseltown of Britain, where the filthy rich went to escape the filthy cities. A professional gambler named Beau Nash followed his clients (and their money) to this resort town — and then acted as its one-man tourism promotion department. He organized daily activities, did matchmaking, and helped spiff up the city. Today, his statue stands above the Roman baths.
For a taste of the idyllic countryside just beyond town, walk (or bike) the three-mile towpath along the Kennet and Avon Canal to the sleepy village of Bathampton (which is home to two particularly inviting pubs). The canal, built for Industrial Age cargo transport, was put out of business by the railway shortly after it opened.
After a day of sightseeing in Bath, street theater is a fun evening option and a ritual for me in Bath. The best hour and a half of laughs I've had anywhere in Britain is on the Bizarre Bath comedy walk. They promise to include "absolutely no history or culture" during their wander of Bath's back lanes. Listening to the guides is always good fun — they may tell the same old jokes, but they're spiced up with a sharp, ad-lib wit that plays off the international crowd.
I also enjoy the Thermae Bath Spa, particularly during chilly evening visits, when Bath's twilight glows through the steam from the rooftop pool. It's pricey, but it's the only natural thermal spa in the UK, and your one chance to actually bathe in Bath.
A tip for your itinerary: Upon arrival in England I like to take the train from the airport to London's Paddington Station and then hop on a connection straight to Bath, rather than deal with London's intensity right off the bat.
From its evening indulgences to its elegant architecture, Bath combines beauty and hospitality better than most. It's a place drenched in history, but made for relaxation.