London
England
From the grandeur and bustle of London, to the pastoral countryside that inspired Shakespeare, to some of the quaintest towns you'll ever experience, England delights. Stand in a desolate field and ponder an ancient stone circle. Strike up a conversation just to hear the Queen's English. Bite into a scone smothered with clotted cream, sip a cup of tea, and wave your pinky as if it's a Union Jack.
Places
At a Glance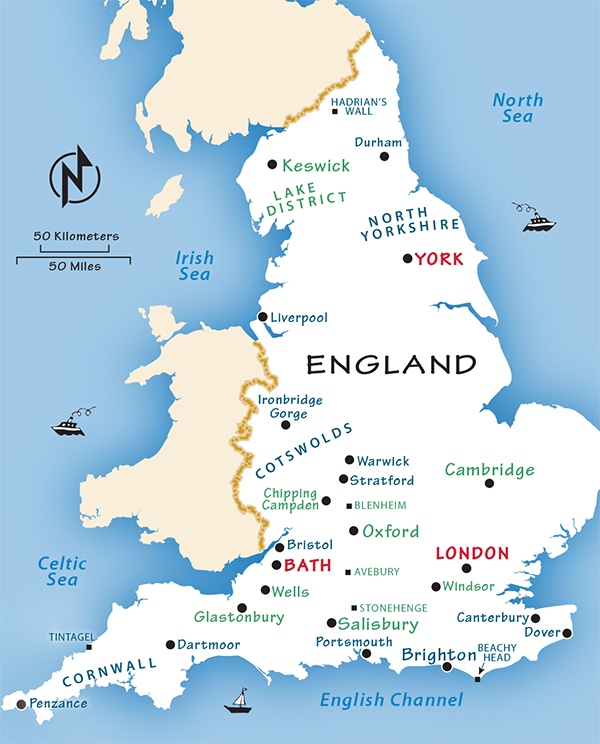 ▲▲▲ London Thriving metropolis packed with world-class museums, monuments, churches, parks, palaces, theaters, pubs, Beefeaters, double-decker buses, telephone boxes, and all things British. Maritime Greenwich, with its famous observatory, is on the city's outskirts.
▲▲▲ Bath Genteel Georgian showcase city, built around the remains of an ancient Roman bath.
▲▲▲ York Walled medieval town with grand Gothic cathedral, excellent museums (Viking, Victorian, Railway), and atmospheric old center.
▲▲ Cambridge For many, England's best university town.
▲▲ Windsor Cute town nestled around the Queen's impressive home-sweet-castle.
▲▲ Near Bath England's mysterious heart, including the prehistoric-meets-New Age hill at Glastonbury, spine-tingling stone circles at Stonehenge and Avebury, enjoyable cathedral towns of Wells and Salisbury, and delightful Dorset countryside.
▲▲ The Cotswolds Remarkably quaint villages — including the cozy market town Chipping Campden, popular hamlet Stow-on-the-Wold, and handy transit hub Moreton-in-Marsh — scattered over a hilly countryside.
▲▲ The Lake District Idyllic lakes-and-hills landscape, with enjoyable hikes and joyrides, time-passed valleys, William Wordsworth and Beatrix Potter sights, and the charming home-base town of Keswick.
▲▲ Oxford Stately university town with Blenheim Palace — one of England's best — on its doorstep.
▲ Canterbury Pleasant pilgrimage town with England's top church.
▲ Dover and Southeast England The imposing Dover Castle, famous White Cliffs, lush Sissinghurst Gardens, hill town of Rye, and historic site of the Battle of Hastings.
▲ Brighton Flamboyant beach resort on England's south coast, near the rolling hills of South Downs Way and the chalky cliffs at Beachy Head.
▲ Portsmouth Revitalized shipbuilding city with top nautical sights at the Historic Dockyard, plus Roman ruins and stately Arundel Castle nearby.
▲ Dartmoor Mysterious, desolate, moor-cloaked national park with wild ponies, hiking paths, and an ancient stone circle.
▲ Cornwall Feisty peninsula littered with prehistoric ruins, plus the seaside resort towns of Penzance and St. Ives, King Arthur's supposed Tintagel Castle, the tip of England at Land's End, and other offbeat sights.
▲ Stratford-upon-Avon Shakespeare's hometown and top venue for seeing his plays performed.
▲ Ironbridge Gorge Birthplace of the Industrial Revolution, with sights and museums that tell the earth-changing story.
▲ Liverpool Rejuvenated port city and the Beatles' hometown.
▲ North Yorkshire Smattering of ruined abbeys, desolate moors, and seaside towns (including bustling Whitby and tiny Staithes).
▲ Durham and Northeast England Youthful working-class town with magnificent cathedral, plus (nearby) an open-air museum, the Roman remains of Hadrian's Wall, Holy Island, and Bamburgh Castle.
Warwick and Coventry England's best medieval castle, in pleasant Warwick, and the stirring bombed-out husk of an ancient cathedral, in Coventry.
Blackpool England's tackiest, most fun-loving beach resort.
Plan
Photos
Watch
Read
England

Bath

Blackpool

Brighton

Cambridge

Cornwall

Cotswolds

Durham

Glastonbury & Wells

Ironbridge Gorge

Lake District

London

Portsmouth

Stratford

Warwick & Coventry

Windsor

York
Listen