Discovering the Romance of Germany's Black Forest
By Rick Steves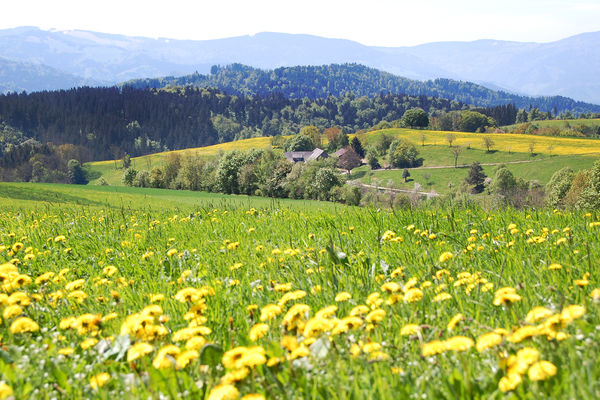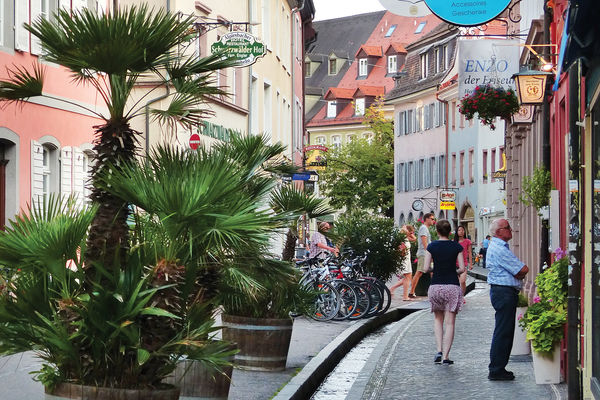 In Germany's southwest corner, the Black Forest ("Schwarzwald") is a range of hills stretching east of the Rhine River. Ancient Romans found the thick forest here inaccessible and mysterious, so they called it "black." Today, Germans and tourists alike are attracted to this most romantic of German regions — filled with hiking opportunities, folk museums, cute hamlets, and no shortage of cuckoo clocks.
Some travelers, driven by bucket lists, get sucked into the highly promoted, tourist-trap versions of a place. Visiting here, they end up at Titisee, a mobbed mountain lake about the size of a parking lot. For a more enjoyable Black Forest experience, drive on backcountry roads, spend a couple hours hiking with sights set on the onion-domed church of the next village, explore the small town of Wolfach, or wander the delightful bigger cities of Baden-Baden (in the north) or Freiburg (in the south).
Until the 19th century, the Black Forest was cut off from the German mainstream. The poor farmland drove medieval locals to become foresters, glassblowers, and clockmakers. Today, Germans come here to recuperate from their hectic workaday lives, as well as from medical ailments — often with the cost covered by Germany's generous public health system.
Baden-Baden is the major spa town of the region, and the highlight of most visits here is a sober, 17-step ritual at the Friedrichsbad, a.k.a. the Roman-Irish Bath. This bathhouse pampered the rich and famous in its elegant surroundings when it opened in 1877. Today, this steamy world of marble, brass columns, tropical tiles, lily pad imagery, and graceful nudity welcomes gawky tourists and laid-back locals. For me, enjoying the baths here is one of Europe's most elegant experiences.
The town itself is chock full of back-door treasures. Just outside the town center is a delightful abbey that operates as a guesthouse. Lichtenthal Abbey, an active Cistercian convent founded in 1245, welcomes the public into its tranquil, gated world. It has survived nearly eight centuries of threats, including the suppression of monasteries in Napoleonic times and destruction during both world wars. Walking through its gate into a courtyard cradled by trees, it's so peaceful that you just know this place is blessed.
South of Baden-Baden is a serene section of forest that's healing from a devastating hurricane. In 1999, Hurricane Lothar tore through here, bringing down 50,000 acres of trees in just two hours. Germany decided to let nature heal itself and built a family-friendly, half-mile-long boardwalk (the Lotharpfad) through a park so people can connect with the slow-motion recovery spectacle and cheer nature on.
At the south end of the region, Freiburg serves as the capital of the Black Forest — a much younger and livelier alternative to more sedate Baden-Baden. While its old center was almost entirely rebuilt after a November 1944 bombing (and feels that way), Freiburg is a hive of small businesses and people living well. Its striking red-sandstone cathedral and its fascinating Augustiner Museum (with fine art and medieval artifacts) are world-class, yet the town exudes an "I could live here" appeal. And with lush forested hills reaching above its venerable town gates, it's a handy springboard for woodsy adventures.
On an afternoon with my local guide, we heard music in the distance and grabbed at the serendipity as it fluttered by. Sure enough, the tunes led to authentic food, great prices, live music, and lots of people embracing life (as Europeans seem so expert at doing). We stumbled upon the Feierling microbrewery — a top local hangout in Freiburg. On warm summer evenings, their beer garden offers cool, leafy shade, quality beer, cheap dishes of cold cuts, and a bustling atmosphere.
One of my latest discoveries is the quaint town of Wolfach, right between Baden-Baden and Freiburg. Nestled in the forest on the Kinzig River, the town is essentially one delightful main street lined with fountains, fine facades, and inviting shops and cafés. At the south end of town, a museum in a castle explores the history of log rafting — crucial to this town's economy in centuries past. (A big part of the Black Forest industrial heritage was timber — assemble a huge raft, float it all the way to Amsterdam, sell the lumber, head home, and do it again.)
And a journey through this region isn't complete without indulging in the local specialty: Black Forest cake (Schwarzwälder Kirschtorte) — mouthwatering layers of schnapps-soaked chocolate cake, cherries, chocolate mousse, and whipped cream.
The tasty charms of the Black Forest are best experienced by delving into the countryside in this land of cuckoo clocks and healthy hikes. You can enjoy picturesque driving tours, a hike between charming small towns, and some fun museums and scenic nature spots. It's yet another blissful part of this iconic region, where nature is respected, and the heritage goes back centuries.