Bristol: Suddenly Sassy
By Rick Steves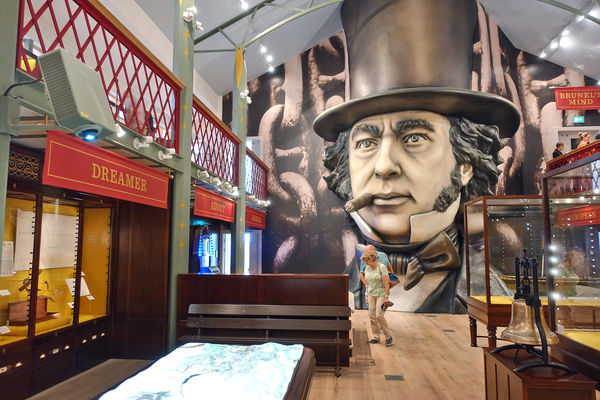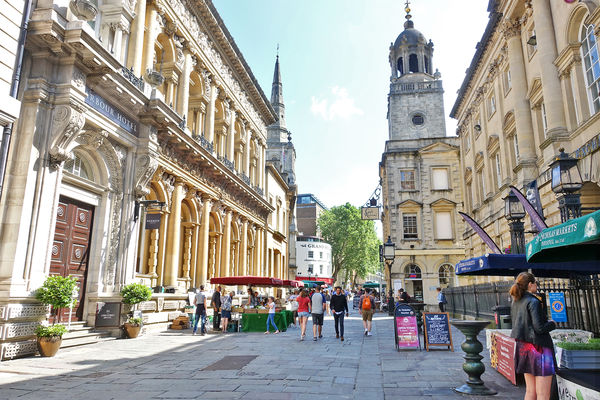 It's a familiar story in Europe: A once-important town falls on hard times, only to make a comeback many years later and thrive in modern times. Add Bristol, England, to the list. Like Belfast, Glasgow, and Liverpool, this rusty old port town is emerging with a special creative energy and is well worth visiting.
Known as the birthplace of world-famous street artist Banksy, with a handful of his works dotting a scruffy part of town, today's Bristol has an energetic and youthful vibe, thanks in part to a university with 50,000 students. This historic yet suddenly sassy city of a half-million people is the rugged, industrial counterpart to Bath, just 30 minutes away.
While Bath is refined and dressy, Bristol feels real. Its sidewalks are fortified with metal edges to protect them from the crush of barrels tumbling between ships and warehouses. So, too, the city has an edge — both its people and its architecture seem weathered yet durable.
Like many coastal cities, Bristol was built on trade. It has Europe's highest tide (45 feet), which made the city a muddy mess until a dam tamed the tides 1809. The dam — with a lock and embankments — created Bristol's "Floating Harbour," which quickly became a port that stayed busy until late in the 20th century.
During the Age of Discovery, Bristol really took off with the rise of trade with the Americas. For a couple of centuries, the city played a major role in the triangular shuttling of manufactured goods, rum, port, sherry, tobacco, sugar, and — most notoriously — enslaved people between Africa, America, and Europe.
With the advent of the Industrial Age, Bristol became England's port facing the west. A big part of the city's story is the prolific work of a Victorian civil engineering genius — Isambard Kingdom Brunel — who designed railway stations, train lines (the Great Western Railway), and the iron-hulled, propeller-driven SS Great Britain, all to expedite trade between London and New York City. (He also designed the picturesque Clifton Suspension Bridge, the symbol of Bristol, about a mile west of town.)
When Bristol's port moved to the mouth of the River Avon in modern times, the old center was redeveloped. Unlike Bath, which protects its rowhouses and keeps them a uniform creamy tone, Bristol is known for its multicolored "painted terraces," coloring the surrounding hills like rainbows.
Exploring Bristol is reasonable on foot — you can walk the center and connect the important sights in under an hour. But on a day trip from Bath, you'll want to allow several hours for sightseeing and a harbor tour.
Fans of Banksy can either pick up a brochure for a do-it-yourself walking tour or catch a street-art-themed guided tour. Those wanting to know the town's history should check out the SS Great Britain, which laid the groundwork for modern shipping. At the time the steamship was built in 1843, it was by far the world's biggest ship, the first major iron-hulled vessel, and the first to make a propeller-driven Atlantic crossing.
The SS Great Britain is drydocked a 10-minute walk west of Bristol's center, marked by its towering old masts. A visit includes a fine museum, the well-restored ship, and an impressive exhibit devoted to Brunel. You can get there on a harbor tour aboard an old, long, skinny canal boat on a relaxing loop around the Floating Harbour.
A short walk from the SS Great Britain is the M-Shed, an old industrial shed that tells Bristol's history with three galleries focusing on places, people, and lifestyles. Historic ships are often moored just outside, including a 1934 fireboat, the Mayflower — the oldest surviving steam-powered tugboat, and a modern replica of explorer John Cabot's good ship, the Matthew. Cabot sailed the Matthew across the North Atlantic in 1497, discovering a new-found land and cleverly called it just that.
Back in town, take a stroll down characteristic King Street, with its historical pubs and the 18th-century Bristol Old Vic Theatre (which locals claim is England's oldest working theater). Because of its strategic and industrial importance, Bristol was heavily bombed in World War II, and you can tell where the bombs fell by the ugly postwar development amid venerable old buildings.
Nearby is the Corn Exchange Hall, the once formal and stately finance center that is now a commotion of bric-a-brac dealers — like a permanent flea market under one grand Georgian roof. Outside, Corn Street was home to England's first banks beyond London and now seems to celebrate the commerce that made Bristol an economic powerhouse. Former palace-like banks and buildings of finance are now mostly grandiose pubs and restaurants.
While you'll still see bankers walking around today's Bristol, you'll also likely see old hippies, college students, hordes of cyclists, and restaurants with vegan menus. With its vibrant mix of old and new, Bristol is back.