Eating Well in Italy on a Budget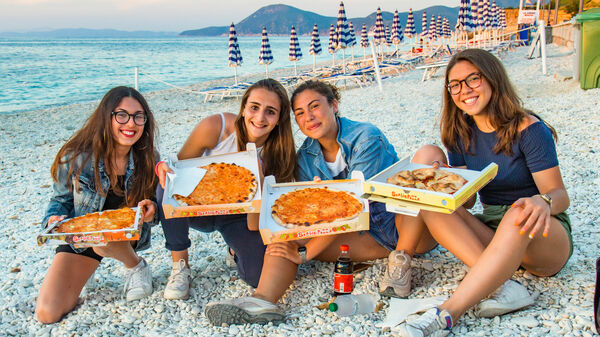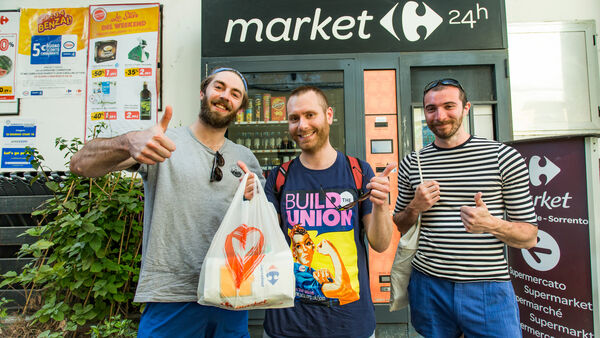 By Rick Steves and Fred Plotkin
Experiencing Italian food and wine can feel like an indulgence, but it doesn't have to be expensive. While it's possible to blow through a lot of money eating in Italy, by choosing restaurants and dishes carefully, you can have an even better experience for less money… and come home with a few euros in your pocket for the next trip.
The top tip is to avoid touristy, obvious restaurants on the main drag or piazza — the ones with big neon signs and multilingual menus. These cater to tourists and specialize in extracting the most money possible from their guests. Instead, go looking for a place focused on cultivating a loyal, local return clientele — with good food and welcoming service at reasonable prices. These can often be found just a few blocks, or even just steps, from the obvious tourist traps. A short, hand-written menu that's only in Italian is an excellent sign of quality. The listings you'll find in a Rick Steves guidebook are a start, but travelers are wise to master the art of finding these places on their own.
If splurging, do so in smaller towns. A basic big-city trattoria might cost as much as a high-end ristorante in smaller towns and villages. To stretch your euros, consider picnicking and grabbing cheap takeout in urban centers, then going all-out for a memorable meal in the countryside. If your accommodations charge extra for breakfast, skip it and instead have an espresso or cappuccino with a pastry standing at the counter in a local bar. This is very affordable, and far more Italian than a hotel breakfast buffet.
In general, when getting drinks or food at a bar, notice the tiered pricing system: You'll pay less to stand at the counter than if you sit at a table. If you're just looking for a jolt of caffeine, slam down your caffè at the bar, along-side the budget-conscious locals. (In fact, the Italian government regulates how much even the fanciest grand café can charge for a stand-up shot of espresso.)
When all you want is a quick, simple, affordable meal, keep your eyes peeled for Italy's many casual take-out alternatives to a pricey restaurant: pizza rustica shops, paninoteche, and cafeteria-style tavola calda bars and rosticcerie.
Picnicking — the traveler's equivalent of raiding the refrigerator for a basic, cheap meal — is another great way to stretch your budget while exploring local flavors; it's even better if you assemble it at a neighborhood market.
If you've had a big lunch, consider taking part in the "apericena" custom that's increasingly common in the North. This is a pun combining aperitivo (aperitif, a late-afternoon/pre-dinner drink) and cena (dinner). An aperitivo might be pricey, but it typically comes with free snacks — a bowl of chips or nuts. And at some bars, it includes an impressive smorgasbord of little finger foods. If you're in need of only a small dinner, you can discreetly turn your cocktail into a light meal.
At restaurants offering a complete, multicourse meal, don't feel obligated to order one of each course (antipasto, primo, secondo, dessert). That's too much food for most diners, and your bill can add up. The general rule of thumb is that each diner can order any two courses. So two people, for example, can share an antipasto, two primi, and a dessert.
Sharing not only cuts costs but also lets you sample more flavors — stretching your budget per taste. Also look for places offering bis di primi — two half-portions of pasta on one plate, rather than having to order two full portions.
Italian restaurant desserts can be hit or miss. Instead of ordering a fancy dessert costing several euros, politely decline and go for an after-dinner walk in search of a cone of cheap, delicious gelato. Or get a bottle of dessert wine (such as Vin Santo) and some dry biscotti, and enjoy that light dessert back at your hotel.
Don't assume that the famous wines are the only good ones. Table wines are much more affordable and often exceptional. At a meal, there's no expectation that you order a high-end bottle, and in fact, the vino da tavola pairs perfectly with your meal, since it was produced in the same area.
Also, some famous areas have a more affordable alternative grown nearby. In Tuscany, Brunello di Montalcino comes with a huge price tag, but Rosso di Montalcino (grown nearby, using similar methods and grapes) costs half as much.
---
This article was excerpted from Rick and Fred's new book, Italy for Food Lovers.