Burgundy: Bulging Barrels, Barging, and Beyond
By Rick Steves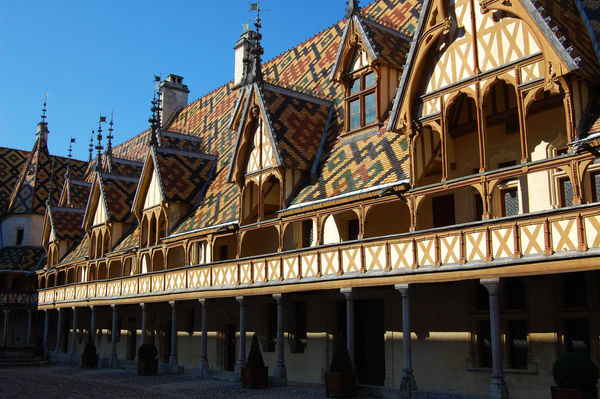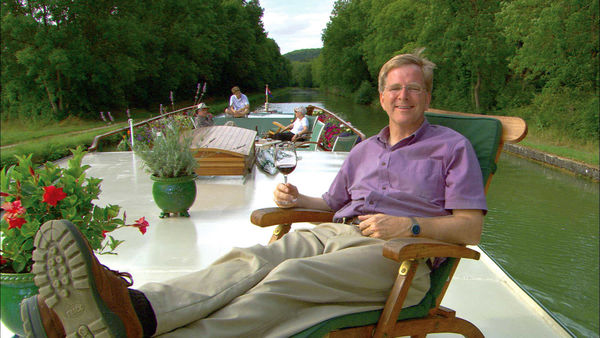 My favorite corner of France is bucolic Burgundy, a region overflowing with edible, drinkable, scenic, and floatable delights. Crisscrossed with lazy canals and dotted with quiet farming villages, it's easy to like — and its sunny hillsides produce the superior wines and fine cuisine that say "French."
The city of Beaune, snug within its medieval walls, makes a handy base for exploring the region. You'll feel comfortable right away in this prosperous and popular town, where life centers on the prestigious wines grown in the picturesque vineyards all around. Medieval monks and the powerful dukes of Burgundy laid the groundwork that established this town's prosperity. The monks cultivated wine, while the dukes cultivated wealth.
Beaune's real charm is the town itself, which is especially vibrant on Saturday, the market day, when colorful stands fill the square. There is one must-see sight in town, the Hospice de Beaune, a medieval hospital. Six hundred years ago, concerned about the destiny of his soul, one of Burgundy's wealthy sons attempted to buy a ticket to heaven by building this charity hospital. Rich and poor alike came here to die (a few even got better). The colorful glazed tiles on its roof established the classic style repeated on ancient buildings all throughout Burgundy.
In Beaune, every other shop seems to be selling wine. The production and consumption of the famous Côte d'Or ("Gold Coast") wines is big business, and a good "nose" is a life skill worth developing. Your visit to Burgundy can include just about every aspect of the wine trade, right down to traditional barrel making. This time-honored craft is kept alive at cooperages, where crafting barrels is a mix of modern efficiency and traditional techniques. Workmen use steam and bands of iron to bend oak staves into wine-tight casks. The characteristics of the wood contribute to the personality of Burgundy's wine.
Each bit of land in the region has its own terroir — a unique combination of macro- and microclimate, geology, soil characteristics, exposure to the sun, and altitude. Aficionados say that the quality of wine can be different from one spot to another just 200 yards away. Visitors are sometimes surprised by the poor-looking soil. Struggling to survive in the rocky ground, the grapevines manage to produce fruit of wonderful character and aromatic complexity.
To the connoisseur, the lovingly tended fields of Burgundy are a kind of pilgrimage site for those versed in this drinkable art form. Sightseers are welcome to drop in at many wineries, enjoy a little tasting, and pick up a bottle or two. Drivers enjoy motoring on Burgundy's lovely tree-lined roads, and bikers are happy here, too. Except for the rare farm vehicle, service roads are the domain of two-wheelers pedaling among the scenic villages.
An even more peaceful way to see Burgundy is by barge. Like much of France, Burgundy is laced with canals dug in the early industrial age. Two hundred years ago, these canals provided the cheapest way to transport cargo. With the help of locks, you could actually ship your goods clear across France, from the Mediterranean to the Atlantic. Today, trucks and trains do the heavy hauling, and the canals are for relaxed barging.
Perhaps surprisingly popular in a country famous for super-fast trains, barge travel has two speeds: slow and stop. Full-service barges can be hired with a captain and crew who do the navigating, cooking, and guiding. Boats have fine staterooms with all the comforts you'd expect in a good hotel. You'll invariably be eating and drinking some of the best that Burgundy has to offer: boeuf bourguignon, coq au vin, escargots, and the celebrated local wine.
The Burgundy canal is 145 miles long, with 209 locks. Your barge ride is punctuated by a lock every mile or so. By rising from lock to lock, boats can gently "climb," step by step, over the rolling terrain. Each lock is a treat. Attendants who live in the historic lock houses are friendly and always ready to help out. Some locks are automated, while others involve a little old-fashioned elbow grease to ease the barge through.
The French, who invented our modern concept of a vacation, are on to something good with barging. Whether on a luxury barge or a captain-it-yourself boat, the basic barging experience is the same: a lazy, intimate glide by pastoral yards and green fields. Barges come with bikes, and the pace is slow enough to allow for excursions. But what could be more enjoyable than sitting back in a deck chair and letting the sights come to you?