In Early-Evening Italy, Campari Is King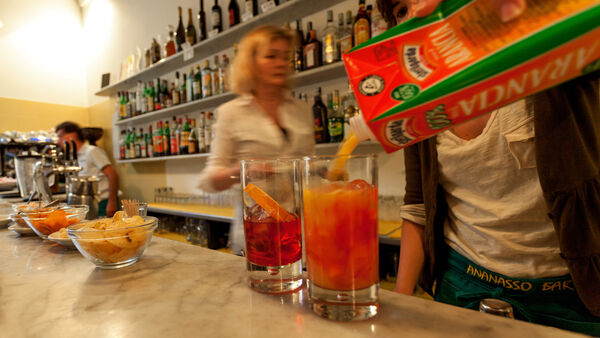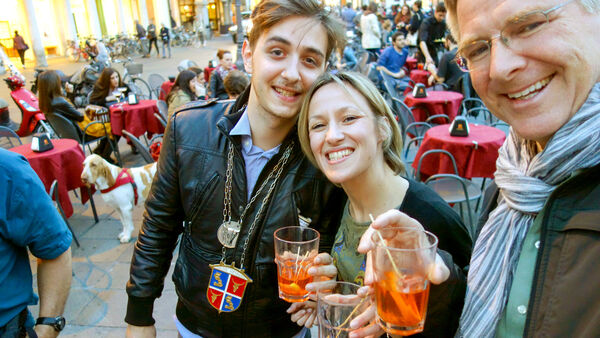 By Heidi Van Sewell
For anyone who has ever tried it, you know Campari is an acquired taste. It's so bitter it makes your toes curl!
But the before-dinner drink is almost a sacred event for many Italians, and knocking back a casual aperitivo (cocktail) with friends is the way locals shake off the workday and whet their appetites for dinner. Many beverages qualify as aperitivi, but Campari is king.
This bitter liqueur, made from aromatic herbs and orange peel, was invented in Milan in the 1860s and today enjoys an understated sophistication.
Campari is best when accompanied by salty snacks, like potato chips, which counterbalance the jet of saliva shocked from your salivary glands. You initially might think you hate it, but as you continue to sip, you'll begin to appreciate the depth of the liquor and the contrast between the jewel-red elixir in your glass and the salt of the snacks offered at the bar.
Italians have concocted all kinds of ways to drink Campari; but most connoisseurs will tell you that the simplest preparations are the best. Italians will order Campari e soda or Campari e vino bianco, also known as Campari macchiato, a name that implies it's been "stained" with white wine. In the Veneto region, people drink their Campari in a much more complex cocktail called a "spritz," made of Campari, Cynar (a bitter herb liqueur), white wine, and soda water garnished with an olive and a wedge.
However you decide to order your Campari, be sure to stand at the bar to maximize your opportunity to rub elbows with the locals, nibble the snacks, and enjoy this quintessentially Italian aperitivo.
Cin cin!
---
Heidi Van Sewell is a veteran Rick Steves tour guide and guidebook researcher.