Castle Scenes and Ice Cream Dreams in Prague
By Rick Steves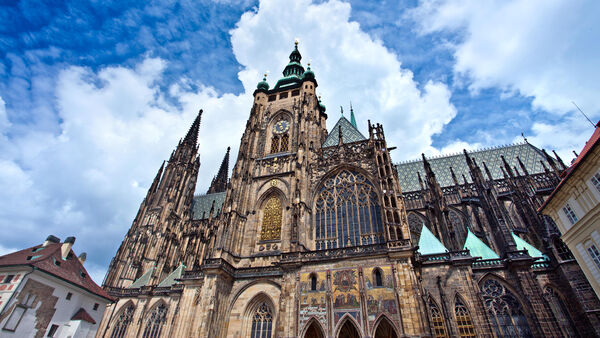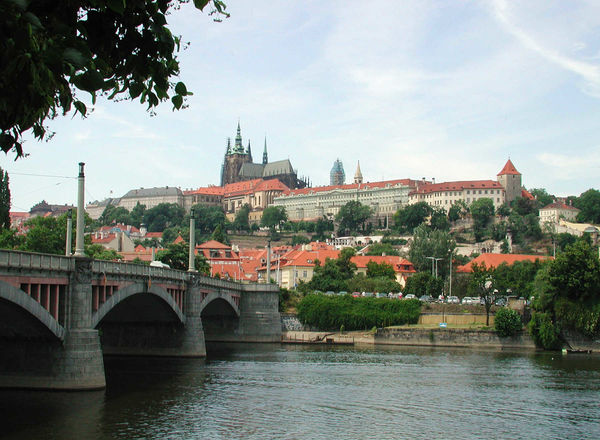 Prague is one of Europe's best-preserved cities, having been spared from last century's bombs. Nowhere is this more evident than in the hilltop Castle Quarter, which looms above the city and dominates the skyline. Filled with high art and grand buildings from the past 1,200 years, this area is packed with history. Even today, you feel like clip-clopping through this neighborhood in a fancy carriage.
Dominating the Castle Quarter is Prague Castle. Czech leaders have ruled from here for more than a thousand years. The castle is hailed as being the biggest anywhere, with a 1,500-foot-long series of courtyards, churches, and palaces. If exhausting is a measure of big, I'll buy that claim. On a recent visit to the castle, I felt as if I was in a pinball machine — rolling downhill, bouncing from sight to sight before funneling out the lower gate.
My first stop was St. Vitus Cathedral, the most important church in the Czech Republic — and the most crowded part of the castle complex. The centerpiece of the cathedral is Alfons Mucha's masterful 1931 Art Nouveau window, depicting the saints Methodius and Cyril, widely considered the fathers of Slavic-style Christianity.
The cathedral is also home to the tombs of royal and religious VIPs, such as Ferdinand I, the first Habsburg emperor, as well as St. John of Nepomuk, a national saint whose tomb boasts more than a ton of silver. Because of the church's proximity to the royals' home, the king had his own boxed pew — connected by an elevated corridor to his private apartment so that he could attend Mass in his jammies.
After crossing the square, I visited the Old Royal Palace, seat of Bohemian princes since the 12th century. Back in the day, the palace's large hall was filled with market stalls, giving nobles a chance to shop without actually going into town. The space was even big enough for jousts, with a staircase that was designed to let a mounted soldier gallop in. Until the late 1990s, this is where parliament gathered to elect the president.
I stopped for an ice cream — a temptation I rarely succumb to anymore (25 years as a tour guide burned me out on gelato). I was lured in by an incredibly charming schoolboy, who was hawking Prague's favorite ice cream, called "Cream and Dream" (the name almost makes me blush). I tried banana, his favorite flavor. I purchased a cone. It almost lived up to its name.
Licking my ice cream, I wandered down to the Toy Museum, at the bottom of the castle complex. This is one of those museums that sounds silly, yet is actually great. It's got a century's worth of teddy bears, some 19th-century model train sets, old Christmas decor, and an incredible Barbie collection, complete with social commentary. Looking at the buxom first-edition Barbie, I see why these sirens of capitalist sirens of material discontent and objectifiers of women's bodies weren't allowed here until 1989.
Just across the castle lane from Barbie is Lobkowicz Palace, which displays the private collection of a prominent Czech noble family, including paintings, ceramics, and musical scores. This was my first visit to this collection, and I was ready to laugh at the banner outside boasting that it's "Prague's Best Palace to Visit." I generally find those kinds of claims to be misleading come-ons, so my first instinct is to disprove them.
I was happy to be proven wrong. The highlight is the fabulous audioguide, narrated by the count of the palace himself, William Lobkowicz. Formerly a Boston investment banker, William returned here in 1990 to reclaim his family's properties and eventually restore them to their former state. The audioguide, which is included in the visit, brings the place to life and lets you get to know the family — who lost all their possessions to the Nazis, got them back after World War II, and then lost them all again to the communists.
After turning in the audioguide, I gave the clerk my business card and told her to thank the count. She asked me if I'd like to meet him. So William and his wife Sandra ended up taking me through the palace for a more intimate peek at things. We talked about post-Nazi restitution challenges and triumphs, and the fact that many nobles have gotten a bad rap since the French Revolution. As William put it, "We're just real people who own lots of big palaces." As if to prove a point, a cute schoolboy popped in on our conversation. It was William Junior...done selling ice cream for the day.