New Year's Eve in Havana
By Rick Steves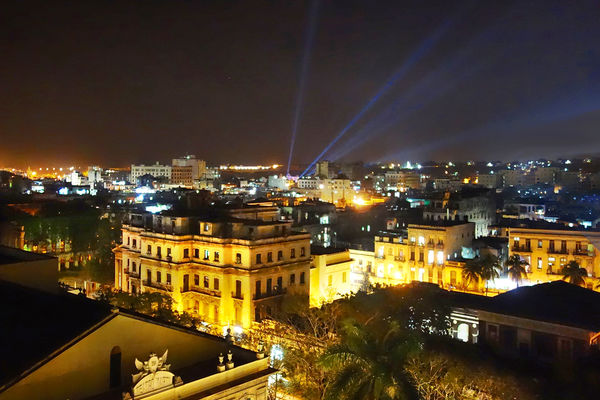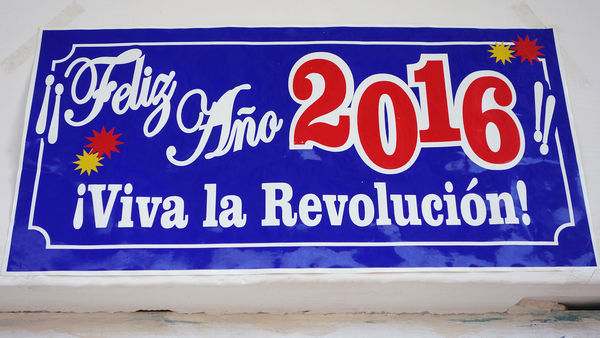 (Rick Steves traveled to Cuba in 2016 shortly after diplomatic relations were opened with the United States. The entry requirements for Americans visiting Cuba have changed since Rick's visit. Check the latest details before planning your trip. This article is the first article in a two-part series about his impressions of the island.)
I welcomed the year 2016 in Cuba, where my family and I and spent New Year's Eve prowling the streets of Havana. Fun and festivity were in the air. In one wild night, I made a new friend and was invited to a party I'll never forget.
Anticipating a Cuban New Year's bash, tourists usually gather in Havana's old town. The cathedral square is filled with tables, and servants scamper to keep the breeze from destroying their handiwork with the napkins.
But we decided to leave the touristy center. We walked three blocks into a barrio with buildings aging like melted sugar cubes and people who, it seems, view the world from their shabby doorsteps. The sound of creaky rotating spits dripping the fat of roasting pigs onto hot coals signaled that a big party was just warming up.
Peeking into a once-grand entryway, now draped in poverty, I saw a ramshackle spiral staircase leading into what seemed like a dark attic. But the stairs led to many floors of apartments — each with a family primed to enter the new year.
Marveling at the play of light rays streaming through cracks — highlighting random corners of the otherwise dark space — I realized it's all perfectly monochrome. As I steadied my camera against the door to compensate for the low light, a man suddenly stepped into the shot. Wearing a blue-and-black-striped shirt, with crucifix bling dangling from his neck, he looked like a young Arsenio Hall. The bright-blue stripes and his toothy smile popped in all that black and gray.
"Me llamo José," he said. We talked and shared our "Feliz Año Nuevo" wishes. Americans are still an oddity here, which helps stoke conversation. José told us he was heading up that haunted-house spiral staircase to his family's party, and invited us along. Knowing that this is the kind of opportunity I travel for, we accepted.
Rocking chairs spilled out onto the third-floor landing, providing an alternative space for the old boys to gather. Drawn to the bright light of the family room — a big space for cooking, eating, and lounging — we were welcomed into a four-generation scene. (Generations pile up quickly in Cuba, as girls have kids early. José is 39 and already a grandfather. He doesn't like that his 13-year-old daughter had a child…but what can you do?)
I've enjoyed many situations partying with very poor people. But this scene seemed different. I sensed a high level of education in Cuba; it seemed to have the highest level among the poor of any place I've traveled. Regardless of any family's ability to pay, Cubans have all been to school.
With the conversation raging, the brother showed me his smartphone with quotes from Abraham Lincoln in Spanish. He translated one roughly: "The best form of justice is not always the best politics."
José asked if I want a drink. "How about a cerveza?" I asked. "No," he responded, handing me a tiny glass of straight rum. Cubans tell me that all you need for a party is a $3 bottle of good rum…or, for special occasions, a $5 bottle of great rum.
We all danced to the boom box. Our new friends taught us to rhumba. A 10-year-old Michael Jackson wannabe was happy to show the visiting tourists the steps. The patriarch proudly snapped photos.
Looking for some quiet, I stepped out onto the balcony. From that corner perch, the grimy city stretched in four directions. Nearly all the action seemed to come from families gathered in homes — certainly more affordable than going out.
When midnight struck, everyone crowded out onto that balcony to enjoy the local tradition of pelting with garbage and water anyone clueless enough to be out and about.
Later, we walked six blocks back to Cuba's towering capitol building. Across the street, we climbed to the rooftop of a hotel and crashed a classy $50-a-plate dinner, with a band playing poolside. Even with over-the-top food and party favors that cost about a month's local wages, everyone here seemed dreadfully bored. The contrast between this scene and the humble apartment where we just enjoyed our New Year's celebration was thought-provoking.
Out after midnight in a Havana barrio, we felt perfectly safe...except for ankle-twisting potholes and passing bici (bicycle taxis) in the dark streets. Ready to head home, we jumped into a taxi and I said, "Miramar" (our B&B neighborhood). The driver said, "Twenty CUC" — that's about $20. I said, "Ten." He said, "No, this is a 1956 Pontiac. Fifteen." I said, "OK." He said, "Feliz Año Nuevo," and we rumbled home…capping a New Year's Eve I'll long remember.