Cycling Through Stockholm
By Rick Steves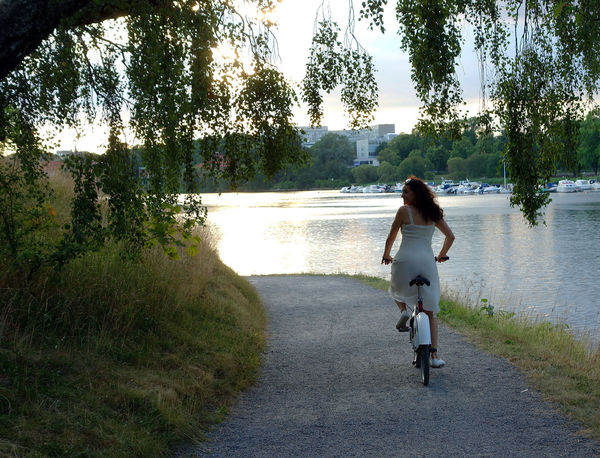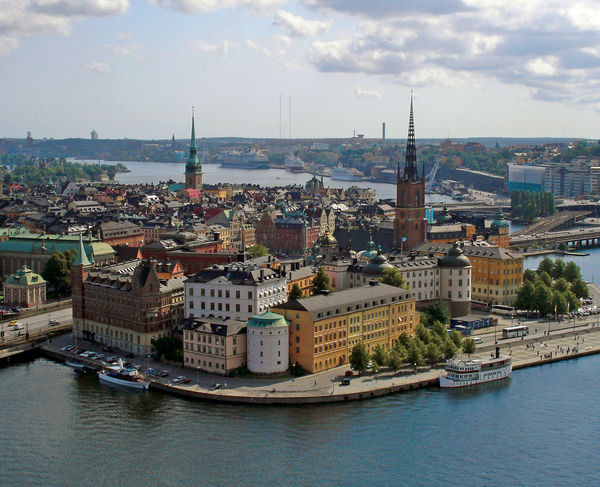 Composed of roughly equal parts pleasant city streets, leafy parks, and saltwater bays, Stockholm is one of Europe's most beautiful cities. It's a city in love with cafés, fine urban vistas, and biking.
Sitting in one of those cafés and enjoying one of those fine vistas on a recent visit, I started talking with what Swedes would call a "Latte Dad." Swedes get generous parental leave, and if dads don't take the 90 paid paternity-leave days allotted to them, they lose it (same goes for moms). This means that men as well as women clog the cafés with their baby strollers. This particular Latte Dad told me I should bike this island city's shoreline and harborfront at 4 a.m. He said, "With our long summer days, it's sunny and absolutely empty. It's just you and the birds."
Well, OK. But I found it's beautiful at 4 p.m., too. I make a point to bike in the early evening, when lots of people are out, the light is warm, and colors pop. Bike paths are a city-planning priority, and they run along the entire harbor. And Stockholm's park-like islands are biking utopias with little traffic.
Tracing the downtown shoreline while dodging in-line skaters and ice-cream trolleys (rather than cars and buses), you can pedal the watery perimeters of the old town (Gamla Stan) and along the trendy shore of Lake Mälaren, with the sun shining red and orange and gold through the cocktails and beers on the tables of its outdoor lakeside cafés.
On your bike you can join the urban paseo down Strandvägen — the harborfront of the trendiest neighborhood — pedaling past weather-beaten historic sloops and below the top addresses in town. As you roll, keep in mind that there's free fishing in central Stockholm, and the harbor is restocked every spring with thousands of new fish. Locals tell of one lucky lad who pulled in an 80-pound salmon.
Strandvägen leads to my favorite biking zone, Djurgården ("Animal Garden"), once the king's private hunting preserve. Just after the bridge at the entry to the island, you pass a blue gate that heralds the Royal Hunting Park, and you're in today's Royal National City Park. You never know where the sleepy lanes of Djurgården will take you. As if hiding out from the intensity of the city, Rosendals Garden Café crowns the summit of the island. You can get a picnic treat at the bakery or eat in the greenhouse. I like to sip a coffee in their delightful orchard in the flower garden, where locals come to pick a bouquet and pay by the weight. The café proudly serves its own produce...its garden fertilized by horse dung from the neighboring Skansen folk museum. Rolling down the garden-like lane past Rosendals Slott, the summer getaway mini-palace of a 19th-century king, I pass a giant 9-ton porphyry vase in a backyard and marvel at how, on a bike, you see things that those on tour buses never would.
Stockholm offers many biking opportunities. From Djurgården, you could take a ferry to Skeppsholmen — a small, central, traffic-free island park with the city's Museum of Modern Art. Or head to the island of Riddarholmen, featuring a historic church and a panoramic view of the city and Lake Mälaren.
Renting a bike is cheap and simple. If you'd like to feel more like a local, consider the city's bike-share system. Cities all over northern Europe have loaner bike programs. Some cities lend themselves to biking, while others don't. Some programs seem designed exclusively for locals, while others work well for visitors, too. Stockholm's program offers us the best of both worlds: The city is great for biking, and the system is straightforward for travelers to use.
For around $20, you can purchase a City Bike card at the tourist information office, transportation info centers, or at many hotels and hostels. The card allows you to grab a bike from one of the more than 140 City Bike racks around the city. You must return it within three hours to any rack, but if you want to keep riding, just check out another bike. You can do this over and over for three days.
Biking around Europe's cities gets you close to the ground and close to the people. Europeans love bicycles, and they are often genuinely impressed when they encounter Americans who reject the view from the tour-bus window in favor of huffing and puffing on two wheels. Consider this cheap and breezy option next time you're in bike-friendly Stockholm.