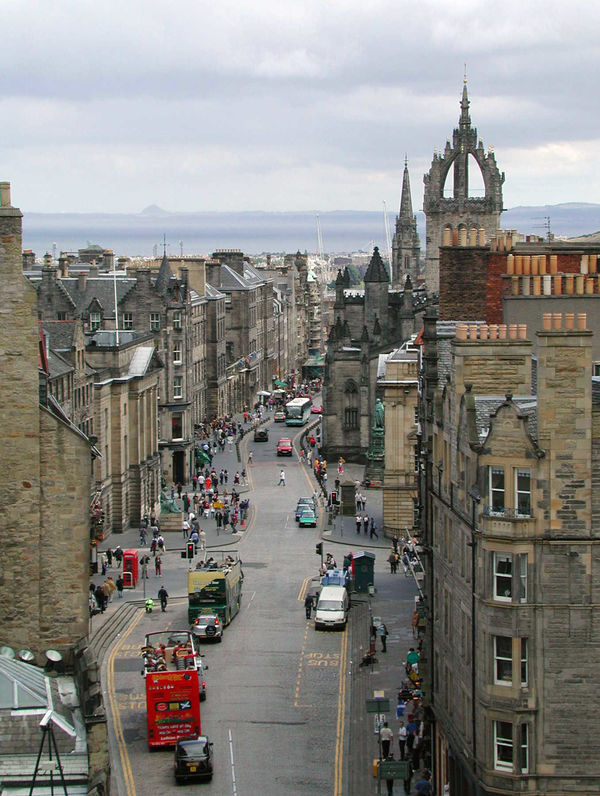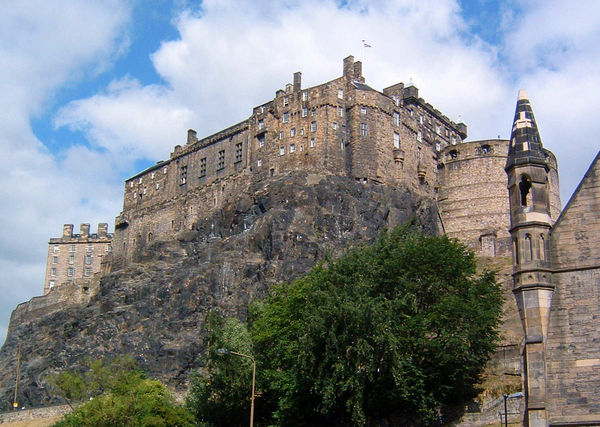 By Rick Steves
On one of my earlier visits to Edinburgh Castle, I stood shoulder to shoulder with the tall mustachioed guard, our noses pressed against the glass gazing at Scotland's Crown Jewels. He said, "Ours are older than England's."
I asked, "How can that be?"
He explained, "Cromwell destroyed England's jewels. But we Scots are good at hiding things. These are Scottish-made: diamonds, gems, and Scottish gold. The last time that crown was worn was in 1651…the coronation of Charles II.
"Young man, do you know about our Stone of Scone?" he asked, leading me to the plain and strong stone the size of a car tire next to the jewels. "Twelve hundred years ago, this was the coronation stone of Scotland's kings. The English stole it. For 700 years it sat under the coronation chair at Westminster Abbey. But we got it back. It was November 15, 1996. A glorious day for Scotland. You should have seen the fanfare."
Edinburgh Castle kindles Scottish pride. Statues of King Robert the Bruce (1274–1329) and Sir William Wallace ("Braveheart," 1270–1305) guard the castle gate. Wallace (now famous outside Scotland thanks to Mel Gibson) fought long and hard against English domination before being executed in London — his body cut to pieces and paraded through the far corners of jolly olde England. Bruce beat the English at Bannockburn in 1314. Bruce and Wallace still defend the spirit of Scotland.
Head to the castle's balcony for a grand view of Edinburgh's Royal Mile. It leads down through the old-time city of Robert Louis Stevenson, Walter Scott, and Robert Burns to the Palace of Holyroodhouse. Medieval skyscrapers hide the peaceful courtyards of what was once the most crowded city in the world. To really experience the gaslit ambience of the Old Town's alleys and courtyards, take one of the many evening walking tours on offer. This part of the city is one of the world's best settings for a ghost walk — the theatrical and creatively staged The Cadies & Witchery Tours is the most established of the city's many spooky-themed walking tours.
If you're at the castle at the right time, you too might be jolted out of your reverie by the explosive sound of cannon fire — it happens every day for the one o'clock salute. Hanging over the balcony, if you look past the smoking guns you can see the castle's small pet cemetery and its sweet little line of tombstones marking the graves of soldiers' doggies (casualties of yesterday's one o'clock volley?).
Looking from the castle ramparts across the valley of Princes Street Gardens you get a great view of the "New Town," Edinburgh's grand, Georgian side of town. Crammed with modern shops, it shines with the broad boulevards and straight streets of the proud Neoclassical style of 200 years ago, and is still home to elegant Georgian mansions decked out in colonnades, pediments, and sphinxes. For a trip back to 1796, pay a visit inside the Georgian House, a refurbished Neoclassical house on stately Charlotte Square. Exhibits and a video dramatize the upstairs, downstairs lifestyles of the aristocrats and servants who lived here, recounting the era when a newly gentrified and well-educated Edinburgh was considered "the Athens of the North."
For an unforgettably odd memory, head to the Midlothian Snowsports Centre in Hillend (a little south of town — works best for drivers) and give "brush-skiing" a try — downhill skiing without all that pesky snow. While you're actually skiing over what seems like a million toothbrushes, it feels like snow skiing on a slushy day. Beware: Local doctors are used to treating an ailment called "Hillend Thumb" — thumbs dislocated when people fall and get tangled in the brush.
Every August a number of festivals — official, fringe, book, film, and jazz and blues — rage simultaneously for weeks on end, turning the city into a carnival of the arts. Every day is jammed with enough music, dance, art, drama, and multicultural events to make even the most jaded traveler drool with excitement.
The official festival is the original, more formal, and most likely to get booked up first. Major events sell out well in advance. The less formal Fringe Festival features "on the edge" comedy and theater. Tickets are usually available at the door, but popular shows can sell out.
The Military Tattoo is a massing of the bands, drums, and bagpipes with groups from all over the former British Empire. Displaying military finesse with a stirring lone-piper finale, this grand spectacle fills the castle esplanade nightly except Sunday, normally from a week before the festival starts until a week before it finishes.
During festival season, many city sights run on extended hours, and those that normally close on Sunday open in the afternoon. It's a glorious time to be in Edinburgh — just be sure to book a room far in advance for any August visit, and expect much higher room rates. But it's worth it, and what with all the spontaneous fun on hand, it's smart to schedule in an extra a day or two more than you might think you'd need. It's also smart to book your tickets a few months ahead for the Tattoo and any official-festival events that interest you (even Fringe performances book up ahead, but if you're not picky you'll find plenty of shows offering same-day tickets).