Everyday Europe: Turning Travel Chores into Cultural Gems
By Rick Steves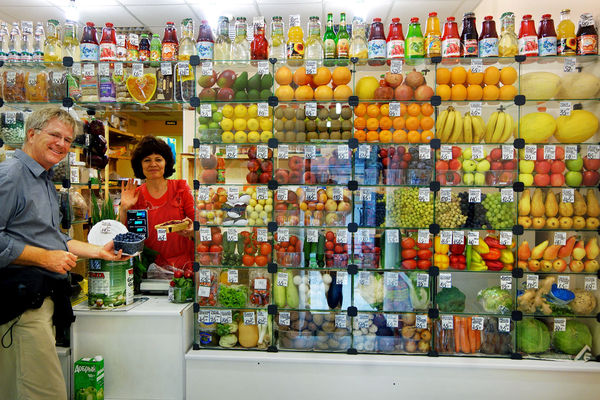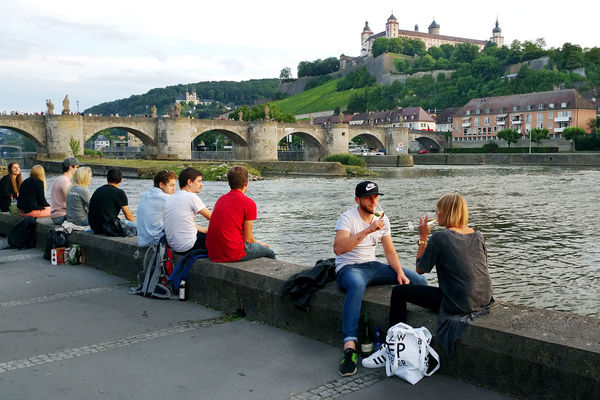 I often preach that travel is more rewarding when you get beyond the blockbuster sights and touristy clichés and get intimate with a culture and its people. One way to do that is to pass time like a local rather than like a tourist. From relaxing with Europeans in a park to munching on fresh seafood alongside workers at a market hall, taking part in ordinary European rituals provides a great window into each country's culture.
One of the easiest ways to interact with locals is to visit a grocery store or marketplace. Food shopping is an integral part of daily European life for good reasons: People value fresh produce, have small refrigerators (kitchens are tiny), and enjoy the social interaction. Nearly every town, large or small, has at least one colorful outdoor or indoor marketplace.
Recently, I discovered many French cities now have modern and efficient farmers markets in practical indoor halls, with parking garages overhead. These were built so this important slice of culture can survive the competition brought on by France's hypermarchés (huge suburban superstores). At these markets you'll find lots more than a charming and colorful people scene; you can also eat well and affordably. These days, in nearly any European city, I find sitting down with local shoppers at the traditional market to be a great way to enjoy lunch and feel the pulse of everyday life.
Just as fun as diving into a marketplace is ducking into the corner grocery. While St. Petersburg, Russia, has lots of earthshaking turnstile sights, simply visiting a corner minimarket was one of the highlights of my last trip there. Buying some handpicked blueberries gave me a chance to exchange smiles with the owner, who rarely encountered tourists, resulting in fun memories for all.
Europeans love their public outdoor spaces, and on any nice day, you'll find its parks, squares, and waterfronts filled with families, lovers, and old-timers enjoying a cheap afternoon or evening out. Joining them is a wonderful way to spend a few hours and become a part of the local scene.
In Copenhagen, you can have a drink at the hotel bar with other tourists — or you can buy cheap beers at a convenience store and revel with young Danes along the canal or in a royal courtyard. In Vernazza or any Italian harbor town, do laps with the pensioners who've been strolling back and forth from the breakwater to the parking lot with the same crowd for decades. In Würzburg, Germany, spread out a picnic on the park-like stretch of riverbank, which comes with plenty of benches, beer-or-wine-drinking students, the down-and-out collecting their bottles, and great views of the river, bridge, and hilltop fortress.
Even mundane tasks can be fun when you're somewhere different. For me, one of the small delights of travel is getting a haircut. I used to dread this task, as it was one time that the language barrier had real and enduring consequence. But lately, I've relished the opportunity to get a haircut in Europe because it gets me in a chair talking with a real person who's not in the tourist trade.
To find a barber, I simply keep an eye out for a place that feels right — away from the tourist zone, and with a successful but not too trendy vibe. It's easy to drop in, make a reservation that works conveniently into your sightseeing, and then come back later. It's also a fun way to meet people. Last summer in Växjö, Sweden, I enjoyed getting to know my stylist Maria — an immigrant from Bosnia — who gave me unique insight into Swedish culture today.
As a hardcore advocate of packing light, one of my main travel chores is doing laundry. While I tend to rely on elbow grease and hotel room sinks for a good month, sooner or later it becomes fragrantly clear that a thorough wash is needed (usually when people stop sitting next to me on the train).
All over Europe, self-service launderettes provide machines with clear English instructions, a relaxing place to unwind, and a very local experience. At most places it takes about an hour and $10–15 to wash and dry an average-size load. Use the time to picnic, journal, correspond with people at home (many launderettes have Wi-Fi), or chat with other customers. Launderettes throughout the world seem to give people the gift of gab. Take advantage.
As a tourist, it's helpful to enjoy the little chores and rituals of daily life. You may find that an afternoon spent doing laundry or shopping for groceries can be just as valuable — and memorable — as seeing Europe's great sights.