Flying with Fritz in Switzerland
By Rick Steves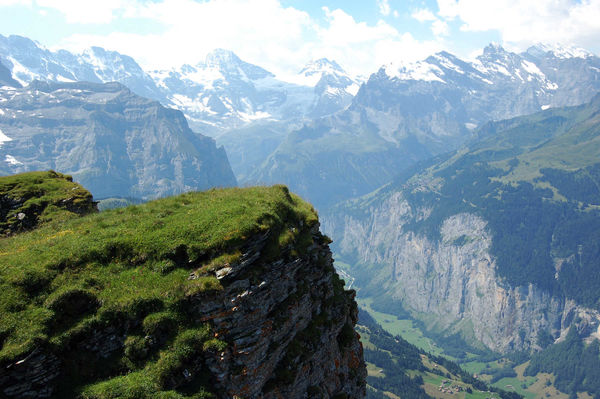 Swiss people are experts at living with nature. Like people who live along the coast have telescopes to watch the ships, Swiss mountain dwellers have telescopes on their back decks to watch the mountain face across the valley — they know their mountains intimately…where the ibex graze, where little avalanches tumble, and where the rock climbers bivouac.
Their land, long a mountain fortress, is now a "playground for big boys," as my friend Fritz Hutmacher once put it. Fritz, a dynamo who once ran my favorite little hotel in Interlaken, had just broken his collarbone. For the first time, I was able to keep up with him. He climbed a mountain on his bike just to see the sunset. I'm forever thankful to Fritz (who was roughly my age, but died in 2011) for alpine mountain-biking my son Andy into the ground — and then taking him "flying."
Paragliding was Fritz's passion. He was forever nagging me to "go flying." "Flying with Fritz" (tandem paragliding) was his side business. Andy still talks about his exhausting and exhilarating day riding and flying with Fritz.
As a hotelier, Fritz was tuned into the phenomenon of Indians coming to the Alps in droves. Fritz had explained that Indians are a huge and welcome part of Interlaken's tourist business. Many come to see mountain scenes made famous in Indian movies. Because of tension between Hindus and Muslims, India's mountainous Kashmir region is too dangerous for movie production. Many romantic Indian movies are now filmed in Swiss mountain wonderlands, where lovers swoon with maximum melodrama. There's even a restaurant called "Bollywood" in the 11,000-foot high Jungfraujoch train station.
I was with Fritz when a freak hailstorm pulverized Interlaken. It had been really hot. Locals — like squirrels before a storm — had sensed it and were nervous. Something big was clearly coming. It got dark. Then bam — it was like a typhoon in the Alps. I parked my bike just in time to take refuge in Fritz's hotel.
Standing on my balcony, Fritz and I watched as car roofs were blanketed in dents and flower gardens hammered into pulp. The road became a river of flowing hail balls, leaves, and flower petals. To people living close to the weather here in Europe's Alps, the strange and changing weather is a maddening reality.
The next morning Fritz and I went on a hike. Riding the lift to Männlichen, high on the ridge above Interlaken, we stepped off and into a visual symphony: Before us towered the mighty Eiger, Mönch, and Jungfrau — for me, the most breathtaking alpine panorama. Fritz, who had worked at the mountaintop restaurant at Männlichen as a kid, talked of the changes here in the last decade. Walking by a glacial pond, he recalled how it had long been ringed by hundreds of singing frogs. Now there are none.
We studied a new ski lift being built. Before, the footprint of a new lift was mainly just a few new towers. Now, a swath is cut right up the mountain as each lift is plumbed with snow-making gear. Big water pipes stuck out of the concrete foundations, seeming to trumpet a new age. Fritz said, "In Switzerland we will no longer have ski resorts in the future without manmade snow."
Today the Swiss ski industry is in crisis: A third of the lifts are losing money, a third are in trouble, and only a third are good business. I pulled out the postcard Fritz had given me. Wiggling it, I saw the glacier come and go. The valley in 1907...filled with ice. The same valley in 2007...dry with a shrunken glacier hanging like a panting dog's tongue over the top of the valley high in the distance.
Gazing up at the north face of the Eiger, Fritz once told me of speed climbers, who leave Interlaken on the early lift, scale this Everest of rock faces, and yet make it back to Interlaken for a late-afternoon business meeting. Fritz added, "But as the permafrost thaws, there are more falling rocks. Because of that, mountain guides are abandoning once-standard ascents that are no longer safe."
While travelers flock to Switzerland, ride the lifts, walk the dizzying ridges, and hungrily dip their bread into the bubbling cheese after a long hike, it seems to me it is the Swiss themselves who get the most joy out of their mountains. They know the story behind every peak, the flower behind every rock, and the natural treasure that is their breathtaking land.