Food Tours: Europe's Moveable Feasts
By Rick Steves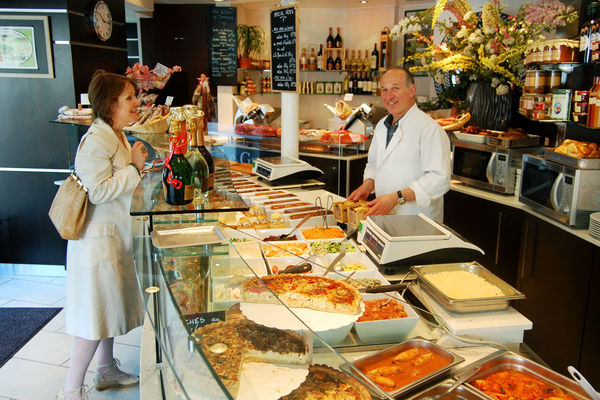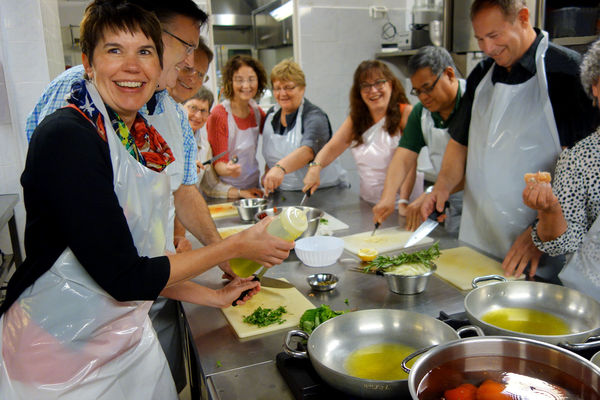 In my quest to experience Europe as the locals do — intimately and on all fronts — I make a point to eat well. My trip is always the better for it. (My challenge is broadening my perspective while leaving my waistline unchanged.)
These days, my job of eating well is getting easier all the time. Food tours and cooking classes have become a big deal all over Europe.
Most food tours have lunch or dinner versions, last about three hours, come with a mile of walking, and include four to eight stops. Along the way, you'll sample a variety of local flavors for a bit more than the cost of a splurge dinner ($70–100), all thoughtfully explained by a local guide.
The eating styles vary: Some are mobile feasts, where you stand and share a plate of little bites, while others feature sit-down dining experiences. All will fill you up, and should be considered a meal and a tour, wrapped up in one (making the expense easier to swallow).
I'd skip the bigger, more expensive, and slower tours. The best ones move at a brisk pace and max out at eight or ten people — which means you can squeeze into small shops and boutique restaurants. The most expert guides fluidly intersperse history, tradition, and local food culture while giving you a great glimpse into daily life in less-seen parts of a city.
One one summer visit, I signed up for a food tour of Paris's historic Marais neighborhood. Our first stop was a bakery that had just placed in the city's annual "best baguette" contest.
As we tore into our just-out-of-the-oven bread, our guide made sure we heard the telltale "crrrrriiikkk" of a perfect crust breaking. The French take their bread seriously: by law, a true baguette must contain only flour, water, salt, and yeast. You can tell if a loaf is handmade by its pointy, not blunt, ends.
And then there were the croissants. Before this tour, I never knew that the shape of a croissant could tell me if it was made with butter. Butter produces a croissant with more-or-less straight sides. The croissant ordinaire, with a curvier profile, is made with lowly margarine.
Our next stop was a traiteur — a gourmet deli. Locals who don't feel like cooking (worn out by their 35-hour work week) pop in here for food to go. To dress up my bread, we were given a duck rillette (looks like tuna salad but tastes much better) and some thinly sliced ham.
Next we followed our noses to a nearby fromagerie, where the cheese mongers, standing white-coated like pharmacists, welcomed us in. How to choose from the wedges, cylinders, balls, and miniature hockey pucks of cheese?
Our guide coached us through a selection of goat, sheep, and cow's milk cheeses to go with our growing picnic. Then, at last, we settled in at communal tables at the local wine shop to consume our pungent spread, doing our best to imitate the way French people make the most out of eating.
A cooking class is another fine way to roll up your sleeves and dig into the local culture. You get not just a taste of the culinary traditions of the area you're visiting, but also a hands-on feel for what happens in European kitchens — along with a few new kitchen skills you can take home. Many include a trip to local markets.
I'm not a food sophisticate, but I love people — especially cooks — who love their work. Some time ago, my daughter and I took a class with a renowned Parisian cook. We prowled through the market with the chef, gathered the needed ingredients for bouillabaisse and a pear tart, and cooked it all up in her kitchen, all spiced with lots of tips, philosophy, and attitude.
Wandering with our chef from shop to shop and through a bustling market, we learned plenty: de ligne means a fish was wild-caught; élevé en tells you it was farm-raised. A chicken is sold with the head attached so you'll know it's really fresh.
In the kitchen, our chef cooked with strong principles, which she freely shared: "In France, we love fat because fat is where the flavor is...never cook with a wine you wouldn't drink...in America, you just don't have a great leek culture...pat your pears."
Of course, after cooking our meal, we got to devour the delicious fruits of our labor. And, I swear, the food was as good as anything you might expect in a fine restaurant. Plus, knowing we had made it all ourselves made it taste even better. I can't imagine a better way to fully enjoy the art of eating — and from now on, I will always pat my pears.