France's Loire: Valley of a Thousand Châteaux
Of the Loire's formidable array of castles, Chenonceau, Chambord, and Cheverny are perhaps the most interesting to visit.

By Rick Steves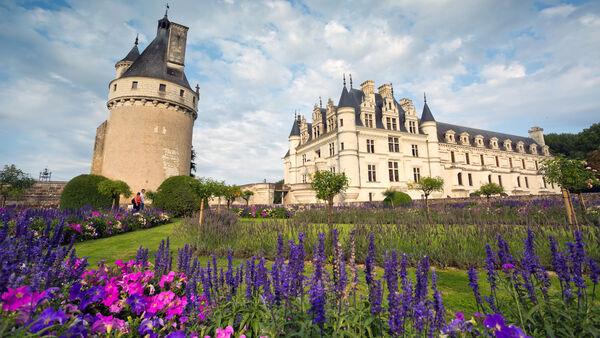 The Loire Valley, about two hours southwest of Paris, offers France's greatest array of château experiences. Marvel at sumptuous interiors, cared for by noble families who've lived in them for centuries. Wander immaculately manicured geometric gardens, or follow the play of sunlight on a facade of a palace perched on a river island. View packs of carefully bred hounds yelping for red meat as they await their next hunt. From a giant rooftop, imagine you're the king's mistress, watching proudly as your man's men flush the deer out of the nearby woods. You can even paddle a rowboat under a fairytale château that gracefully spans a lazy river.
In the early 1400s, during the Hundred Years' War, King Charles VII retreated to the Loire after the English took control of Paris — and the French court remained based in the valley for the next two centuries. With its mild climate, good hunting, and healthy distance from Paris (not too far, not too close), the Loire became fashionable among the Parisian rich and royal. When that long war was finally followed by peace and prosperity, the region's fortified castles were replaced by pleasure palaces. The most famous luxury hunting lodges here, masquerading as fortresses, were built in the early 1500s.
These days, the Loire Valley poses a challenge for its many visitors: how to choose among its castle thrills. The "Valley of a Thousand Châteaux" moniker may exaggerate the count, but the range of options is indeed formidable.
My main tip: Don't go overboard on château-hopping. Two châteaux, possibly three, is the recommended daily dosage. Consider visiting the three châteaux I find most interesting: Chenonceau, Chambord, and Cheverny. These three can be visited in a day by car or minivan tour.
The toast of the Loire, Chenonceau, is a 16th-century Renaissance palace arching elegantly over the Cher River. Nicknamed the "château of the ladies," it was the home — and work — of many famous women over the centuries. Most of the design decisions for the main building were made by the wife of the original owner, as he was so often away on the king's business. A later resident, King Henry II's mistress Diane de Poitiers, added a bridge across the river to access the hunting grounds. Diane enjoyed her lovely retreat until Henry was killed (pierced in a jousting tournament) and his vengeful wife, Catherine de Médici, unceremoniously kicked Diane out into the château of Chaumont. Catherine added new gardens and rooms to the palace, including the three-story structure atop Diane's bridge that has ever since given Chenonceau its unique river-spanning charm. Catherine died before completing her full vision, but not before turning her château into the local aristocracy's place to see and be seen.
Two centuries later, it was the backdrop of some of France's most notable Enlightenment-era literary salons. And now in the 21st century, Chenonceau is a delight to explore.
The biggest château in the region, Chambord, is huge — six times the size of your average Loire palace, more like a city than a château. It's surrounded by Europe's largest enclosed forest park, a lush game preserve teeming with wild deer and boar. It began as a simple hunting lodge for bored blue bloods. But starting in 1518, François I — with the help of 1,800 workmen over 15 years — made a few modest additions to create his "weekend retreat."
From outside, Chambord's most striking features are its enormous towers on all corners, a pin-cushion roof of spires and chimneys, and a 100-foot tall lantern tower supported by flying buttresses. Highlights inside include its second-floor coffered ceilings and an intriguing double-helix staircase.
Only 80 of Chambord's 440 rooms are open to the public — and that's plenty. To see what happens when you put 365 fireplaces in your house, climb up to the rooftop and wander through a forest of chimney spires.
Cheverny, a stately hunting palace, is one of the more lavishly furnished Loire châteaux. The construction of today's château wrapped up in 1634 after a relatively short 30 years, resulting in a harmoniously unified architectural style. It's been in the same family all along, and family pride shows in its flawless preservation and intimate feel. Cheverny was spared by the French Revolution, as the owners were popular then, as today, even among the poorer farmers.
The marquis and his family still lives on the third floor — observant visitors will notice some family photos. While the sumptuous dining room and family apartments are a treat to stroll, my favorite part of a visit here is the once-daily feeding at the château's kennel, where the marquis' 100 hunting dogs show off their strict training before being treated to troughs stacked with raw meat. In this time-passed valley, it doesn't surprise me to hear that the marquis still goes hunting twice a week, year-round.
These are just my top Loire château picks; my guidebooks describe plenty more worth your time. But no matter how château-crazy you want to go, allow space in your itinerary to enjoy the Loire's fruity wines, deliciously fresh cuisine, and gentle countryside that make it one of France's most appealing regions.