Chenonceau
Loire
Gliding gently east to west, officially separating northern from southern France, the Loire River empties a valley carpeted with fertile fields, crisscrossed by smaller rivers, laced with rolling hills…and dotted with an incredible array of enchanting châteaux. Aside from Chartres, with its mighty cathedral, the towns of the Loire aren't much of a draw in themselves — it's castles that you're here to see.
Places
At a Glance
Which châteaux should you visit — and why?
Châteaux East of Tours
▲▲▲ Chenonceau For sheer elegance arching over the Cher River, and for its lovely gardens.
▲▲▲ Chambord For its epic grandeur (440 rooms), fun rooftop views, and evocative setting surrounded by a forest.
▲▲ Blois For its urban setting, beautiful courtyard, and fun sound-and-light show.
▲▲ Cheverny For its intimate feel and lavishly furnished rooms.
▲▲ Chaumont-sur-Loire For its imposing setting over the Loire River, historic connections to America, and impressive Festival of the Gardens.
▲ Amboise For terrific views over Amboise and Leonardo da Vinci memories.
▲ Clos-Lucé (in Amboise) For a chance to see Leonardo da Vinci's final home, and to stroll through gardens decorated with models of his creations.
Châteaux West of Tours
▲▲ Azay-le-Rideau For its fairy-tale facade and setting on a romantic reflecting pond, and for its beautifully furnished rooms (under renovation through 2017).
▲▲ Villandry For the best gardens in the Loire Valley — and possibly all of France.
▲ Chinon For its Joan of Arc history.
▲ Langeais For its fortress-like setting above an appealing little village, and its evocative 15th- and 16th-century rooms.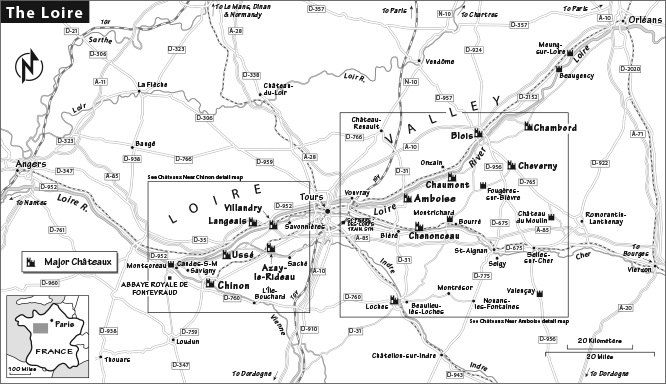 Plan
Photos
Watch
Read
Listen