Futuristic Oslo
By Rick Steves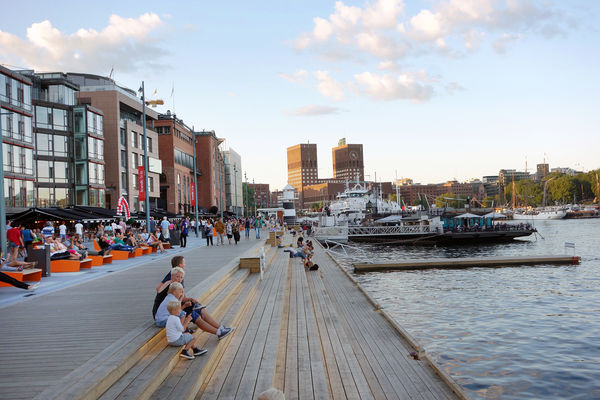 I'm always inspired by Norway's capital Oslo — a classic old city that keeps chugging into the future. It's architecturally fascinating, extremely livable, and mellow. While food — and just about anything else you might buy — is expensive, many of Oslo's joys are free.
Situated at the head of a 60-mile-long fjord, Oslo sprawls out from its historic core. Its streets are a mix of glassy high-rises, and — especially in its finer residential neighborhoods — grand facades. The city's harborfront hums with international shipping and a thriving cruise industry.
Oslo's grand boulevard, Karl Johans Gate, cuts from the train station through the center of town to the Royal Palace. Oslo made its town center quiet and pedestrian-friendly by sending most traffic through tunnels under the city. The city also levies a traffic-discouraging toll on cars as they enter town, which subsidizes public transport.
South of the train station is Oslo's splashy Opera House, its white-marble roof famously sloping into the fjord, creating a public plaza that lets you walk on top of the theater. Near the Opera House sprouts a strip of towering office complexes — nicknamed the "Barcode Project" for the way the buildings' varying heights, widths, and spacing resemble a barcode — giving Oslo a new modern skyline.
The city's ambitious urban renewal project kicked off years ago with the harborfront Aker Brygge neighborhood, a thriving restaurant, shopping, and nightclub zone with a people-friendly promenade. Each night it's a Nordic paseo. Just a decade ago, this stretch of harbor was an industrial wasteland.
Nearby is the newer Tjuvholmen development — a mix of upscale condos, shops, offices, galleries, a modern art museum, and a little beach facing the fjord. Instead of dining in the yacht-club style restaurants here, I prefer to buy provisions from a grocery store a block away from the harborfront, and take advantage of the plentiful benches and picnic tables. It's a delightful spot to watch seagulls and ferries come and go as the setting sun shines on the old fortress in Oslo's harbor.
Also along the harbor is Oslo's striking City Hall. In front, a series of statues dating from the 1930s celebrates the nobility of the working class. Entering the grand main hall, I'm reminded that in this highly taxed corner of Europe, city halls, rather than churches, are the dominant buildings. While Norway's state religion is Lutheran, people here rarely go to church. But this hall — where the Nobel Peace Prize is awarded each December — feels like a temple to good government, with altar-like murals celebrating family values, good citizenship, and civic administration. The 20,000 square feet of bold and colorful murals show people from all classes and walks of life — collaborating, willingly paying high taxes, and determined to build a better society together.
From the pier in front of City Hall, a ferry shuttles visitors across the harbor to Bygdøy, a peninsula with several museums highlighting the nation's maritime history. Among Oslo's other compelling sights are its National Gallery, Edvard Munch Museum, Norwegian Resistance Museum, and Norwegian Folk Museum.
Even with all the slick urban buildings, the feel of Oslo is green — dotted with parks and lakes, and surrounded by hills and forests. Vast Frogner Park, just west of the city center, is a perfect place to encounter Norwegian families at play. Strolling here, you feel a positive spirit — both rugged and pragmatic, celebrating life. Within Frogner Park is Vigeland Park, containing a lifetime of work by Norway's greatest sculptor, Gustav Vigeland: 600 bronze and granite statues, each unique. Vigeland's sturdy nude humans capture universal themes of the cycle of life.
In the other direction from town is a forested hill with grand city views. A few years ago it was transformed into Ekeberg Sculpture Park, a 10-minute tram ride from the city center. The 63-acre park is a mix of forest trails and contemporary art — 35 statues in all, including some by prominent artists such as Dalí, Rodin, Renoir, Vigeland, and Damien Hirst. A spot in this park is said to be where the famous Norwegian artist Edvard Munch was first inspired to paint The Scream.
North and inland from downtown is the former working-class district of Grünerløkka. Today's creative and bohemian set comes here for its convivial night scene, colorful eateries, and mellow cafés. And at the edge of Grünerløkka is a neighborhood that reflects Oslo's changing ethnic complexion: Today one in five of Oslo's citizens is not ethnically Norwegian. Like much of Europe, the people of Oslo are learning to share their city with a growing immigrant population.
Every time I visit, I'm amazed at some of the dramatic changes going on in Oslo. Sure, it's expensive (I've become comfortable getting my latte in a convenience-store…in a box) — but once you've got your room and food, you can enjoy an all-you-can-see smörgäsbord of slick architecture, art, and Nordic ingenuity…nearly for free.