Taking Time to Unwind in the Black Forest
In Germany's southwest corner, the Black Forest offers a mix of traditional countryside and small cities well-suited for serious R&R.

By Rick Steves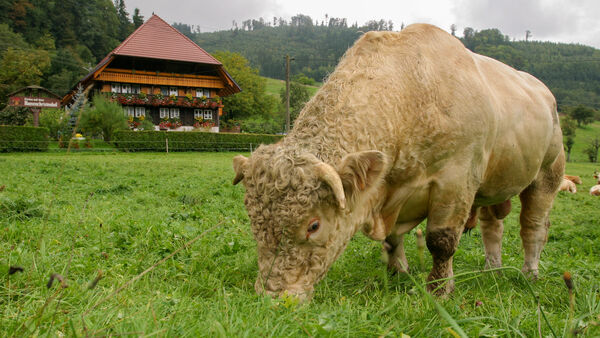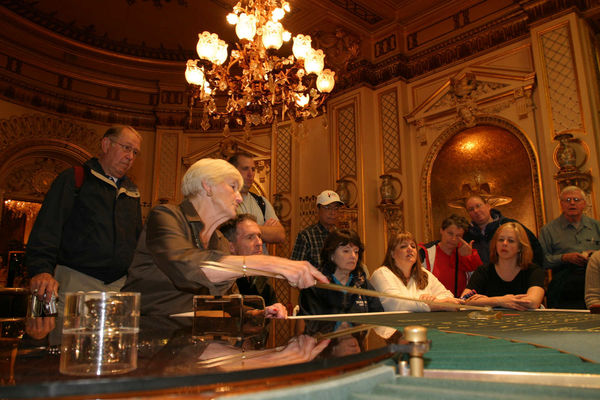 Germans may be notoriously well-organized and efficient, but they are also experts at relaxing. Explore Germany's Black Forest — with its plentiful trails and world-class mineral spas — and you'll know what I mean.
The Black Forest is popular with German holiday-goers and overseas tourists looking for serious R&R, clean air, cuckoo clocks, countless hiking possibilities, and chocolate cakes layered with cherries and drenched in schnapps. The forest stretches in a hilly 100-mile range along Germany's southwestern border with France.
The area is steeped in tradition, much of it explained at the Black Forest Open-Air Museum (a.k.a. the Vogtsbauernhof) in Gutach. Built around a grand old farmhouse, the museum makes local folk life vivid, using its collection of antique farms as racks upon which to hang artifacts illustrating otherwise long-gone lifestyles. Here you'll learn why and how the farmers with little to do during the long winters were absolutely cuckoo for clock-making.
With its clockmaking heritage, it's no wonder this region has what I consider Europe's best clock museum. The German Clock Museum in Furtwangen is more than a chorus of cuckoo clocks; it traces the development of clocks from the Dark Ages to the space age.
The capital of this rural area is Freiburg, an untouristy college town with a distinctive sandstone cathedral and old center that manages to maintain a bit of its medieval character, desite suffering heavy bombing in World War II).
Much of Freiburg's charm comes from its Bächle: tiny "stream-lets" that have been running down nearly every Freiburg street since the 13th century. They were originally designed to keep fires from spreading, as they could be quickly dammed to flood a street. Careful observers may notice how Freiburg's streets were built at a slight incline, so as to keep the water trickling throughout the town.
These days, Freiburg's trademark canals are just fun, lending a castle-moat feel to the pedestrian cobblestone streets, which are connected to the sidewalk by tiny footbridges. Toddlers like to sail little boats and splash in the water to cool off when it's hot. (Don't worry: Freiburg still employs two Bächleputzer to scrub the canals clean with steel brooms.) These canals are particularly dense in what used to be Freiburg's industrial quarter — once full of smelly tanners' shops and millers' busy waterwheels, it's now a delightful district of shops and cafés. Be warned: Local lore promises that if you fall into a Bächle, you are destined to marry a Freiburger.
The Black Forest's top attraction is the spa town of Baden-Baden. A hundred and fifty years ago this was the playground of Europe's high-rolling elite. Royalty and aristocracy came from all corners to take the Kur — a soak in the (supposedly) curative mineral waters — and to enjoy the world's top casino. Today this lush town of 55,000 attracts a more middle-class crowd.
During nongambling hours the still-impressive casino welcomes visitors with tours every morning. Marlene Dietrich, one of its many famous visitors over the years, once declared it "the most beautiful casino." Built in the 1850s and inspired by the Palace of Versailles, it's filled with chandeliered rooms honoring French royalty who never set foot in the place. But many French commoners did. Gambling was illegal in 19th-century France…and Baden-Baden was conveniently just over the German–French border.
Even if you're not a gambler, it's fun to witness this casino in action. Sipping a glass of sprightly white German wine, you can lean against a gilded statue and listen to the graceful reshuffling of personal fortunes.
In the German-speaking world, when you see a town with the word Bad in its name, that means it is (or was) a mineral spa. Bad Ischl, Bad Ausse, Bad Neustadt, Bad Kissingen…there are plenty in this region. But there's only one Baden-Baden — and (as its name suggests) it offers two fantastic spa experiences: the venerable, sedate Friedrichsbad (a.k.a. the Roman-Irish Bath), and the modern Baths of Caracalla.
The southern end of the region, called the Black Forest Highlands, is more gentle than the densely wooded area to the north. With onion-domed churches, idyllic lakes, and hikes through peaceful meadows, this is the kind of countryside you'd expect a doctor to send you to when you need some tranquility. This is a land of classic rural beauty, where huge traditional farms house the family downstairs and the animals upstairs. And with solar panels on ancient roofs and little chapels out back, they're a delightful mix of modern and traditional.
My favorite way to commune with nature here is to take a five-mile, two-hour hike between the charming towns of St. Märgen and St. Peter. This fresh-air walk along a delightful path through the bucolic Black Forest countryside, punctuated by scenic picnic benches for a memorable lunch, is the quintessential Black Forest experience.