Greek Island-Hopping Basics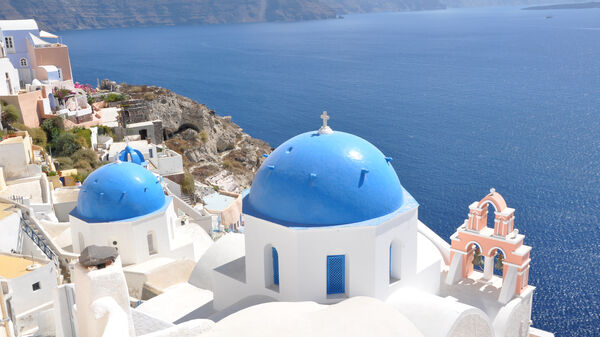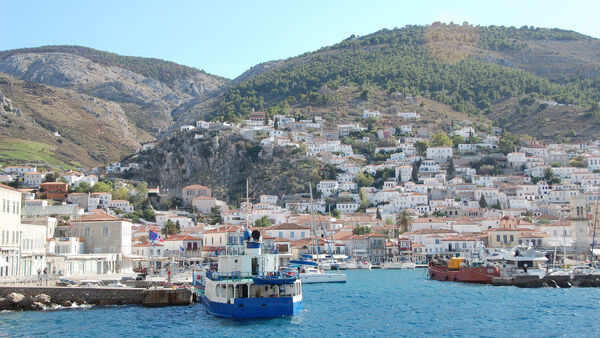 By Rick Steves
With their picture-perfect, whitewashed villages and ample opportunities to enjoy swimming in, eating from, and gazing at the deep-blue Aegean, Greek's islands deserve every bit of their fame.
Admittedly, I prefer to spend the bulk of my Greek vacations visiting the country's amazing wealth of ancient sights. (That's why I've focused my Greece: Athens & the Peloponnese guidebook on the bustling capital of Athens and Greece's "heartland," the Peloponnese, where — compared to the islands — prices are much lower, tourism is less suffocating, and travelers have more exciting opportunities to peel back layers of history.) But like everyone, I appreciate a healthy dose of restorative island time, and a visit to Greece isn't complete without at least one island stay.
Greece's Island Groups
Greece's roughly 3,000 islands and islets (227 of which are inhabited) are scattered far and wide across the eastern Mediterranean. Most are in the Aegean Sea (south and east of mainland Greece), while a few are in the Ionian Sea (west of the mainland). The islands are divided into clusters:
The Ionian Islands, closer to Albania and Italy than to Athens, are Greece's northwest gateway to the Adriatic and the rest of Europe — they've had more foreign invaders and rulers (from Venice, France, Britain, Russia, Austria, and so on) than anywhere else in the country. The main island is Corfu (Kerkyra in Greek), with a bustling, architecturally eclectic main town and a lush, green islandscape dotted with attractions and beaches.
The Saronic Gulf Islands (Argosaronikos), conveniently wedged between the Peloponnese and Athens, ooze lots of island charm and give you a chance to get away from it all without actually going very far. Hydra, my favorite, is in this group.
The Sporades Islands, due east of Athens, are dominated by the giant Evia island, which is attached to the mainland by a bridge. Thickly forested and less touristed by international visitors, the Sporades are a popular and handy weekend getaway for Athenians.
The Cycladic Islands (or simply Cyclades) — a bit farther south, between Athens and Crete — are the prototypical "Greek islands," boasting chalk-white houses with colorful windowsills and doorways; rocky, sun-parched landscapes; delightful beaches; old-fashioned white windmills topped with tufts of grass like unkempt hair; and an almost overwhelming crush of international visitors. Mykonos and Santorini are the two best and most famous of the Cyclades. Near Mykonos is the archaeological site of Delos (one of the most important locales of the ancient world).
The Dodecanese Islands, at the sunny, southeastern end of the Greek lands, are more rustic and less developed than the Cyclades. Their proximity to Turkey and historic ties to Venice give them a hybrid Turkish-Venetian flavor (though the population is mostly ethnic Greek, these islands merged with Greece only after World War II). Rhodes, with an appealing and very real-feeling old town, is the biggest of these islands.
The North Aegean Islands, relatively untrampled and remote, lie roughly between Turkey and Thessaloniki (at the northern end of mainland Greece). The southernmost of these, Samos, is a particularly handy springboard for Turkey, as it's very close to the Turkish port city of Kuşadası (near the remarkable ancient site of Ephesus).
Crete is Greece's biggest island and practically a ministate (in fact, from 1897 to 1913 it was an autonomous state within the Ottoman Empire). While many of Greece's smaller islands merit a day or two of fun in the sun, Crete could occupy even a busy traveler for a week or more. Historically, Crete was home to the Minoans — the earliest advanced European civilization, peaking around 1950 BC, centuries before "the ancient Greeks" of Athens. While Crete's modern main city, Iraklio, is drab and uninviting, the rest of the island offers an engaging diversity of attractions: Minoan ruins, scenic mountains, enticing beaches, characteristic rustic villages, and dramatic caves and gorges (including the famous Samaria Gorge).
Choosing an Island
Hydra is my favorite, thanks to its speedy connections to Athens and the Peloponnese, relaxing car-free ambience, easily reached beaches, and charming harbor that invites you to linger. Two of the most popular Greek islands are Mykonos and Santorini; both are relatively well-connected to Athens. Mykonos boasts an adorable, windmill-topped fishing village slathered in white and thronged by a hard-partying international crowd, enjoying its many beaches and side-tripping to the ruins on nearby Delos. Santorini is the most geologically interesting of all the Greek islands, and arguably the most picturesque, with idyllic villages perched on the rim of a collapsed and flooded volcano crater, a handful of impressive wineries, and enough sights and activities to keep travelers occupied.
While each Greek island has its own personality and claims to fame, most offer the same basic ingredients: a charming fishing village, once humble and poor, now a finely tuned machine for catering to (and collecting money from) a steady stream of tourists; a rugged interior, and rough roads connecting coastal coves; appealing beaches with rentable umbrellas and lounge chairs, presided over by tavernas and hotels; maybe a few dusty museums collecting ancient artifacts or bits and pieces of local folklore; and occasionally a good or even great ancient site to tour.
Many islands have a main town, sometimes named for the island itself and sometimes called Chora or Hora (Xώρα), which literally means "village." This is generally the hub for transportation, both to other islands (port for passenger ferries and cruise ships) and within the island (bus station and taxi stand). Some islands — such as Rhodes, Corfu, and Crete — have sizeable cities as their capitals.
Getting Around the Greek Islands
Many passenger boats crisscross the Aegean Sea, making it quick and fairly easy to reach your island getaway. Be warned, however, that gathering ferry information takes some work, as routes can be covered by multiple companies and schedules change often. Prior to your trip, look up schedules online, then confirm the details on arrival in Greece at any travel agency (or more than one, as you may get slightly different information from different agencies). Keep in mind that sailings can be canceled because of bad weather (more likely off-season).
To save time, consider flying. Compared with boats, flights are less likely to be delayed or canceled, tend to offer more frequent connections, and are much faster — but often more expensive. Two major Greek carriers that offer daily flights from Athens to many Greek islands are Olympic Airlines and Aegean Airlines; also consider Sky Express.
The Greek islands are made-to-order for cruising and a major destination for cruise ships. If you're coming on a cruise, your challenge is to beat the hordes: You'll arrive in town at precisely the same time as 2,000 other visitors, all hoping to fit the maximum amount of sightseeing, shopping, or beach time in a single day. Get as early a start as possible, and explore the back lanes and beaches when the main drag gets too congested.
If you're not cruising, it's smart to be aware of when ships are scheduled to show up. Visit outlying sights or beaches when the ships are in port — by the time you return to town in the afternoon, the cruise-ship passengers will be loading up to leave again.
Island Accommodations
Greek-island accommodations range from rustic dhomatia to designer hotels with spectacular views. Even out-of-the-way islands get heavy tourist traffic in the summer, so options abound.
At the busiest times (July–September, peaking in August), visitors can outnumber beds; to get your choice of accommodations, book far ahead. Expect to pay (sometimes wildly) inflated prices in high season — in the most popular destinations, such as Mykonos and Santorini, prices for even budget hotels can more than double. Prices for other services — such as car rentals and restaurant meals — also increase when demand is high. For the best combination of still-good weather, fewer crowds, and more reasonable prices, visit just before or after these busy times.
Whenever you visit, enjoy your time here and simply give yourself over to the Greek islands. With a few exceptions, the "sights" (museums and ruins) are not worth going out of your way for — you're here to relax on the beach and explore the charming towns. Make the most of it.