Güzelyurt: Turkey's 'Beautiful Land'
Explore rural Turkish villages, such as Güzelyurt, and you'll see the beauty of fragile traditions kept alive by a tenacious people.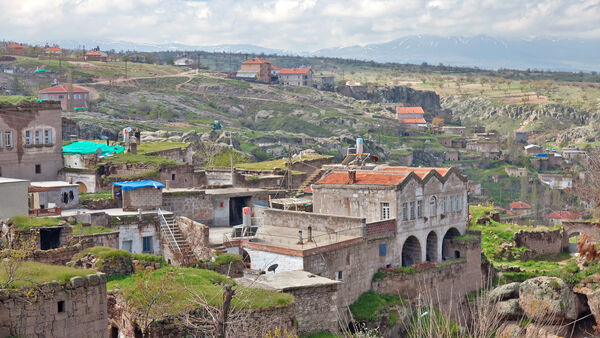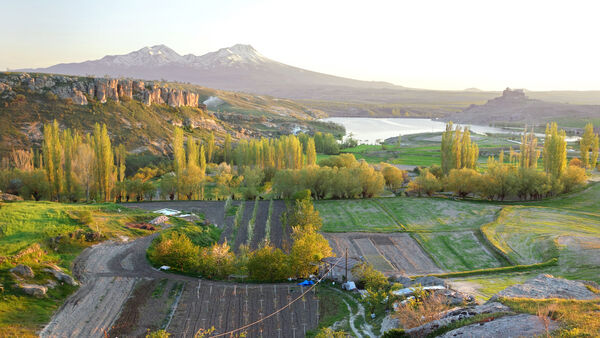 By Rick Steves
Güzelyurt, a town on the edge of Turkey's rural region of Cappadocia, is one of my favorite discoveries in this bizarre and fascinating corner of central Turkey. It sits at the edge of the Ihlara Valley, about 35 miles from the regional capital of Nevşehir. It's best known in Turkey as a town where historic enemies — Greeks, Turks, Kurds, and Bulgarians — live in peace. I like it as a place with almost no tourism, lots of history, and plenty of Turkish character.
Güzelyurt is a harmony of cultures, history, architecture, and religions. A bust of Atatürk — the founder of modern Turkey, who insisted on a separation of mosque and state — looms high over the small, modern market square at the heart of town. It's filled with people enjoying petite glasses of sweet çay (tea) and the happy clatter of backgammon dice.
Backgammon makes for a fun way to interact with locals — particularly the men of this town, who seem to be enjoying one eternal cigarette break. If you don't know how to play, it's no problem. (If you pause, someone'll likely move for you.) On this visit, I notice how the men near me proudly make a point not to stare at two stare-worthy American visitors searching for postcards in a town with no tourism.
Averse to change, small towns like this are cultural humidors — keeping fragile traditions moist and full of local flavor.
Strolling streets that have changed little over the centuries, I overhear neighbors chatting convivially. I pause to take in more of the village's sounds. It's an ancient soundtrack — the timeless white noise of daily life: Children play, birds chirp, roosters crow, shepherds chase goats, and mothers cackle. (I ignore that distant motorbike.)
I hike steeply down into a ravine, winding through a community in the rough, where the chores of daily life seem stuck in the Middle Ages. I come upon a little boy playing a flute as his mother cooks. I stop, and with gestures, gain the boy's permission to give the ancient-looking flute a try. It's carved out of an eagle bone, just like in biblical times. As I hand it back to him I hear another flute, out of sight, coming from over the hill.
Climbing up the opposite side, my vista extends out over a lush and living gorge. Sixteen centuries ago, monks built monasteries into its cliffsides. The structures that resulted seem one with the volcanic rock out of which they were carved. Erosion drove most of the residents of the ancient town to more stable dwellings, but some remain, and exploring the town you appreciate the tenacity of its people.
Though seemingly abandoned, there's still life in the old town. Residents somehow eke out a living from its crumbling terraces and neglected gardens. People do their humble chores as if stubbornly refusing to give up on their town.
Right below me, sleeping in the greens and wet browns of this tidepool of simple living, is the former church of St. Gregorius. Built in 385, it's thought by Gregorian fans to be the birthplace of church music, specifically the Gregorian chant. For centuries, Christians worshipped here, and the city has an interesting connection with Turkey's neighbor to the west, Greece.
Until the early 1900s, Greece and Turkey were both part of the Ottoman Empire. There were Muslim communities in Greece, and Greek Orthodox communities in Turkey. Like many Turkish towns, Güzelyurt was once a Greek town. Then in the 1920s, they had a huge population swap — most Christians here were moved to Greece, and Muslims there were sent to Turkey. Hence Güzelyurt's historic church is now a mosque, indicated by its single minaret.
The cliff rising from the gorge is stacked with building styles: Above the 1,600-year-old church sit troglodyte caves, Selçuk arches, and Ottoman facades. Beyond them gleams the tin dome of a 20th-century mosque, with its twin minarets giving a constant visual call to prayer. On a nearby hillside, I see the letters G-Ü-Z-E-L-Y-U-R-T spelled out in white rocks. The town's name means "beautiful land." To my left, and much farther in the distance, the snowy vocanic slopes of Mount Hasan's double peaks rule the horizon.
Hiking a little farther from town, I see the source of the music I'd heard from a distance: the goat-tending father of the flute-playing boy. As herding families in rural Turkey have done for generations, both the father on the hillside, and the son at home with mom, play the eagle-bone flute — and the entire family knows that all is well. I realize that the mother regularly goes about her day with the comforting sound of her husband tending their flock. Though he's off on the hillside all day, the family is somehow still together.
Cresting the goatherd's bluff, I survey the view and marvel how the honey that holds this architectural baklava together is the community of people who live here — and the traditions they hold dear.
While not all visitors would consider it particularly beautiful, that's how the people who call it home see it. They'd live nowhere else. For them, and to me, it truly is a güzel yurt.