Hill Towns of Central Italy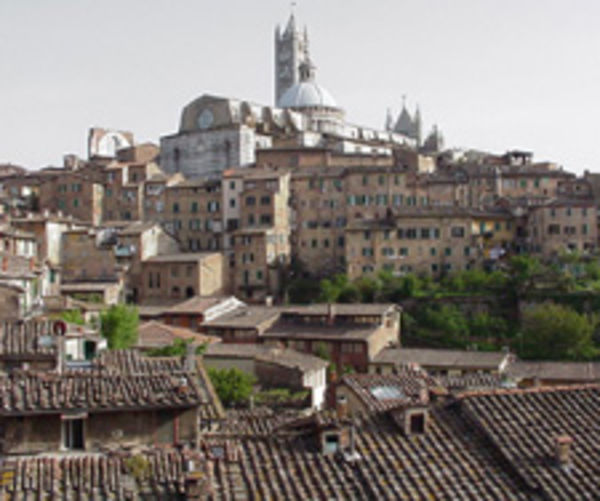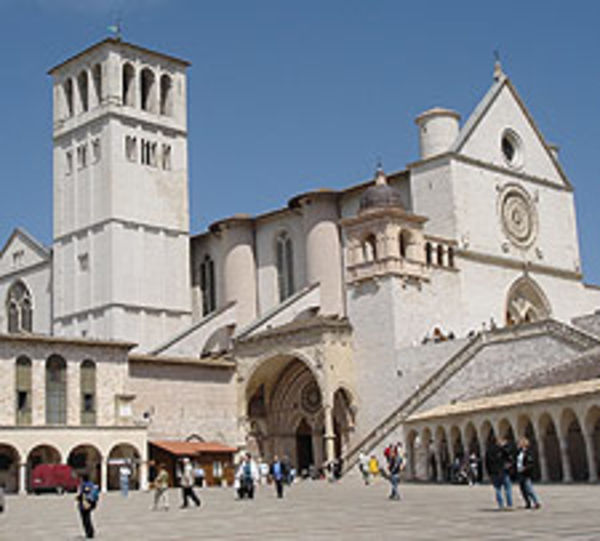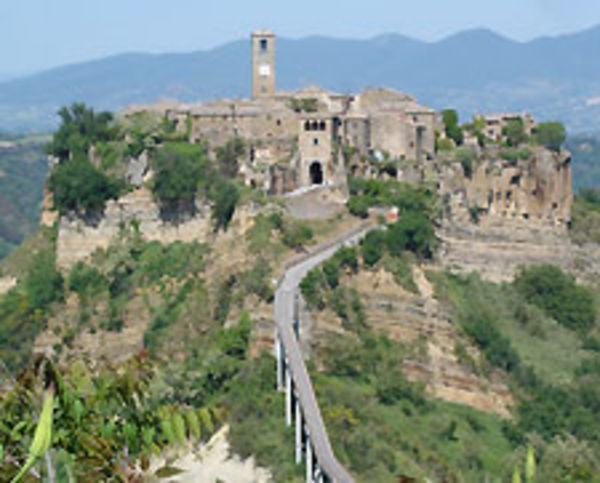 By Rick Steves
Too many people connect Venice, Florence, and Rome with straight lines. Break out of this syndrome, and you'll lick a little Italy that the splash of Venice, the finesse of Florence, and the grandeur of Rome were built upon.
The hill towns of central Italy hold their crumbling heads proudly above the noisy flood of the 21st century and offer a peaceful taste of what eludes so many tourists. Sitting on a timeless rampart high above the traffic and trains, hearing only children in the market as the rustling wind ages the weary red-tile patchwork that surrounds me, I find the essence of Italy.
There are a dozen great touristed towns and countless ignored communities casually doing time and drinking wine. See some of each.
Siena, unlike its rival, Florence, is a city to be seen as a whole rather than as a collection of sights. While memories of Florence consist of dodging Vespas and pickpockets between museums, Siena has an easy-to-enjoy Gothic soul: Courtyards sport flower-decked wells, churches modestly hoard their art, and alleys dead-end into red-tiled rooftop panoramas. Climb to the dizzy top of the 100-yard-tall bell tower and reign over urban harmony at its best. At twilight, first-time poets savor that magic moment when the sky is a rich blue dome no brighter than the medieval towers that seem to hold it high.
Il Campo, Siena's great central piazza, with its gently tilted floor fanning out from the city hall tower, is like a people-friendly stage set. It offers the perfect invitation to loiter. Think of it as a trip to the beach without sand or water. Wander among lovers stroking guitars and each others' hair. Il Campo immerses you in a troubadour's world where bellies become pillows. For a picnic dessert on the Campo, try panforte, Siena's claim to caloric fame. This rich, chewy concoction of nuts, honey, and candied fruits impresses even fruitcake-haters.
The panforte of medieval churches is Siena's cathedral. Its striped facade is piled with statues and ornamentation. And the chewy interior, decorated from top to bottom, comes with the heads of 172 popes peering down from the ceiling over the fine inlaid art on the floor. This is as baroque as Gothic gets.
For those who dream of a city with a traffic-free core, Siena is it. Take time to savor the first European square to go pedestrian (1966), and then, just to be silly, wonder what would happen if they did it in your hometown.
Assisi, a worthy hometown for St. Francis, is battling a commercial cancer of tourist clutter. In the summer the town bursts with flash-in-the-pan St. Francis fans and monastic knickknacks. But those able to see past the tacky monk mementos can actually have a "travel on purpose" experience.
In the early 1200s, a simple friar from Assisi challenged the decadence of church government and society in general with a powerful message of simplicity, nonmaterialism, service to the community, and a "slow down and smell God's roses" lifestyle. Like Jesus, Francis taught by example. A huge monastic order grew out of his teachings, which were gradually embraced by the church. In 1939, Italy made Francis its patron saint.
The Basilica of St. Francis, built upon his grave, is one of the artistic highlights of medieval Europe. Open again, restored, and safe after being damaged by the earthquakes of 1997, it's covered with precious frescoes by Giotto, Cimabue, Simone Martini, and other leading artists of the day.
With a quiet hour in the awesome basilica, some reflective reading (there's a great bookstore on the main square), and a meditative stroll through the back streets, you can dissolve the tour buses and melt into the magic of Assisi. Grab a picnic and hike to the ruined castle, surrounded by the same Tuscan views and serenaded by the same birdsong Francis enjoyed.
Most visitors are day-trippers. Assisi after dark is closer to a place Francis could call home.
San Gimignano bristles with towers and bustles with tourists. A thrilling silhouette from a distance, Italy's best-preserved medieval skyline gets better as you approach. With 14 towers still standing (out of an original 72!), it's a fun and easy stop. In the 13th century, back in the days of Romeo and Juliet, towns were run by feuding noble families who would periodically battle things out from the protective bases of their respective family towers. Sunset's the right time to conquer San Gimignano's castle. Climb high above the crowds, sit on the castle's summit, and imagine the battles Tuscany's porcupine has endured.
Orvieto, the tourist's token hill town, sits majestically on its tufa throne, offering those on the train or autostrada to Rome its impressive hill-capping profile. Its cathedral, with some fascinating Signorelli frescoes, is surrounded by an excellent tourist information office, a fine Etruscan museum, a world-class gelato shop, and Italy's most un-Italian public toilets. With three popular gimmicks (ceramics, cathedral, and Classico wine), it's loaded with tourists by day — quiet by night. Drinking a shot of wine in a ceramic cup as you gaze up at the cathedral lets you experience the essence of Orvieto all at once. Buses go regularly from Orvieto to the queen of hill towns, Civita di Bagnoregio.
Of all the Italian hill towns, Civita di Bagnoregio is my favorite. Less known than the famous hill towns mentioned above, it deserves more description.
People who've been here say "Civita" (chee-VEE-tah) with warmth and love. This precious chip of Italy, a traffic-free community with a grow-it-in-the-valley economy, has so far escaped the ravages of modernity. Please approach it with the same respect and sensitivity you would a dying relative, because — in a sense — that's Civita.
Civita teeters atop a pinnacle in a vast canyon ruled by wind and erosion. But, while its population has dwindled to just a handful of people, the town survives.
The saddle that once connected Civita to its bigger and busier sister town, Bagnoregio, eroded away. Today a bridge connects the two towns. A man with a Vespa does the same work his father did with a donkey — ferrying the town's goods up and down the umbilical bridge that connects Civita with a small, distant parking lot and the rest of Italy. Rome, just 60 miles to the south, is a world away.
Spend the evening. After dinner, sit on the church steps with people who've done exactly that for 60 years. Children play on the piazza until midnight. As you walk back to your car — that scourge of the modern world that enabled you to get here — stop under a lamp on the donkey path, listen to the canyon...distant voices...fortissimo crickets.
Towering above its moat, Civita seems to be fortified against change. But the modern world is a persistent battering ram. Civita will be great for years, but never as great as today.
Italy is spiked with similar hill towns. Hill towns, like the Greek Islands, come in two basic varieties: discovered...and virgin. The difference, touristically speaking, is that "discovered" towns know what tourism is and have an appetite for the money that comes with it. "Virgin" towns are simply pleased you dropped in.
Gubbio, Todi, Volterra, and Arezzo are discovered but rarely visited. Cortona (with its fine youth hostel "under the Tuscan sun"), Pienza (a Renaissance-planned town), and Montepulciano (with its dramatic setting) are touristy but also worth the hill-town lover's energy and time.
Many bigger hill towns have a train station nearby (with a shuttle bus beginning its winding climb to the old town center shortly after your train arrives). But to find your own gem, you'll need to leave the train lines. Take the bus, hitch, or rent a car for a few days. If you're using a rail-and-drive pass, this is car country.
Perfect Back Door villages, like hidden pharaohs' tombs, are worth uncovering. Photographers delight in hill towns. Their pictorial collections (such as Italian Hilltowns, by Norman F. Carver) are a fine source of information. Study these, circling the most intriguing towns on your map. Talk to travelers who have studied or lived in Italy. Ask locals for their favorites. Scan the horizon for fortified towers. Drive down dead-end roads far from the nearest promotional budget.
Sorano, Pitigliano, Poppi, Trevi, and Bagnaia (near Viterbo) have almost no tourism. Bevagna (near Assisi) is as dazed as its town fool who stands between the twin dark Romanesque churches on its main square.
Any guidebook lists popular hill towns. But if you want to dance at noon with a toothless lady while your pizza cooks, press a good-luck coin into the moldy ceiling of an Etruscan wine cellar, or be introduced to a mediocre altar piece as proudly as if it were a Michelangelo, then stow your guidebook, buy the best local map you can find, and explore. Hill towns are a vital slice of the Italian pizza — crumbly crust with a thick gooey culture. Don't just chase down my favorites or your guidebook's recommendations. Somewhere in the slumber of Umbria and the texture of Tuscany, the ultimate hill town awaits your discovery.